The Loop
McGregor-Mayweather is both the best and most embarrassing sports spectacle of the year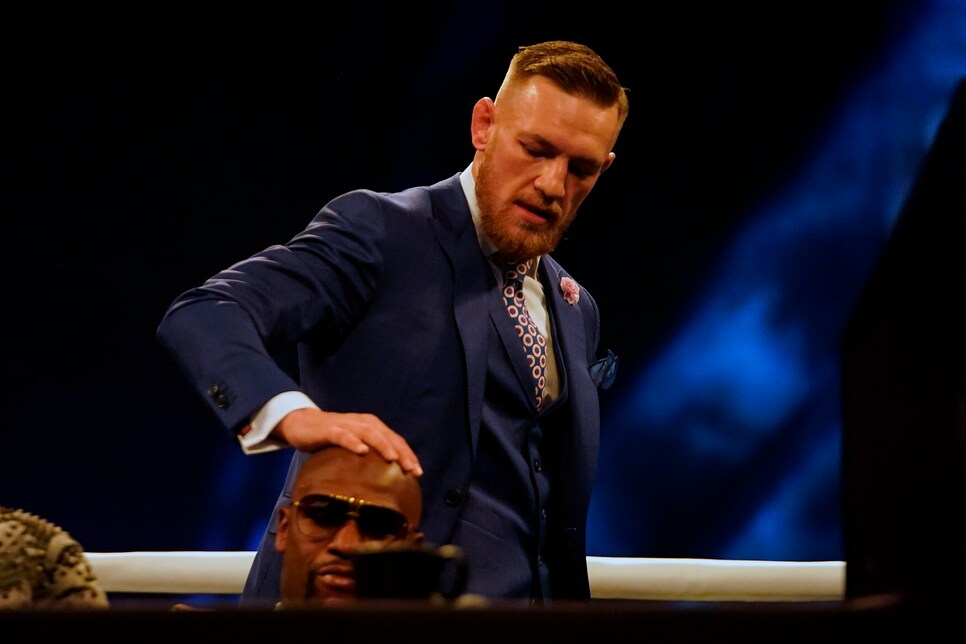 I can't get over the fact that Connor McGregor and Floyd Mayweather Jr. will fight each other—in a boxing match—less than two weeks from now. On the surface, it's an absolutely ridiculous stunt, because Mayweather is the best technical boxer in the history of the sport, hasn't lost a bout in his professional career, and is absolutely going to wipe the floor with an opponent who is exciting, flamboyant, and occasionally sloppy . . . in MMA. In boxing? There's a better chance that McGregor will die in the ring than there is that he'll win the fight. In that sense, this is kinda dumb, and also embarrassing.
But in every other way? Oh my God—it's madness! If you believe that sports is more about entertainment than it is about pure competition, this is the triumph of the century. (Maybe any century?) Right from the start, you had McGregor making veiled or not-so-veiled racist remarks about Mayweather, which almost fooled the media into casting Floyd as the good guy, until they collectively remembered that he is also a terrible person. The negative press didn't stop either one from acting like idiots on their extended press tour, but the comedy has really reached a fever pitch in the last week with three very bizarre, very hilarious developments:
Now look, let's be fair—it's possible that the heavy bag was rigged with explosives, and that if McGregor hit too hard, or too fast, it would blow the whole room sky high. And that could totally explain why he boxed like he was petrified of an inanimate object. You never know!
Even if it looks more like the other guy just kinda fell over after failing to defend himself, at least McGregor won, right? Well, it turns out that his opponent was Paulie Malignaggi, a veteran 36-year-old fighter who retired earlier this year, and who was flown out to Vegas and was pissed that he had to fight right away, and was pretty sure the UFC set out to make him look bad. In other words, this is the fighting equivalent of FAKE NEWS!
I've never paid to watch a fight live in my life—unless you count cover charges at a bar a time or two—but this might have to be the exception. It's only going to get better from here on out, and man, imagine if Mayweather starts making news with the same volume and insanity as McGregor...at that point, they would deserve my money.
The "Let's Pretend This Didn't Happen" Career Finale of the Week
I wrote last week about how Usain Bolt lost his last 100m race to Justin Gatlin because of a slow start, and how strange that felt for the man who seemed indomitable throughout his career. Well, that was just the start, because in the very last race of his career, a 100m relay final, he actually pulled up lame on the anchor leg, and then fell over:
That is not how I want to remember Bolt! I mean, that's heresy. That's an example of reality defying scripture, or something. This was a greek god falling to earth, and landing in a pile of cow dung, and then a bulldozer comes through, scoops him up, and deposits him in a larger pile of cow dung. And in fact, I choose not to recognize it as truth. The minute I finish this paragraph, I am going to erase it from my memory completely. Until then, though, let's take a moment to summon our fury, look skyward, and shake our fists at the cruelty of father time, who humbles even the most perfect human specimens. And now, please strap this futuristic helmet device on and look into the camera...
The Baseball Tough Guy Silver Medal of the Week: Tim Tebow, St. Lucie Mets
Tim Tebow got hit in the head, and stayed in the game:
First thing, props to Tebow for taking the fastball from the Tampa Yankees pitcher and shaking it off like a champ. Second, at the risk of sounding like a jerk, I've never been more proud to be a Yankees fan.
The Baseball Tough Guy Gold Medal of the Week: Rich Hill, Dodgers
Tebow got hit in the helmet. This dude? The adam's apple. Yes, seriously:
Just like Tebow, he stayed in the game. Unlike Tebow, he wasn't hit by a hero Yankees pitcher, so he wins the gold medal for toughness.
The "I Will Always Include an Inside-the-Park Home Run in this Space" Man of the Week: David Peralta
15.59 seconds!! How is that even possible? How do you average less than four seconds per base? Truly the most exciting play in sports.
The 49-Shot Tennis Rally of the Week: Alexander Zverev, Richard Gasquet
This was the toughest call of the week—which 49-shot rally did I want to feature in this space? In the end, after long seconds spent agonizing, I had to choose this one:
Zvever, who is tennis' leading light among the new generation, saved match point and went on to beat Gasquet, and continued to the finals of the Canadian Open, where he'll meet Roger Federer. Connor McGregor has agreed to play a tennis match against the winner in what promises to be a $50 billion spectacle full of offensive outbursts, deep personal humiliation, and leaked videos of him acing Billie Jean King.