The Loop
McDowell says he's done talking about last year, it's time to move on
BETHESDA, Md. -- Graeme McDowell is hardly deserving of your sympathy, not after a year in which he won the U.S. Open, holed the clinching putt for Europe in the Ryder Cup, and edged Tiger Woods down the stretch at Woods' own tournament (McDowell also appeared twice on the cover of Golf Digest in a seven-month stretch -- not that we're counting).
But at the end of a head-spinning ride that began with his landmark win last June at Pebble Beach, McDowell admits he's now ready to move on. Like, now.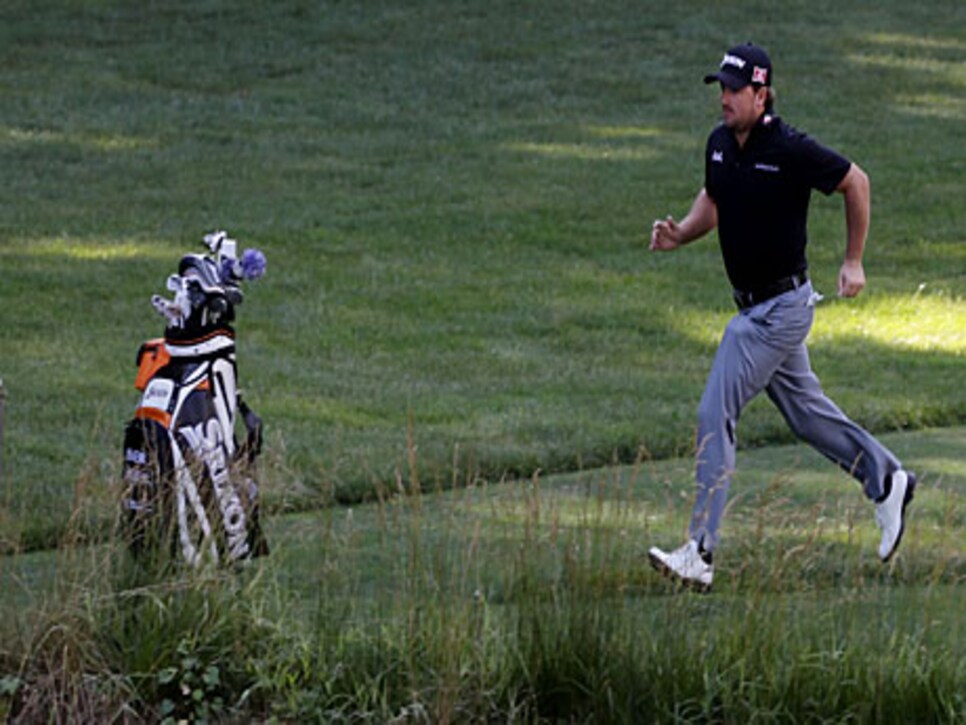 *McDowell runs to a tee box during a practice round at Congressional CC. (Photo by Ross Kinnaird/Getty Images)
"I'm really happy that it's all done because I really want to look forward to the rest of my career and what I want to achieve for the rest of my career," McDowell said. "It's tough to look forward when all everyone wants to talk about is the past.  I'm excited that I felt different yesterday on the golf course.  I really felt like a weight had been lifted off my shoulders already, and I'm excited about the week."
It may seem strange for a golfer to already want to distance himself from his own success, but as McDowell explained, it's been a hindrance so far in 2011. Never was that more apparent than last month at the Players, when McDowell, after missing three of four cuts to start the year, surged into contention, then imploded with a 79 the final round. Whereas once McDowell would grind away even as he sensed a win was slipping from his grasp, he admitted to checking out as other players passed him on the leader board.
"When it started to get away from me, it wasn't like I threw the towel in but subconsciously I felt the win getting away from me and I really lost that drive," McDowell said. "I've lost that drive to grind the top 10s and the top 5s out, the things that drive consistency. I've really got to reset my goals and realize that consistent golf is what it's all about, and you don't have to win every week to be a top player."