Back in Fashion: Matt Kuchar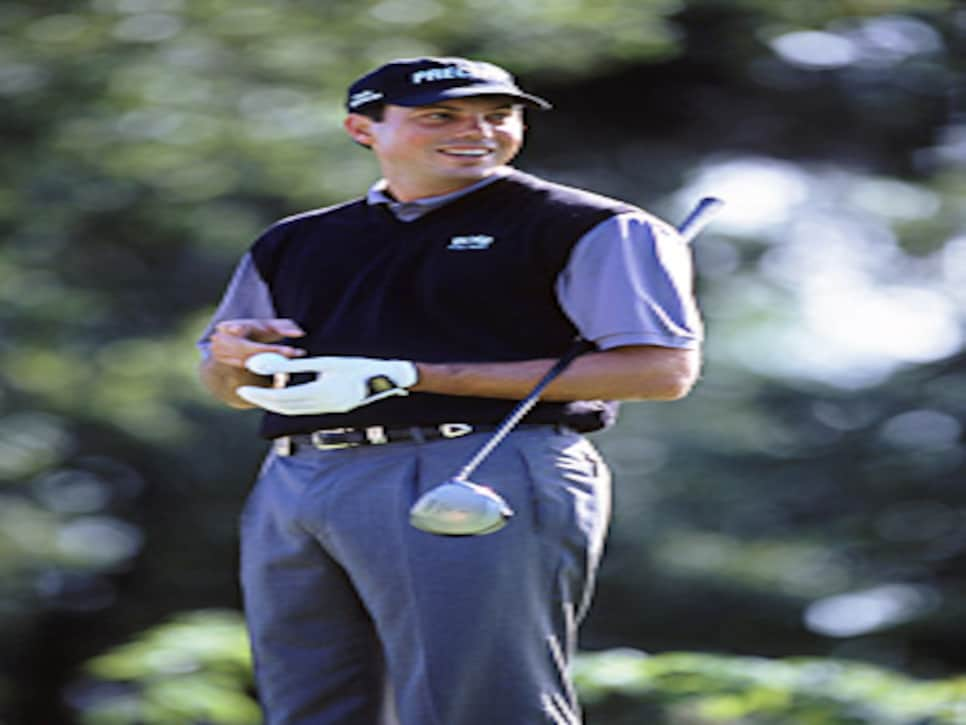 'I'm walking to that first tee, just Tiger and me ... now I know I'm in trouble.'
__Someone too cerebral to be a golfer once said, "In golf and in life, it's the follow-through that makes the difference." After tantalizing the golf world with an abbreviated, albeit brilliant, display of potential four years ago, Matt Kuchar is finally fulfilling the promise. __
Kuchar succeeded Tiger Woods as U.S. Amateur champ in 1997, then dazzled the golf world a year later at the Masters and U.S. Open, the experience turning bittersweet only when the media vilified his father, Peter, for parental enthusiasm considered unbecoming for a caddie. With millions in endorsements available, it seemed natural that Matt would skip his final two years at Georgia Tech.
__But it turns out that Kuchar is willing to take the road less traveled. At one point he considered following the lead of one of his heroes, a Georgia Tech graduate by the name of Bobby Jones, and spending the rest of his career as an amateur. When Kuchar did turn pro after earning his degree, it was with a modeling agency as his management firm. (He was once named one of Atlanta's 50 most beautiful people, and his mother, Meg, worked as a model.) Kuchar made the most of his sponsors' exemptions on the PGA Tour in 2001 and secured a card for the coming season, for which his goals are high: "In my heart, I have to believe I can beat Tiger." __
We caught up with Kuchar, now 23, in October in Orlando, where the tour season was grinding toward a finish. Kuchar's quick wit and candor are proof that he is more than just a pretty face.
__Golf Digest: You had an opportunity to be a millionaire after your sophomore year of college. Is it true that you turned down close to $2 million a year in endorsement contracts? __
Matt Kuchar: They would have added up to seven figures, yeah. I think if I'd had $2 million cash in my hand, things might have been different. It's like playing in Vegas with chips -- chips never seem like real money. I never saw the money, so I didn't really know what I was giving up.
There were times in school, after being up all night studying, that I thought, "I could be in professional golf and not have to worry about these tests." But those were just times of frustration. I'd quickly realize I made the right decision.
When you finally turned pro in the winter of 2000, you were still being pursued by all the top management firms, but you signed with Wilhelmina, a modeling agency that represents entertainers, supermodels and some athletes. Why not a golf-management firm?
Wilhelmina saw things as I envisioned them -- crossing over, outside of golf, into everyday people. The branding of Matt Kuchar -- making him more than just a guy who hits drivers and 7-irons; bringing him to a worldwide audience.
Do you have that kind of personality?
Yes, I have that. It's hard when you're in front of a guy with a tape recorder who's going to write a story about you. You try to be yourself when you're dealing with the media, because that's what you guys want. But at the same time you don't want to be John Rocker [former Atlanta Braves pitcher who made waves in 2000 with his comments about the people of New York]. You have to watch yourself so closely that you have to put up a bit of a guard.
Do you enjoy the spotlight?
Enough to become an actor?
The same guy who gets so nervous in competition that you have trouble keeping your breakfast down -- he could do the lights-cameras-action bit?
Yeah. All you have is the camera. Sometimes in golf I've got 10,000 people watching me. Cameras are easy. Doing the Jay Leno show was easy.
What kind of an actor would you be? The James Dean type?
Sean Connery. Will Smith -- he's my favorite actor. Those two appeal to everybody.
That's a little different from the job you took after college. You were hired to play golf with business clients, correct?
I was given a great opportunity with an investment-banking firm that manages companies in distress. I was mentored by the owner. He said, "Matt, what a perfect fit you could be. People take to you."
You said during that time that you might just remain an amateur and be like Bobby Jones. Was that a serious consideration, or did you always know that you'd give pro golf a go?
It was serious. I still think back at what a wonderful life that could be. The door was open to see how competitive I could be as an amateur golfer. I felt I could play in maybe a dozen tournaments a year as an amateur.
What is your fascination with Bobby Jones?
I didn't know much about Jones until I went to Georgia Tech. I always liked that time in history. You weren't going to make a lot of money in sports. You played because you loved it. Sports were great back then. People not only dressed up to play golf, they dressed up to watch it.
Could you have stuck with the bank job?
Oh, yeah. That was a pretty cool job. But then I wanted to test myself week in and week out against the game's best. I wanted to find out how good I could be.
How bad were the corporate golfers you played with?
Some were pretty good. I did play with two guys I thought were just terrible -- then I played with Charles Barkley, and I realized those two were pretty good.
What's the biggest flaw in most amateurs' swings?
I very rarely watch anybody swing. All I do is follow where the ball goes.
How could you miss Barkley's swing?
That one scared me -- I thought he was going to hurt himself. Everybody loves Barkley; he's great. We first played at Ocean Forest in a two-man scramble. I had to play my ball out on every hole -- he helped on only two shots. Then he invited me out to Vegas for a get-together and I played with him and Joe Pesci.
You've played with celebrities and high-handicappers. But before that, your U.S. Amateur victory earned you a pairing with Tiger Woods at the '98 Masters when he was the defending champ. Suddenly, your opening-round 72 and Saturday 68 made you one of the big stories.
What an awesome week. I'm walking to the first tee that Thursday, just Tiger and me. It's five or six deep on each side of the tee. It's a small teeing area with just a little opening to walk through. Tiger goes first. My stomach is in knots as I walk through. Halfway down I see my grandparents and give them a hug, then make my way onto the tee box. The crowd goes nuts for no reason, except they were really excited for me. Now I know I'm in trouble.
Tiger blows it over the bunker, no problem. It was a tough driving hole for me -- that bunker came into play. Some thoughts were racing through my mind: Don't hit it in the woods. I even thought I might top the ball. Of course, I'm shaking. I make beautiful contact, but the ball is hugging the left side of the bunker. I knew it was just going to catch the lip, but it cleared it by about four feet, ending up way down the fairway. End up making a great birdie on 17 and par 18 for an even-par start. Played well on Saturday, and now I'm the talk of the town.
The other thing I remember was going up to the 72nd green. Dad stops me as we're halfway up and says, "Remember this moment: This is what it's all about." We stopped and soaked it up for a while. That was special.
Two months later you climbed into contention at the U.S. Open at the Olympic Club, in second place during the third round. What was it about your golf game at age 19 that worked so well at those tournaments?
At the time, through the Amateur, Masters and U.S. Open, I was the best putter around. No one putted better than I did.
Much was made of your dad/caddie and his fist-pumping at the Open. Were you embarrassed by that?
I get frustrated that it keeps coming up. I really didn't know it was an issue until the media asked me about it. I kind of laughed at it more than anything. And then every interview I did it seemed like that question would come up.
Have you and Justin Leonard ever talked about that day at Olympic, when Leonard appeared to be glaring at your dad? Can you see where other players might have been annoyed?
The next time Dad and I saw Justin it was normal. In Texas [the 2001 Texas Open] I was paired with Justin again and, of course, the questions arose. Here I am giving another interview more than three years after the incident and it's still there. It's a little frustrating, but it'll die.
Did any players seek you out that week at Olympic to talk about it or make any suggestions?
A lot of people told me not to worry about it. Friends and players.
Are you as close to your dad today as you were then?
Obviously. I love getting up to my folks' house and playing golf with Dad. He's very involved with my off-course ventures, and I talk to him every third day.
Did your parents get you started playing golf?
One Christmas, I think I was about 12 years old, Mom upgraded our membership from tennis privileges to the full country club. Dad was a little [angry].
Yeah. Then I ended up going out one day and giving it a try. With golf, you hit that one good shot and you're hooked. Dad was a once-a-year golfer at the time. I thought I'd never play until I was 60. I thought it was just for old people.
I followed Dad in tennis. Growing up, he was my hero. He was ranked No. 1 in doubles [35 and over] in the state of Florida. He was always very athletic, very good in sports. I was going to be a tennis player. I was ranked in the top 10 in the state [12 and under], a real good ranking. But I took up golf and was hooked right away.
What other sports did you play?
I started with soccer, a great sport for kids. Too many kids get tracked right into football. Big kids get put right into linebacker positions and learn no coordination. They just learn how to push somebody. Soccer helps you develop that coordination, to be agile on your feet. I did that for about eight years, then tennis and basketball.
We all got to know your dad a little thanks to television and the fact that he was on your bag. Tell us a bit about your mom.
I learned from Dad how hard work pays off in sports. And I learned that killer instinct. I got sportsmanship from Mom, keeping a good attitude, a smile on your face. In tennis, I'd get real mad and throw my racket. One time I threw it and she took it away for three days or a week. It just killed me, but she wasn't about to have her son throw temper tantrums. It's even easier to get frustrated in golf. As a kid I'd get mad and throw clubs. She'd have none of it.
It's funny, once or twice a year she'll get talked into playing in a scramble. She'll go out and practice. I love those days when she gets frustrated and tells me, "All right, I understand how you can get so frustrated. I'll give you a little more leeway."
Take us back to the '97 U.S. Amateur. Is it true you were throwing up each morning?
Just the final. Each morning we would walk from the hotel to some sort of pancake house. Every morning I'd eat less and less. I couldn't get it down. The last morning I'm kind of just playing with my food. I got to the course and was a total wreck.
You beat Joel Kribel in the final, but what about the whole week? When did you realize you could win?
I never really won in junior golf. I had some seconds and thirds, but no wins. I remember initially being very intimidated. But I had won a couple of college events and learned I could play with the big kids. Going into match play I was as nervous as I could be. I didn't have much match-play experience. It was like a tournament every hole.
Your dad was caddieing for you?
Right. I knew that if I won the semifinal I'd earn a spot in the Masters. That was his first knowledge of it. He reminded me later that night: "Hey, if you win tomorrow, you'll be in the Masters." Well, neither one of us got a wink of sleep that night. Fortunately I came out the next morning and birdied four of the first five holes against Randy Leen, a kid I was pretty afraid of playing. I go to the final and get off to a poor start until something clicked. I got a big lead, 7 up at one point, and I'm thinking, "All I have to do is make a few pars and I've got this thing won." All of a sudden Joel started playing some beautiful golf. I'm thinking, "I could lose this thing." You'd be surprised at the kind of stuff that goes through my mind during a round.
I remember at Greensboro, the first [pro] cut I made. I was just about in the middle of the pack. I was really having a good Sunday and I see my name go up on the leader board. I'm thinking, "Wow, I'm going to make a lot of money! What can I do with this money? I'm going to buy a boat or a car."
I can't tell you how many things I thought I'd buy with the money. I had to kick myself and say, "You've got to go and hit some golf shots." Just the worst kind of things would pop into my mind, like how much this putt can be worth.
Back to the Amateur: Your lead was down to two on the 34th hole, and you were having trouble breathing.
I snapped back and convinced myself to focus on one shot. I hit a beautiful drive. I hit a good approach from there and a really good drive on the next hole. Then all I had to do was hit a wedge close.
Not everyone agreed with your decision to stay in school and pass on the lucrative endorsement opportunities.
That was probably the most difficult decision I had to make. I'd put it right behind choosing which college I was going to attend. Picking a university was a tough one. That was a deal where Dad took me out to dinner one night and told me to fill out answers to 100 questions that you rank with a point value. The school with the highest ranking was supposed to be the school you were going to attend. My choices were Duke, Florida and Georgia Tech. Duke won the points system, but I had a gut feeling I was supposed to go to Georgia Tech.
Earl Woods has talked about how the NCAA scrutinized Tiger's every move at Stanford. Did you feel as if you were constantly under the NCAA microscope during those last two years of college?
I thought the NCAA was a real pain. Just too many silly rules.
I was voted one of Atlanta's 50 most beautiful people or something like that by some magazine [Jezebel]. They wanted me to come to this party. All the people were going to be there. There were some people who couldn't make it and they were doing a little video for the party. Since I was going to be out of town I decided to do the same thing. I was told that was a violation and I couldn't do it. It just seemed ridiculous.
You turned pro too late for Q School in 2000, so you spent the first part of 2001 struggling on the Canadian, Buy.com and Golden Bear tours. How did you turn it around?
I had a runner-up finish in a Buy.com Tour event and a runner-up finish in a Golden Bear Tour event that wasn't televised, so that's why it just seems like I came into my own recently. Seriously, I wasn't prepared for my first couple of PGA Tour events. I thought I'd do well going back to Atlanta. I missed the cut, and that really burned me. I wasn't going to let that happen again, so I got back to doing things I used to do -- working out, training hard, practicing hard, practicing with a purpose. Sometimes it takes something bad to happen for you to realize what you should be doing.
Why did it seem so easy at the '98 Masters and the U.S. Open and yet so hard once you started to play as a pro?
My game was struggling, but I was also struggling with travel. Every week you're living out of a suitcase. You don't go home, you're doing coin laundries. You're not traveling with a team. At Georgia Tech, I couldn't wait to go travel somewhere. You were with the team, five best friends. Gosh, travel was a blast. Here you're paying everything out of your own pocket. Being under 25, I couldn't rent from the popular car-rental companies. I'd get sent to ABCD rental. They'd charge you an extra 20 percent for being under 25.
Now you'll be playing against the best players in the world, week in and week out. Ever been intimidated by anyone on the golf course?
Jack Nicklaus. At the 2000 Open at St. Andrews I scored the past-champions exhibition with guys like Sam Snead, Gary Player, Arnold Palmer and Jack Nicklaus. Everybody was there. They introduced Jack Nicklaus. He comes over and all the players just stood back in awe. The players of today, Tiger Woods, everybody, just stood back and watched Jack. I was just wowed by him.
The way he captivated people. I had the opportunity to play with him during a shootout at Bay Hill a few Christmases ago. The moment I shook his hand it felt like I knew him. He makes you feel like he knows you, too. The best thing about Arnold Palmer is that you can see some of yourself in him.
Can you become one of the best?
You believe you can beat Tiger?
I know what I should say. I should be like Lee Trevino when someone asked him if he could beat Jack Nicklaus. Trevino said what a great player Nicklaus was and how he'd have to play his absolute best just to contend with him. That's what I should say, but in my heart I have to believe I can beat Tiger. Sure.
How good can Matt Kuchar be?
I want to be the best. When I was struggling with all the attention and things were getting rough at Georgia Tech, Bobby Cremins [then the basketball coach] took me aside. He knew I was getting beat up by things. He said, "Matt, what you've got to do is take time for yourself." He was incredible. He said, "Go to your room, lock the door, turn the lights off, take the phone off the hook, plug a movie in. Try to have two hours of uninterrupted time."
It was great advice and the reason I get into movies now. I watched "The Natural," one of my favorites. In one scene Robert Redford is asked what he wants out of the game. He hangs his spikes up and is walking down the street and says, "I want people to say, 'There goes Roy Hobbs, one of the best there ever was.' " That's kind of what I want. Just to be one of the guys walking down the street and someone says, "There goes Matt Kuchar."