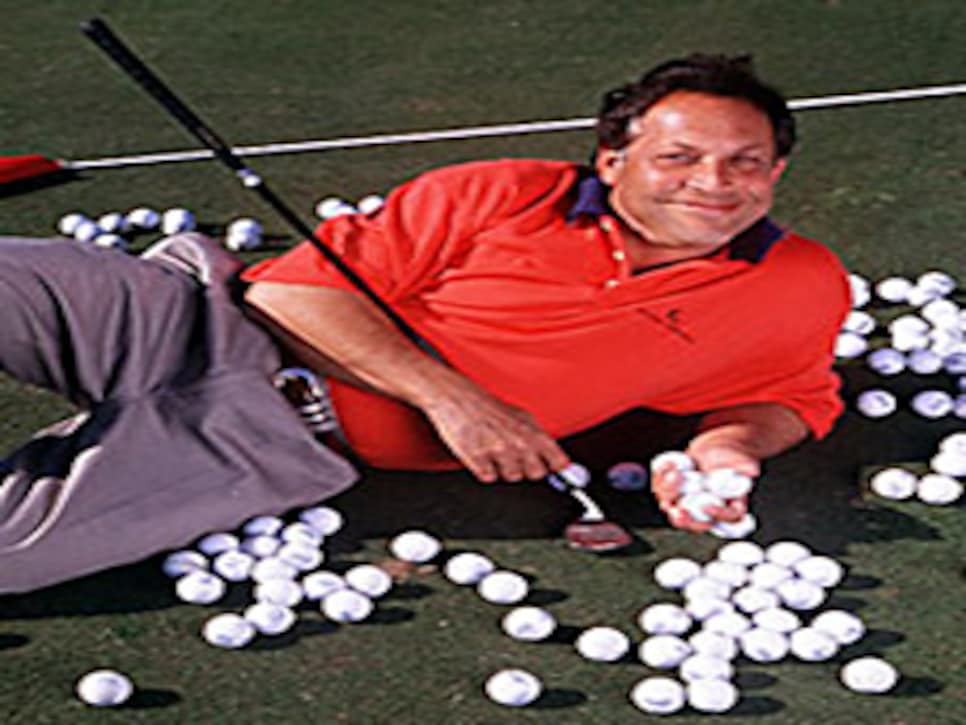 'I have what you would call an athlete's arrogance for the work that I do.'
__In the seven years since the inception of The Golf Channel, no one has become more closely identified with the cable network than Peter Kessler. As host of "Golf Talk Live" and "Academy Live" Kessler has had a privileged seat next to the game's best players and teachers. His guest book reads like a Who's Who of the game, from old-timers Sarazen, Snead and Runyan to current stars Woods, Garcia and Duval. __
You don't have to be one of The Golf Channel's 45 million viewers to appreciate the behind-the-scenes stories he tells in this interview: everything from a guest battling a bladder problem during a live show to surprises, tears and laughter from the giants of the game. Kessler has shown a knack for getting them all to open up on the air -- in his words, as a fan who gets to ask the questions that everybody wants to ask.
__Kessler found his lifework relatively late (he turns 50 in February). Before The Golf Channel, he bounced from London to Wall Street before landing a gig as "the voice of HBO Sports." With that smoky baritone coming from his cozy studio setting, Kessler has become a big player in the TV game. He has become so big, in fact, that he may have outgrown The Golf Channel. Kessler, refreshingly forthright talking about his guests -- and himself-- in this interview, has clashed with management over the past year and found his on-air time scaled back. There was speculation at press time that his days with the network were numbered. But even if and when that transpires, we're sure we haven't seen or heard the last of him. __
Golf Digest: Do you ever feel as if you have the best job in golf?
Peter Kessler: I thought the best job in golf was being Tiger Woods. So if you're not going to be Tiger, you look at all the other possibilities. But in terms of the fulfillment quotient, it's really high. I've done 1,300-plus hours of live television for The Golf Channel, and I've never become bored with it. I've never taken it for granted.
Some of your more memorable interviews have been with golf's golden oldies. Did you ever have to halt Sam Snead from telling some of his raunchy stories on the air?
Sam saved the raunchy stories for the car ride, and he told them to my then-6-year-old son, Kevin. Sam told Kevin two dirty jokes in the back of that limousine that were as filthy as anything you have ever heard. My 6-year-old keeps looking at me like, "What is he talking about?" Now after seven years of psychotherapy my son is finally coming out of it.
What about the night you interviewed Gene Sarazen -- wasn't he known for being a little difficult at times?
Not that night. He was sweet as sugar. In 1920, he used to take the train from Harrison, N.Y., into New York City. At Pelham Station, he would run into the Ziegfeld Follies chorus girls, and he would flirt with one in particular who, in his vernacular, "wouldn't give me a tumble," meaning she wouldn't flirt with him -- I think in those days "tumble" meant flirt. He said that on the air.
He said, "Sixty years goes by and a woman walks up to me and says, 'Do you remember me?' " Now it's 1980. And he said, "I looked her over and I didn't recognize her, and I told her so." And she said, "Well, I'm the blonde that you used to flirt with on the platform in Pelham in 1920, and my name now is Mrs. Bob Hope."
What would rank as your favorite interviews over the past seven years?
The interview with Johnny Miller, the interview with Sarazen, the last full interview with Payne Stewart and the interview with Arnold after his wife, Winnie, passed away around Thanksgiving of 1999.
I agonized over how to handle the situation with Arnold. On the one hand, I didn't want to raise the subject right away. On the other hand, if it's real life and you've just had a tragedy in your family, I wouldn't ask you about your golf game before I told you I was sorry about your personal tragedy.
I tried to imagine all of the possible reactions that Arnold could have. And I knew that one reaction would be that he wouldn't be able to speak. I had decided that if that occurred I would let him regroup by reminding him of how every time Winnie came to the studio with him she sat 10 feet away and never paid attention to one word either of us said. She found it so fascinating that she knitted, she talked on the phone, she read a book, she wrote letters, she made lists -- everything but listen to the two of us.
She might have listened if she had heard the ERC II driver debate between you two a year later.
There wouldn't have been an ERC II debate, because Winnie would not have let Arnold endorse a nonconforming golf club. She'd have hit him over the head with that golf club in five minutes -- in five seconds -- and there never would have been any issue of this whatsoever.
We'll get to that later. Describe the reaction when you mentioned Winnie to Arnold that first time in the interview.
He wept openly, and when the segment came to an end, I leaned over to him and whispered, "Are you OK, Arnie?" And he goes, "That's what they wanted, and we both knew that's what we had to give them." It made me appreciate not only his sensitivity to who he was as a professional but who he was as a human being.
Anything particularly surprising that has come from a guest?
I generally ask questions where I have a good sense of what the answer is, because I know it's going to be a great answer. But sometimes I have been surprised by the whole package that has come out.
Johnny Miller was on the show early in '95. Most people are not aware that when John was 10 years old his teenage brother died in a swimming accident in the Pacific, and they didn't find his body for weeks. Johnny and his brother were extremely close, and I asked him about it. And he openly wept about it, had no reservations about showing us exactly what that had done to him, how that helped shape who he became, how it shaped how he set up his values as a father of a big family and gave him a sense of how fleeting all of this can be.
That was the event that triggered his father setting up a net and a mat in the basement for Johnny to learn to play golf, so that his mourning could be turned into positive energy. With his eyes full of tears, looking me right in the eyes, he told the story as though it had happened the day before.
And then two seconds later, a caller asked him how to shift your weight onto your left side. Now that's going from A to Z in a heartbeat, and he didn't miss a beat. Like everybody else at home, I thought how astonishing and revealing it was, how quickly he could change gears, how acutely aware he was of the environment and what was expected of him as a guest. It was brilliant. I had no idea how many levels Johnny Miller operated on.
I asked Payne Stewart once, "Did the game come easily to you?" And he said, "Yes, it did. It came very easily." And to most of my guests, the game came easily. These were the chosen few. And these people have been sheltered to a large extent and been coddled and been told how wonderful they are.
As a result of that sheltering, sometimes they can be self-absorbed.
Without naming names, we have had a number of guests who I was absolutely certain had never read a book in their lives, were incapable of talking about anything other than golf, because that's been their existence as a professional athlete. But I would say I've been generally impressed that our guests have been able to figure out how to have a well-balanced life, and that being interested in life beyond your little existence helps to make you more interesting.
Do you put Payne Stewart on the favorites list because he died prematurely or because he was so great when he was on the show?
I think it was both. He was always a great guest. When he wanted to, he would disengage the governor between his brain and his mouth and just let himself go.
Wasn't he scheduled to come on again shortly before he died?
He was supposed to do "Golf Talk Live" the month that he died. But he had done that silly Chinese imitation in public, and he ended up getting scathed for that.
He was responding to Peter Alliss' comments about how we might as well all be Chinese, so foreign were the Europeans to the Americans.
You got it. So he canceled on me. It just so happened that The Golf Channel sent me to cover the Dunhill Cup. I was sitting with Payne on the steps behind the 18th green at the Old Course, and he apologized for not doing the show and he said, "Look, we'll both be in Orlando in November, so let's play golf, I'll come do the show. And remember, it's not like we don't have all the time in the world."
And two weeks and a day later, Payne Stewart was gone. That was my last contact with him.
What about some of the not-so-good guests?
I've never had a jerk in the chair except for me. Nobody has walked off the set.
Well, as a matter of fact, someone did walk off the set, and that was to use the men's room. This is a live show. This isn't live on tape; it's get it right or not, and that's what you've got. One particular player with a reputation for being difficult and nasty in his prime in the late '60s and early '70s said to me that it was possible that he might have to use the men's room during the show, as he was having a little problem.
I said, "You cannot go to the bathroom during the show; you go now. It's 10 to 8 -- unload your bladder, and you just have to sit for an hour."
Well at 8:30, after telling me three times at the three previous commercial breaks that he had to go, he said, "I'm going." And so we had one of our audio technicians unhook the wires. My producer tried to run the longest series of commercials he could, but when we came back on the air I was alone. So I asked a question that went on and on and on. When he's finally back in the chair, the wires are hooked back up and the technician's lying behind the chair, because there wasn't time for him to run off the set. By the time I finally finished the question, the guest looked at me and said, "Could you repeat that?"
Can't you tell us who he is? You're not going to just tease us like that, are you?
Dave Hill. I don't want Dave to never speak to me again -- he was a wonderful guest -- but it was Dave.
Do you recall anyone being particularly nervous before or during the show?
Most guests are nervous at the beginning of the show. Even Greg Norman. You think of him as incredibly secure in his own skin. He had wanted to do a two-hour show, because there had never been a two-hour, solo-guest "Golf Talk Live," and certainly with Greg Norman there's plenty of material to do two hours. I said to him before the show, "You're the one who wanted two hours -- you better be pretty damn fascinating tonight." And he was -- we could have done more than two hours.
Is it true you had to audition for Norman before he agreed to come on?
I did audition for that job. We drove down to his office and my producer set up a camera. At one point, the subject of arrogance came up. I could feel my producer breathing hard and hearts beating fast behind me.
We sat in chairs that faced each other directly, just a foot or so apart, and Greg got right in my face. He said, "Are you calling me arrogant?" And I said, "Yeah, and I'll tell you why." I did tell him why. I said, "You can't have everything that you have, the way that you look, the body that you've got, the charisma that you've got, the golf game that you've got and then stand up after you blow a major championship and say, 'It doesn't matter, because I've got $40 million in the bank.' That makes you arrogant. The Greg Norman who is not arrogant is the one who did that series of commercials where you have the sign on your back that said, 'Kick me,' where you were self-deprecating."
For some reason, from that moment Greg and I got along, and I think he appreciated what I had to say. When we finally did the show together, he was as honest as could be.
Who have been some of your worst or toughest interviews, toughest moments?
I've never had anybody I would characterize as a bad or worst guest, but certainly I've had some really tough circumstances.
Tim Finchem and I had a show that was very difficult. It was right after the beginning of the Casey Martin situation on the use of carts, and the commissioner was taking some heat. He was a debate champion, he was an attorney, he is nobody's fool, and he was ready for this. He made it a debate instead of a chat, and rather than letting me ask the next question, he would anticipate accurately my next question and just keep going. I had to interrupt him -- or I chose to, which is not generally my style. I remember being tough on him, because he made the environment tough. I told him at one point that a particular answer was unacceptable. So it was a show with a great deal of tension -- even though we were being silly with each other during the breaks.
Any others spring to mind for different reasons?
Annika Sorenstam and Helen Alfredsson came on the show together early on. I tried to ask an opening question that would elicit a long, thoughtful answer from both of them. So I turned to Helen first and I said, "You know, Sweden, a country we think of as being a place where you can play golf only 15 minutes a year -- how is it that you fell in love with golf and how is that you ever felt that this could become something that you could make a life out of?" And Helen turned to me and literally said, "Well, when I was 11, I started to play and when I was 24, I turned pro."
That's all she said. I'm looking for three or four minutes here, about her father and about the Swedish Golf Federation and [national coach] Pia Nilsson, and I got nothing. So I turn to Annika, fully believing that she appreciated the brevity of Helen's answer and the obligation to give us a doubly long, thoughtful one. I said, "Well, what about you, Annika?" And she said, "Me, too."
That's when I started to prepare for two-hour shows.
Nick Faldo had an incredibly difficult first interview. He had just broken up his player/teacher relationship with David Leadbetter, during which time Faldo had become the best player in the world and Leadbetter the best-known teacher. And Nick ended the relationship by sending a fax. You want to end the relationship, fine. But it was my view, you don't do it with a fax.
What did he say when you asked him about that?
All of a sudden, Nick didn't speak English. I got the thickest accent and non sequiturs and random free associations. It was during the PGA Merchandise Show here in Orlando, one of the few times when we had a full audience, hundreds of people in the room. You could hear a pin drop during every commercial break. The tension was incredibly thick.
Two days later I show up at a shoot for Adams Golf to direct Nick in a commercial as his acting coach and director. And he says, "What the bleep are you doing here?" I said, "I'm here to direct you and act as your acting coach today." He said, "The bleep you are." I said, "Now, I know you can be a cold, emotionless bastard, and I know you can pretend to not speak English, and I know that you can pretend to be a jerk, but let me tell you what: I know you can speak in round vowels, I know that you speak the Queen's English perfectly, and I know that you can be warm and you can be friendly and you can be fuzzy."
And he said, "Fuzzy Faldo?" And I said, "That's right."
Let me tell you, he delivered and performed 100 percent for me that day. Now when we see each other, he calls me sweetheart. So our relationship has fully evolved.
Anybody else give you a hard time?
Darren Clarke and Lee Westwood gave me such a rough time [at the Dunhill Links Championship]. Apparently I have a gesture that I'm not aware of -- when I say, "We'll be right back," I point my right hand at the camera. Well, 20 times, Chubby Chandler, their manager, and Darren and Lee would see me and one of them would go, "One, two, three," and they'd point and look at me and go, "We'll be right back." So I said, "Why can't you, Darren and Lee, be this funny when you're on the show instead of making me pull out my dentist kit because it appears as though you don't speak?" And Westwood said, "We're going to be so merciless the next time we're on the show." So we giggled together all week.
What's your relationship with Tiger Woods? We haven't seen him on The Golf Channel much lately.
Tiger's unspoken deal with me is, when he feels like it, he'll drop by the studio unannounced 10 minutes before airtime and make me work my little fanny off to do the best possible show I can, which was how we did our last show together. Butch [Harmon] and I were scheduled the Tuesday after the 2000 Masters.
So Butch is in the studio. I said, "Is there any chance that he's going to come by?" He said, "Well, maybe. He has important things to do, like go to the fast-food place and take somebody to the airport." I'm sitting in makeup at 10 minutes to 8 before the show goes on and who walks in to makeup but Tiger. I said, "Well, what are you doing here?'' And he goes, "I'm here for the hour." From there on in, the three of us basically winged it, but Tiger was brilliant that night, and that was the most requested "Academy Live" [rerun] ever. Not just because it was Tiger and Butch, but because they delivered the goods.
Do you think Tiger will surpass Nicklaus' record, winning more than 18 professional majors?
If he keeps his health, I believe he's got a great chance, and while he doesn't like to talk about his specific goals, I think they are to win each of the four major championships more times than anybody has won each one of them. So you're talking about five U.S. Opens, you're talking seven British Open championships, you're talking seven Masters Tournaments and you're talking six PGA Championships. That's what, a total of 25 majors? That's a pretty good target.
__Speaking of targets, let's talk about your stand against Callaway's nonconforming ERC II driver. Who did you think was more persuasive in the debate on The Golf Channel between Ely Callaway and David Fay (executive director of the U.S. Golf Association)? __
I would say David Fay -- and that's tough for me, because I fall on his side of the discussion anyway, so I would trust my objectivity a bit less.
Why did this issue exercise you so much? You had to know it could get you in trouble.
I'd expressed my extremely strong opinion on the subject. While I don't regret anything that I said, the tone in which I said things was much more passionate and much more personal than I've ever been on any show. I wish I could have softened that and not been so personal. But it just seems to me that every once in a while there is something that comes up, whether it's in life or golf, where you stand up and say, "This is how I feel," without regard for the consequences.
But that had to be tricky for you and The Golf Channel, because your co-founder and chairman, Arnold Palmer, had endorsed the ERC II.
You're talking about the most popular player in the history of the game, someone with whom I've enjoyed a wonderful relationship since my very first day at The Golf Channel. Even Arnold makes mistakes, and I felt that he made one in this case, condoning the use of a nonconforming club.
But I think what Arnold was condoning was quite different from the implications of what he was condoning. Arnold's whole thing at the time was, "Hey, a bunch of older guys want to use it, who cares?" He did not mean it's OK for everybody. It was very narrow in scope. I think that Ely magnified that narrow scope of Arnold's thinking, which is what got Arnold in trouble with the public.
There has been a lot written about how Arnold was hurt by this. Do you think it hurt you in some ways, too, because your position was so anti-ERC II and anti-Arnold?
Yeah, it hurt me considerably at The Golf Channel. Here it is, more than a year later, my schedule at The Golf Channel has been significantly reduced. I was told as recently as September that I didn't appreciate company policy and that company policy was that no matter what, you never criticize Arnold Palmer.
After the initial thrust and parry on this, your annual Palmer interview to kick off 2001 was on the horizon. It was reported that you were going to be removed from that show. Was that ever officially done?
In December of 2000, I received a phone call from one of the managers of The Golf Channel who, after giving me a laundry list, said, "And you won't be hosting the Arnold Palmer show." I asked, "Why not?" They said, "Well, we want to give other people a chance." I said, "If you have somebody as good or better who can do the job, that I understand. But if you're going to put somebody in who doesn't do the job as well, then why would you not present your absolute best performer in his best role?"
On Friday morning, a number of journalists, including Tim Rosaforte [Golf World/Golf Digest Senior Writer], who is a friend and somebody I really respect as a journalist for your organization, asked me if it was true that I was being removed from what had become an institution, Arnold and me doing the first show of the year. The next day Tim and perhaps others called Arnold's office to get his reaction. Arnold had not been told. Arnold called his partner, Joe Gibbs, and insisted that I be reinstated on the show. I received a phone call from our executive producer leaving me a message telling me I had been reinstated.
Was there a lot of tension on the air during and after the interview?
I found out after the show that Brian Hammons, our "Golf Central" anchor, had been sequestered in the chief operating officer's office watching the telecast, made up and hooked up in the event that Joe Gibbs, who was watching from the control room, determined that I might ask a question of Arnold that he felt inappropriate. And the plan, as I understood it, was that I would be removed during the show by security guards, with Brian Hammons to be substituted.
That would have been like Dan Rather walking off the CBS News set years ago when he was bumped off the air by the U.S. Open tennis.
The difference was, I wasn't going to go willingly.
Is it true that you met with Arnold before his appearance to try to talk out a position that would, in effect, get him off the hook?
That's absolutely true. It's been my style to not do anything with the guests until they're sitting in the chair. In this case, we're talking about Arnold Palmer, the chairman and co-founder of the network, somebody I have been in love with since I was 8 years old. There was another confidant and adviser very close to Arnold who talked him into doing this.
Would that be Charlie Mechem, the former LPGA Tour commissioner?
Charlie Mechem did arrange for Arnold to have breakfast with me on Saturday morning, at my request. Arnold and I met at Bay Hill. I'll be quite frank with you and just tell you what I said to Arnold, quite frank in the sense that I'm exposing a personal conversation: "Look, if Winnie was here with us now, she would say, 'Peter has never done you wrong. He's always been your friend. He's always been a fan. He's always been your guy and stood up for you, and you have reason to trust Peter, and you'd better trust him Monday night, because he's going to help get you out of this.' "
And I said, "Look, what I think you meant to do is work inside the framework of the rules to make the game easier for players who find it a real challenge."
And he looked at me and said, "That's exactly what I want."
I said, "Well, that's not how this is playing out. This is playing out that you're condoning breaking one of the Rules of Golf."
Once you got him on the show then, he didn't take the bait that you'd agreed to, did he? It got rather confrontational, a bit acrimonious.
That would accurately sum up the state of affairs that evening.
What actually happened on the air?
Basically I repeated our conversation of Saturday. And I expected him to say, "Exactly." And instead he said, "I've got a lot of letters and phone calls from my friends, a number of whom have called me a cheater to my face and in writing, and if you were to call me a cheater right here, right now on this show, I would punch you in the nose."
That was not the answer that I was expecting. My initial reaction was, "Not what I expected, but probably good television."
So I stuck to my game plan, which was to give him wiggle room for as long as the subject was on the table, to give him every chance to say what it was I think he truly believes today and has believed his entire life about integrity, values and rules. I know how important that is to him.
That night Arnold wasn't the Arnold I knew. It was a bit confrontational. I believe subsequent to our Saturday breakfast meeting Ely Callaway and some of Arnold's closest advisers and friends in Orlando -- excluding IMG, and let's be very clear on that, this was not a Mark McCormack-driven issue on any basis -- said to him, "No, you stick to your guns on this."
Ely was quoted as saying he didn't coach Palmer before the interview.
Nobody else would have given him a piece of paper saying "coefficient of restitution." Nobody else would have given him a paper describing the nature of the components of the club.
Is Arnold coming on with you again this year? Are you scheduled to do that annual interview?
No one has told me that he's not doing the show. No one has told me I'm not doing the show. The next time I saw Arnold was at the golf writers' dinner in June, the 50th anniversary of the Met [New York metro] Golf Writers honoring the 50-year contribution of the Big Three: Arnie, Jack and Gary.
Arnold and I sat next to each other on the dais, and when I saw him in the little private room for the people on the dais before the thing, I hadn't seen him in six months and I said, "We OK?" He said, "You want to have a little fight?" in the friendliest, silliest way. And we shook hands and he had a twinkle in his eye, and we gave each other a hug.
Is The Golf Channel a journalistic enterprise or pure entertainment?
It's meant to be ... to pick one, I would say pure entertainment. You can go ahead and ask me a leading question if you want.
I think it needs to be a combination of the two.
I've written -- and others have written -- that when Ben Hogan dies or the Casey Martin case breaks, The Golf Channel seems reluctant to break format, and so golfers don't turn to it when news is happening.
I think it's a missed opportunity, because we're The Golf Channel. I'm in favor of trying new things. I think communication from our audience is key; I just question the need for interactivity during the show itself. Sometimes on "Golf Talk Live," I feel like the guest and I work so hard, like a couple of beavers, we've got this thing running and it's really cooking and then all of a sudden you get a call from somebody who says, "Arnold, do you still have the stroke counter, the plastic clicker that I gave to your caddie behind the 17th green at the Pleasant Valley pro-am on Wednesday in 1973? Do you still use that clicker to count your strokes?" I think, "The show has come crashing down."
__The former producer of golf for CBS, Frank Chirkinian, used to have a phrase that he would often use, and he dealt with some big-name talents. He would say, "Talent without ego is not talent." Do you feel as if you have a big ego? __
I think all successful people have healthy egos. There's nothing wrong with that. I have what you would call an athlete's arrogance for the work that I do. Just like Jack Nicklaus knew that he was the best golfer when he was playing and there was that business about, "If you were playing Jack, you knew that he was better than you, he knew that he was better than you, and you knew that he knew that you knew he was better than you."
Whose line is that, by the way?
I'm not sure, but I've stolen it from somewhere.
Have you learned over the years that your questions can get a little too long or complicated for some guests? I'm thinking about the first question in the Nicklaus interview.
It was a near-death experience getting ready for that show. I could see myself as a fan who just got to be the guy who asked the questions that everybody wanted to ask. And I said to Jack, "Remember the movie 'Casablanca' when Humphrey Bogart and Ingrid Bergman are in Paris at the beginning and they're in love and they're happy and everything is fabulous and he says to her, 'Who are you, really, and where do you come from?' "
I said, "That's a question that you want to ask of a lot of people. Bobby Jones, you would like to ask that. But now I ask you: Who are you, really, and where do you come from?"
First, he said to me, "Well, what did she say?" referring to Ingrid Bergman. And I said, "I'm not telling."
And rather than Jack seeing the question as I saw it, he took it more literally and talked about where he grew up and having met Barbara Bash, who later became Barbara Nicklaus.
Are there other interviewers on TV that you think are particularly good?
Katie Couric has become a really good interviewer, in the last couple of years in particular. I don't know that she gets credit for that. She has become a damn good interviewer. I think Brian Williams is phenomenal. I like Chris Matthews. I like Geraldo Rivera.
I don't understand how you can not prepare for an interview and be proud of it.
He has boasted his whole career that that's how he does it -- he and the audience are then in the same boat, discovering things together.
Well, you know what? You're supposed to be there to entertain the audience, not to be the audience. He had Tiger on the show, and Tiger knew he wasn't prepared. Larry King asks him something to the effect of -- I may be paraphrasing and exaggerating, but something to the effect of -- "Boy, those bogey 7s must really make you nuts." And I was thinking to myself, "Yeah, those par-6 holes are really tough." It was just dreadful.
__You're well known for your intense preparation. What would be the average amount of time to prepare for a "Golf Talk Live" show? __
Somewhere between 10 and 20 hours. Now could I do it on an hour's notice? Yes. Could I do it on no notice? Yes. Could you just put the person in the chair and have a terrific show? Yes. But I'd be afraid not to do the preparation, because that gives you the confidence to go wherever you need to go.
Did anyone ever try to set up ground rules in advance?
The only one who really tried was Frank Stranahan, the great amateur who finished second to Hogan in the '53 British Open at Carnoustie. His father founded Champion Spark Plugs, so Frank never had a want for money. He worked on his body, worked on his golf game and was thought of as somebody who was incredibly handsome and spoiled.
When he came to the show, he brought a notebook with him. The show works better if we do the whole thing in the chairs and don't leave anything in the hallway. But I sat down with Frank and I said, "Let me give you a sense of what I have in mind." He said, "I'll tell you what you've got in mind -- I have the list of topics here. If there's time left at the end, you can ask me a few things."
At that point I closed the door to the office and we had a little chat. I told him nicely that this was my environment and that he needed to trust me and that I was more than intimately familiar with his life. He grudgingly let me be in control and do my job. So we sit down to do the show, but he keeps the notebook in front of him. And no matter what question I ask him, he would look at his pad as though it contained the answer. Finally, I said to him, "You're looking at the pad. Are the answers on the pad?" He said, "Well, no."
He was just nervous, and it was a crutch, a blanket. And I took the pad out of his hand, put it on the table and said, "If the answers aren't in there, then we don't need this. Give me that."
So naturally the next time he came to do a show, he brought his pad with him again, and again we didn't use it.
__Any embarrassing moments that you've had on the set, especially when you were on the "Academy Live" set with teaching pros? __
Well, I've almost been hit with shanks on the show on a number of occasions. One occasion was with the singer, Amy Grant, and her teacher, Mike Wine.
When a guest or teacher is hitting a shot, I'm in the shank zone -- six feet away from them and at a 45-degree angle. Mike Wine is standing to my right, and Amy is about to hit her last shot of the evening. After a start where she got the club stuck in our artificial turf, she pulled the trigger and shanked the shot. There's no time to react when the ball is only going to travel six feet before it hits. The ball went just below Mike's crotch, just below his trousers. An inch higher, there would have been a problem. In watching the slow-motion replay later, we were able to see that his thighs quivered, so maybe there is time to have a reaction.
How many of your guests have you actually played golf with, and have you taken money from any of them?
I played golf with Ernie Els right after he won his U.S. Open at Congressional in '97. We played with Fulton Allem. Robert Baker, who was Ernie's teacher at the time, played with Ernie against me and Fulty. I was an 8-handicap at the time, getting 10 shots.
Ten shots from the three of them, essentially. And of course the three of them were playing even. Ernie made nine birdies and an eagle. Fulton and I made a birdie between us, because Fulton made it on the 17th hole. Baker made six birdies, so they had 15 birdies and an eagle. We lost so much money to them that we couldn't figure out how much it was.
John Cook and I played. I played with Arnold. If you hit a good shot and Arnold and the other two guys in the group say, "Good shot," you find yourself saying, "Thanks, Arnold," and ignoring the other two fellows. Played with Greg Norman. I never played a decent round in any of their company.
Give us the short version of how you went from Wall Street to being the voice of HBO Sports to getting this gig.
I bounced around Wall Street for a long period of time, and on my 35th birthday I woke up and said, "What are you going to do with your life?" And I decided to learn how to do voices for documentaries and commercials. I enrolled in a class, and when I went, both the good news and the bad news was that the only other people taking the class were nine beautiful actresses. I was so distracted that I never went back to the class, and I started to work on it at home.
Being HBO's "voice" meant working four Fridays a year and for very little money, so don't mistake the glory of the title "voice of HBO Sports." But that was the biggest break of my life, and it put me in a position to meet Mike Whelan, who was a brilliant producer of documentaries.
When Mike was hired to be executive producer at The Golf Channel, he contacted me and said, "You were born to host television shows." And I thought, "Really?" He said, "Maybe one night of the week we'll have a show where you sit down with the greatest players in the world, and you talk to them about their lives and golf." And I said, "I would do that." He said, "Maybe we'll have a night of the week where you have a teacher on, and somehow we'll help people with their golf swings."
And over the summer he kept calling me at 3 in the morning and asking me obscure golf questions. I knew the answers, because I spent all these years reading golf history.
You're known as a history buff. Who would win a game of golf Trivial Pursuit between you and Ben Crenshaw?
It's pretty close. I can say to Ben, "What did Francis Ouimet shoot in the two practice rounds immediately preceding the 1913 U.S. Open, which Ouimet of course won," and Ben would know that it was a pair of 88s. And so would I.
What else did you do to prepare before The Golf Channel went on the air?
I would always watch interview shows, all kinds of things just to see what other people did and try to figure out what my sensibilities would be.
Forgive me, Tom Snyder, but watching a Tom Snyder interview with Paul Newman in a 90-second time span, I was able to gather all of my rules. As I recall he started the show by saying to Newman, "Tell me how you broke into film." I thought, "What a good question." And Newman started to say something like, "Well, in 1947. ... " and that's all he got in before Snyder said, "I've got to interrupt you and tell you how I broke into radio."
I went crazy at home. I wanted to throw stuff at the television. I wasn't interested in how Tom Snyder broke into radio. I was interested in how Paul Newman broke into film. So I wrote down on a piece of paper: "Don't interrupt the guest. Never say 'I.' And never talk about yourself." And I've really tried very hard to follow those rules.
Who are some of the guests you wanted to get on but couldn't?
I think I've done about 350 "Golf Talk Live" shows since Jan. 17, 1995, which was the inception. We've been able to have every great living player on, with very few exceptions. Mickey Wright is a very notable exception, and I think it's my fault that she hasn't been on. I don't believe she ever got my letter inviting her on, and a mutual friend indicated that. I owe her another one. We haven't had Craig Stadler on. Of course, Ben Hogan was too sick when we started the network to have him on.
Who's on your current wish list?
Bill Clinton, President Bush and his father -- former President Bush -- Sean Connery, Jack Welch, Wayne Huizenga, Ivan Lendl, Mayor Rudy Giuliani . . . and Cindy Crawford, because I know she once hit a couple of golf shots, and that's all the excuse I need. I'd also like to have Gary McCord and Dan Hicks and Jim Nantz. I understand Danny Hicks does great impressions of me and Nantz and [Bob] Costas. I hear he does a really mean one of me that I'd like to see.
If you could go back through history, who would you most like to interview?
Old Tom Morris, Young Tom Morris, Allan Robertson -- golf's first professional -- the first great triumvirate: James Braid, J.H. Taylor and certainly Harry Vardon. Walter Hagen, Joyce Wethered and obviously Bobby Jones. He would be No. 1.
Do you think you sometimes overdo it with Jones, invoking his name when some modern tour players and fans may barely know who he is?
There is never any attempt to raise him gratuitously, but there must be some validity to your question, because a lot of times the group of people I work with will say, "Gee, you went three whole questions without raising Jones' name."
As I understand it, there used to be some informal betting pools among my colleagues about how quickly would I figure out a way to raise Jones' name. But I also raise Jack Nicklaus and Tiger Woods a lot and Ben Hogan a lot. These are the four greatest players who have come along.
How does it feel to have become a celebrity yourself in some circles?
My celebrity status is largely dependent on where I am. If I'm at a golf tournament, I'm Madonna. If I'm in a town that doesn't have it [The Golf Channel], I'm the same jerk I've always been.
The attention has been enormous and incredibly flattering, but it's completely tempered by two things. I have a 13-year-old son, and when I come home from work thinking how well the evening went I'll say to him, "Did you see any of the show?" his response will be, "No, I wouldn't watch that. Who watches that stuff? And anyway, which one did you do tonight, the one where you sit down and cross your legs or the one where you stand up and pretend you understand the golf swing?"
So if there's been any sense of an inflated head, that would dispel it.