The Loop
Maybe what Chambers Bay really needs is a little perspective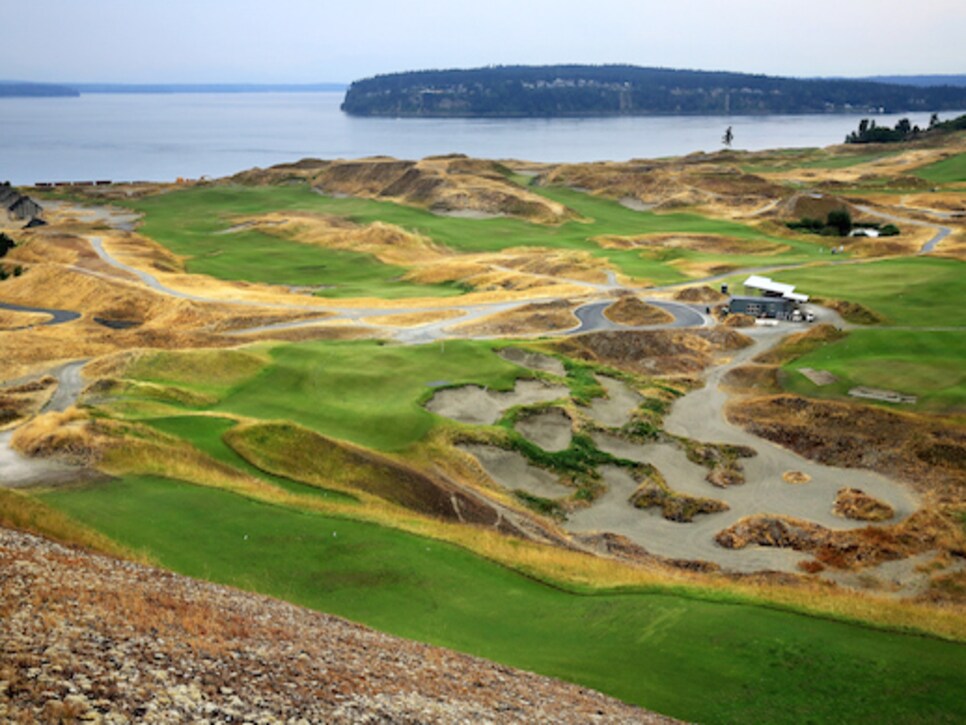 Such is the case with Chambers Bay. The venue seemed often the brunt of vitriol that became its own kind of parlor game. An endless stream of critics took their shots, as much impressed with their chance to make up an insult as they were the opportunity to elevate the level of discourse regarding modern architecture and agronomy to tones usually reserved for Paris in the 18th century during the Enlightenment.
In what at least might be called indelicate, Gary Player called Chambers Bay one of the worst courses he'd ever seen (and the indirect back and forth between he and architect Robert Trent Jones II is hardly reminiscent of Voltaire and Leibniz). The course and the USGA's setup was labeled a farce and Mickey Mouse before a shot was even struck. And its greens were compared to a particular group of vegetables that are part of the cabbage family.
World No. 1 Rory McIlroy even suggested it would be fine with him if the U.S. Open returned to Chambers Bay—as long as it was after his playing days were done. And, of course, Billy Horschel's anti-Chambers Bay actions and assessment led him to that increasingly popular fallback position, the Twitter apology.
But history tells us that bashing championship venues of one kind or another is nothing new. In fact, all the grousing may or may not indicate whether a course is fundamentally flawed or merely in the early stages of a long career. What we have to wonder about Chambers Bay is whether it will turn out to be a mistake never to be made again (Kemper Lakes, Northwood, etc.), or a rush to judgment that is the flaw of the petulant present. Given time and editing, history tells us, the initial reactions to championship venues temper.
Most remember it was Dave Hill who summarized U.S. Open venue Hazeltine National this way in its 1970 debut: "If I had to play this course every day for fun, I'd find another game. … Just because you cut the grass and put up flags doesn't mean you have a golf course. What does it lack? Eighty acres of corn and a few cows."
Today, matured and transformed, it has now held four majors and will be the site of next year's Ryder Cup matches.
When the Ocean Course at Kiawah first opened in 1991, it started its existence as a golf facility by playing host to the Ryder Cup. And, as it turned out, a whole bunch of complainers. Nick Faldo led the chorus, saying early in the week, "If we had to play this place with a pencil and a scorecard, we might never finish."
Today, it's thought of as demanding but fair, and was recently named the site of the 2021 PGA Championship, its second PGA in the last 10 years. The only folks complaining about it are the tens of thousands of fans fighting traffic to get to the remote venue.
Sam Snead famously thought the Old Course at St. Andrews looked abandoned the first time he saw it. Then, he went on to win his lone Open Championship there.
At the 1987 PGA Championship, a fungus left portions of the greens at the Champions Course nothing but brown dirt and sections were dyed a dull green to make them look presentable on television. Arnold Palmer, playing in his 112th major championship at the time, called the condition of the greens the worst he had ever seen in a major.
Today, the course, having been refortified by Jack Nicklaus, has hosted the Senior PGA Championship 18 times, including a win by Palmer, as a matter of fact. It's since become a fixture on the PGA Tour, where it regularly gives the Honda Classic one of the best early-season fields.
(Bad greens—and the greens were bad at Chambers Bay, the statistics prove it—do not mean a bad golf course. Riviera's chewed up, lifeless greens at the 1995 PGA Championship did not ultimately diminish its reputation. Same with Quail Hollow's greens in 2013. And for the debacle of the greens at the 2004 U.S. Open, no one is ready to write off Shinnecock Hills as an unworthy championship venue.)
Not a major, but a near-major, when the Players Championship moved to the Stadium Course at TPC Sawgrass in 1982, no less a statesman and diplomat than Jack Nicklaus suggested that it didn't suit his game because "I've never been very good at stopping a 5-iron on the hood of a car." And J. C. Snead suggested the layout was "90 percent horse manure and 10 percent luck."
Now, after decades of televised drama and occasional editing by original architect Pete Dye, it's regarded as one of America's 100 Greatest Courses and one of the most respected tests on the PGA Tour.
So perhaps Chambers Bay and its benefactor the USGA can take comfort in the resilience of past maligned venues. (It is at least mildly interesting that all of the above examples, save for the Old Course, were for venues making their debuts, all within the first decade of their existence.) At the very least, corrections occur, physical and psychological. Almost without fail, it seems the heat of the moment usually doesn't last. Perspective. Takes. Time.
Now about that Fox broadcast...