The Loop
It's the right time for Alabama to be playing like the No. 1 ranked men's team in the country
With the fields for NCAA Regionals set to be named on Monday, Seawell and the Crimson Tide can take pride in knowing that the team doesn't seemed to have peaked too early. Three more victories in the spring, including an impressive 16-stroke triumph at the SEC Championship with senior Bobby Wyatt setting a school-record with a 18-under 192 total at Sea Island C.C. to claim medalist honors, have Alabama looking like fairly formidable as it gets ready to try to defend its national championship in the coming weeks.
Golf World/Nike Golf coaches' poll voters obvious remain impressed. In the latest poll, the Crimson Tide earned all 19 available first-place votes to be the unanimous No. 1.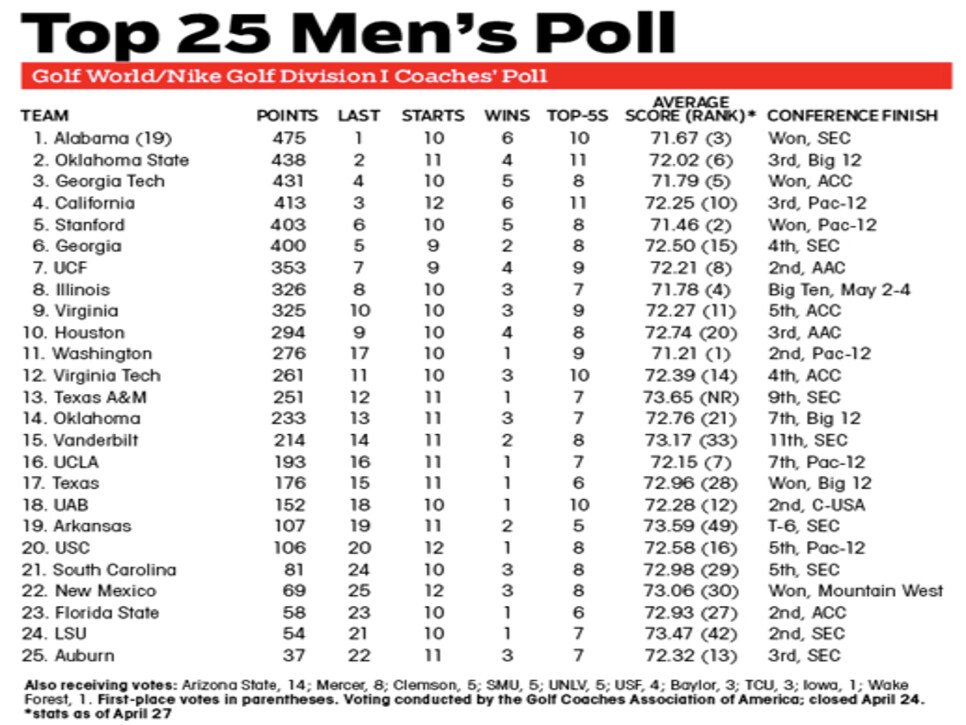 School, Top-25 appearances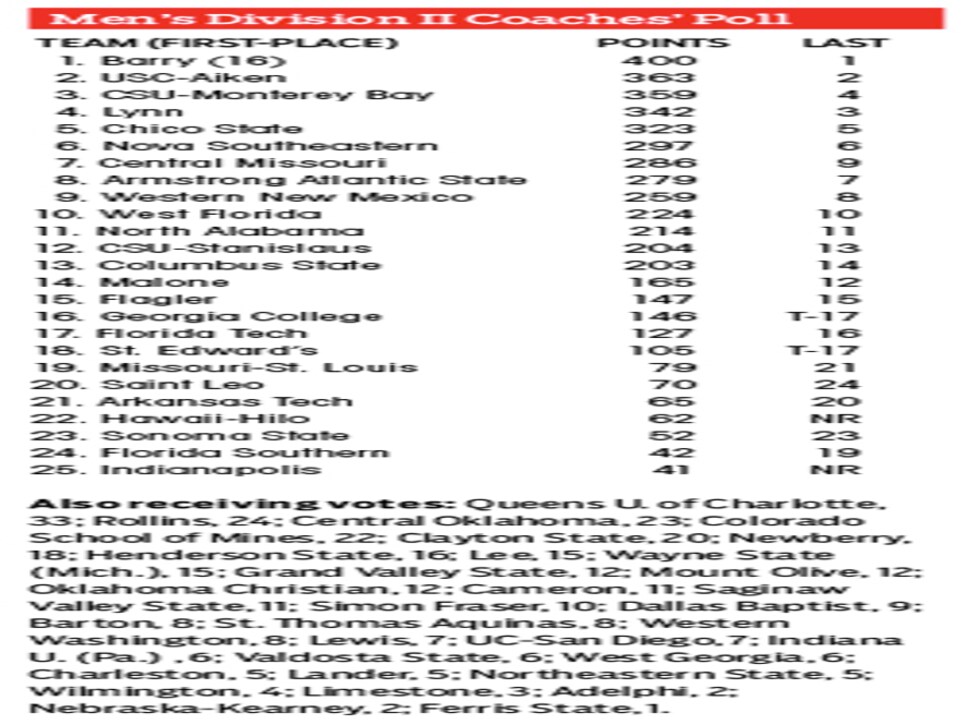 USC-Aiken remained No. 2 in the latest poll after defending its title at the Peach Belt Conference Championship. CSU-Monterey Bay moved up one spot to No. 3, swapping places with No. 4 Lynn. Chico State rounded out the top five.
No new schools moved into the top 10. Two programs jumped into the top 25: No. 22 Hawaii-Hilo and No. 25 Indianapolis.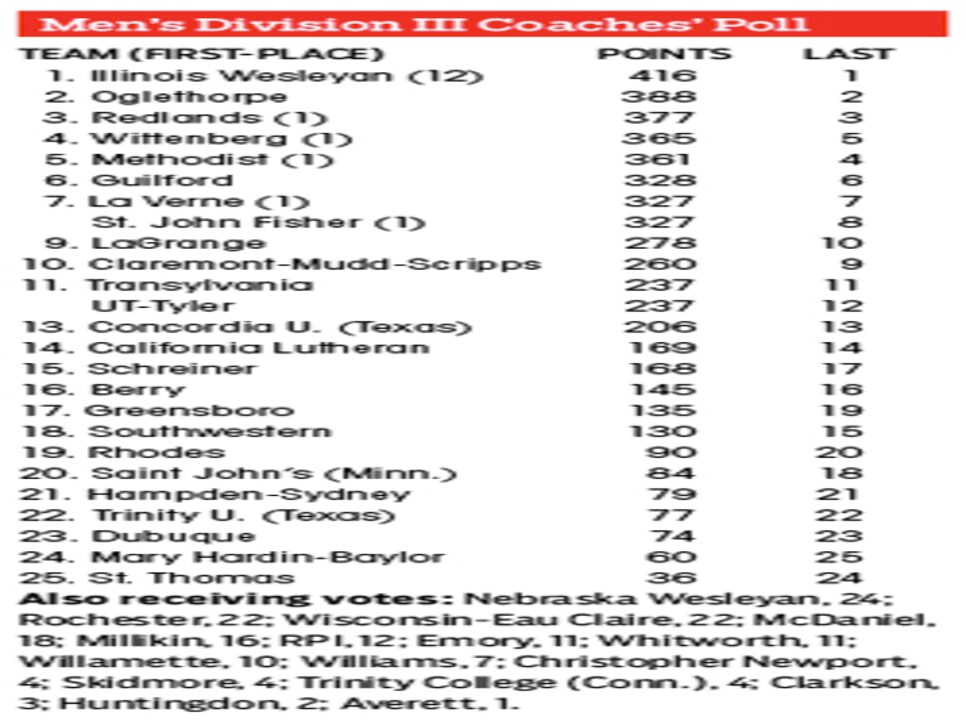 Oglethorpe remained the No. 2 team in the latest poll, with Redlands holding on to its No. 3 spot. Wittenberg and Methodist rounded out the top five.
Besides Illinois Wesleyan, five other schools all earned one first-place vote: No. 3 Redlands, No. 4 Wittenberg, No. 5 Methodist and La Verne and St. John Fisher, both tied for No. 7.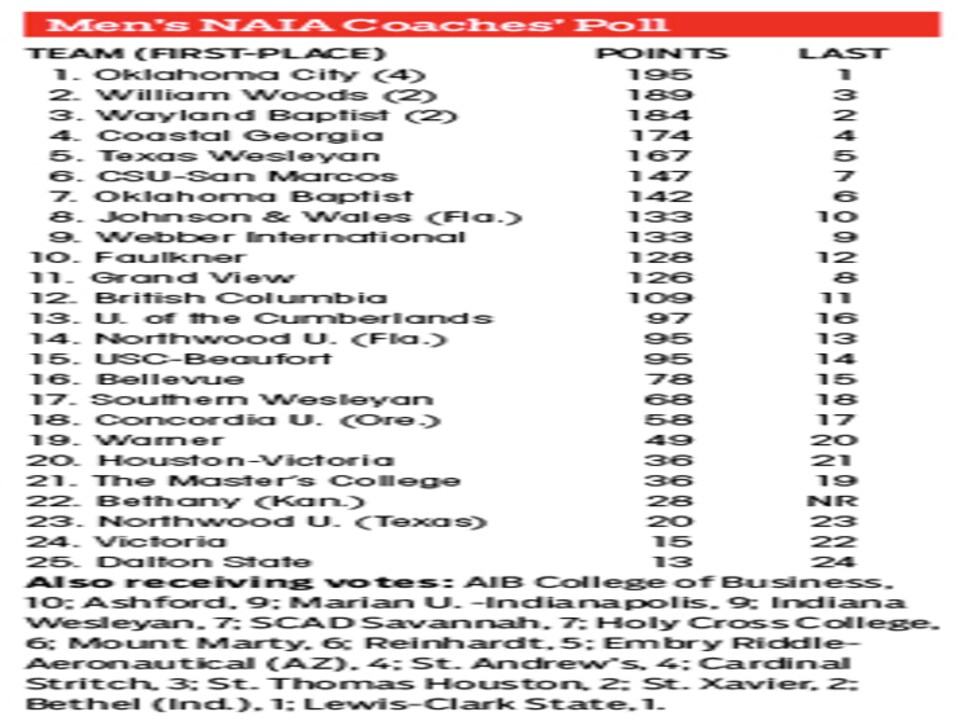 William Woods and Wayland Baptist each earned two first-place votes as the schools clocked in at No. 2 and No. 3 in the latest poll. Coastal Georgia and Texas Wesleyan round out the top five.
One new school moved into the top 10: No. 10 Faulkner. One new program also entered the top 25: No. 22 Bethany (Kan.).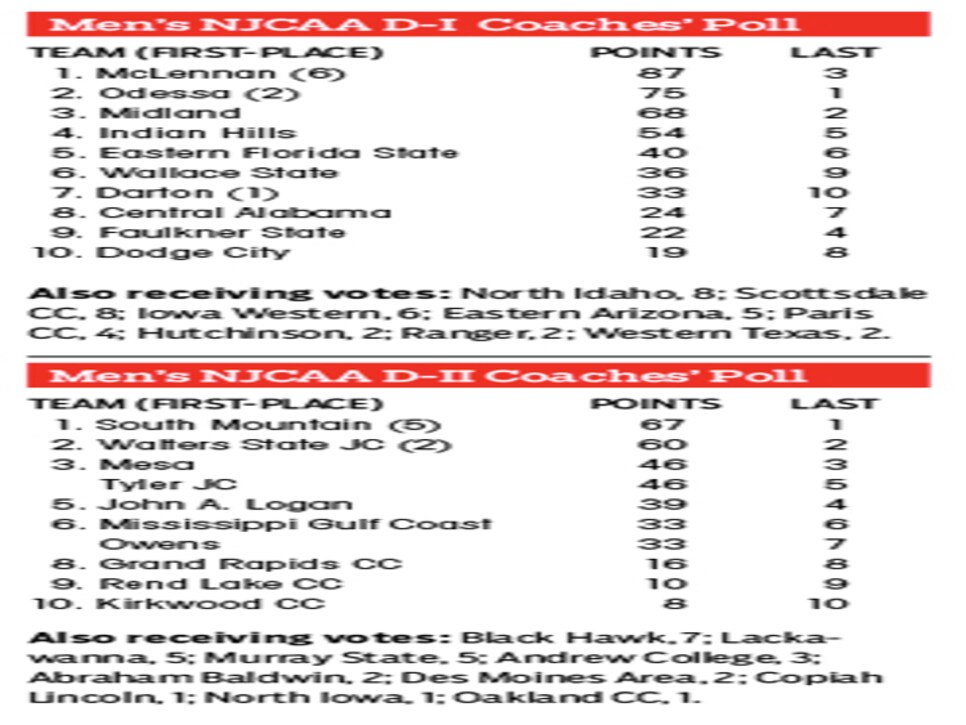 McLennan returned to the top spot in the D-I ranking, garnering six of the nine available first-place votes after outpacing previously No. 1 Odessa at the NJCAA District 2 Championship. Odessa fell just one spot, to No. 2, in the latest ranking and still earned two first-place votes.
South Mountain claimed five of the seven available first-place votes in the D-II poll as the Cougars eye their four NJCAA national title in five years later this month.