Let's play two
Max Homa played 36 holes on Friday, and his 'bucket list' round was not in the Scottish Open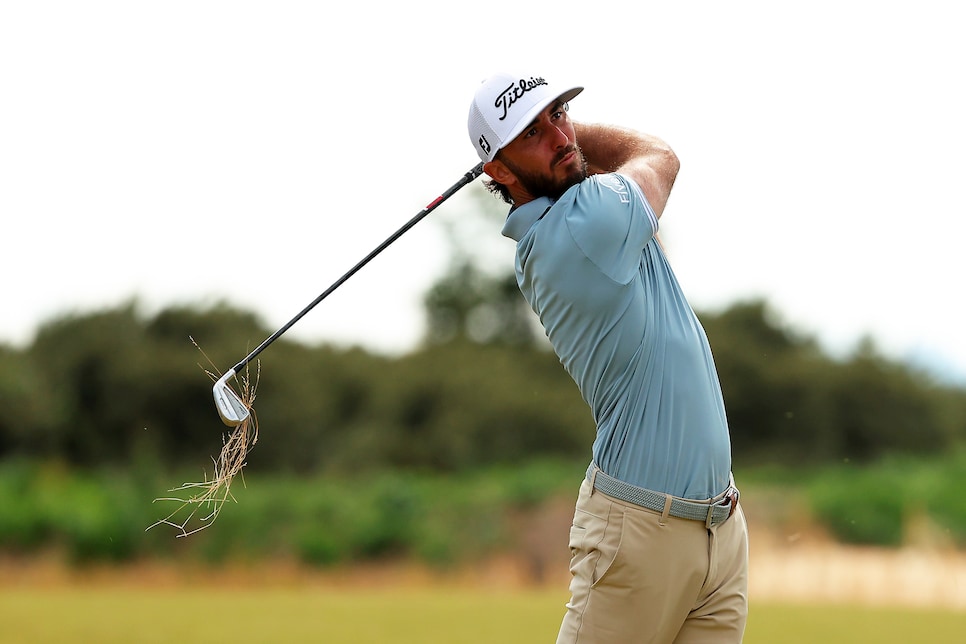 Max Homa plays a shot on the Genesis Scottish Open.
Kevin C. Cox
GULLANE, Scotland—He's not leading the Genesis Scottish Open after 54 holes, but at least in one respect, Max Homa is ahead of the field heading into the fourth and final day at the Renaissance Club. That's one round ahead.
After completing a one-over par effort of 71 on Friday, the 31-year old Californian made his way eastward along the southern shore of the Firth of Forth to nearby North Berwick. There, in the company of the assistant professional, Scott Gillies, and two friends, Homa played a twilight 18 on the course he calls "one of my favorites anywhere and one of the coolest courses in the world."
"My legs are a little tired and my back is a little tight, but 66 helps," Homa said after completing a four-under-par effort back in the official tournament on Saturday to sneak into the lower reaches of the top 10. "I have no regrets though. North Berwick was a bucket-list course for me. I never play 36-holes a day during a tournament week, but for there, I had to. I saw it on a video back in the day and I've been wanting to go for years. That style of golf, I really enjoy. I just like playing the ball along the ground."
Homa's sense of humor was evident in the big smile that accompanied his description of his evening out on the links. There were a few highlights on one of Scotland's more iconic—and quirky—layouts.
The eagle on the par-5 8th was one. Throwing down a ball to try the chip over the wall to the 13th green was another—"You have to do that." And just playing the world famous par-3 15th, the Redan, was one more. One of Homa's playing partners made him feel at home by pulling his drive off the 17th tee into what the locals apparently call "dog poop alley." Then there was just time for one last birdie on the drivable par-4 18th. But he wasn't owning up to a score, other than to say he was "maybe a few under [par].
"I would be kicking myself if I hadn't played," continued Homa. "And it was good practice for today, getting used to clubs in the wind, having a bit of fun and getting ready for next week. I'm glad we did it. It was definitely one of the great golf experiences of my life."
Homa's form clearly carried over into the weekend. Another eagle came his way at Renaissance, courtesy of a chip-in from an awkward spot on the par-5 third.
"I hit a little fan 3-wood off the tee to keep it short of that bunker, which I did," he explained. "It left us a little longer in than we've had, but I also had like a full perfect 3-wood. I hit a really good shot just long left of the green. It was one of those chips that came out perfect and I read it really well. That was a nice bonus."
Homa's only other deviations from par came with birdies at the first and 10th. And that was it. He didn't really have much else to say. Clearly, North Berwick in the gloaming was much more fun than playing for real in the Scottish Open. But not as lucrative. First prize in this co-sanctioned event between the PGA Tour and the DP World Tour is $1.4 million.