Valspar Takeaways
Homa making Ryder Cup case, a pair of major winners make charge and a scorecard DQ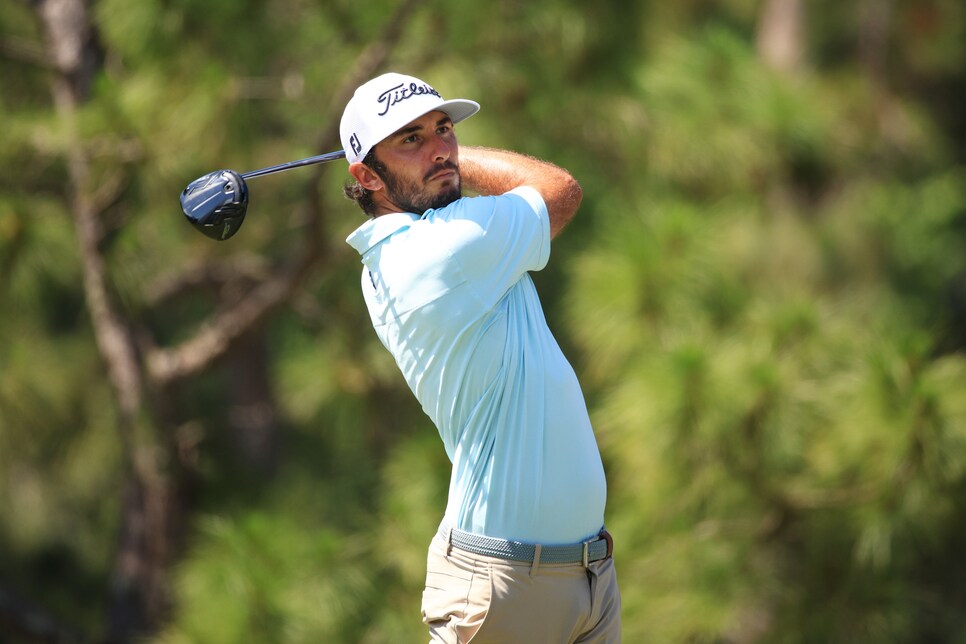 As the Ryder Cup has transformed from a three-day exhibition into an event consumed year-round, one of the upshots is a running bit where a player enjoying any semblance of a hot streak is placed into team discussion. Admittedly it can be a fun debate, but given the natural ebbs and flows of the golf calendar—particularly during this 50-tournament "super" season—it can be a bit exhausting. After all, there are only 12 spots per team, and with half those spots spoken for, it's a hard math that makes this candidate exercise a bit of hot air.
We say all of that to say this: Max Homa is working his way into Ryder Cup discussion.
Homa's lights-out play continued Friday at Innisbrook, the former NCAA champ following up an opening-round 66 with a three-under 68 on Day 2 of the Valspar Championship.
"Very similar to yesterday. I did everything pretty well, drove it quite nice, never felt like I was way out of position anywhere," Homa said. "Still made a couple great putts too. So it just was basically the same day as yesterday, which is nice."
Beginning his day on the back, Homa made three birdies and an eagle over his first 10 holes, the eagle coming via a 3-wood from 264 yards to five feet at the par-5 14th. He cooled off slightly on the front with three bogeys, but his putter remains en fuego with Homa picking up over five shots on the field on the greens through two days.
"I typically putt it quite well, at least start it on my lines. I haven't made very much most of the season really or most of my career outside of like 10, 12 feet, as far as what it should be for inside six feet," Homa said. "My inside six feet stats are really good, so you would think I would make more from longer."
Should that putting prowess continue into the weekend Homa would begin to have a viable argument for Ryder Cup inclusion. If that seems like a stretch, you haven't been paying attention. He's finished T-22 or better in nine of his last 12 starts, entering the week 18th in the FedEx Cup and No. 41 in the World Ranking. That includes a hometown win at Riviera, a weekend that provided one of the more indelible moments of the year. Though his stats may not illustrate a world-beater, they underline the profile of one without real weakness at the moment.
"Game feels like it's very repeatable at the moment," Homa said. "You go around a course like this without feeling too much anxiety, too much stress, that's a bonus."
Make no mistake, there's plenty of work to be done, and some of that work would need to be done at the big stage, as Homa has missed the cut in his last four major starts. But as the man himself said, he's in the zone at the moment, and a win this weekend would go ways into building a case for Whistling Straits.
"Good golf is good golf. Good golf travels," Homa said. "There's nowhere in the country I haven't played well for the most part, so I'm comfortable on all the grasses and I'm comfortable with the looks of holes. It's just, when you're not playing well it doesn't matter how comfy you are, you're still probably not going to play so good. So my game just feels a lot more whole, a lot better, a lot more repeatable. I feel like I'm not showing up on certain weeks feeling like I just don't have it at all, which is good."
Four other things you missed from Day 2 at the Valspar Championship.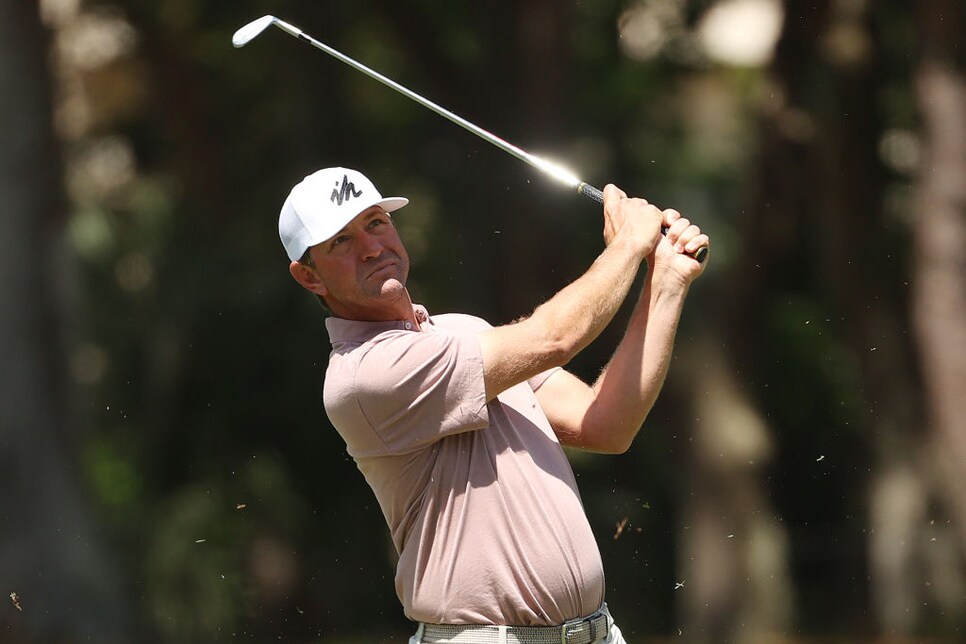 After a career renaissance in 2019 (where he made the Tour Championship thanks to seven top 10s) the past year and a half has been somewhat barren for Lucas Glover. Not bad, ranking 69th in strokes gained and 77th in the FedEx Cup entering the week. Nothing to write home about, either.
That is changing through two days at Innisbrook, spurred by a bogey-free, six-under 65 from Glover on Friday.
"Scrappy, I think, would be a good word. I thought I hit it pretty good and found myself on a lot of fringes and made a couple nice up-and-downs and made a mess of a couple holes and then chipped in," Glover said. "So just one of those days kind of like that. I had a couple chances coming in, just misread them, so happy with the way I'm playing, just tighten it up a little bit out of the fairway and see where we go."
He's made his move around the dance floors rather than on them, gaining over five shots in SG/around-the-green. Also helping matters is his driving accuracy, hitting 20 of 26 fairways heading into the weekend. It's been 10 years since the former U.S. Open champ has found the winner's circle on tour. To break back in, he'll need to overcome his Saturday struggles (164th in Round 3 scoring this year), although Glover sounds like conviction is on his side.
"Yeah, very confident," Glover said. "I've never been one to fret too much about my ball striking, so if that comes around the way I'm rolling it I think I should be confident."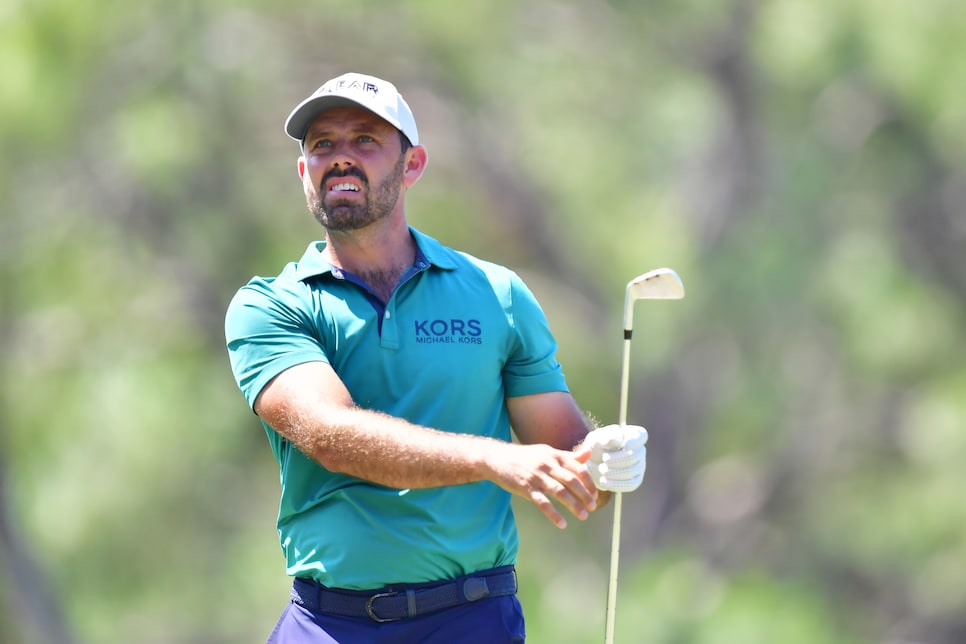 Schwartzel bounces back from New Orleans letdown
Charl Schwartzel came to Tampa with a runner-up finish in his pocket. But it was a runner-up that hit hard, as Schwartzel came up just short in a playoff at the Zurich Classic with Louis Oosthuizen. Players like Dustin Johnson and Justin Thomas make finding Ws look easy, yet it's someone like Schwartzel—a former major champion and perennial top 40 player for the better part of a decade—that underline how tough a feat that is, with the South African winning on tour just once since his Masters triumph in 2011. Coming that close to a victory and all its spoils can leave a mark.
"Yeah, definitely I would say Monday and Tuesday was, when you get that close to winning and, yeah, we were both a little down, but kept trying to remind myself that there was a lot of positives, played really well under pressure and you had an opportunity to win," Schwartzel said.
He's done just that, turning in a 65 on Friday to hover near the lead.
While it has been five years since he's won, that win came at this tournament, and he's got another top-10 at Copperhead to go along with the trophy. It's a history that gives Schwartzel belief another good weekend is in store. "For sure, it's great memories," he said. "The golf course is obviously a course that I like, that I play well on and, our game, there's all these little fractions that sometimes makes a difference and at least I put myself in a good position into the weekend."
Better yet, after a wrist injury dropped him out of the Top 200 in the world, Schwartzel is regaining a sense of formidability, showing there's still plenty of life left in the 36-year-old's career.
"Just feeling very comfortable with my swing, my rhythm is really good and just sort of continuing from my ball striking from last week," he said. "So this week, same thing, just kept hitting the ball good like I did last week and I've given myself a lot of opportunities."
Scott Harrington was disqualified from the Valspar Championship for signing a wrong scorecard.
The PGA Tour announced the DQ Friday afternoon. Leader boards showed Harrington finishing his round with an even-par 72.
The move was mostly ceremonial, as Friday's 72 coupled with a first-round 75 had Harrington four shots out of the projected cutline at Innisbrook's Copperhead course.
Harrington, 40, made news in 2019 when he earned his PGA Tour card for the first time in his 16-year career, a feat he accomplished after taking an extended break from the game to care for his wife through a battle with Hodgkin's lymphoma. In his rookie campaign on tour last season Harrington had a runner-up finish at the Houston Open and qualified for the FedEx Cup playoffs.
Halfway through the tour calendar, this season has not been as prosperous. Harrington entered the week with 10 missed cuts in 19 starts, ranking 157th in the FedEx Cup.
A bogey never goes down smooth. A bogey on a par five? Like drinking tuna water. But give Kiradech Aphibarnrat credit for making the most of an unsavory position.
Aphibarnrat blew his drive his drive at the par-5 11th into the trees, his ball remaining in the canopy. Taking a drop, his third was not much better, going hard left towards out-of-bounds. Somehow his ball stayed in but he was forced to chip out. Needing an up-and-down for bogey, his chip ran out 20 feet. As you'll see, it was as painful to watch as it was to transcribe.
But Aphibarnrat kept a big number at bay by converting that 20 feet, giving him one of the best bad bogeys you'll see.
Okay, maybe "best" shouldn't be anywhere near this play-by-play. Still beats the heck out of double though.