PGA Tour
Max Homa is adjusting to fame ... and selfie seekers in the weirdest places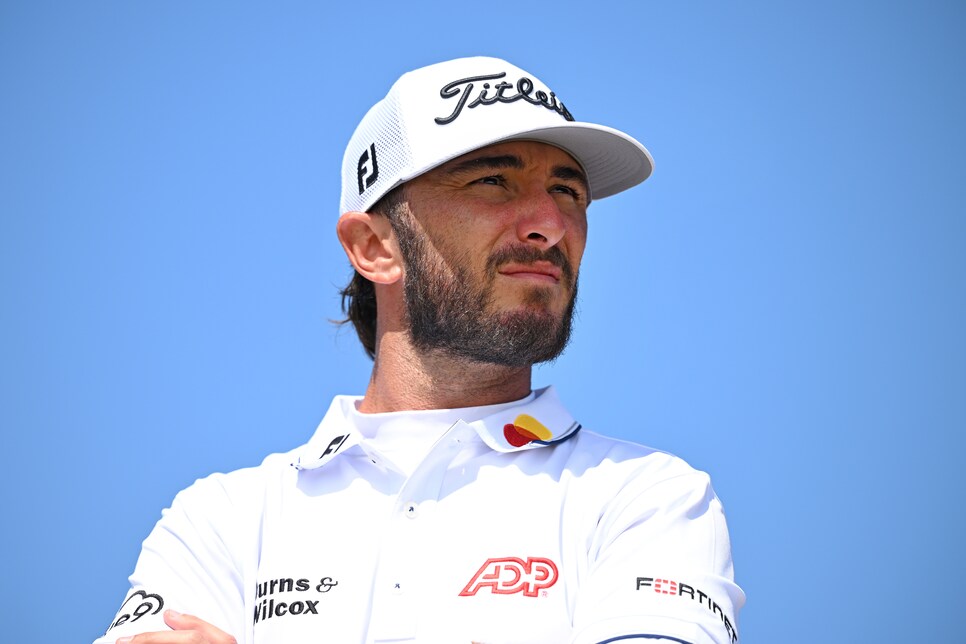 Max Homa, now one of the more recognizable faces on the PGA Tour, is trying to get used to the trappings of relative fame. For instance, on Tuesday night he visited Comerica Park in Detroit to take in the game between the Tigers and San Diego Padres, and he assented to a number of photo requests.
"I don't think it will ever not feel bizarre," he said.
Well, yeah, especially when they can occur almost anywhere. A ballpark in Michigan is one thing. Another entirely is when it happens in a port-a-john.
"I was at my friend Stephen's wedding. Steve and Sara, two of my closest friends' wedding," Homa began. "I went to the restroom they had set up. It was one of those nice outdoor restrooms, so it was very small, and I went in there, and a guy walked past me. We were washing our hands. He looked over, and he's like, 'Oh, do you mind if we get a picture?' I mean, OK. … There's a stall in the background, but I'll do it. So that was definitely the weirdest place."
A two-time winner this season, Homa didn't expect to be in this place, Detroit Golf Club, where he is one of the more prominent players at this week's Rocket Mortgage Classic, but he changed his mind about taking three weeks off before the start of the FedEx Cup Playoffs. He has good reasons.
First, he is 11th in the FedEx Cup standings and looks to rise into the top 10, which, if he were to remain there after next week's Wyndham Championship, would earn him a nice bonus.
Second, he likes the old-style Donald Ross-designed golf course.
And third, "It's a billion degrees in Arizona," he said. "[I thought] it would be better to practice on a great golf course and get ready to try to peak at the right time at the end of the season."
Homa is among five of the world's top 20 entered in the Rocket Mortgage Classic, a list that includes No. 4 Patrick Cantlay, who is making his tournament debut, No. 13 Will Zalatoris, No. 16 Tony Finau, who won last week's 3M Open, and Open Championship runner-up Cameron Young, ranked 19th. Homa comes in at No. 20.
"It was exciting to see the field list," said Homa, 31, who finished T-25 here last year. "I was just playing this because I thought it would be best for my schedule. I thought it would be best to prepare for the FedExCup and then hopefully the Presidents Cup and stay as sharp as possible. So when I saw the field list, it was exciting to see Will and Cameron and Tony and all those guys playing just because I think they'll bring a bunch of juice to the event and I think that an event like this deserves some juice from the guys."
At least from the guys still around. The third event in the LIV Golf Series is also being held this week in New Jersey, and Homa mentioned that although the camaraderie among the players remains the same, there definitely is a different vibe at PGA Tour events.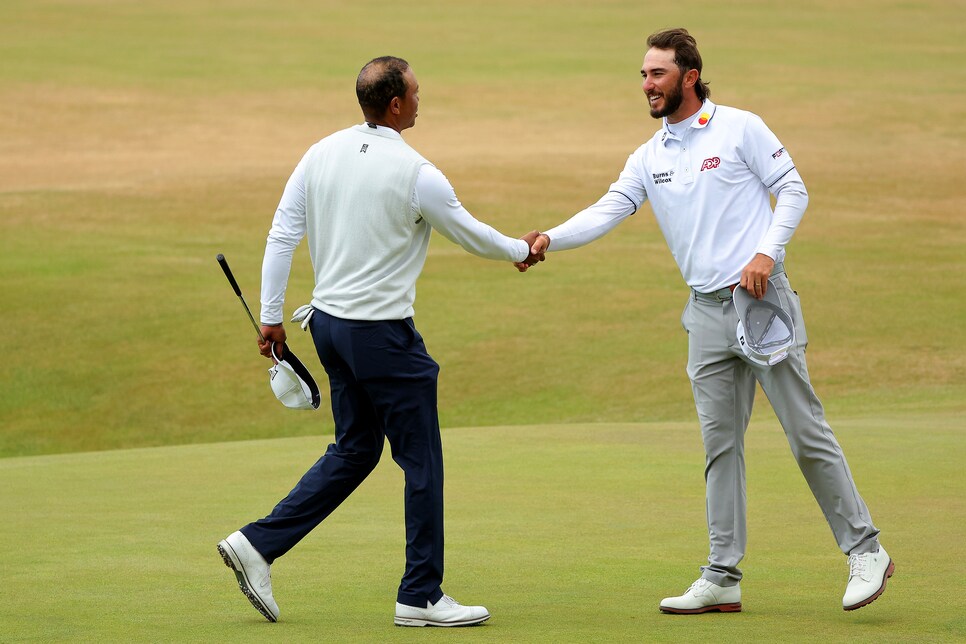 Max Homa shakes hands with Tiger Woods after the second round of the 2022 Open Championship.
Kevin C. Cox
"I don't think it's too different. We always have something to talk about, so it's not awkward anymore, [but] normally the first question is how have you been, how's your family, how's your kids?" Homa said. "Now it's, can you believe so-and-so is not on tour anymore?"
Speaking of being juiced, Homa still is reveling in his opportunity to play with Tiger Woods in the first two rounds of the Open at St. Andrews. On Twitter, Homa thanked the Golf Gods for the opportunity to play with the fellow California native and 15-time major winner.
The "ultimate highlight," he said, was watching Woods march over the Swilcan Bridge and walk up to the 18th green during the second round on Friday even though both were missing the cut.
"The thing I'll remember the most probably was the 18th walk just because [it was] an historic moment," Homa said. "One of those things I feel like people say like I'll never forget where I was when … I was there. So I thought that was neat. And it was cool to see the fans just show him the utmost respect that he has earned.
"But I think the stuff that I'll take away was just getting to chat with him and feel like it was just another round of golf with a dude that most of us have looked up to and try to shape our games around and try to be like, talking about closing out rounds, the way he closed out rounds, the way he prepared. That's why I've always wanted to play with him just to see what it was like and then hopefully make it feel normal, because I feel if you can do that, you can kind of do whatever."
What remains unknown, perhaps because it wasn't asked, was whether or not Homa asked Tiger to stop after for a photo.