PGA Tour
Max Homa makes himself at home again in California and takes the lead in the Genesis Invitational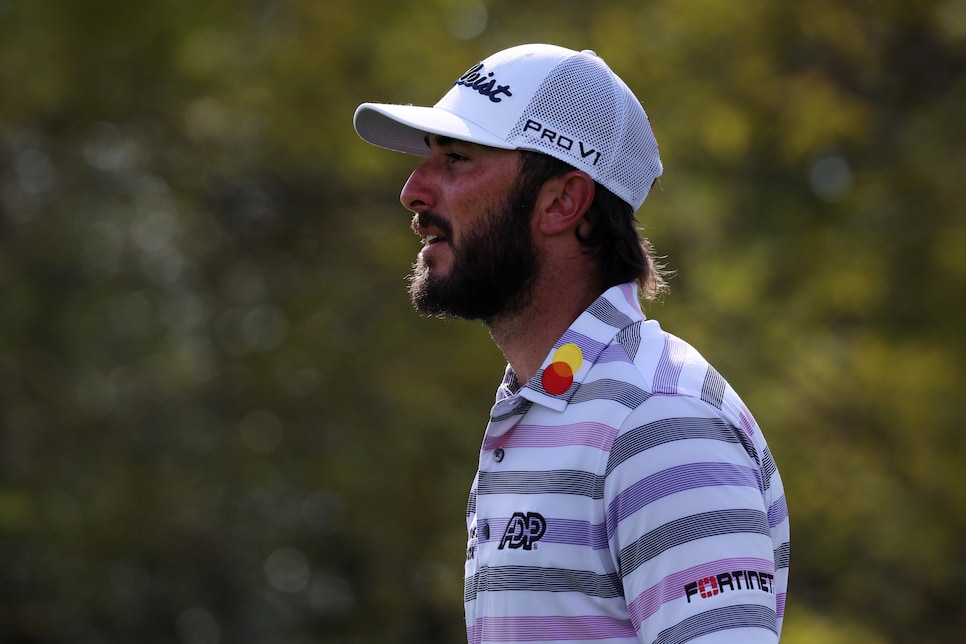 PACIFIC PALISADES, Calif. — If it wasn't abundantly clear, Max Homa is comfortable playing golf in California. Specifically, in Southern California. More specifically, at the Genesis Invitational at Riviera Country Club.
The 2021 champion, Homa, who has recorded three straight top-10s at the Tiger Woods-hosted event, took the outright lead at 10 under par after Round 2 having shared it overnight with Keith Mitchell.
Homa mixed six birdies with three bogeys to post a 68, while Mitchell (69) was tied for second at nine under alongside Jon Rahm (68) and Lee Hodges (66). Rahm used a hospitality tent as a backboard for his second shot at the par-5 17th which set up a short eagle that kept him snapping at Homa's heels.
On Friday, Los Angeles native Homa kept shining in his home state to keep a fifth PGA Tour victory in California in his sights. Before winning the Farmers Insurance Open at Torrey Pines last month, Homa had collected a win at Riviera and two victories at the PGA Tour's stop in the Napa Valley.
"I think I see the bumps on the poa annua greens and I don't cringe," Homa said about playing on the bumpy species of greens typical in California. "I enjoy it. I know people are going to get frustrated but I like that in a competition. Obviously, there's some comfortability with the grass and how far the ball goes. This golf course in particular does suit me really well; it suits a lot of the shots I like to hit."
Homa teed off in the afternoon and finished just before the sun set, although 14 players didn't before darkness suspended play at 5.39 p.m. local time. Tournament host Woods (74) was at one over par but made the cut.
Six-time PGA Tour winner Homa played smart golf Friday. Birdies on Nos. 3 and 9 were negated by bogeys on the iconic par-3 sixth and par-4 eighth. But Homa clicked into gear on the back nine, with birdies at 10 and 11 before adding two more coming home. A bogey at the 18th prevented the World No. 12 from pulling two shots ahead of the elite field.
When faced with a horribly plugged bunker shot greenside at the difficult par-4 12th, Homa miraculously saved par with an impressive sand blast to 10 feet, and he made the par putt.
"If that [ball] hadn't plugged and it had gone back in the middle of the bunker, I don't think I could have gotten it as close," he said, meaning a fried egg lie allowed for the height and topspin required to get over the massive bunker face. "So it was probably a lucky break, oddly enough."
With stars like Rahm, Collin Morikawa (eight under), Patrick Cantlay (seven under) and Rory McIlroy (six under) within four shots of the lead, the $20 million "designated" PGA Tour event saw the cream truly rise to the top on a sunny and calm Day 2.
"It's cool. Got a bunch of the best players in the world at one of the best golf courses on the planet," Homa said.
As much as Homa loves Riviera and the Genesis, he said he'd have no trouble switching off Friday night. His childhood friends are celebrating having him home this week.
"My best friend is here, so that's really cool," he said. "That's another benefit of this event. I don't get to see him as much anymore. I had a huge group of them come out today. I'm going to go hang out with them and we will talk about all the crazy things they saw today and nothing about how I played, so it's great and comfortable. I'll be nervous and excited [this weekend], but at the end of the day I'd rather be leading than not leading."