The Loop
Matty G's Top 25 Public Courses In the Country (1-5)
This is it, the last five of my top 25 favorite public courses in the country:
Repeating disclaimer: My unofficial scoring system is obviously based on the quality of the golf course, but I also factor in service, green fee, a pinch of nostalgia and a smaller pinch of how I played. (It's hard not to like a course when you break 80.)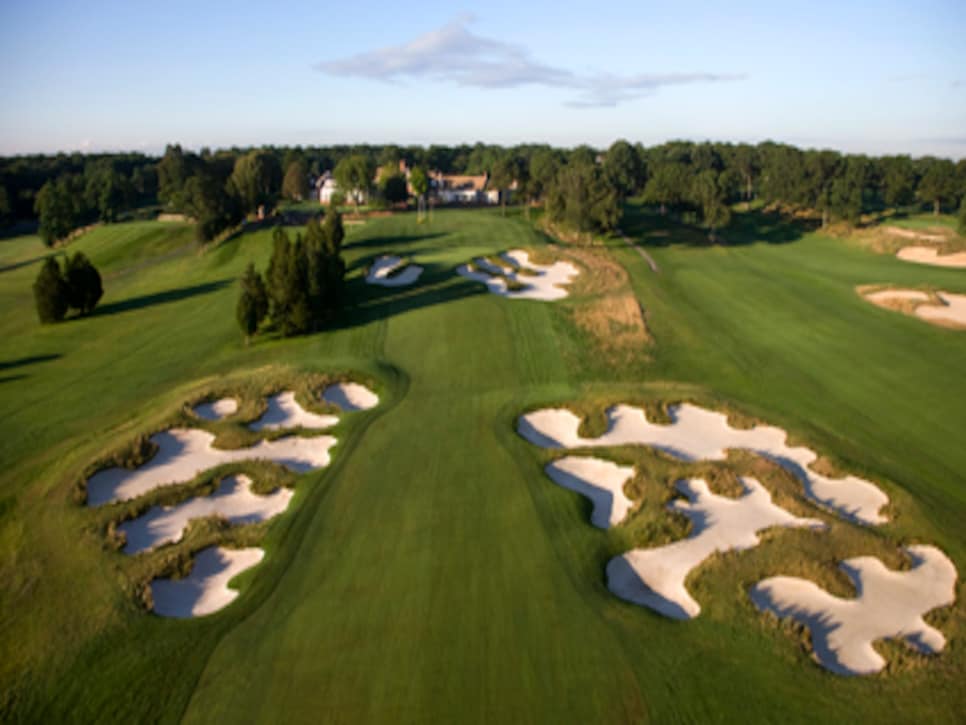 No. 2--Spyglass Hill in Pebble Beach ($340). The positive: Yes, it's hard (a 75.5 course rating from the back tees), but it's not unfair. Hole by hole, it's a better course than Pebble Beach. After you finish this Robert Trent Jones Sr. design, you'll be exhausted and humbled, but your lasting impression will be more respect and admiration than frustration. Don't rush your tee shot on the third hole--look to your left and admire a slice of Cypress Point, one of my top 3 (public or private) courses in the world. The negative: The price. Favorite hole: No. 4, because of the shape of the green (here's a link the diagram of the hole), No. 12, a round-wrecking par 3 (link), No. 14 (link), a double dogleg par 5 with a little water as a last line of defense.
No. 3--Pacific Dunes in Bandon, Ore. ($275). The positive: It's Tom Doak's highest ranking public course in the country, and I consider Doak the best of the most modern architects. This will sound sappy, but I'm being sincere: The ocean views from the tops of the dunes on the edges of the coastline can be described as none other than a spiritual experience--especially if you're alone with a caddie in a rainstorm, hat-to-Softspikes in Gore-Tex, score no longer matters, you're just happy to be alive and playing golf at Bandon Dunes. The negative: I think I've covered anything that could be considered a negative when I reviewed the other two courses on the property--Bandon Dunes and Bandon Trails (see list 6-10). And if $275 is out of your price range but you want to experience all that Bandon Dunes has to offer, click here for a recent Ambush detailing the resort's off-season deal. Favorite hole(s): 4, 7 and 13--three of the better par 4s, west of Bethpage Black.
No. 4--Pinehurst (No. 2) in N.C. ($410). The positive: You won't play anything like it anywhere else in the world. The walk through the mini-museum that is the main clubhouse, the Southern setting, caddies with character, the history of the course and resort, all add to the experience. The fact that Jack Nicklaus told me it's his all-time favorite design isn't a horrible endorsement. He said, "If I had one golf course, from a design standpoint, one that I really love, it would probably be Pinehurst. There's a totally tree-lined golf course where trees are not a part of the strategy." The negative: The trees impact my strategy, the price impacts how often I can play, and those damn greens that never hold my low approach shots impact my score. (Also worth noting, Pinehurst has been running a ridiculously good off-season deal: A night of lodging, a buffet breakfast and a green fee at No. 2 for $222). Favorite hole: No. 5 (442-yard par 4) that I insist is a par 6.
No. 5--Forest Dunes Golf Club in Roscommon, Mich. ($150). The positive: An ambitious staff, the unique Adirondack architecture of the clubhouse, a spacious practice area and a well designed course that's in impeccable shape, all for a relatively reasonable green fee (see other prices of courses on this list). It's a Tom Weiskopf design that was basically abandoned for a few years, but it was well worth the rescue. Trust me, it's not in my top 5 because it sucks. The negative: Roscommon is commonly referred to as, "Middleofnowhere, Michigan" because it's not easy to get to (about 70 miles from the Traverse City airport). Favorite hole: No. 17, a short par 4 (278 yards) with a long history of humbling chops like me.
My list of Top 10 Affordable Courses in the Country will post on Wednesday.
Click on the "previous post" below for courses 6-10, 11-15, 16-20 and then 21-25.