The Loop
Matty G's Top 25 Public Courses In The Country (21-25)
How do I keep my mind off a delay for de-icing, life-threatening turbulence or waiting in line to declare lost luggage?
I tweak the list of my top 25 public courses in the country.
My unofficial scoring system is obviously based on the quality of the golf course, but I also factor in service, green fee, a pinch of nostalgia and a smaller pinch of how I played. (It's hard not to like a course when I break 80, but this is my blog and this is my list.)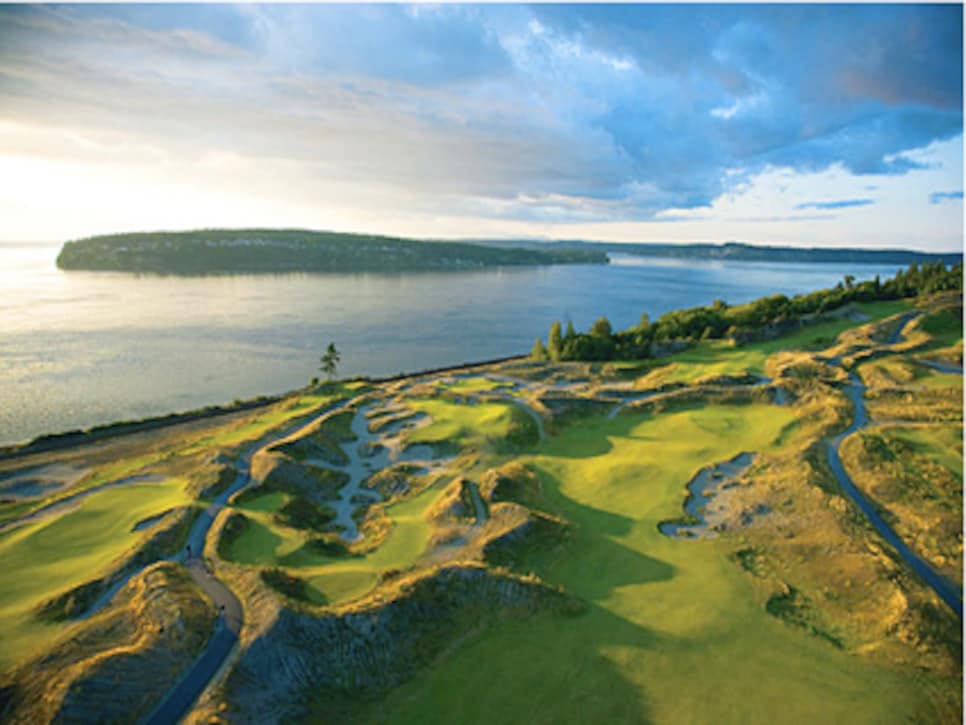 No. 21--Chambers Bay in Wash. ($170). The positive: Other than it will host the U.S. Open in 2015? It's a beacon of hope for Tacoma, I was impressed with what they've done with the scraps of a rock quarry and it's a spectacular setting (pictured above). The negative: The course needs a few more years of growth (and better greens) before I can put it any higher on my list. Favorite hole: No. 17.
__No. 22--Pinehurst (No. 4) __in N.C. ($239). The positive: You get similar looks to a round at No. 2, you get more reasonable greens (cheaper green fee) and a better chance of feeling good about your existence. The negative: It's the third best course at the resort and it must suffer from an inferiority complex. Favorite hole: No. 13.
No. 23--The Greenbrier (Old White) in W.V. ($225). The positive: In 1995 Sam Snead made his final ace on No. 18 of Old White. The negative: I was paired with Tom Watson when I played the 18th--I hit it to 12-feet and three-putted. Favorite hole: No. 13.
No. 24--Bay Hill Club in Orlando ($225). The positive: I just got back and they've made some improvements to the grass on the greens and drastically upgraded the bunkers. The negative: The "beach bunker" in front of the 17th green has tripled in size. I know--I was in it. And then I was in it again. Favorite hole: No. 6.
No. 25--Turtle Bay Resort (Palmer) in Hawaii ($205). The positive: I visit the North Shore of Oahu at Christmas every year (my brother lives down the street) so I get to play it a lot. It starts out slow but I like the way it ends and there are some great holes in between. The negative: The wind (and the driving range) both blow. Favorite hole: No. 16.