The Loop
Matty G's Mailbag: Couples golf trip in January?
Every year, four couples (my husband and I included) take a post-holiday golf trip. It's golf for the guys, some golf and a lot of spa time for the wives. (After all, we have to look good when the guys come in after a long hard day on the links, right?)
Anyway, I'm in charge of picking the place this year. Since everything is a competition in our group, I have to have the best place EVER, so I'm turning to a professional for advice.
We live in South Carolina and have done Pinehurst and Myrtle Beach to death. I realize that the time of the year and the weather are going to limit our choices, but I hope you have some ideas for an awesome golf experience with some awesome amenities. We usually try for 4-5 days in early January and we're willing to travel. I have read about a couple of places that you have mentioned recently—Bandon Dunes and Cabot Links—but January probably makes those unrealistic.
Brenda Kirk, Charleston, SC*
First of all, I don't recommend Bandon Dunes in January unless you dip yourself in Thompson's WaterSeal and you're willing to play through bone-chilling winds. And this spa experience you speak of, at Bandon, is best described as modest with a few massage tables.
As for Cabot Links: also a pass in January. Cabot will get real good when they complete the second course, add a spa and more amenities, which I'm not even sure is part of the grand plan.
You've been to__Myrtle__ and Pinehurst, and I'm ruling out__Sea Island__,Kiawah and Pebble Beach because their average highs in January aren't over 60 degrees. Hawaii is always popular in January, and if that's what you're looking to do, I'm a fan of Kapalua on Maui and the St. Regis on Kauai. If you want to get weird and wild and venture out of the country, I had a great winter trip to Mayakoba in Mexico.
The above are a bit more expensive and more exotic than mainland America, so I'll offer these suggestions based on January weather and your specific needs.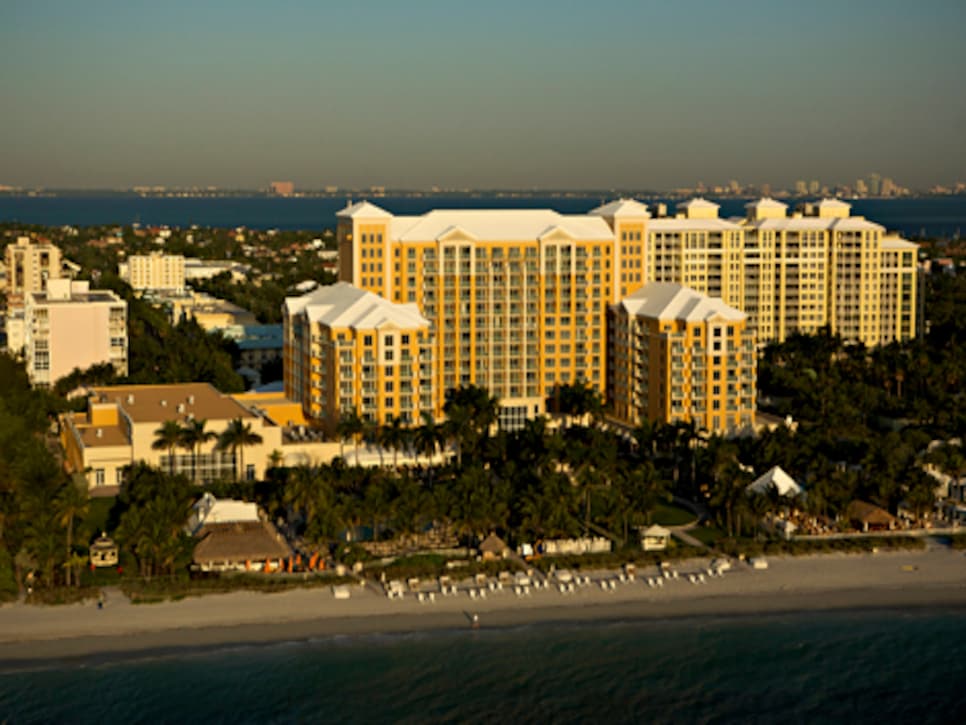 Miami is a popular destination in January, but Doral's golf offerings don't do it for me, which is why I prefer Key Biscayne. Less than 30 minutes from the airport and over the Rickenbacker Causeway, "the Key" has an opulent Ritz property on the water (pictured above) with multiple food choices and plenty of amenities, including world-class tennis courts and instructors. The public golf course across the street, Crandon Park, is fun, flat, affordable and void of fairways flanked by houses.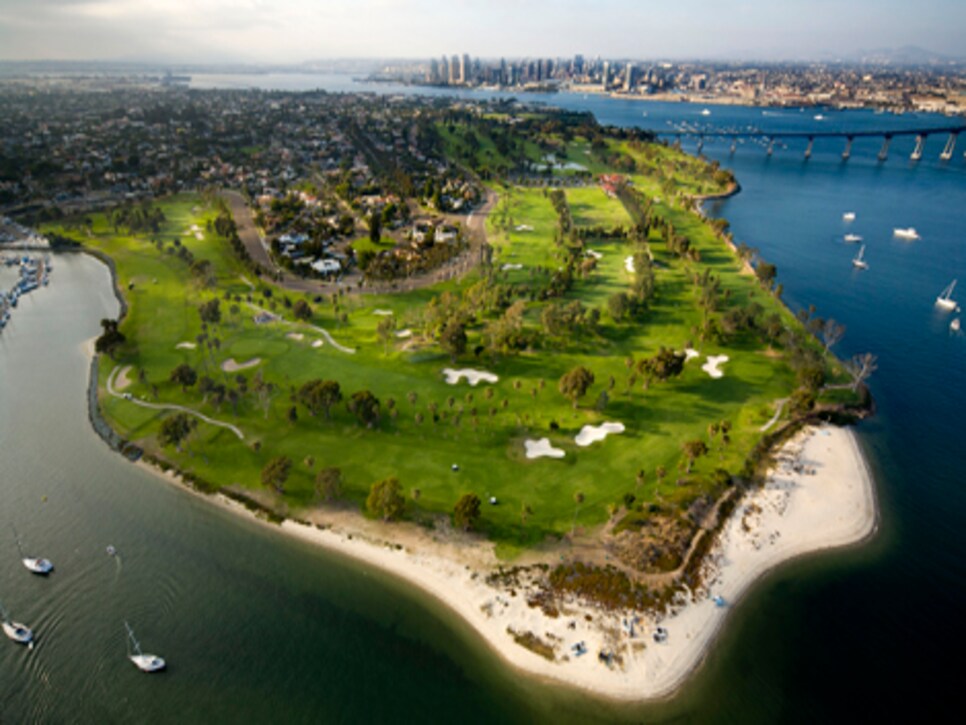 It's no secret that I love San Diego for more than those pathetic Padres. La Costa is nice, and could work for your group. The courses there are a mess in terms of routing and they're over priced. If you're going to spend that kind of money, I suggest staying at the Grand Del Mar. Prepare to be wined, dined and pampered. The Tom Fazio-designed course is good and secluded, and you're close to Coronado (pictured above), which is my second favorite public facility in the country—behind Bethpage. If you want to save a little money but you're committed to San Diego, try the Lodge at Torrey Pines, which also offers guaranteed tee times on the South Course, host of the 2008 U.S. Open (Tiger's last major).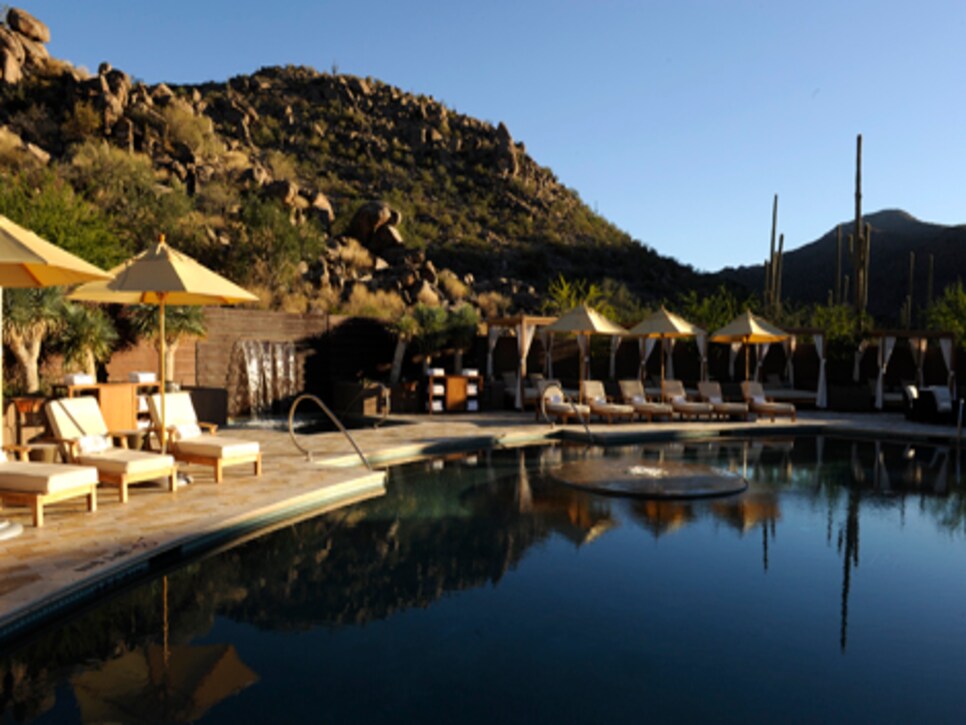 I'll start by saying Tucson is a tough town going through tougher economic times. And on the outskirts of some struggles is a pocket of serenity known as the Ritz-Carlton Hotel at Dove Mountain. The resort, built around two saguaro cacti entrenched in the Sonoran Desert, seamlessly blends into the setting. It's not only easy on the eyes, but you'll appreciate an organic respect of the Native-American culture and the luxurious lodging and snappy service typical of a Ritz property. The spa (pictured above) is tranquil and unique—and I say that having seen more than my share of copycats. And although the 27 holes of Nicklaus-designed golf gets heat from fickle tour pros who complain about severe undulations on the greens, the common golfer will be too busy enjoying Sonoran sunsets and tequila drinks to be frustrated by an abundance of three putts.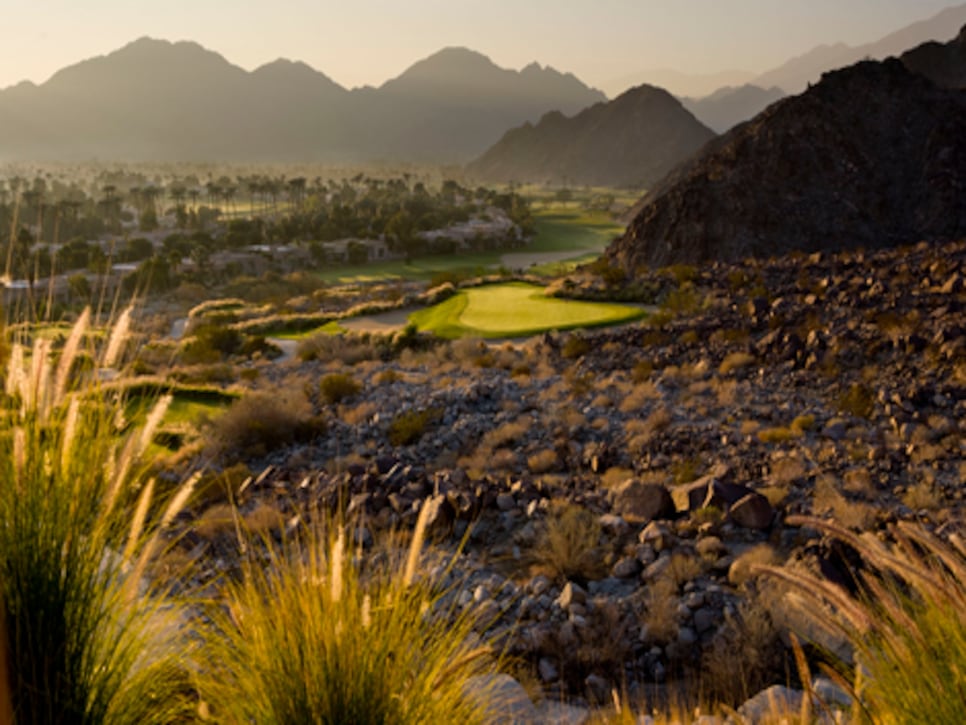 If you want to guarantee yourself idyllic weather in January, head to Palm Springs and check into the casita comforts of La Quinta Resort & Spa. There are little pools attached to intimate quads of socially conducive rooms, a Jim McLean golf school, 23 pristine tennis courts, nine boutique shops, a first-class spa, seven restaurant options on property, and Arnold Palmer's restaurant down the street. Of the five golf courses available to guests, the Mountain Course (pictured above), which runs along the base of the Santa Rosa Mountains, is a fun ride for couples golf. Average age of the locals is up there, way up there, but that has never bothered me. And I'm guessing it won't bother you, especially if you're traveling with a good group willing to make your own fun.
I also asked this question of my Twitter followers: "Couples trip in January...good golf, obviously, and a spa is a priority...where would you go?"
Here are 10 of the responses I received:
@jasleeack: Kiawah. They'll have the beach to themselves and there is another hotel being built near the resort.
@duckhook7: The Boulders in Scottsdale or Half Moon in Montego Bay.
@dbomaha: Scottsdale. The Boulders Resort has your golf and a Golden Door Spa for the ladies. #worldclass
@starnzie: Inn at Spanish Bay, done.
@justin_essner: Waldorf Astoria Orlando.
@MRicks83: Ritz Carlton Naples, FL.
@Judd_Henry: Palmetto Bluff, top notch Nicklaus with Auberge Resort. Plus, weather in Low Country is sunny and dry in January.
@bule1101: Dove Mountain, any Ritz or Four Seasons on Hawaii, Pelican Hill, Ritz Sarasota, One & Only Bahamas, Lajitas, Aviara, Ritz Half Moon Bay.
@iGolfReviews: Casa de Campo, DR or El Conquistador, PR.
@Chip_Gaskins: Calusa Pines and @RitzCarlton Naples or Barton Creek in Austin, TX with Austin Golf Club.
Hope some of this helps, Brenda. And let me know what you decide.
Do you have a golf and travel question? Send a tweet to @Matt_Ginella, or email to matt.ginella@golfdigest.com (subject: Mailbag).