The Loop
Matthew McConaughey spent his last day in Rio "taking a little walk with Rickie"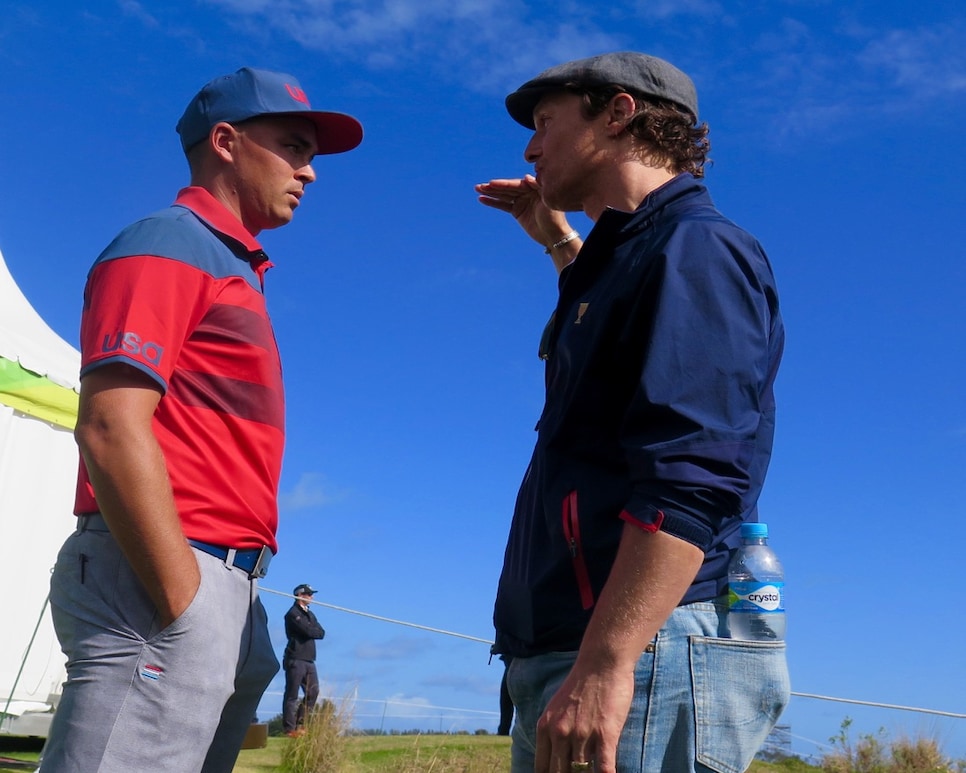 RIO DE JANEIRO — Matthew McConaughey's busy week in Rio ended by trying to kick one of American golf's biggest stars into gear.
The actor reached out to Rickie Fowler four days ago about watching some of the competition and true to his word, McConaughey wrapped up a week of spectating various events by walking the last twelve holes of the Olympic golf course.
"It's been a blast, we've covered some ground, man," McConaughey said of a week that included women's rugby, four nights of swimming, beach volleyball, table tennis and the "last day taking a little walk with Rickie."
McConaughey had never met Fowler except in the virtual sense via Twitter.
"I'm obviously over here rooting on the red, white and blue," he said. "Two, I'm over here, my wife's Brazilian, so I came over here to root for this country to pull it off, which I think they're doing a pretty good job of that. And for golf, this would be the closest thing to the Ryder Cup."
Wearing a borrowed Presidents Cup jacket to fend off morning rain over a navy Team USA T-shirt, McConaughey walked inside the ropes at times with Team USA representative Andy Levinson. For a few holes he also chatted with PGA of America CEO Pete Bevacqua and PGA President Derek Sprague. In between, the 46-year-old posed for countless selfies and still enjoyed a golf atmosphere that was more subdued than day one.
"That rain mellowed everyone this morning," he said. "The course looks good. But (the U.S.) has to turn it on."
The Oscar-winning actor says he only plays golf once a year at this charity event. But his less-than-low profile support of Team USA has been a thrill.
"Some people I heard the other night said they come here and they are reminded why they wanted to be competitive at whatever sport it was when they were a kid.
"The common denominator is the sport. You come here and everybody has different styles of play, different chants and cheers on the sidelines, different ways how they go about playing the game, different religions, different politics, and the equalizer is the game."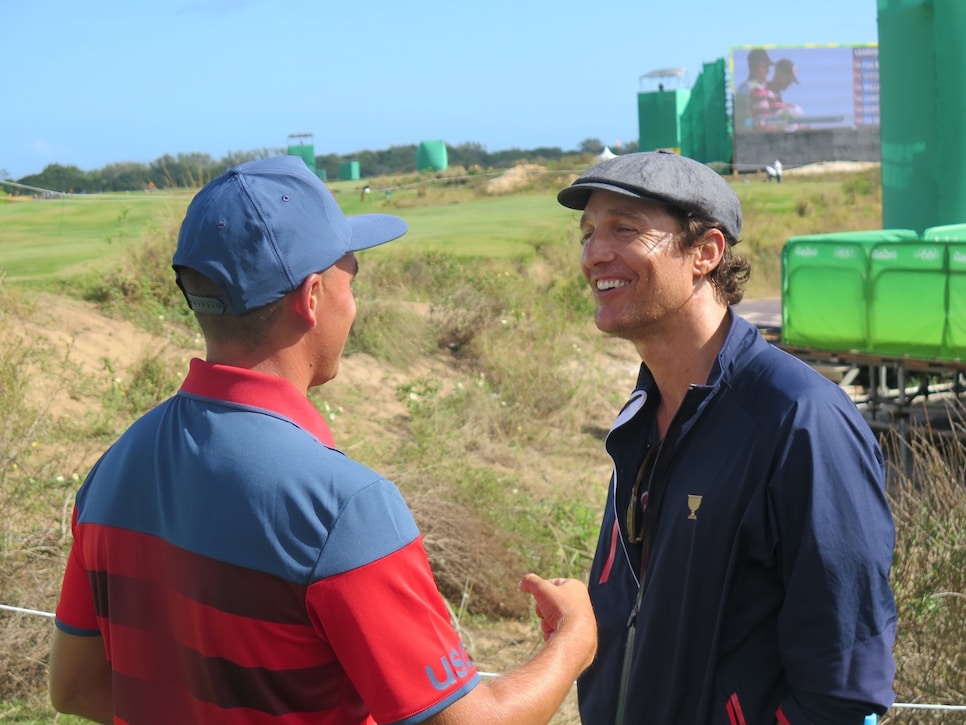 McConaughey stuck around after play to chat with Fowler and other dignitaries, including PGA Tour Commissioner Tim Finchem. He's leaving Brazil and beginning a busy fall promoting five films all slated for upcoming releases.
Also in Fowler's gallery were silver-medal winning USA diver Sam Dorman and synchronized diver Amy Cozad. Fowler met both during visits to the Team USA house.
"Its really exciting," Cozad said of her first golf tournament. "I can't believe the endurance involved. They've been out here so long."
Cozad and Dorman bussed over from the Village and went all 18 holes with Fowler, who very much enjoyed having one of the world's biggest stars following him.
"Pretty cool that he was able to make it," said Fowler, whose even par-71 left him at T-50 after 36 holes. "I know he's been enjoying his Olympic experience going to some events. Just shows you how big the Olympics is. There's a lot of people that come in to watch."