A 3-and-1 winner over Hugh Foley
Matthew McClean defeats his friend and traveling partner in an all-Irish U.S. Mid-Amateur final at Erin Hills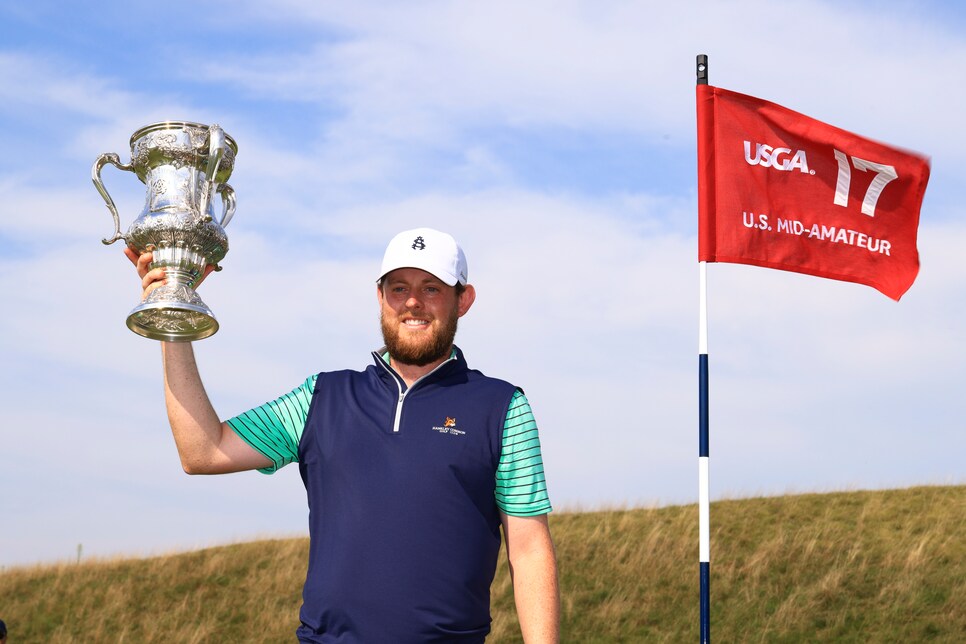 Matthew McClean is an optometrist by trade, whose expertise nonetheless could not have enabled anyone to have seen this coming, a U.S. Mid-Amateur final between two friends, both Irishmen, 3,600 miles from home, on a Wisconsin golf course that pays homage to Ireland.
Erin Hills in Hartford, Wisc., was the site, Erin an old name for Ireland. McClean and his opponent Hugh Foley have been traveling together, staying together, playing together, but this was no friendly Nassau. The stakes were much higher. McClean, 29, prevailed in the 36-hole final, 3 and 1, to earn an invitation to the 2023 U.S. Open at Los Angeles Country Club and likely to the 2023 Masters as well. Both players earned invitations to the 2023 U.S. Amateur at Cherry Hills in Denver, Colo.
"Insane," Foley said following the semifinal matches on Friday that pitted the two Irishmen against one another. "It's just been unbelievable. Me and Matt have spent every second of the trip together. We flew over together and we're sharing a house."
The downside to such arrangements is that one has to win and one has to lose, and the match was not as close as the final result suggested. McClean took a 2-up lead on the first 18, played Friday afternoon. On Saturday morning, he increased his lead to 5 up with six holes remaining, after which Foley went on a three-hole birdie binge to introduce a modicum of doubt into the outcome.
"Fantastic. Sort of probably hasn't sunk in just yet," McClean said. "It's been a very long week, but I'm sure once we sort of sit down this evening, it'll sort of sink in a wee bit more, but yeah, it's unbelievable really.
"Me and Hugh have played a lot of golf this year. He's beaten me twice. This is the first time I've beaten him. It was hard not to think that it was going to be three in a row that I was going to get beat. It's probably, in a way, who I wanted to play in the final, but at the same time it's not the person you want to lose to in the final, as well."
Neither player could have been expected to make it to the final; McClean is 120th in the World Amateur Golf Ranking, Foley 195th.
"We been planning this for months and like didn't know what the standard would be like," Foley said. "We heard Stewart Hagestad, number seven in the world, we were like, I don't know, will we make the cut, you know? You're traveling all that way and hoping you don't miss the cut."
But Foley, despite the ranking disparity, might have been a favorite in the final, given his recent form. He won the North of Ireland and South of Ireland championships in consecutive weeks, the first to do so since Darren Clarke accomplished the feat in 1990.
"Hugh has played unbelievable golf this year, For the past three months he's probably been the best player in Ireland, comfortably," McClean said.
But on this week, in this place, he was only the second best Irish player in Wisconsin.