The Loop
Matt Kuchar: 'We've got to go get a trophy'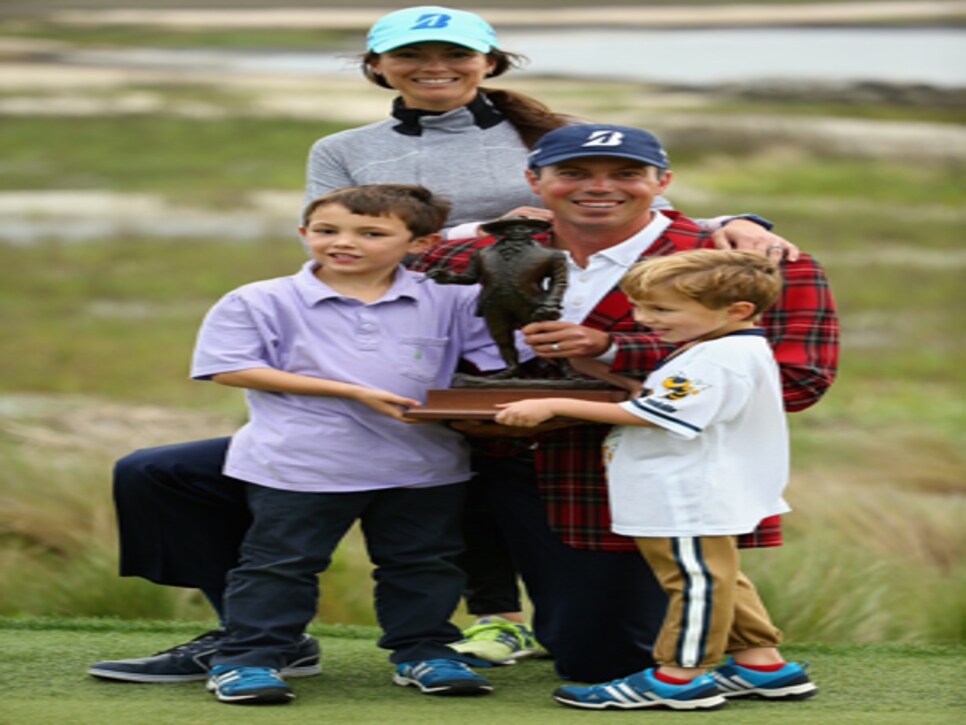 Matt Kuchar's ride in recent years has been a Brinks truck that he has driven from tournament to tournament, collecting stacks of money that made his banker happy, but often left him unfulfilled.
He had been too polite, we now know, contenting himself with knocking on the door week in and week out and expecting someone to open it and hand him a trophy.
On Sunday, he opted for a different approach. This time, Kuchar kicked in the door and stole the RBC Heritage trophy with a final round that was exceeded in its brilliance only by the final shot.
On a better day for sailing than golf, Kuchar rode the wind to victory at Harbour Town with a seven-under-par 64 that ended when he holed a 57-foot bunker shot for birdie and a one-shot lead that became a one-stroke victory over Luke Donald.
"What an amazing roar," he said of the reaction from the crowd at the 18th green. "That was a full-on Augusta National roar. It's something I'll never forget."
What he can now forget -- or at least stop dwelling on -- is a series of Sunday failures in recent weeks, including a second shot into the water on the last hole of the Shell Houston Open that ultimately cost him the victory. The week before, he threatened to win the Valero Texas Open, but closed with a 75, and the week after he had an opportunity to win the Masters, but shot 74 on Sunday.
He finished tied for fourth, second and tied for fifth in those events, fortifying the bottom line with which his banker is concerned, but not the bottom line in professional golf -- winning tournaments.
Kuchar seemed on the verge of extending the trend by three-putting from 12 feet at the 17th hole, his only bogey of the day. Then from the fairway at 18, a hazard looming left of the green inviting him to bail out right to avoid a Houston Open rerun, he hit a decent shot into the greenside bunker. "I looked at my caddie, Lance [Bennett], and said, it's not that bad of a place. I can do something with it,' " he said.
It was an otherwise routine bunker shot, with the exception of an imposing obstacle: Kuchar ranked 124th on the PGA Tour in sand saves, converting less than 47 percent. When he holed it, his thrust a fist into the air. "I wish it wasn't that great a finish, but I made it that way after 17," he said.
Kuchar then repaired to the clubhouse to see whether Donald could tie him. When Donald's own birdie attempt from well right of the green at 18 slid past the hole, Kuchar was, finally, a winner again, this his seventh career victory for which he collected another $1.044 million, running his career earnings to $29.5 million.
But the money was incidental. "We've got to go get a trophy," a beaming Kuchar said to his young sons in the clubhouse.