The Loop
Kuchar quietly plays his way into striking range on Saturday at the Travelers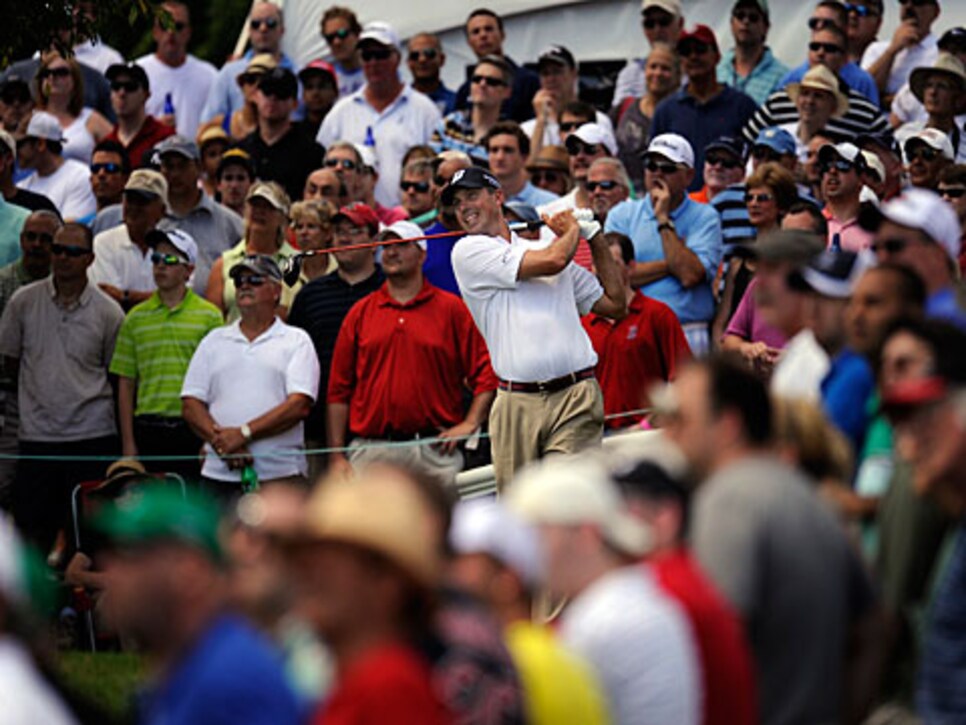 Matt Kuchar tees off during the third round of the Travelers Championship. Photo by: The Hartford Courant/Getty Images
CROMWELL, Conn. -- While Bubba Watson and Padraig Harrington were capturing the crowd's attention with swift moves up the leaderboard, it was the stoic consistency of Matt Kuchar that might have gone the most unnoticed. Yet with a third round 66 that put him in a five-way tie for 6th place, the normally quiet Kuchar is now in position to make a lot of noise on Sunday at the Travelers Championship.
"I think it would be a lot of fun to make a good run tomorrow... I think everyone up there is playing well and I think going to play well, so somebody's going to have to go low to win tomorrow."
Kuchar's back nine on Saturday showed he's very much capable of going low. After a disappointing first 11 holes that saw the 2012 Players Championship winner fall to one-over on the day, he reeled off five birdies over the last seven holes -- including a dramatic putt on 18 -- to play his way back into contention.
"Fortunately things picked up pretty quickly with four birdies in a row ... and then I made a bomb on 18, so it was a great finish."
"Glad I made that last putt," Kuchar admitted with a wry smile, before explaining how difficult the read was. "It was tough. The green is completely in the shade. [When] the shade comes over, all the breaks kind of go away and I had my caddie actually take a look at it, and I never call him in. We got a similar read, and fortunately I had a good feel for what I thought it was going to do and got it on a good lie and just kept trickling. Went all the way in."
Heading into Sunday's final round, Kuchar finds himself in a packed field, tied with Harrington and Charley Hoffman, one ahead of Watson, and one behind Stuart Appleby. But with some unfamiliar names atop the leaderboard, including leaders Roland Thatcher and Brian Davis -- neither of whom have won on the PGA Tour -- a come from behind victory is a totally reasonable expectation. Even if the reserved Kuchar would never let on. "I'm happy to be a little closer, within range to have a chance."
He may not do a lot of talking off the course, but Kuchar's game speaks for himself. And after that tremendous final putt on 18, the crowd let the leaders a few holes behind him know exactly who they should be wary of.