News
Matt Fitzpatrick just turned 23, looks like he's 13, yet now is a four-time European Tour winner. How the understated Englishman continues to climb in the pro game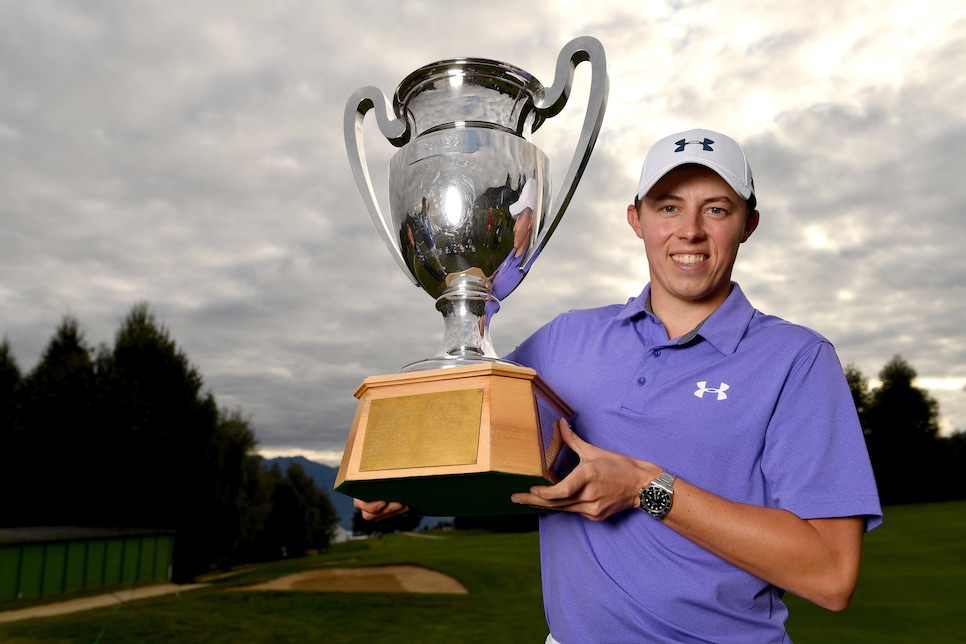 Photo By: Stuart Franklin/Getty Images
"I want to get to World No. 1 one day, and win multiple majors as well."
Matt Fitzpatrick does not lack ambition. And why would he, considering what he has achieved already? A Ryder Cup player and now four-time European Tour winner—after his victory Sunday at the Omega European Masters—at just 23 years old, Fitzpatrick has made a blistering start to his professional career.
But don't confuse ambition or confidence with arrogance. The Englishman has remained remarkably grounded, despite his early success. His down-to-earth personality is easy to see, and he has not forgotten where he came from.
Born in Sheffield, a city best-known for steel production and the World Snooker Championship, Fitzpatrick still lives in the house with his parents when at home. He is a big Sheffield United football supporter and had a season ticket at Bramall Lane for many years.
Fitzpatrick grew up at Hallamshire Golf Club in Sheffield, and started playing when he was 9. One of the most historic and top-rated courses in Yorkshire, famous members include 2009 Solheim Cup captain Alison Nicholas and BBC Sport presenter Dan Walker.
When home, which he admits isn't as often as he would sometimes like, he will practice for up to eight hours a day at the course and practice area, or the nearby Pete Cowen Golf Academy in Rotherham, as well as working out at Hallamshire Tennis and Squash Club.
Long story short, he's dedicated and focused to being the best golfer he can be.
Fitzpatrick is part of a generation inspired by Tiger Woods and the athletic aspect of golf, but it does not define his approach to game. He isn't a particularly long hitter; it's the crispness of his iron shots and the sharpness of his short game that allow him to score well on a consistent basis.
"I've played with him a few times and I can't get my head around how good he is, because he continues to post good numbers on big, tough golf courses," Graeme McDowell said.
"Matt's strong left-hand grip means he can hold the club square for a long time through impact," his coach Mike Walker said. "Matt hits the ball as straight as anyone I have ever worked with."
Fitzpatrick showed he had fantastic potential from a young age—he broke par as early as 13. It wasn't until he won the Boys Amateur Championship at Notts Golf Club and Coxmoor Golf Club in 2013, however, that he really believed he had a chance of making it at the highest level.
The following year, he qualified for the Open Championship at Muirfield, where he made the cut and finished low amateur. A month later, he had his crowning moment as an amateur player. Fitzpatrick won the 2013 U.S. Amateur at The Country Club outside Boston, becoming the first Englishman in 98 years to hoist the Havemeyer Trophy.
"The U.S. Amateur is definitely up there among my best wins," Fitzpatrick said. "I'd have that along with my first ever [pro] win, the British Masters, behind DP World. To win it, for the first time by an Englishman [in so long], was incredible."
Showing that longer courses provided no obstacle on which to score well, Fitzpatrick triumphed at the 7,310-yard par-70 set-up. "To me in my own head, I never thought I was good enough to be there, and I ended up getting all the way to the final and winning," he said shortly after becoming only the third post-war European to win the title.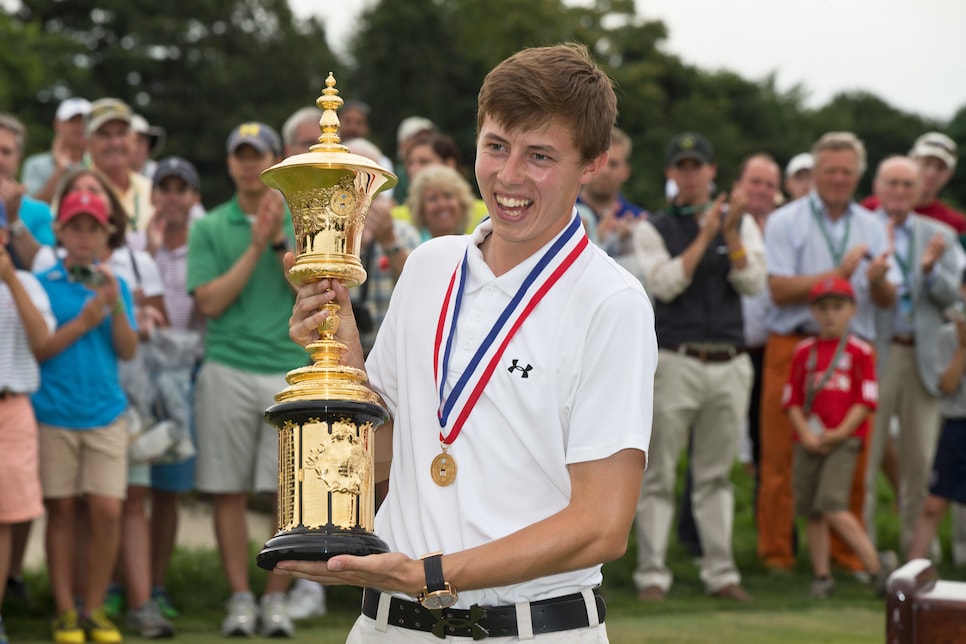 Not surprisingly, the Englishman dispatched Oliver Goss, 4 and 3, in the championship match thanks to his exceptional short-game skills, seemingly holing everything with the putter. "It's probably the best display of putting I've ever seen in terms of difficulty and meaning of putt, pressure putting," said Goss after the match.
Interestingly, Fitzpatrick's magic wand is the same putter he has used since he was 13, a Yes! Tracy II putter. A common theme among great putters is how loyal and trustworthy they are to their flatsticks. Asked on Twitter why he hasn't changed his putter, Fitzpatrick replied jokingly "a poor workman blames his tools", which shows his sensible and no-nonsense Yorkshire approach to golf.
His father, Russell, is a bank manager and manages his plentiful earnings, while his mother, Susan, helps out by booking flights among other things.
"My mum and dad have done everything, drove me up and down the country when I was an amateur, booked flights for me, any advice I've ever wanted, I'd always turn to them and what they thought first," he told CNN's Shane O'Donoghue in a recent interview.
Last year, his parents contacted Rory McIlroy for advice about buying a house in Florida to prepare for PGA Tour tournaments.
Given his success so far, the formula has obviously worked not just for Matt, but also his younger brother Alex, who is an England Boys International, and will head to the U.S. on a golf scholarship next year. Alex has a similarly solid short game. "He can get it up and down from the bottom of a dustbin," Matt once said.
Earlier in his career, some of his European Tour professionals called Fitzpatrick the "Mondeo Man," for owning a four or five-year-old Ford Mondeo. "Buying three flash cars isn't the smartest way to spend your money in my opinion," said the Englishman. Darren Clarke or Ian Poulter, he ain't.
He is, however, smart and meticulous with practice as well. On the same documentary with CNN, Fitzpatrick is seen as incredibly organized with his practice, cleaning every golf ball before he hits it and following a strict regimen for improvement.
There he works under the watchful eye of Walker and Pete Cowen, who has coached a plethora of recent major winners including Danny Willett, Henrik Stenson and Graeme McDowell.
It was perhaps no surprise that Fitzpatrick would qualify for the European Tour in his first try, but it was not an easy start to 2015, missing six of his first eight cuts. His first season turned around in the summer, with a third place at the Lyoness Open followed by second place at the Omega European Masters, leading up to the British Masters at Woburn. There, he won his first European Tour tournament, by two strokes over Soren Kjeldsen, Shane Lowry and Fabrizio Zanotti.
"I've played with him a few times and I can't get my head around how good he is, because he continues to post good numbers on big, tough golf courses." —Graeme McDowell
"It was an amazing week that will stay with me forever," Fitzpatrick said. "Having all my family and friends there to see it happen, that will always be one of my favourite wins, if not my favourite win."
The victory gave him key ranking points for the Ryder Cup, and Fitzpatrick continued to improve in 2016. He finished tied for seventh at the Masters after a brilliant final-round 67, as good friend Danny Willett won the Green Jacket.
In the summer, he backed up his British Masters win with another title at the Nordea Masters in Sweden. That more or less sealed his automatic place on the Ryder Cup team for Hazeltine National, and fulfilled one of his career goals at only the age of 21 (he was 22 when the matches were played).
He may have ended up on the losing team, but Fitzpatrick loved being right in the thick of the unique atmosphere of the Ryder Cup at Hazeltine.
With Rory McIlroy confronting one heckler and having him ejected, every European player was under the spotlight, and Fitzpatrick was no different. Making fun of his youthful appearance, some of their taunts included "Did your mum cut your hair?" and "Did your mum cut the crust off those sandwiches?"
Fitzpatrick took it in good spirit though: "I didn't think they were that bad, of course they were a bit hostile, but I didn't think much of it.
"You've got to enjoy that, that's why you're there. It's all part of it, the same thing happens in the U.K. and Europe. You've just got to deal with it."
The amazing breakout year of 2016 continued in November with Fitzpatrick's most significant achievement to date, winning the DP World Tour Championship, the season-ending event of the Race to Dubai series. In doing so, he eclipsed Nick Faldo in becoming the youngest Englishman to three Euro Tour wins.
The Sheffield man fulfilled another lifetime personal goal in 2017, playing a round with Tiger Woods at the Dubai Desert Classic. Little did anyone know that it would be the 14-time major winner's final round of the year.
"The first time I ever went to a golf tournament was the 2006 Open at Hoylake where Tiger Woods won, we followed him around on Thursday, so then to play with him 11 years later was obviously very special," he said. "It was an amazing experience for me, and one I'll never forget really. I'd always followed him on TV since I was young and wanted him to do well.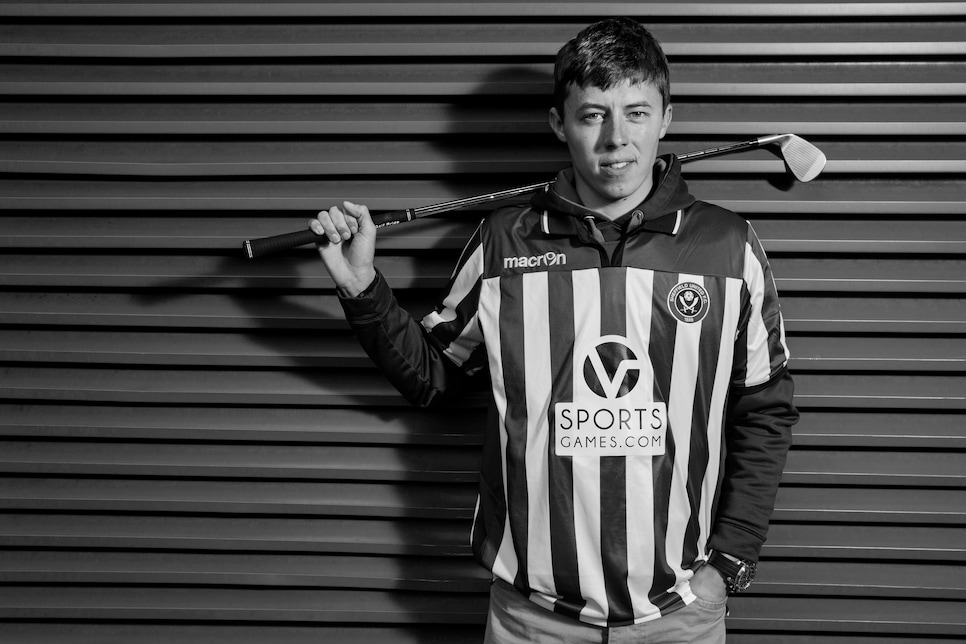 From playing with a golf legend in Dubai to playing with football legend Luis Figo at the Dunhill Links in Scotland, Fitzpatrick is living the dream and maintains great enthusiasm for the game, even if travel and airports are a bit bothersome at times. The shine has not dulled on the tour experience just yet.
"You get to play all these fantastic courses, it's classed as your job, you get to play a sport that you love for a living," he said. "The Rolex Series, for example, you're playing for a $7 million prize fund, to go for that kind of money at my age, you don't know many people who can do that."
What's next for Matt Fitzpatrick? He enjoys tour life, where his best friends include Martin Kaymer, David Lipsky and Willett, and where "everyone is very close." But like so many young players, he also has eyes on the PGA Tour, securing his card and becoming a global player.
With a five-year exemption on the European Tour, Fitzpatrick is focused on breaking America. "I'd love to play on the PGA Tour eventually," he said after his win in Dubai last year.
Given that three majors and two World Golf Championships are stateside, it seems like another logical progression for Fitzpatrick, a talented player destined for the very top of the game.
David Gorman is a senior writer for Golf Digest Ireland. This story first appeared in Golf Digest Ireland in August.