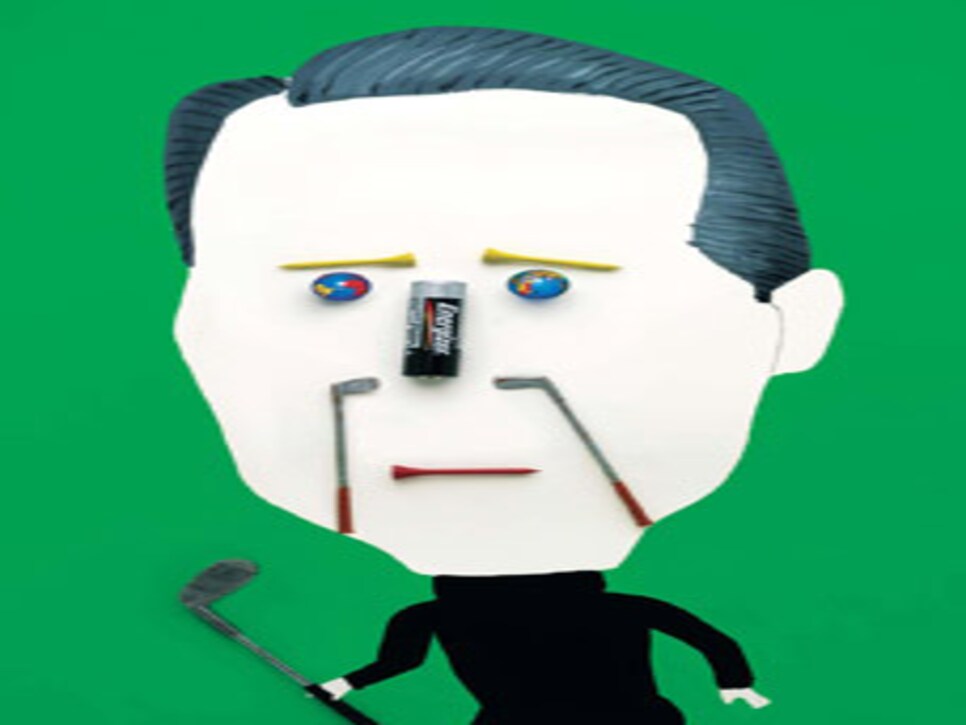 Gary Player is the Little Guy of the ever-popular Big Three, along with Jack Nicklaus and Arnold Palmer (and what we wouldn't do for a modern answer to that grouping). But Player is the one still competing seriously, at 72 (even par), his batteries never running down. He will break Palmer's record for most Masters Tournaments when he plays his 51st starting April 10.
Palmer's reaction has been at once dismissive and amusing. "Well, if he isn't embarrassed, I won't be embarrassed for him," Arnold said in response to a question at the 2007 Masters. And before that, this: "Gary's going to do whatever he can to top whatever I've done. That includes living longer."
Palmer said with a grin that Player won't really break his record -- Arnold played 50 straight, and Player missed the 1973 tournament while recovering from surgery. Palmer added that Player is "a good friend who has been wonderful for international golf. He's probably going around the world seven times this year, and he's flying commercially. I wouldn't do that. Whatever he does, I think is great."
I called Player this winter at home on his 13,000-acre ranch in South Africa to ask about his Masters plans, our chat postponed briefly by a severe electrical storm at his end; he said a neighbor had died on the phone from a lightning strike. Player had just completed a 13-hour day working on a course he's building on his property that will be, in his world of superlatives, "the most ecologically correct ever."
Player had been moving rocks, mixing cement and doing other heavy labor -- "I'm working with so much energy it's amazing." He was to leave that weekend for the United States by way of Abu Dhabi and China to check in on other course projects.
As for Palmer's comments, he said in his clipped accent, "I didn't pay much attention. I'm not out there to beat his record. I want to show people about fitness. I think -- I know -- I've been the hardest training athlete in the history of the game. I love young people and want to see them stay healthy. I've traveled more than any human being who ever lived [more than 15 million miles, by his estimate], and in my humble opinion obesity is the biggest danger in the world today. I want to show them how they can live longer and keep sharp. Adults, too, instead of just fading away as old farts."
He will be proud to have played the most British Opens (46) and Masters -- and doesn't want to say '08 will be his last Masters. The way he left off last year, shooting 77 the second day, and the way he has been practicing (he has his own driving range in addition to the playable new course) encourage him.
He says many under-privileged, active people in the world's outback live to be 100, and though he didn't say he'd like to tee it up at Augusta at 100, he did say a goal is to live that long and be productive.
"Par for me was 80 that day I shot 77. The course was the most difficult I ever saw it. I hit woods for approaches on all but a couple holes." Among the 38 players he tied or beat that day: Sergio Garcia, David Toms, Adam Scott, Steve Stricker and Chris DiMarco.
He drives the ball an average of only 245 yards with his distinctive step-through swing, but with predictable accuracy. He is still better in the sand than a camel, and his putting has held up despite studies of aging that show it shouldn't have. He made 90 percent of his putts from inside 10 feet on the Champions Tour last year, which would have been second on tour had Player played enough events (he played eight, and intends to play 12 this year).
He has added a third hybrid to his bag -- his first iron is a 6-iron -- to go with three woods, three wedges (52, 56 and 58 degrees) and the putter.
Player shot his age on the senior tour in '07, including two 69s in one tournament in Hawaii, where he celebrated his 50th wedding anniversary with his wife, Vivienne. They were married the first year he came to America to play the Masters, 1957, at 21, after his father wrote a letter to Cliff Roberts.
How does Player account for his steady putting nerves?
"I've kept so fit. I think it has to do with oxygen intake and diet and mind-set."
And he never drank, right?
"I'll have an occasional whiskey with my farm manager. I maybe have 50 drinks a year."
Stop the presses! A scoop if I've ever stumbled onto one!
It's no big story if he shows up in Augusta looking robust enough to wrestle a squad of Pinkertons. He has been hiking a mountain on his land as well as perspiring through vigorous workouts in his personal gym (he was a regular in Augusta National's new fitness center last year).
Strongest memories of the Masters, which he has won three times? He cites the worst first: a loss in 1962 when he was on the verge of becoming the first repeat winner. "I had Arnold by two shots at 16 and was 12 feet from the hole, and he holed that putt from the top right of the green that was three times more spectacular than Tiger Woods' chip-in."
The previous year Player became the first foreign-born Masters champion when Palmer suffered his worst experience at Augusta, needing a par at the last to win before making double bogey from the bunker as Player, who had parred from the same bunker, watched on television. Player won again in 1974 when he nearly holed a 9-iron at the 71st hole and finished two strokes ahead of Tom Weiskopf and Dave Stockton.
Player's favorite memory is his final green jacket, in 1978, when he shot a record-tying 64 the last day to come from seven shots behind, birdieing seven of the last 10 holes to nip by a stroke defending champion Tom Watson, Rod Funseth and Hubert Green, who missed a three-foot putt on 18.
"I came back in 30, and it could have been 27 with putts that touched the hole," says Player, who was the oldest winner (42) at Augusta until Nicklaus won at 46 in 1986.
"On the green at 18 I looked at the scoreboard and had a feeling I could win if I could make my putt. It was about 15 feet, downhill from the top of the green, and at that time nobody had made a putt from up there to win. It went in, and Seve Ballesteros ran across the green to give me a big hug, then my caddie hugged me. He was ecstatic. He'd told me before the tournament he needed a house real bad, real bad. I told him he had one."
The happy ending was revisited last April when Player was making a speech in downtown Augusta after getting the key to the city. He asked the retired caddie, Eddie McCoy, to come up. McCoy was overwhelmed. Player says, "It was a great moment."
The Little Guy has created more than a few of those. And he isn't done yet.
Gary Player, 72, this year will break Arnold Palmer's record by playing in his 51st Masters. He will be the subject of a special on CBS, "Jim Nantz Remembers Augusta, The 1978 Masters," from 1:30-2:30 p.m. ET immediately preceding the final round April 13. Player's career at Augusta:
__Holds the record__for strokes (11,739), six more than Jack Nicklaus, with a stroke average of 73.37. Low round of 64 (1978); high round of 88 (2005).
Second to Nicklaus in rounds played (163 to 160).
Trails only Nicklaus, Palmer and Tiger Woods with three green jackets (1961, '74, '78).
First international player to win.
Trailed by seven strokes after three rounds in 1978 but shot 64 to win with a birdie on the final hole (one of six players to birdie the 72nd hole to win).
Shot 40 on the final nine to win in 1961 and 30 on the final nine to win in 1978.
Tied with Fred Couples for most consecutive cuts made (23, starting in 1959). Last made the cut in 1998, at 62.
Runner-up in 1962 and '65.
Says his first trip to the Masters, from South Africa in 1957, took 40 hours with five layovers.