What happened after Tiger's 4-iron snapped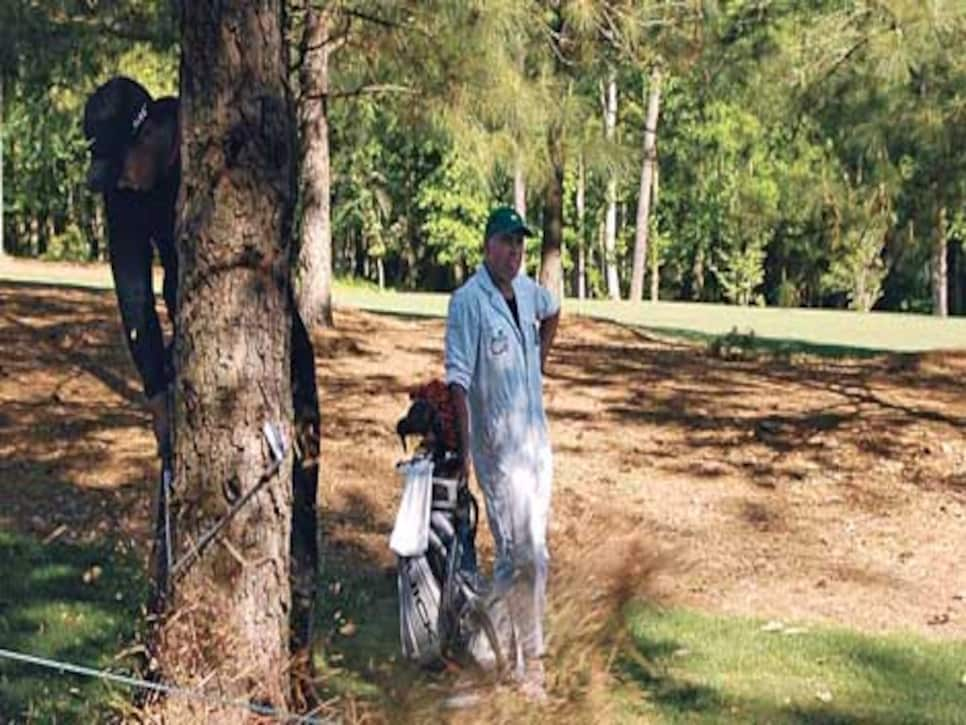 'If I hit it the way I wanted, I knew the club would shatter. And I hit the shot the way I wanted.'
Tiger Woods' tee ball on No. 13 at Augusta National, a seductive par 5 famous for its risks and rewards, settled in the fairway on Easter Sunday of the 2007 Masters. He was chasing history, Zach Johnson, and had 218 yards to the flagstick. "As I do maybe nine out of 10 times, I suggested what club I thought would be right," recalls Steve Williams, Woods' trusted caddie. "I said, 'Four-iron.' Perfect distance for a 4-iron."
Woods could not believe his ears. "I just looked at Stevie, stared at him, without a word," Tiger says, a smile on his face. "And he looked back at me, like something was wrong. Like maybe I saw his fly was open. I wanted to make sure he felt uncomfortable. Then it finally hit him. He caught on, and we had a big laugh. It was one of the funniest things that ever happened with us, and there have been a few."
Alas, there was no 4-iron available. Woods had broken it like a chicken bone on No. 11, where he wrapped it around a tree attempting to exit pine straw on the right. He made par, but it surely would have been nice to have that club in one piece, instead of two, for the rest of that final round.
"Stevie was right, it was the perfect club from the 13th fairway," Woods says. "I don't remember wanting it any other time on the back nine. [He recalls being between a 2- and a 3-iron on the second shot that came up short at the 15th.] Honestly can't tell you whether I hit it from 12 through 18 the first three days. But I could have used it there. As it was, I hit a hard 5-iron, started it over the creek with a big old hook and made eagle."
Crisis averted. But could he have replaced the 4-iron, and if so, why didn't he? Stuart Appleby, in the final twosome with Woods, said he was 75 yards or so away when Woods went into the shade at 11. Appleby later learned of the 4-iron's fate; he also knew that it was against the rules (penalty: disqualification) for a player to borrow a club from a fellow-competitor.
"I wasn't sure what was legal and what wasn't," Woods admits. "I found out a while after the Masters that I couldn't have done it, but I wouldn't have used his anyway. Everybody's clubs out here are so different, so personalized -- the shafts, the grips, the weight, the loft."
There was no doubt about the future of the 4-iron when Woods found his ball, two or so feet right of the tree on 11. "That used to be just rough," he says. "Then they did some planting over there."
J.D. Cuban, a Golf Digest/Golf World photographer, was warned by Woods to stand back. Tiger called his shot. "If I hit it the way I wanted," he says, "I knew the club would shatter. And I hit the shot the way I wanted."
Williams was concerned about more than equipment. "That's the kind of swing where Tiger could have hurt himself, never mind the 4-iron," he says. "I'm guessing that if it's just another tournament, he just pitches out left-handed. But he was in contention for a major on a Sunday. He was going for the green and almost made it. Plus, he's so good at letting go of the club right after impact, so his hand just slaps at the tree instead of going into it full force, along with the club. Somebody else not as athletic as Tiger tries that and maybe breaks a wrist."
Williams theorizes that Augusta National is the last place you want to attack without all your weapons. "The greens are such that you really have to be almost perfect with your distance control to get near the hole," he says. "You want the right club in your hand, more than any course in the world."
Why didn't Woods order out for another 4-iron? In the same Rule 4-3a on damaged clubs, it stipulates that a golfer can replace one if it does not "unduly delay" the pace of play. Any number of officials could have rushed in a cart to the clubhouse to fetch Woods' emergency backup 4-iron. If there was one. "Don't bring a spare set with me," he says. "I have another driver, and two extra wedges, the 56- and 60-degree, but that's it."
But why? The world's greatest golfer tours the world by private jet, and he can't bring along extra bats?
"I travel light," says Woods.
"I broke a wedge in Houston a few years ago and had another there. Only one 4-iron on board, though."
Williams verifies his boss' habits. "No matter where we're going, or for how long, he brings one suitcase and a knapsack," he says. "That's it. And it's not really a big suitcase. A normal suitcase."
If you're looking for Tiger's broken 4-iron on eBay, forget it. "We put the two pieces in the bag," Woods says. "And then we gave them to Nike. No sense keeping them around. Gotta travel light."