The Loop
Masters Week weather: WTF!
Oh, relax -- I didn't take that photo in Augusta. I took it here in Connecticut, where we just finished the mildest winter since the dinosaurs went extinct. (The nearest muny was closed for all of eight weeks; my home course re-opened earlier than it ever has before.) But then, early Sunday morning, the world looked like this:

We called off Sunday Morning Group, and I hung around the house and "did chores." Around lunchtime, though, Addison pointed out, by email, that most of the snow was gone from his yard, so he, Tim D., Mike A., and I met on the first tee at 3:00. It was cold, and the wind was blowing hard, but we had the course to ourselves:

Here's what the bulletin-board thing near the clubhouse looked like when we finished, a bit less than three hours later:
And here's what we looked like:
We've had several opportunities recently to make our storm gear seem like a good investment. Here's Barney on Saturday, when we played in rain: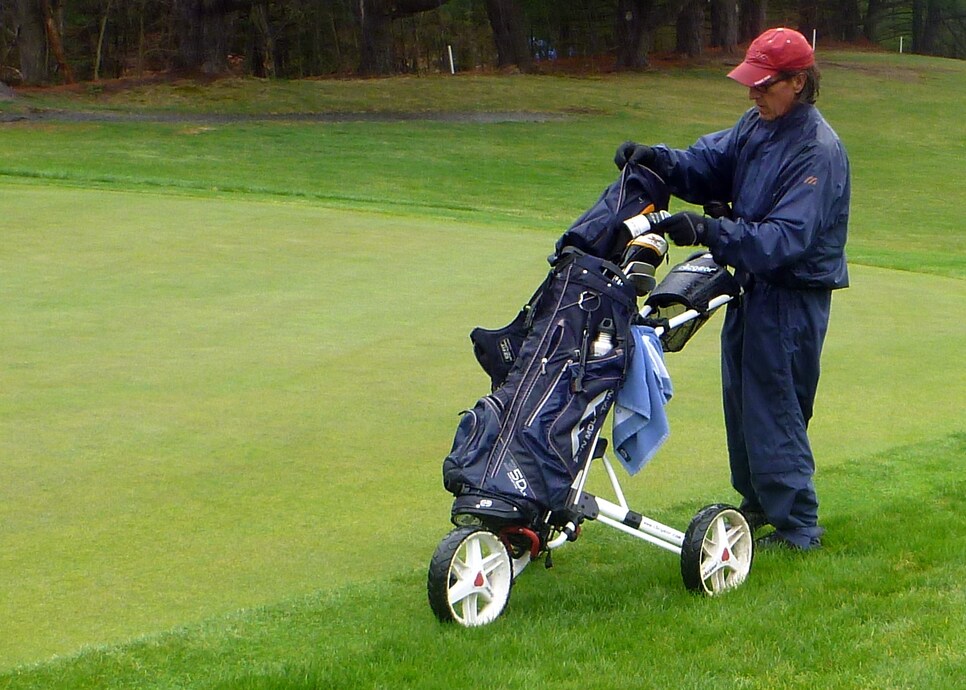 And, because only three guys showed up on both Friday and Saturday, we invented a new three-man game: three six-hole matches, in each of which one of us played against the better ball of the other two. The bet was two dollars per man per match, with automatic presses. It was fun, and the money came out virtually even, but we won't be able to try it again for a while, because more snow fell overnight -- and it's still falling right now. I'm doing laundry!