The Loop
This Sunday can be the longest day of the year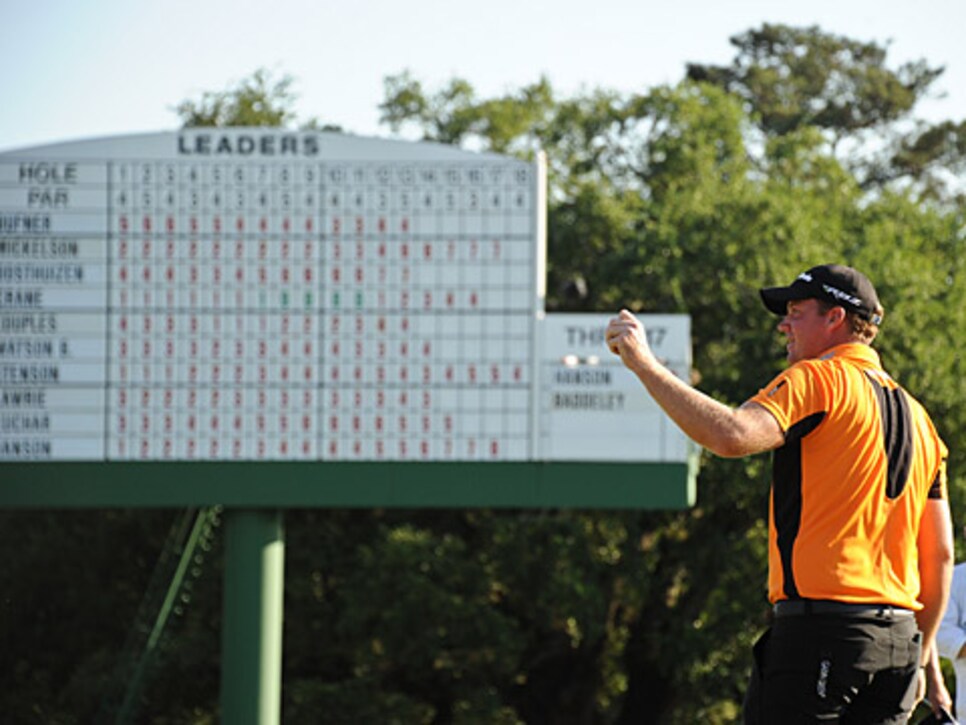 (Peter Hanson and the scoreboard of players chasing him on Sunday. Photo by Robyn Beck/Getty Images)
AUGUSTA, Ga. -- So you wake up at 7 o'clock, as usual. Only it's not the usual day. This day you have a chance to be somebody. You can win the Masters. Before you can do that, though, you wait. The contenders tee off late. So you wait. Then wait. It might be noon before you leave for the golf course, and you leave only because you can't figure out another way to wait.
"You're thinking, 'What's the day hold?' 'How confident am I in what I'm doing?'" Brandt Snedeker said he asked those questions of himself on an April morning in 2008. That day he was up at 7. He waited. He was two shots off Trevor Immelman's lead. "It's a hard wait. You know how important it is. You get this nervous feeling." He smiled because he knew what he'd say next is too true to be funny. "Golfers are not good with idle time."
Sunday at Augusta National, with a Masters to win, is the most beautifully-terrifying day in a man's life. Do it right, you're immortal. Do it wrong, you're toast. The beauty of Augusta National is, it allows for heroes. The terror is, you can become poor Rory McIlroy in 2011 or woebegone Greg Norman in '96. To quote Padraig Harrington, who on this Sunday will start five shots off Peter Hanson's lead: "Fortune favors the brave at times here, and it can catch up to you as well. When you are leading a tournament, that's not the type of golf course you want to be on. You want to be on, probably, a boring course -- which this ain't."
Sunday at Augusta National is a test of a man's mind. Brandt Snedeker was the leader after two holes on that Sunday in 2008. "Then I started thinking of everything else," he said, "except . . . " He loves the place. Give him a victory here, he has said, and he'd be happy if he never won again anywhere. But idle time, if not the devil's workshop, allows dreams to take shape. They come with green jackets. They come with a trophy, your name etched alongside Palmer and Nicklaus, Watson and Hogan. And then Snedeker, 31 years old, a three-time winner on the PGA Tour, picked up his incomplete thought: " . . . except the second shot." Distracted by his imaginings, perhaps, Snedeker shot a 77 that day and shared third place, four shots behind the winner, Trevor Immelman.
Still, as Harrington suggested, Sunday at Augusta National first demands that a man be brave enough to walk on a high wire in a hurricane. Late in the afternoon, with the shadows gathering, you come to Amen Corner, the 10th, 11th, and 12th, each with its famous dangers. At 13 and 15, there are eagles and there are sevens, glory and oblivion. Then comes 16 with its devil's water and the 18th up that long, long hill to an unseen green where even Arnold Palmer, in his time as king of all he surveyed, once threw away a Masters victory.
"You've got to know the feelings coming down the stretch in a major," Harrington said. The Irishman has won two British Opens and a PGA Championship. "And you've got to know the feelings coming down the stretch at the Masters, because the Masters is different. The back nine is different than any other major tournament, purely because of the risk/reward all the way home. . . . You can take on the corner at 13, and if you hit it around the corner, you can be left with 6-iron into the green and a great chance of making eagle. But if you hit it a little bit left, you're teeing it up again."
About 3 o'clock on this Saturday afternoon, Snedeker was one-under-par for the tournament, only four shots out of the lead. He did a bit of arithmetic and decided that, maybe, 8- or 9-under would win this Masters.
"A 66 gets you to 7," I said.
"A 65, 64 might win it for you."
A bigger laugh, and then he said, all things being possible, "You never know."
But three hours later, Peter Hanson, the big Swede, had put up a 65 for the lead at 9-under-par. Then came Phil Mickelson with a 66 that included a back-nine 30 built on four birdies and an eagle. And it certainly didn't sound like Mickelson would be much worried about the long wait on a Sunday morning in Augusta.
"I love it here," he said, "and I love nothing more than being in the last group on Sunday at the Masters. It's the greatest thing in professional golf."