News
Bubba Golf, At Its Very Finest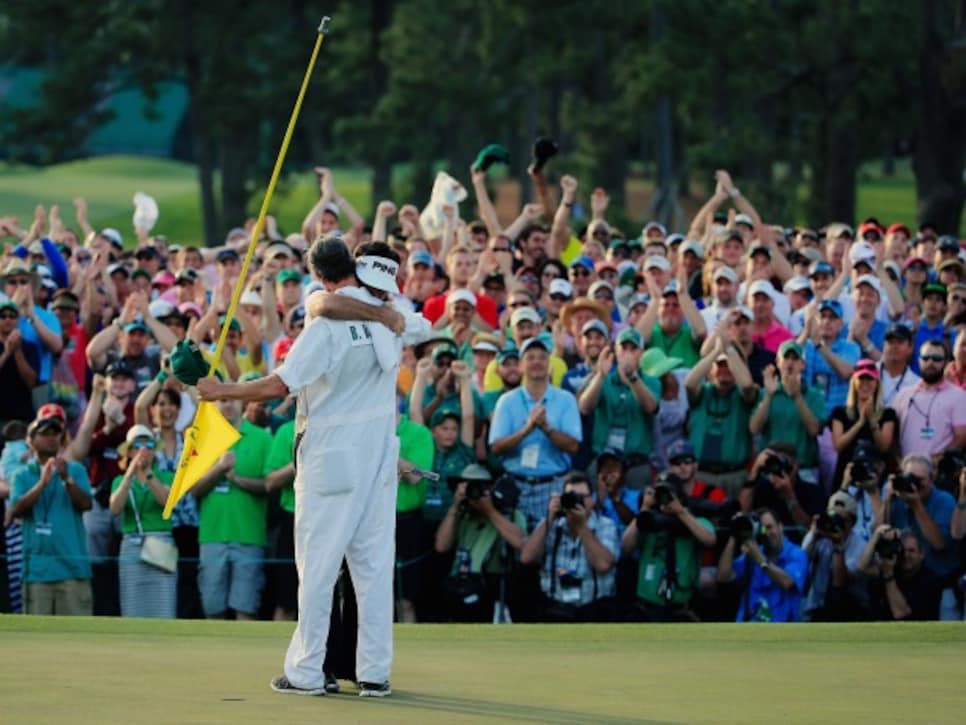 Bubba Watson is now one of nine players in Masters history to win two green jackets.
AUGUSTA, Ga. -- Bubba Watson has all the shots -- and more. Sometimes when you watch him on the range it seems as if he is genetically incapable of hitting a golf ball straight.
One shot curves 30 yards to the right, the next 30 yards to the left. It was one of those kind of shots that are supposed to be impossible with the modern golf ball that won him his first Masters in 2012.
On Sunday, he picked up his second green jacket by overpowering an extremely fast, firm and unrelenting Augusta National and outlasting 20-year-old Jordan Spieth. And as always, he was refreshingly non-analytical about it.
"I don't remember the last few holes," Watson said after fashioning a final-round 69 that put him at eight-under-par 280, three strikes clear of Spieth and Jonas Blixt. "All I thought was 'make pars, make pars.'"
Sometimes its seems as if that's the most complex thought Watson is capable of having when he plays golf. He has a tendency to get jumpy on the golf course -- especially with the putter -- and his mind at times seems to go on a walkabout at the most inopportune times.
But, in reality, like the late Payne Stewart, who won three major championships despite battles with attention deficit disorder, Watson seems to be most engaged mentally when the challenge is the greatest.
A difficult shot makes him bear down -- like the seemingly unwise play from out of the trees over water on No. 15, a strange gamble with a three-stroke lead.
But that's when he's at his best.
"I was actually looking at a more aggressive line, but I wouldn't to that to my caddie," Watson said. "I was trying to hit the bunker," he said about the low, cut 6-iron from 181 yards. "But I was trying to get it a little closer and so I cut it a little bit more without telling my caddie."
"It's Bubba golf," Watson's caddie Ted Scott said. "For him it's not that big a deal . . . He sees huge gaps."
And now with two Masters titles in three years, it seems as if the majors make him focus even more that when he has those challenging shots in a regular tour event, just like they did for Stewart.
"It's overwhelming to win twice," Watson said. "A small-town guy named Bubba has two green jackets."
What is clear is that Augusta National sets up perfectly for the hard cut the lefthander likes to hit. And a couple more performances like the one he had this week and they may have to figure out a way to Bubba-proof Augusta National. What is also clear is that Bubba learned a lot from winning that first Masters and it seems unlikely that he will once again go 22 months without winning.
"After getting the green jacket the first time, it's overwhelming," Watson said. "And adopting my son the week before, that's two big things to adjust to. It just took some time. I finally got adjusted to it and here I am with another green jacket."
Compared to 2013, when Watson struggled to adjust to his new reality as a major champion, this season has been refreshing.
"Last year was a rough year with the pressure of trying to prove yourself, but this year his attitude's been great," Scott said. "It's been a lot of fun to work for him this year. I really enjoyed the good and the bad."
There were two keys to this final round. The first first came when Bubba made birdies on top of Spieth on No. 4 and No. 6, both par-3 holes. Spieth holed a bunker shot on the first and stiffed his tee shot on the second.
"For me to make birdies on top of him really changed the momentum," Watson said.
The second key stretch was when Spieth finished the front nine bogey-bogey and Watson close it birdie-birdie to turn a two-stroke deficit into a two–stroke advantage.
"That's when the momentum really went my way," Watson said. "And no one in front of me was doing anything."
This finish was not as compelling as his playoff win in 2012 over Louis Oosthuizen, and that's just fine with Bubba.
"The shot out of the woods made me famous," he said about the huge hook on the second playoff hole that won his first green jacket. "But this one was a lot easier on my nerves."
When he got to the 18th green, Watson turned to caddie Scott just to make sure he had the situation straight.
"I said, 'I'm not very good at math, but I have four putts to win, right?'" Watson said. "He said, 'That's right."
Perhaps Watson will never become a consistently dominating golfer, but he is consistently entertaining, and that's good for the game. He may also emerge from this victory in a very different place than when he won here in 2012.
"The first one I kind of lucked into it," Watson said. "This time I wanted that jacket back." Then, touching the fabric gently after last year's champion Adam Scott placed it on him Watson added: "I never loved green so much."
Sort of makes you look forward to the U.S. Open, doesn't it? Sort of makes you wonder which Bubba will show up there. He may not be Tiger, but he's Bubba, and that's pretty entertaining in its own right.