News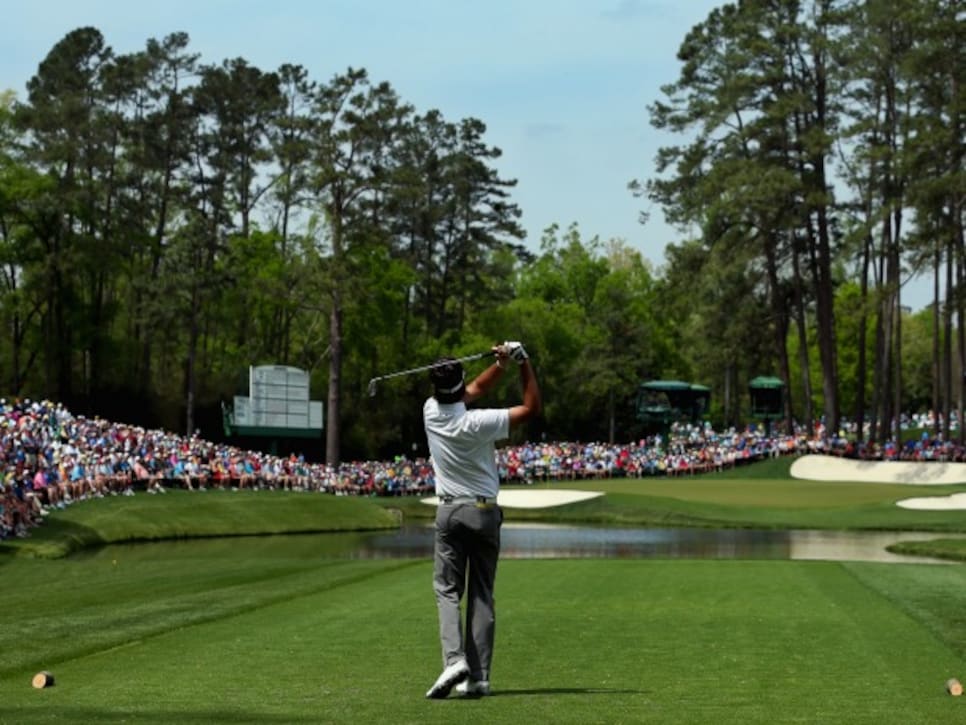 If Friday was any indication, Bubba will cruise to his second Masters.
AUGUSTA, Ga. – Perhaps it is the mole on his cheek, or the wide-eyed way he answers a question. There is something, however, about Bubba Watson that makes me feel like I am interviewing the third runner-up in the Latka Gravas lookalike contest.
It's not just a physical resemblance. The way Bubba frames his answers is also reminiscent of the iconic character created by Andy Kaufman for the TV show "Taxi." Watson's responses are funny -- and a little bit off kilter. But if you listen closely, there is also wisdom there.
And if you listened closely Friday after Watson took over the top spot on the leader board at the Masters with a four-under 68, you get the feeling he's learned a lot since winning the green jacket and becoming a father, both in 2012.
Bubba is looking -- and sounding -- more like the guy who hit that incredible hook out of the forest primeval to win a playoff here with Louis Oosthuizen than the man mired in The Great Funk that began after that victory. The win at Augusta National two years ago was his fourth career PGA Tour triumph, but No. 5 did not come until 22 months later at the Northern Trust Open this February. You get the feeling he will not have to wait as long for No. 6.
Perhaps only a couple of days.
After his stellar second round, in which he made five straight birdies beginning on No. 12, Watson sounded like a man not only ready to win, but also one who has gathered himself thanks to a new perspective on life.
"[I've] never been drunk before, but [I had] a hangover from the green jacket," Watson said, singing the familiar refrain hummed by most first-time major-championship winners who complain about the increased demands on their time from sponsors, media and fans.
"You know, I do everything my way," Bubba said. "I learned the game my way. I figured it out my way. So it just takes me a little bit longer with the mental focus and drive to get back to where I am today."
He spoke about how he restructured his life around his son, Caleb, who he and his wife, Angie, adopted shortly before he won the Masters.
"Just figuring out how the whole family thing works at a big golf tournament ," Watson said when asked about the difference this year at Augusta National from last, when he finished T-50 in his title defense. "This year having [Caleb] walk around the Par 3 for a few holes … it's really fun, having the family here, having in‑laws here, having friends here. I told everybody, you can't stay at my house; so I rented two houses. They all stay in one and I stay in the other with my family, just to get away."
Bubba even found it easier coming here this year not as the defending champion but merely a past winner. "I could enjoy Champions Dinner this time and listen to some of the stories. I was in awe when I was a champion, when it was my dinner. You know you're sitting there amongst the great champions that are in, and this year I got to be just a bystander, one of the guys, and it's Adam's night."
Watson has figured out a pretty simple game plan for Augusta National -- hit fairways and greens and hope you make some putts. "It's not science here," Watson said about the key to scoring here.
That Latka character was a walking punch line on Taxi, throwing out observations like "America is a tough town. For the most part, Bubba is also a laugh machine. When asked the secret to success at Augusta National, Watson leveled the reporter with this: "I did reveal it yesterday and I've revealed it already today. Thanks for listening, though, really paying attention." Asked if it was an advantage being a left-hander here, he said: "Well, yes. Lefties are the best."
Asked why he struggled so much in 2013, he said: "I was still celebrating my green jacket. How many green jackets you got? If you had one, you would celebrate it for a year or two."
And just about the time the laugher dies down, Bubba hits you with something like this:
"You've got to think about where I've come from, my mom having two jobs to pay for my golf, my dad working in construction. And when you think about that and where I am in my career and where I am in my family, my young family, you're thinking about how great this was."
Winning the Masters changed his life. Financially, he will never have a worry again. But he knows he also has to place that good fortune in the proper perspective.
"Besides the Lord, marrying my wife and having our child, it's right there, it's fourth or fifth on the list," he said. "So when you think about that, it's an accomplishment for a guy named Bubba, with my mom, my upbringing. My year, my career was complete after that win."
After that Masters victory, Bubba learned that life is a tough town, even when it seems like you are on top of the world. It would seem, though, that he has found his footing again. On Sunday, he may even claim another green jacket.