The Loop
Masters Mood Guide: All things Adam Scott
Now that you've been supplied with a playlist and podcasts to hear about all things Masters, the mood setting requires you do a little reading. Celebrating all things defending champion is a great tradition of the Masters because no winner of this event can turn down the many inquiries to relive their epic triumph.
Adam Scott has been no stranger to writers grilling him about last year's epic, and why not? A dreary and lifeless-by-Masters-standards final round exploded in the final 90 minutes to produce a thrilling playoff win for Scott over Angel Cabrera.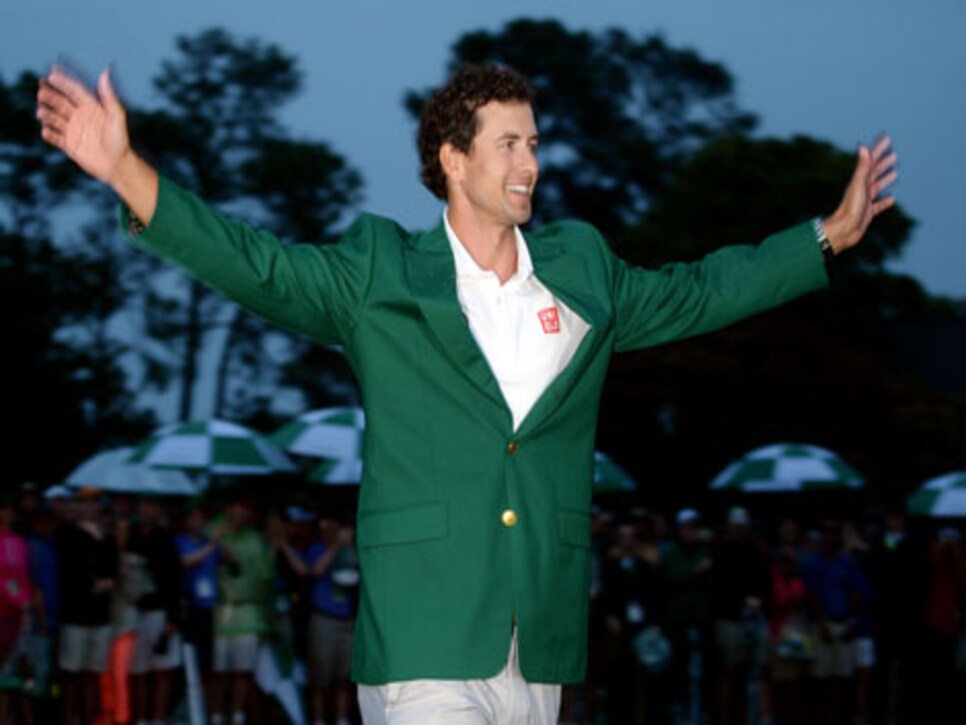 Golf Digest's Tom Callahan's April issue column focuses on Scott's triumphant return home to Australia last December and Scott's gentle nature. And in case you were wondering about Scott's recent struggles at Bay Hill, Callahan reminds us that the putter acted up all the way up until Sunday's back nine.
The Sunday that Scott won the Masters, he didn't putt well, you know. "I was very, very shaky with my speed control," he said, "leaving everything short on the front nine, incredibly short. On the back nine I just told myself, This is it. You have to be bold now."
Golf Magazine's Alan Bastable filed a lengthy Q&A where Scott shows how he is one of the more underrated interviews in golf. An unfortunate photo accompanies the piece, but just scroll on by that and get to the good stuff about the win, Augusta and his views on some of the course changes.
The Augusta Chronicle has won countless awards for their stories on defending champions, and Scott Michaux undertook the grueling task of visiting Australia to see the Alister MacKenzie courses built prior to Augusta National, checking out the great Barnbougle Dunes resort in Tasmania (positively nothing to do with Adam Scott!) and Michaux reconsiders the amazing sportsmanship that places the 2013 Masters in the pantheon of great tournaments. But the main Chronicle story focuses in depth on how Scott rebuilt his approach to majors after hitting rock bottom in 2008, with extensive tracing back to the early part of Scott's career with many details that may surprise you.
Many factors contributed to his professional free fall - a broken hand that got smashed in a car door before the U.S. Open; a break-up with his longtime girlfriend, Marie Kojzar; a "mystery illness" that haunted him with recurring throat infections doctors could best attribute to fatigue; and a kneecap he dislocated running out of the surf in Queensland at the end of 2008.
The Augusta Chronicle also featured this video of a Scott Q&A in Australia where he talks about the Green Jacket and various rules associated with its care while he is champion. You will also see just how much his win meant to the great sporting nation of Australia.