News
Big Memories. Little Memories. Best Memories.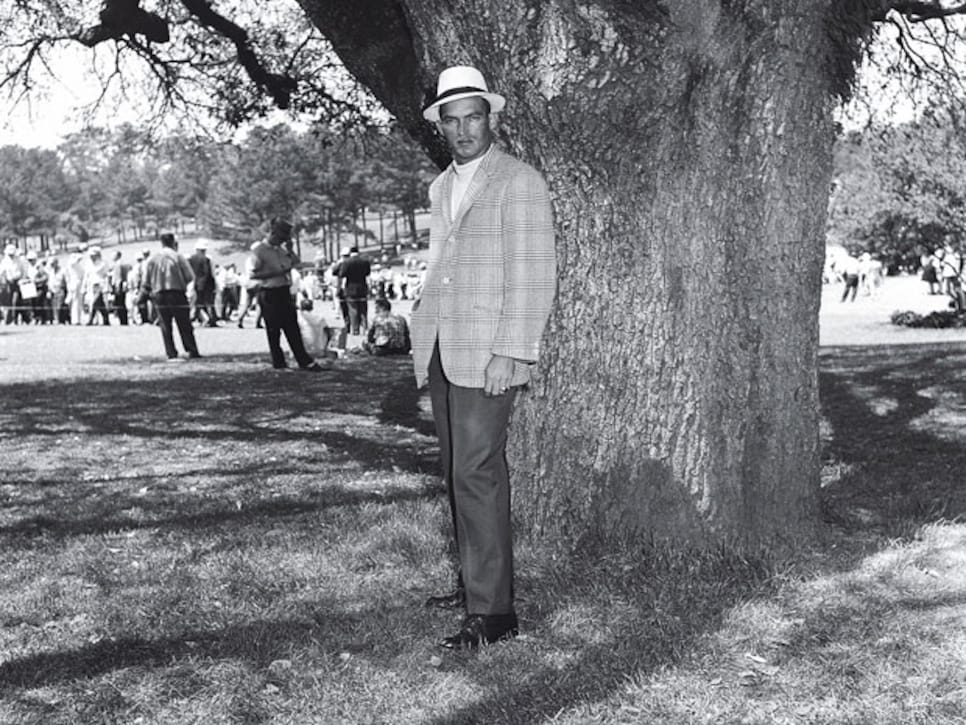 Chi Chi Rodriguez got into his first Masters after Clifford Roberts declared him "The Champion of Puerto Rico."
Most of us select our most cherished Masters moments from the highlight reel, our favorites emerging from scenes of historic back-nine charges and collapses, spectacular shots and celebrations on the 18th green. For the players, the palette of experiences is softer, more varied and, often as not, an event that happens outside the main competition. Only the Masters, with its Par-3 Contest, Champions Dinner, honorary-starter ceremony and unique practice rounds, presents so many opportunities for special memories.
I played in the 1980 Masters as a result of winning the U.S. Amateur in 1979. I played with Fuzzy Zoeller, the defending champion, the first day. I was extremely nervous and didn't play very well. On the par-4 11th hole, I sniped my second shot to the left with a 4-wood. My ball took Andy North's name off the leader board near the pond there. After a penalty drop, I chunked my next shot into the water. I ended up making an 18-footer for triple-bogey 7. Fuzzy, meanwhile, made a birdie 3. I was feeling pretty low as we walked to the 12th tee. Fuzzy being Fuzzy, he said, "Look, you just made a 7, and I made a 3. Added together, that's 10. Divide by 2, and now you've got 5. Regardless of what the scorecard says, par on that hole ought to be 5. So together, we made par. Don't worry about it."
When I started playing in the Masters, in 1988, they re-paired after the first round. That year, as U.S. Amateur champion, I played the first round with Larry Mize, the defending Masters champion. That night, when I phoned for my time on Friday, a woman said, "You'll be teeing off at 8:35 a.m. with Mr. Palmer." That I remember my tee time shows what a big deal it was to me. Arnold didn't play very well, but he was so gracious. On the 18th hole, he was on the left side of the fairway, and I was on the right. When I looked over, Arnold was waving me over. "Right here," he said, pointing to a spot just short of the fairway bunker. "Right here." And he proceeded to tell me about his getting distracted at that spot in 1961, when he had a one-stroke lead over Gary Player. And how he hit a poor second shot into the greenside bunker and made a double bogey to lose by one. "I think about that mistake every time I stand on the 18th tee," Arnold said. "Don't ever do what I did." After the round, Arnold signed a cap for me. I put a pin from that Masters on the cap. Every year I played I put a new pin on it. That cap Arnold signed for me has 12 pins on it.
I met Clifford Roberts in Puerto Rico when he made a visit there in 1959. He pointed to me and asked Ed Dudley, "Can this little man play?" Ed said, "Yeah, he can play." Mr. Roberts said to me, "How would you like to play in the Masters?" I said, "But Mr. Roberts, I've never won anything." He said, "I hereby declare you the champion of Puerto Rico. You're playing." And that's how I got invited to my first Masters.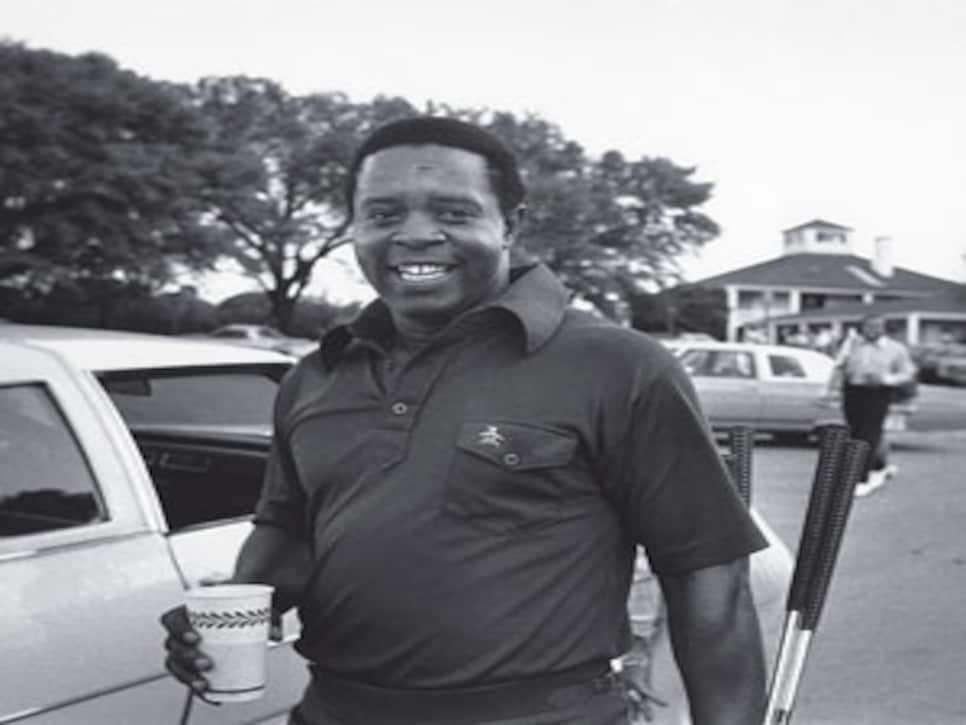 __*Lee elder arrives for his first practice round
at Augusta, in 1975. Photo: AP*__
I earned my invitation to the Masters by winning the Monsanto Open the week after the 1974 Masters. That was an awfully long year leading up to the 1975 Masters. No black man had qualified to play until then. Before the tournament, I anticipated having a lot of problems around the club, problems with the gallery and problems with the people of Augusta. That was not the case. My party and I were received very well, I think because it was now a dead issue. Driving up Magnolia Lane was an incredible thrill, and in fact I was shaking more than when I actually went off the first tee on Thursday. The first person to meet my automobile at the gate was Clifford Roberts, who gave me a warm welcome. That certainly was something I hadn't expected.
For four years I had been trying to get a date with a beautiful girl named Marci, to no avail. She lived in Las Vegas, and I would always look her up when I came to town. Marci knew very little about golf and was not impressed by me being a tour player. Her dad, who I was friends with, kept telling me, "Be patient." Finally, in 1993, I pulled out the stops and asked Marci if she'd like to go to the Masters with me as my date. She said, "What is the Masters?" I said, "It's sort of the Kentucky Derby of golf." That convinced her. We had a great week. We hit all the hot spots--Hooters for dinner and Krispy Kreme in the mornings. I made the cut in the tournament, and the whole experience kind of blew her away. When the week was over and I had to head for Hilton Head and the next tournament, Marci cried because she wanted to go with me instead of back home to Las Vegas. Marci and I wound up getting married. We've been together ever since. The Masters was one heck of a first date.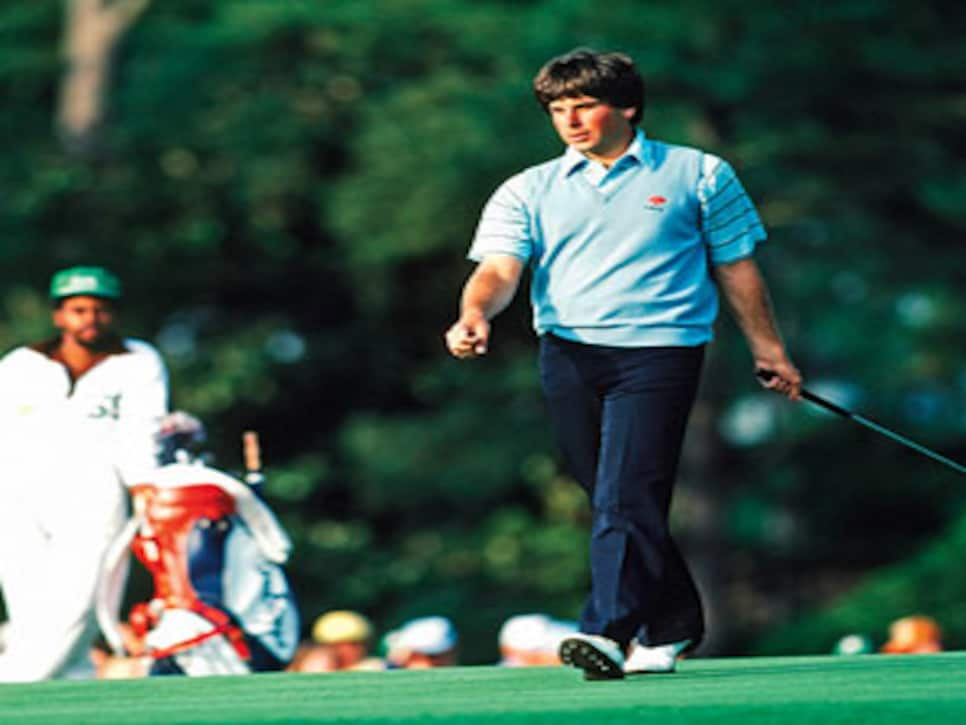 __*Fred Couples, in his first masters, in 1983, couldn't
keep up with a fast-walking Jack Nicklaus.
Photo: Augusta National/Getty*__
My first couple of years as a pro, we played in threesomes on the PGA Tour, and I got used to that pretty fast. It didn't matter what the pairings were or who I played with, I always felt relaxed and played my own game. But in my first Masters, in 1983, I played in a twosome with Jack Nicklaus. He about walked me to death. I couldn't keep up with him. Jack was the fastest walker ever. I'd get to my ball, and Jack would already be at his ball, arms folded, waiting for me to hit. He couldn't have been nicer and was just doing his thing, but Jack being who he is at Augusta, I felt this weird pressure to move at his pace between shots. I just couldn't find my rhythm. I'm not very good when I feel rushed. I played OK but could have done better. The fact there were things that could catch me by surprise really made an impression on me.
I always came into Augusta National on Monday morning. I'd spend the day chipping and putting, and then, at about 4 p.m., I'd play nine holes by myself. In the 1980s, most of the spectators were gone by late afternoon, and sometimes I was the only player out there. In 1986, I was getting ready to hit on No. 1 when who walked up but Sam Snead. He asked if he could join me, and for the next 2½ hours he told stories nonstop. He gave so much detail about the famous exhibition matches he played against Bobby Locke in South Africa in 1946, and how Locke beat him 12 out of 16 times. It was just one story after another, and on the ninth hole he even outdrove me, a big thrill for Sam and for me, too. I shot 63 in the third round of that Masters, set the course record. But when I think of 1986, I think of my nine holes with Sam.
The first round of my first Masters, in 1993, I made the short walk from the practice putting green to the first tee with several minutes to spare. At the same time I was handed my scorecard, pin sheet and rules sheet, the starter announced, "Tom Lehman, now driving." I fumbled for my club, glove, ball and tee, scrambled to the tee and snapped it left into the trees. Andrew [caddie Andy Martinez] told me that it was still three minutes before my official time, so I asked the starter about it. He said, "Sir, at Augusta National, we like to be teed off by our starting times."
One year I lost my contestant's badge. It's one of the worst things a player can do. I went to the registration desk and got another one, but it wasn't easy. Fast-forward four or five years later. I get a package in the mail from an ordinary address in Augusta. Lo and behold, it's my badge. The owners of the house we'd stayed in wrote they'd found my badge while cleaning around their washing machine.
A friend who is a member at Augusta had me down for a practice round in February last year. I got to see parts of the club I hadn't seen before, the most impressive of which is the wine cellar. I'm not a wine connoisseur; I just know what I like. But that cellar is fantastic. You name the wine, they have it. There are personal wines from past chairmen down there. It's my understanding that these wines will never be consumed. Clifford Roberts [who died in 1977] still has wine in that cellar.
The masters always provides a certain number of tickets to players for guests and family members, but one year I didn't have enough. I needed an extra badge in the worst way. So I requested one for T.O. Hoch, a member of our family. We got the badge, but I can reveal now that T.O. was our family dog. T.O. was with us for 17 years, and he truly was family, so I never felt too bad about doing that.
My friend Francis Jago goes by the nickname Mad Dog. A couple of years ago, I'm playing a Wednesday practice round with Fuzzy Zoeller, and Mad Dog is following us around. While I'm putting on the 11th green, Fuzzy walks ahead to the 12th tee and calls out, "Where's Mad Dog? I'm looking for Mad Dog." He drags Mad Dog out of the crowd, pulls a club from my bag and says, "Hit a shot for us, Mad Dog." There are about 300 people there, and Mad Dog is as nervous as can be. But he hits it solid and knifes it into the pine needles over the green. He gets lucky, and the ball rolls back near the back of the green. The crowd loves it and gives Mad Dog a big round of applause. He was so proud of himself. He's a tall guy, and as he hands me my club he says nonchalantly, "Caught it a little thin. Your irons are a little short for me, Casey."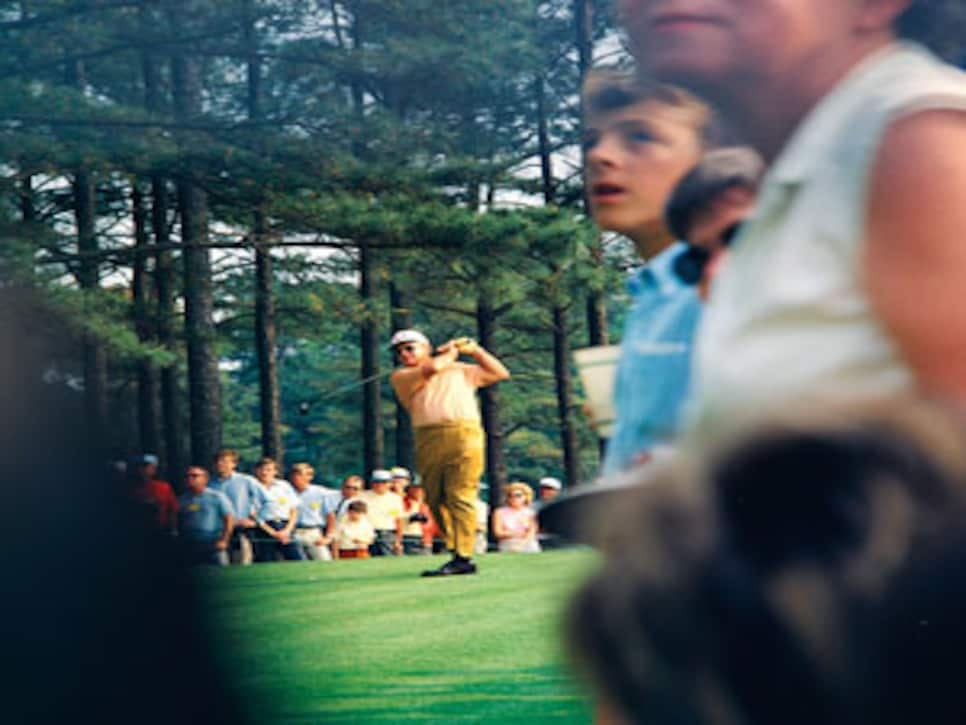 __*Miller Barber finished three strokes back in 1969
despite 11 balls in the water.
Photo: Augusta National/Getty*__
I finished three strokes behind George Archer in the 1969 Masters even though--and this is hard to believe--I hit 11 balls in the water. I came to the 12th hole on Thursday five under par and landed my shot pin-high but watched it suck back into the water. At the 13th, my ball landed on the green every day and rolled off into Rae's Creek every day. On No. 15, my 4-wood second shots hit the green the first three days and rolled off the green and into the water. On Sunday I swore this would not happen again, so I hit my 4-wood a little more firmly. This time, it hit a sprinkler head near the back of the green and bounded into the pond at the 16th. One day on No. 16, with the pin front left, my ball landed pin-high to the right of the hole and spun sideways to the left and into the water. On Sunday, I did hook my tee shot on 16, and it went into the water on the fly. But that was the only ball of the 11 that splashed. The rest just trickled in. If those balls had stayed dry, I would have won by 10 shots.
I don't know the last year Byron Nelson and Gene Sarazen played in the Par-3 Contest, but on that Wednesday I had finished my practice round and wandered over to wait to get paired with someone. Byron was there with Gene, and he said, "Young man, would you like to join us?" Of course I accepted. The first hole is very short, not much more than a long pitch. What I remember was the way Byron and Gene placed their hands on the club. Their grips were so beautiful, so natural and perfect, that they made the club seem like it was part of them. They were only hitting irons, so they didn't have to strain with their swings as they might have with a driver. My neatest Masters memory is of watching Byron and Gene hold the club, waggle it and then make their swings.
My first invitation to the Masters was in 1985. Looking around the clubhouse, the one thing that caught my eye was the crystal goblets they presented to players for making an eagle. They were made by Steuben, and I wanted one very badly. On the first hole the first day, I pulled my approach left of the green and made a double bogey. On the second hole, the par 5, I made an eagle. I went from feeling terrible to feeling that if nothing else good happened, at least I had my crystal goblet.
In 1998, I was two shots out of the lead after the first round. The second round I was a little nervous and had one of those days where nothing went right. No disastrous shots or anything, just a day where the hole seemed to have a lid on it. I shot 42 on the front nine and was going nowhere. On the 10th tee I said to Paul Azinger, who I was playing with, "How about we play for a beer on the back nine?" Paul said, "You know I don't drink." I said, "Well, I'm playing you for a beer anyway. If I win, I drink tonight. If I don't, I won't." I shot 36 and made the cut. I can't remember if I beat Paul, but I did have a beer that night.
For me, Augusta National was a place I couldn't wait to get to and couldn't wait to leave. The course never looked that hard, but the greens were so frustrating to me. I had only one real good finish there. But one year my friend Chris McLachlin--Parker McLachlin's dad and Barack Obama's high school basketball coach--caddied for me as I played the front nine late on a Monday. Nobody else was around. There was no wind, the sun was going down, the light was filtering through the trees and the course had this glow about it. We stopped for a moment, and Chris said, "You know, this is just like church." He was right. There was something spiritual about the stillness and the way light was filtering through the trees. Two good buddies together in that setting, that's about as cool as it gets.
I'd missed the cut a couple of times at the Masters and was starting to think the course just wasn't right for me. Too long, the greens too fast. One night, just before the 1989 Masters, I was watching an ESPN interview with Jaime Diaz, the writer. He said players come into Augusta thinking they need to hit the ball 300 yards, flight the ball right to left, and putt lights out. And how that wasn't true. That sort of turned a light on for me. The kitchen of the house we stayed in had a linoleum floor, and every night I'd put down some coins and putt to them. I told myself that no matter how fast the greens at Augusta National were, there was no way they were faster than that kitchen floor. My confidence grew, and that year I led the Masters with five holes to play. I didn't win, but I came close, and the memory has always stayed with me.
My first Masters was in 1991. I was leading money-winner going into the tournament. Somehow I lucked into a practice round with Arnold Palmer, and on the first hole I'm thinking how this is as much fun as playing golf can get. On the second hole, I had a par putt of about two feet that I sort of took for granted. I hit it way too hard and missed. Arnold scolded me. I mean, he got right in my face. "These greens will destroy you if you do that!" he said. He was nice before that and really nice after, but for a minute, he was serious. I got the message that the Masters was to be enjoyed, but it also was not a picnic.
Most practice rounds, you take a partner and play a four-ball against the other two guys. But one year in the 1980s I was with Arnold Palmer, Jack Nicklaus and Raymond Floyd. There was only time for nine holes, so one of them suggested we play a $5 skins game. It started out pretty relaxed, but when nobody had won a skin after several holes, it got more serious. Beneath the smiles and waves to the crowd, there was some serious grinding. At the ninth, I hit it pretty close. I'm last to putt, all nine skins are at stake, and the other guys weren't rooting for me to make the putt. I missed, and the mood instantly returned to what it was on the first tee. That would have been cool, winning all nine skins against those three legends.
In 2009, I shook hands with Jack Nicklaus and Arnold Palmer on the same day. I was chipping near the putting green when Mr. Nicklaus stopped by on his way to play in the Par-3 Contest. Mr. Palmer came by about 10 minutes later. I had been introduced to both of them before, but shaking their hands in that setting was such a thrill. It dawned on me that between them, they've won 10 Masters. In 2010 I shot 65 in the final round, and that was neat, but meeting Mr. Nicklaus and Mr. Palmer in the same day was even more special.
My first Masters was in 1984. I hadn't played much big-league amateur golf, and I was a young pro, so it was a huge deal for me. I played well and birdied two of the last three holes to tie for sixth. On Sunday I drove it into the fairway bunker, the same one Sandy Lyle was in when he made that great birdie to win in 1988. The pin was up front, and I hit to the back of the green. I made the putt, and the gallery went crazy. I got a standing ovation. It made me feel sort of self-conscious, and I quickly got my ball out of the hole and stepped aside. I've always wished I would have stood there a little longer and soaked up some of that applause, because I never had an ovation like that again.
Masters champions get to bring out one guest on Sunday, the eve of Masters week. Last year I invited my dad. We played with Fuzzy and his buddy. My dad was very nervous; he really wanted to play well. He's about a 10-handicapper, and although he didn't say anything, I think he had a goal in mind of what he wanted to shoot. He parred the first hole and was off and running. He played well, Fuzzy was entertaining, and we had lunch in the clubhouse afterward. Watching my dad have a great day like he did was a thrill I'll never forget.
My first Masters I played in was as an amateur in 1998. I was a sophomore at Georgia Tech, and Bobby Jones went to school there, so there was that connection. My father was on my bag. Walking up the 18th hole the first day, we pulled back, stopped and reflected on what a special moment that was for us. Every kid who plays golf dreams of walking up the 18th hole at Augusta, and there it was. There were no tears, just a realization we were doing something that was special. We have a picture of us that captures the moment.
I'm from augusta, so I always had a lot of support there. When I won the playoff against Greg Norman and Seve Ballesteros in 1987 there were more people rooting for me than for Greg, which is probably pretty rare. The memory that stands out for me isn't 1987, though. In 1994, the year Jose Maria Olazabal won the first of his two Masters, I finished third. The final round, as I'm walking off the 18th tee with no chance to win, there was sort of a lull. Someone in the gallery shouted, "Thanks, Larry!" The way he said it was so sincere. I was really touched by that.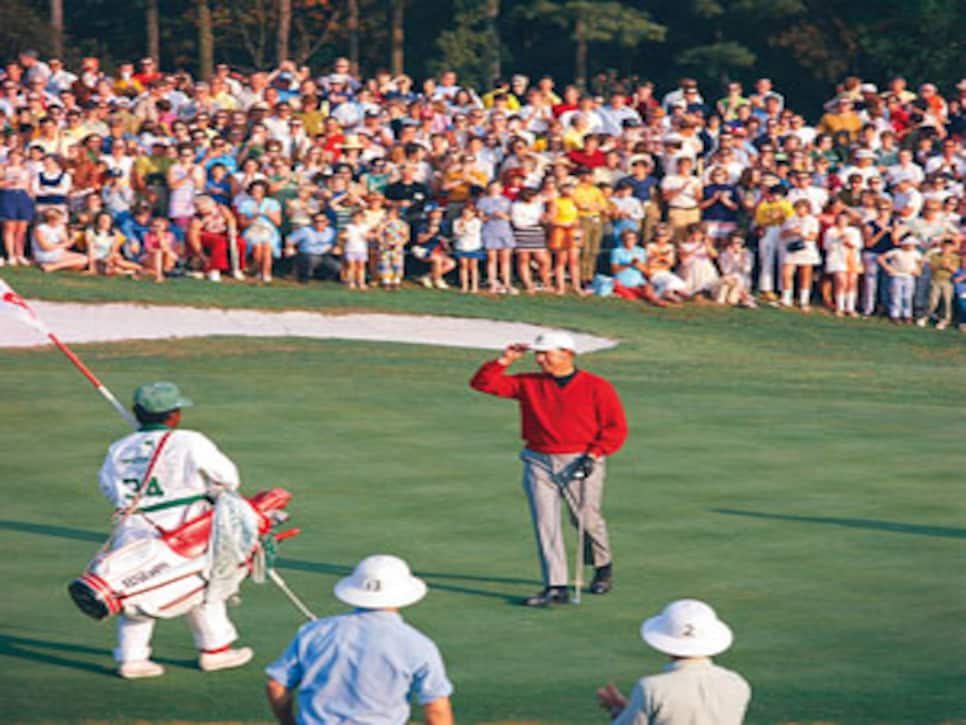 __*Billy Casper, a playoff winner in 1970, now sees
his friends in the clouds.
Photo: Augusta National/Getty*__
Cliff roberts was my friend. One year he was in San Diego during the Thanksgiving weekend, and we invited him over for Thanksgiving dinner. Cliff didn't have children, and being in that family environment, he glowed that afternoon. When I won the Masters in a playoff over my friend Gene Littler in 1970, Cliff was waiting for me when I came off the 18th green. Usually Cliff would offer the winner a heartfelt congratulation. He just looked at me, his eyes a little watery, and said, "Billy, thank you." He was telling me I was a worthy champion who helped the prestige of the tournament by winning. That meant a lot, let me tell you.
I haven't missed going to the Masters since 1957, so I've had more wonderful experiences than I can count. But last year, something special happened. I was sitting under the big tree on the veranda talking with people, and for just a moment I was by myself. It was a cloudless day, and I happened to look up. At that moment a single white cloud drifted slowly over the clubhouse. Just one. I thought, All the boys are in that cloud. I could feel the spirits of Jones, Sarazen, Hogan, all of them. It made me happy to think that one day I'm going to be in that cloud, too.