News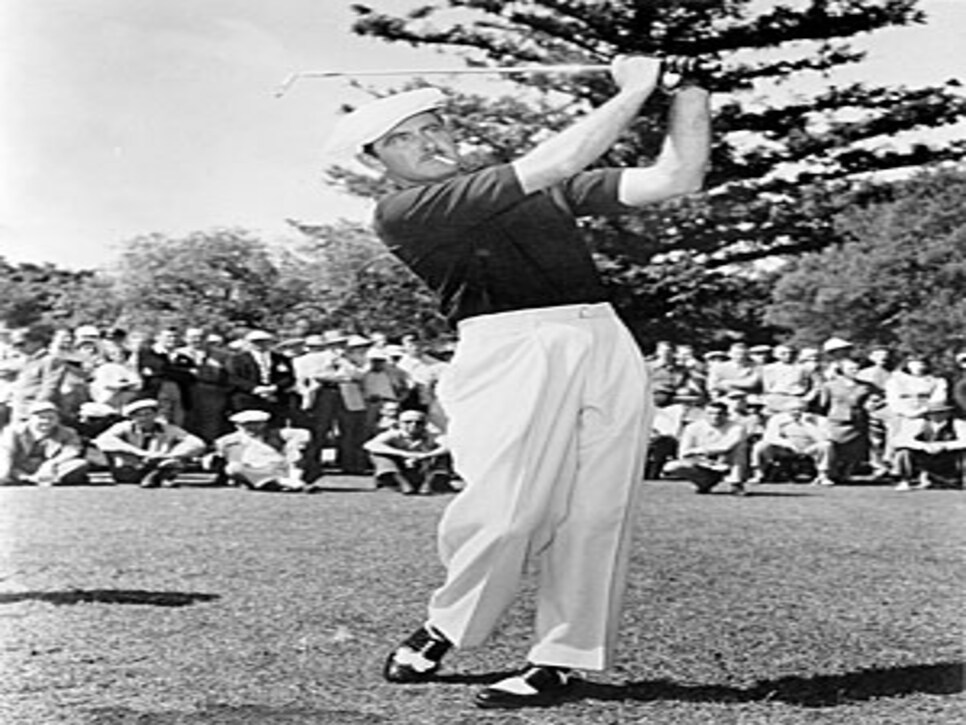 Lloyd Mangrum overcame severe war injuries to win the 1946 U.S. Open
Tiger Woods will have had nearly five months away from competition when he tees off April 8 in the first round of the Masters. Yes, that's a long time, and the unique circumstances that caused his absence only heighten interest in his return. In the frenzy of the moment, spawned by the confluence of the iconic and the salacious, it is easy to lose perspective.
Woods might be the most famous golfer forced to the sidelines, but he isn't the first. From life-threatening injuries (Ben Hogan) to serious physical (Babe Zaharias) or mental (Bert Yancey) illnesses, golfers have been dealt much worse hands not of their doing.
As to the matter of Woods' time away from tournament play, his layoff -- shorter than his own previous hiatus in 2008-09 after knee surgery -- seems merely like an afternoon off compared to what a couple of his fellow major champions went through more than six decades ago.
If Woods is looking for any historical inspiration, he could do a lot worse than consider what Herman Keiser and Lloyd Mangrum had been up to prior to their respective victories at the Masters and U.S. Open in 1946. Along with other peers from the pro tour, they had come back to golf after years, not months, away from the game because of their military service for the United States in World War II.
In July 1942 Keiser finished T-22 at the Tam O'Shanter Open in Chicago. He took a dozen new golf balls (a precious commodity during wartime rubber shortages) with him when he enlisted in the Navy shortly thereafter but they went unused. A sailor on the U.S.S. Cincinnati, Kaiser served 31 months at sea. He didn't play on tour again until November 1945.
Keiser argued that pros who had served were in better physical shape than they had been in. His play was sharp upon his return. He was T-4 in the North and South Open at Pinehurst in his first tournament back and had three other top-10s to close out the season. He lost a playoff to Ben Hogan at Phoenix to start 1946 and enjoyed five top-10s in nine events before getting to the Masters.
As John Strege writes in his award-winning history of the sport during World II When Golf Played Through, "The atmosphere at Augusta National in the spring of 1946 was magnetic …" The first Masters since 1942, according to Strege, was "the unofficial grand reopening of professional tournament golf."
Everyone was anticipating a long-awaited showdown of stars, Hogan, Byron Nelson and Sam Snead. But Keiser, a Missouri native whose serious countenance earned him the nickname "Missouri Mortician," had other ideas. Keiser built a five-shot lead after three rounds, but Hogan, playing behind him, was tied playing the 72nd hole. Keiser appeared headed for another playoff with Hogan, but the star three-putted from 12 feet, allowing Keiser to win the first post-war Masters.
Mangrum's war service was almost as long as Keiser's and more violent. Mangrum had been a force on tour in 1942, winning three tournaments and posting 16 top-10s in 19 events. He played just a couple of tournaments in the next three years, however. He got, but refused, a domestic post as a base club professional. Instead, Mangrum saw heavy combat in Europe, including during the Normandy Invasion and the Battle of the Bulge with Gen. Patton's Third Army.
Mangrum suffered a badly broken right arm in two places in a jeep accident. After that healed, he was back in the fray. He was shot in the knee and left shoulder during the Battle of the Bulge, where he earlier averted death when he happened to turn his head just enough to miss a fatal bullet that harmlessly dinged his helmet instead.
"An inch here and a half inch there is the difference between a dead sergeant and a live champion," Mangrum said, reflecting on his two Purple Hearts and war experiences in 1946. "That's why I'm a fatalist. The ball is going in or isn't. Why worry?"
His equanimity served him well in his return when, as the papers wrote, he "was back in civies and rarin' to go." Mangrum was T-5 at Phoenix where Hogan had outlasted Keiser, and he accumulated seven top-five finishes leading up to the U.S. Open at Canterbury. Nothing, not even a "war-wound twitch in his left shoulder" could disrupt Mangrum's slow, measured swing.
At the U.S. Open, Mangrum withstood a double playoff with Nelson and Vic Ghezzi to prevail amid a thunderstorm. "With the roar of thunder like the rumbling of guns at Basttogne ringing in his ears, Purple Heart hero Lloyd Mangrum strode through a violent downpour yesterday to win the National Open," reported the United Press.
Mangrum might have been able to shrug off the horrors of war to regain his place in the game, but he carried them with him. A tough guy to begin with, Mangrum grew more edgy and had his share of confrontations along with a dozen heart attacks, the last one killing him in 1973. "He was 59, going on 80," Al Barkow concluded in a profile of Mangrum for Golf World a few years ago.
Mangrum carried something else with him the rest of the years. It was his half of a dollar bill he took into battle as a pact with a buddy, who went to war with the other half. The bill, never made whole, is in a display of Mangrum memorabilia at the World Golf Hall of Fame, a harsh reminder of how life can happen to a golfer.