The Loop
A Masters tip: Adjust your set for the course you are about to play
When you play golf, you get to take along 14 friends. No, we're not talking about enough people to nearly fill up four tee times; we're talking your clubs. And while every golfer, amateur and pro alike, gets to choose which 14 they use, many stick with the same cast of characters round after round after round.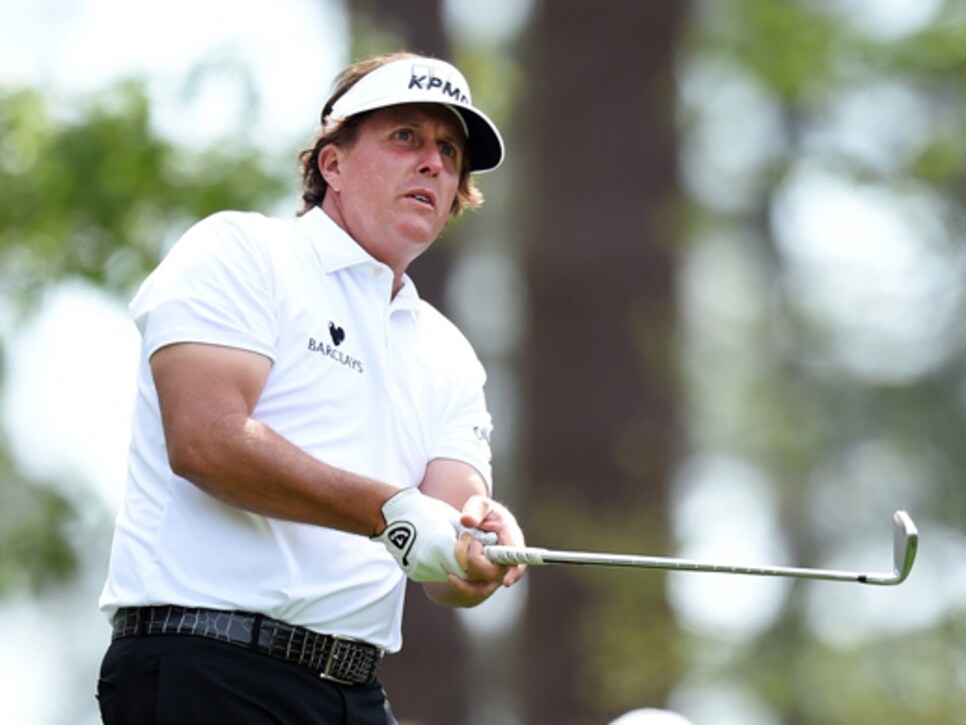 [Photo: Jim Watson/Getty Images]
That is less true with professionals than everyday players. And at the Masters the importance of set makeup goes to a new level. Players routinely work on which clubs they will have in the bag for the year's first major weeks -- sometimes months -- in advance. As the one major that is played at the same venue every year, players know the nuances of the course and act accordingly.
Which is why Phil Mickelson considered leaving two of his wedges at home. "For the past six or seven years I've played this tournament, I have not had a shot between 90 and 130 yards," Mickelson said. "Think about that. I have not ever had a shot between 90 and 130 yards. I have a 40-yard gap there. I [might] take out my sand wedge and gap wedge because I don't ever need them."
On the surface that seems like a preposterous statement, but in thinking about Mickelson's game and the Augusta National layout, his words make sense. Lefty eventually kept one of his two usual gap wedges (a 52-degree) and added a 64-degree wedge for the Masters.
Mickelson is one player who is keenly aware how valuable it can be to adapt clubs to the course. Not only did he win the Masters with two drivers (2006), but he also was cognizant enough of the rules to alter his set for a five-person playoff at the BellSouth Classic in 2005. Lefty knew a playoff constituted a new round, and he could change within the rules. The playoff would only be played on Nos. 17 and 18, so he took his sand wedge out and added a 3-iron which he used to hit the green on his winning hole.
Although Mickelson has been one of the tour's most adept players at adjusting his set makeup, he's far from the only one who does it. Two-time Masters champion Bernhard Langer, for example, brings numerous wedges as well as a couple of extra hybrids. "You want to be prepared for [the] conditions," said Langer. "You don't want to get to a tournament and not have the right club for the type of sand or the right club to fit a certain distance. It's better to bring 20 clubs and have the right ones than get there and wish you had something."
Which is probably what happened to Rory McIlroy on Masters Friday. Before the tournament he had talked about making the loft on his 4-iron stronger so he could carry the right-hand bunker on the par-3 fourth. Ultimately, he decided not to make the change, and on Friday he was between clubs, eventually going with a 5-wood and airmailing the green. The ensuing double bogey began a downward spiral from which he struggled to recover.
Yet while McIlroy didn't make any changes for the Masters, about a quarter of the field did. Many, such as Jonas Blixt (a 5-wood) and amateur Matthew Fitzpatrick (7-wood), added high-lofted fairway woods; others such as Tom Watson, Kevin Stadler and Charl Schwartzel put hybrids in play.
Schwartzel said he normally carries a 2-iron, but felt like he needed to get some more air under the ball (as well as a few more yards), especially on holes like 2, 4 and 13. That brought about a switch to a 17-degree Nike VRS Covert 2.0 hybrid.
Getting the right wedges also is an important part of set makeup. For the Masters, not only did about one in 10 players employ wedges with different lofts than normal, but many also went with a different sole grind to accommodate the firm, tight turf. Harris English, for example, took two degrees of bounce off his lob wedge just to be able to maneuver it around the greens.
English's change was subtle, but some go for more of an overhaul. Such was the case with Lee Westwood who altered his set significantly to get the proper yardage gapping. Westwood bent his Ping i20 3-, 4- and 5-irons a degree stronger and added an i20 (to match his set) gap wedge that he had bent to 52 degrees, so he could hit it 115 yards. Finally, he removed his G25 20-degree hybrid and replaced it with a 17-degree G25 hybrid.
Extreme? Perhaps. But Westwood did finish seventh. Sometimes all you need is a little help from your friends.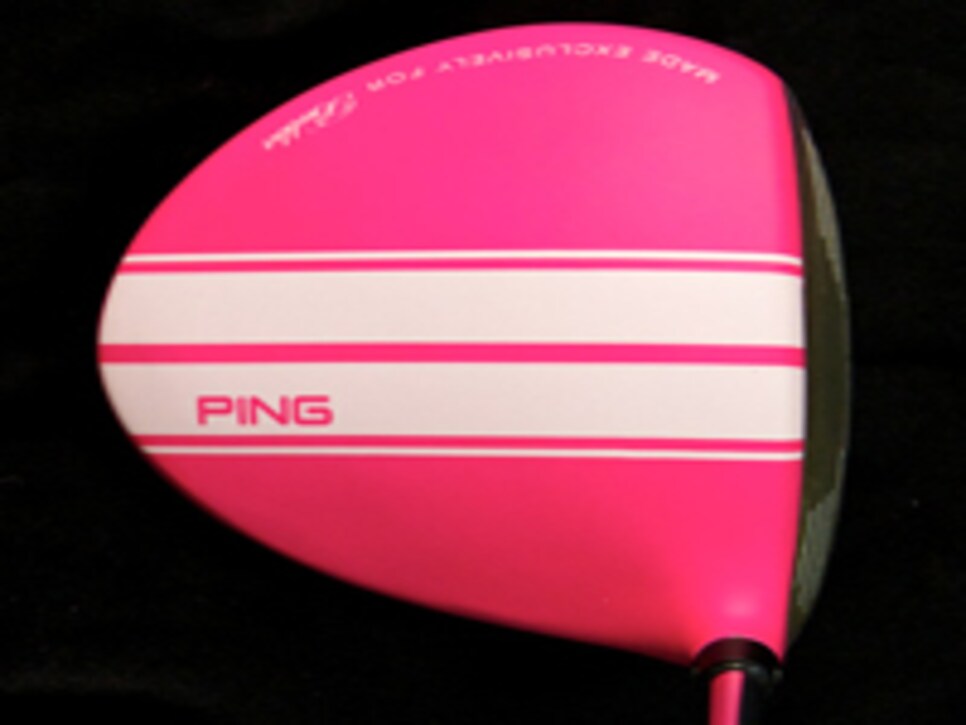 PRICE: $350 (Lofts: 8.5, 9.5, 10.5, 12 degrees, adjustable)
The highest moment of inertia and lowest center of gravity of any Ping driver. Sadly, you can't get it in pink, or with the stripe or the rainbow finish on the sole like Bubba Watson.
Craig Stadler, the 1982 Masters champion, used a green Volvik ball during the Par-3 Contest but switched to the more conventional white model for the main event. . . . Thursday's driver lineup for the ceremonial tee shots: Arnold Palmer, Callaway Big Bertha; Gary Player, Callaway Big Bertha Alpha; Jack Nicklaus, a Nicklaus-branded club. . . . Graeme McDowell won his lone major at the 2010 U.S. Open using a Callaway driver, and he was back with a big stick from the company at the Masters. Although now a Cleveland/Srixon staffer, GMac played a Callaway Optiforce 440 driver. . . . One of the big pre-tournament equipment stories was Justin Rose possibly using TaylorMade's 260cc SLDR Mini at the Masters. It was a false alarm; Rose didn't put the club in play. . . . Louis Oosthuizen noticed his putts were "hopping" during practice rounds so he had the loft on his Ping Ketsch mallet putter altered from 3 to 2 degrees to improve the roll. Oosthuizen also put the company's Tour Gorge wedges (47, 54 and 58 degrees) in the bag. He has played the Tour S wedges for the past couple years. . . . Brandt Snedeker just can't seem to get away from his TaylorMade Burner SuperFast driver. Sneds put the club, which debuted in 2010, back in the bag for the Masters. . . . Hunter Mahan had a new lob wedge -- a Ping Eye 2 XG (the XG is the model with conforming grooves), saying he felt it would be a better fit coming out of the bunkers. . . . He didn't need a full set, but Y.E. Yang had TaylorMade build him new Tour Preferred MC short irons (8- and 9-irons and pitching wedge). . . . Jonas Blixt was sporting a pair of custom-made Puma golf shoes with Sweden's blue and yellow colors.