AUGUSTA, Ga. — The first, and perhaps most important, thing to understand about this story is that Golf Twitter cares a huge amount about a small number of things.
The question of whether to pull a driver on Augusta National's third hole is one of those things. It's a fascinating debate (at least I think so) about a brilliant hole that briefly took center stage on Golf Twitter during the opening rounds of the 2023 Masters.
Understanding the 3rd hole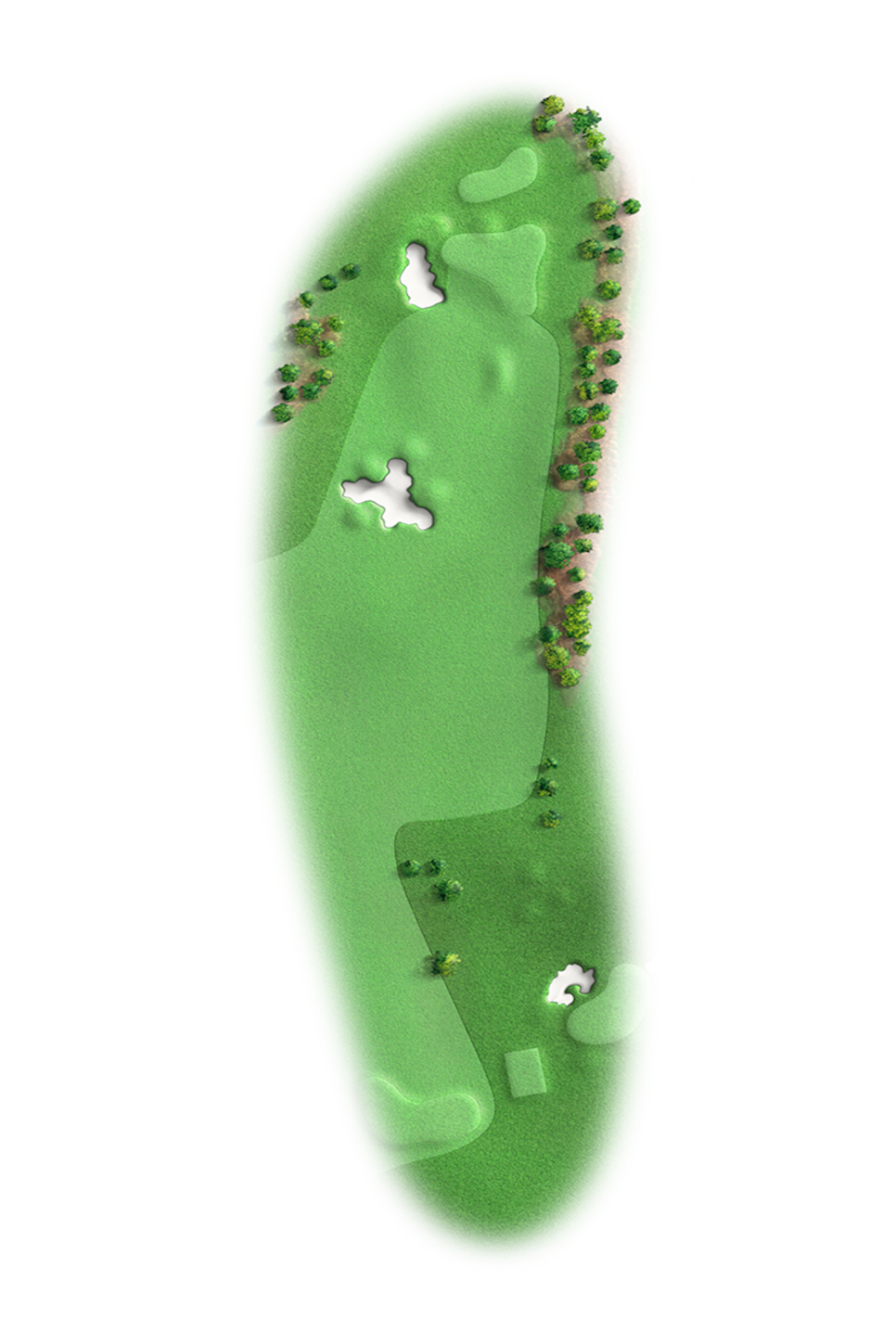 To understand the debate you first have to understand Augusta National's third hole. A 350-yard, slightly uphill par-4. It's not quite drivable because of the elevated green, but players can get close to it.
During the first two rounds, the hole location was in the front-most right portion of the green, then squirreled into the back left corner.
It meant the hole, despite its relatively short length, was around the middle of the pack difficulty-wise, with an almost identical number of birdies to bogeys (15 vs. 16).
Because the hole remained unconquered on the day, no clear-and-obvious blueprint about how to best play it emerged to the naked eye.
Which set the stage for a debate…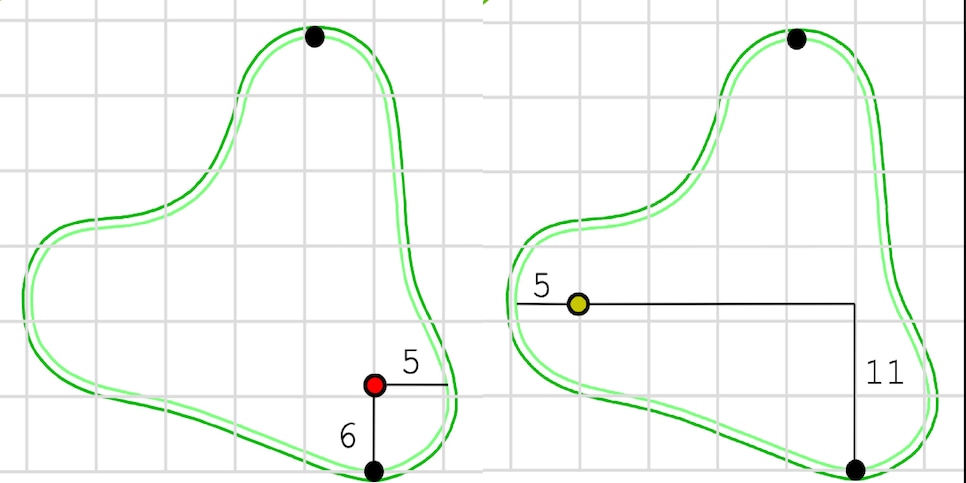 It started during the first round when commentator Colt Knost said that when the hole location is tucked into a corner of the green as it was during the first two rounds, he preferred a strategy of hitting a shorter club off the tee and a full wedge shot into the green. Rather than deal with a tricky pitch shot from closer to the hole, Knost said a full wedge shot would allow for more spin to hold the green, and allow players a better angle to the pin.
Scott Fawcett, the founder of the course management app DECADE Golf and who has consulted with a variety of tour players, advocates for a different strategy. Generally speaking, Fawcett coaches his players to be very aggressive off the tee whenever possible, getting as close to the hole as possible because shorter approach shots lead to shorter dispersion patterns. In this case, Fawcett also said hitting a longer iron would leave players in the rough too often.
The exchange between Fawcett and Knost got feisty at times, and at one point Arccos Data Lead Lou Stagner jumped in to supply some cold numbers in support.
The topic came up again on Friday on the Featured Groups broadcast.
"I mentioned yesterday, depending on the hole location here at the third hole," he said. "I don't mind laying up and having a full wedge shot into the green. And, well, Twitter yelled at me. Apparently I don't know what I'm talking about... I do not think I've been wrong."
Knost gave a good defense of his opinion. He says that when the pin is back, with more room to work with, he's all for pros trying to drive their ball closer to the green. But when the pin is in a less accessible location, as it was again on Friday, he thinks the short pitch is simply too awkward to judge:
"We saw so many guys hit driver and push it up there, and it leaves you that awkward 40-to-50 yard pitch with very little green to work with....I just think that 40-50 yard pitch when you have to bump it into the hill, that's just not easy. Now, if the hole location is in the back of the green and more green to work with, I don't mind pushing the driver up there."
"I know the numbers. I know analytics. I get it. Hitting driver for these guys, it makes the fairway much wider. It gets you a lot more room. People will always say from 40 yards you're going to hit it much closer than from 120 yards. But not all 40 yard shots are the same. I just feel like if you can't get it all the way down there, and hit a 3-iron — I know it's only about 28 yards wide — these guys are going to hit the fairway most of the time. They're going to have a nice full sand wedge in and a much better chance of getting it close. That's just with the front hole locations, if it's in the back, I have zero problem pushing [driver] back there."
It helped Colt's case that as he was speaking on the topic, Gary Woodland had hit a driver within 20 yards, then chipped his ball over the green.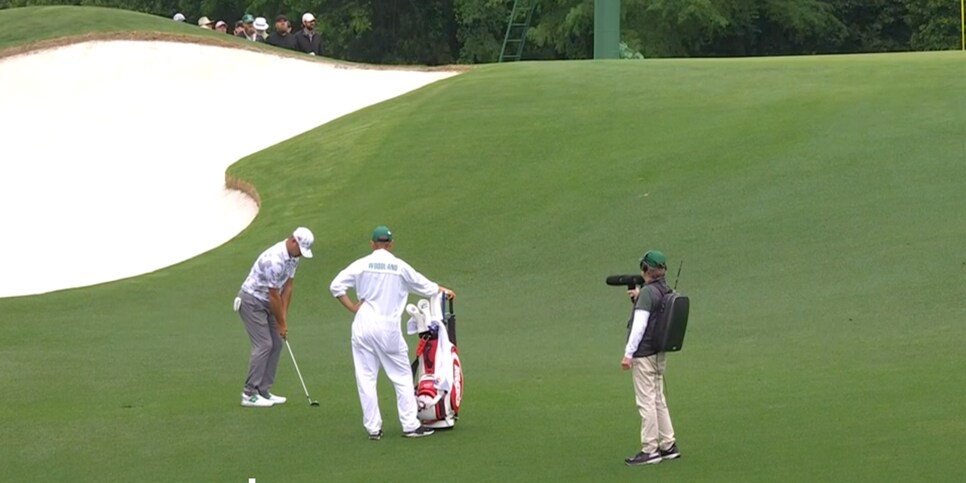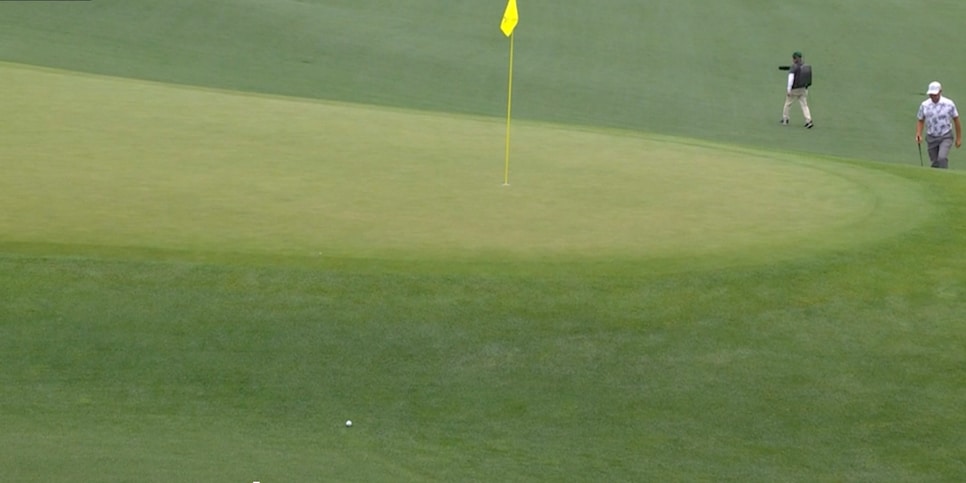 "He was 17 yards and now he has six feet for par," Knost said. "Where this hole location is, it looks like it's sitting on the hood of your car."
I asked Fawcett for his retort. He offered some choice words in response, but said he stands by the numbers showing driver is the better play.
And thus concludes just another day in the life of Golf Twitter.