The Masters
Masters 2022: Augusta weather forecast calls for early-week storms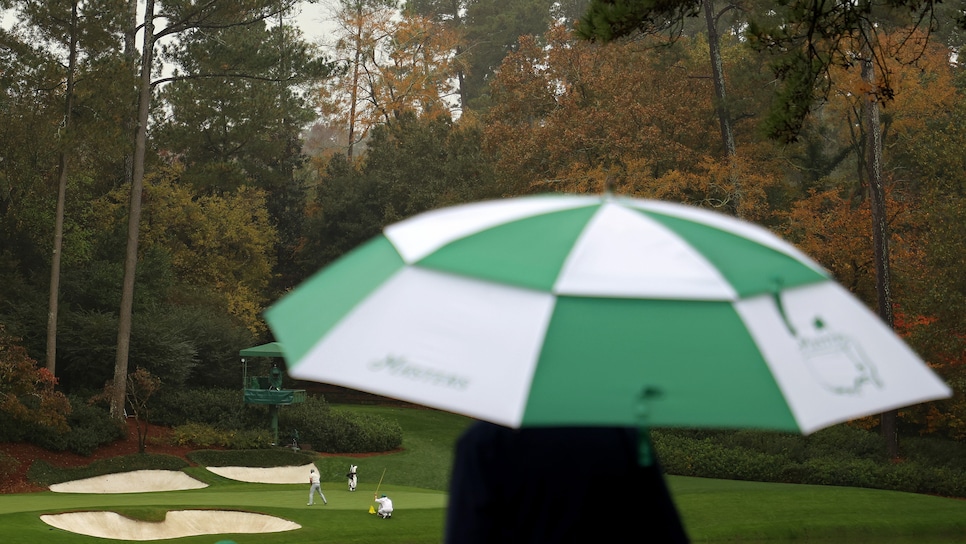 AUGUSTA, Ga.—The Masters doesn't begin until amateur meteorologists fret over the Augusta weather forecast.
Luckily, the outlook for tournament week looks (mostly) promising.
Yes, because this is April in Georgia, there is expected to be rain for the year's first major. As of Monday morning the Weather Channel reports a 100 percent chance of rain on Tuesday with 1-2 inches of rain. There are likely to be thunderstorms, large hail and "possibly a tornado." So, uh, not great for patrons who hit the Tuesday practice round lottery. (UPDATE: It's Tuesday, it's raining sideways and fans are no longer property.)

Wednesday isn't much better, with a 50 percent chance of rain and scattered storms in the afternoon during the return of the Par 3 Contest. Round 1 on Thursday had echoed a similar forecast but as of Tuesday afternoon it appeared the chances of rain are slim.

But come the weekend, it appears the tournament is in the clear.
There are no hints of rain in the Friday, Saturday or Sunday forecasts, with sun and temperatures reaching the high 60s. Saturday and Sunday could be a tad windy and a bit cold, which for those that like a little drama in their Masters viewing is just wonderful.

Last year's Masters tournament was arguably altered by the weather, a Saturday rain delay making a firm and fast course vulnerable. Hideki Matsuyama took advantage of the lowered defenses, playing his final eight holes on Saturday in six under to vault into a lead he never surrendered in becoming the first Japanese male to win a major championship.