FIRE PIT COLLECTIVE
Masters 2022: What makes Tiger Woods Tiger Woods?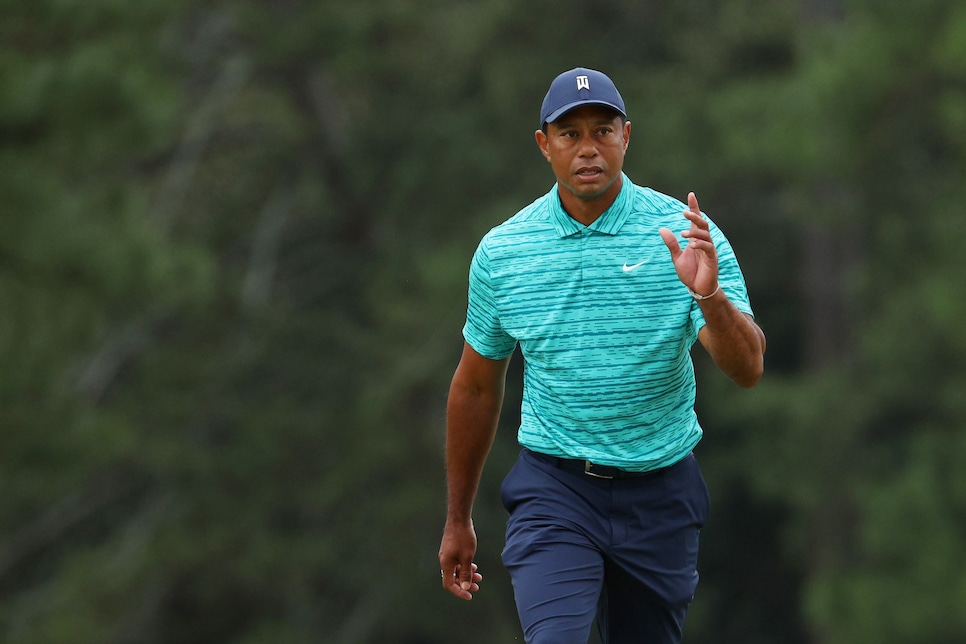 AUGUSTA, Ga.—Tiger Woods has always stirred heightened emotions. Joy, awe, reverence, outrage, disillusionment, concern, fear, wonderment, gratitude … for a quarter-century we have collectively lived and died on every shot and headline, the many triumphs interspersed with scandal and injury. Woods's opening 71 at this Masters set the sports world on fire, a mere round of golf becoming a communal experience. The giddiness that came with his unexpectedly stellar play was nevertheless tinged with concern: How long could this fairytale continue?
On Masters Friday, played in the afternoon amid gusting winds and falling temperatures, a dark reality quickly set in. Woods bogeyed four of his first five holes, looking stiff and tentative. His driver was wayward, his irons imprecise, his chipping and putting lacking conviction. In barely more than an hour, a sense of deflation blanketed Augusta National and golf Twitter. Reality bites. But a delicate up-and-down at the par-5 8th led to a much-needed birdie and then Woods followed with a pinpoint approach on the ferocious 10th hole to set up a kick-in birdie. Tiger was back, baby! Cue the references to Arnie's charges.
Then bogeys on 11 and 12 sent a shudder through the golf world. A day earlier, we were dreaming about the most epic victory imaginable; now, suddenly, Woods missing the cut here for the first time since he was an amateur in 1996 was a very real possibility. However, even the golf gods, so often judgmental and vengeful, can get swept up by Tigermania. The wind laid down for Woods on the back nine, and going for the green on 13 from 252 yards out—after a short, wipey drive—he made his worst swing of the day with a 5-wood; it was so bad Woods's ball expired right of Rae's Creek, allowing him to get up-and-down for a gift-wrapped birdie. Thus energized, he played a crafty approach into 14 and made his fourth birdie in a span of seven holes. (This is the fourth decade in which he has birdied 13 and 14 in the same round; hat tip to Justin Ray.) Woods's iron play will never cease to amaze. He parred in from there for a 74 that, given the gutting start, was just as impressive as his opening-round salvo. "It was a good fight," Woods said. "I got back in the ball game." Abraham Ancer was a little more expansive when asked to identify Woods's x-factor: "That mentality of never giving up and always rising above adversity—so many things make him who he is."
This marks Woods's 22nd consecutive made cut at the Masters, the third-longest streak in tournament history, though he did fall from 10th place to 19th and is now nine strokes off the lead of a red-hot Scottie Scheffler. On the bright side, Woods is just four shots out of second. Tiger has a way of warping perspective, but it's needed now more than ever in this hot-take culture. All those bogeys in the second round—and come what may over the weekend—can not overshadow the larger takeaway from this Masters: Tiger Woods is playing golf again and we all get to watch. Competitive rust was inevitable given this was his first real tournament in nearly a year and a half. Challenges with his surgically rebuilt right foot and once-mangled leg were to be expected on Augusta National's steep, rain-softened hills; Woods's rehabilitation is ongoing, and he is confident he will continue to get stronger. There are already signs of progress, as during the second round Tiger appeared to have more speed with his driver and he actually looked a little lighter on his feet, although he allowed afterward, "I'm not feeling as good as I'd like… I can walk this golf course. I can put on tennis shoes and go for a walk. That's not a problem, but going ballistically at shots and hitting shot shapes off of uneven lies, that puts a whole new challenge to it."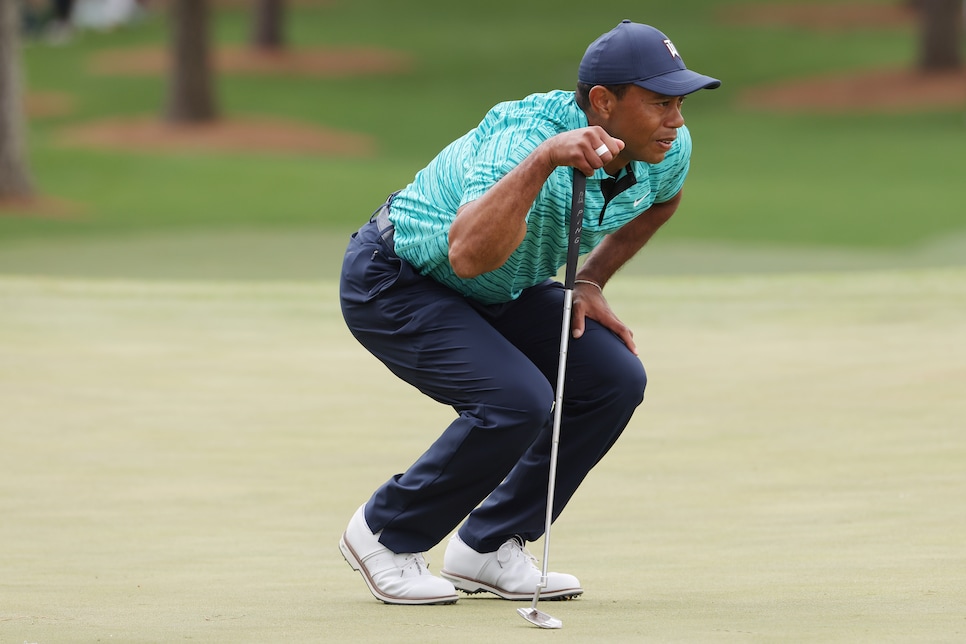 Meanwhile, even Woods's putative adversaries have been swept up by the display of residual talent and endless heart he displayed across the first two rounds. "You just pull so hard for him," said Harold Varner III. "Obviously, he's great for the sport. You just want to see him do well."
"As a competitor, I guess as a fan, it's pretty special to have him back," said Tyrrell Hatton. "He has an aura about him, and his record speaks for itself. We're lucky that he is playing this week."
"Yeah, it's awesome," Will Zalatoris said following his second round. "Yesterday I was walking off 6, and you see people 15 deep around 16 when he made birdie, and he gives a little fist pump. I mean, I'm used to seeing that on TV. Obviously seeing it in person is pretty cool. People always talk about how he moves the needle, but he is the needle. This is the first time for me when I've been in a field where I've been able to see it firsthand, and it's incredible. It's really cool."
Pro to pro, the players have seen enough glimmers of the old Tiger to know he remains a threat. Said Viktor Hovland, "I feel like even now, when he's maybe not on his best, you see the moments here and there that just kind of separate him from everyone else: the crisp ball strike, making clutch putts, never giving up, always hanging in there and fighting. I just like the charisma he has when he plays golf."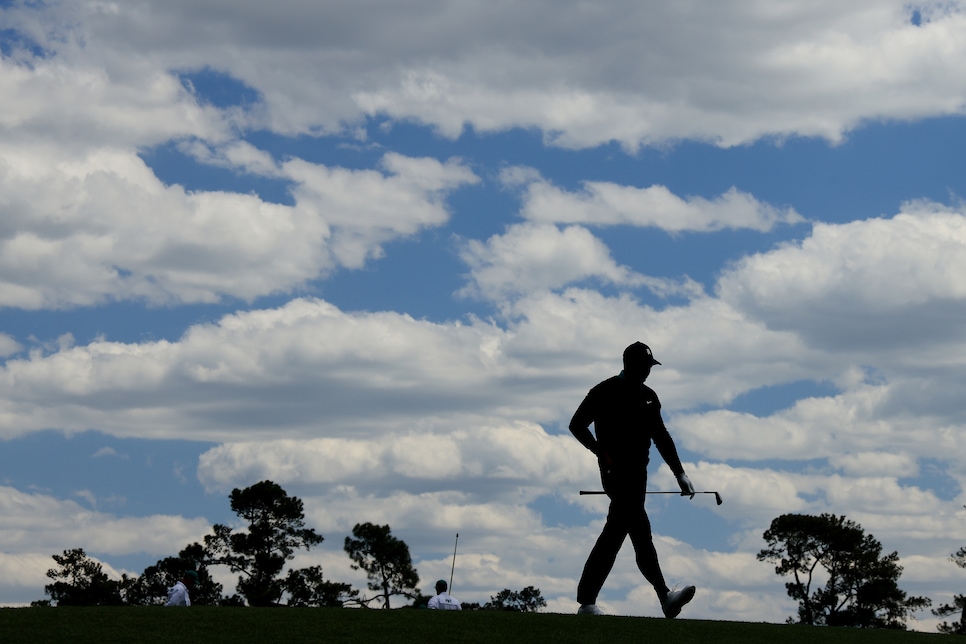 Watching Woods rise from a hospital bed to make a run at the Masters has already stirred debate about where this performance ranks in the Tiger pantheon. Zalatoris couldn't help but go there when I asked him what makes Tiger Woods Tiger Woods. "I mean, I could give you 25 accolades, and there are still more," Zalatoris said. "He's got 15 majors. He's won 82 times. He's the greatest of all time. Obviously considering that he's come back after what he's had and he's playing this [caliber] of golf, you could argue this is probably his best accomplishment. I mean, it's pretty incredible."
This begs another question, which on its face seems ridiculous but has to be asked: Can a 46-year-old man with a surgically repaired knee and Achilles, a fused spinal cord and a foot made of metal win this Masters? Marc Leishman pointed out that Woods's advantages are metaphysical. "It's up top in his brain," Leishman said. "Everyone's brain is wired differently, and he's got that determination and the work ethic. It's both. If he puts his mind to it, you wouldn't put anything past him."