Monday Superlatives
Masters 2021: In praise of Hideki Matsuyama and the definitive hot streak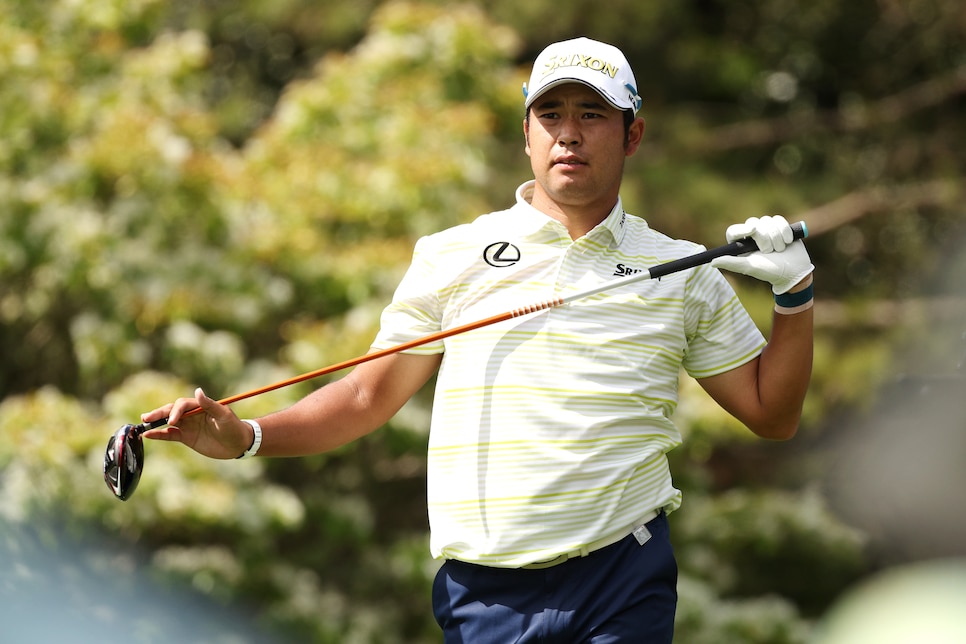 There's so much to talk about in regard to the Masters, and you can find that great content all over this site, but I want to take a moment to put forth a theory that will probably get at least a little lost in Sunday's drama—this tournament was won for the Japanese star in the space of eight holes on Saturday afternoon. Everything that followed, from the wavering but generally steady play of the first 14 holes on Sunday to the near-collapse that just—and I mean just—fell short of disaster, was enough because of a sudden, almost inexplicable burst of competitive brilliance the day before.
If you followed the tournament, you already know the details—rain softened the course, but it was Hideki alone who took advantage, rocketing from -5 to -11 in the space of eight holes. The really wild thing is that it could have been better; he three-putted for par on 13 when birdie and perhaps even eagle were on the table. The run had everything, from textbook birdies to long putts to incredible escapes, and though the rain made scoring easier, nobody else did what Hideki did. Not even close.
For obvious reasons, we tend to remember how things end in a memorable sporting event; the lingering memories are the last ones. There is something subtly cool, though, about a stretch of genius that ultimately defines the outcome. We can't quite say the Masters was over after Hideki's third round came to an end—clearly, a lot of drama remained—but looking back, we now understand that it was definitive. As in, whatever else came after, this was the crucial moment that made victory possible. It's exhilarating, even when it's not a finale. In the college basketball championship, we saw Baylor crush Gonzaga in the opening minutes of the first half, to the point that when the Zags regained composure, it didn't matter, because the most important stretch had already come and gone. In golf, a pair of events from 2014 comes immediately to mind; first, Rory McIlroy ending his third round at the Open Championship in Liverpool with two eagles in his final three holes to turn a close margin into a six-shot lead. He only won by two, and looking back, it's clear that his Saturday closing salvo made all the difference. Later that year, in the Ryder Cup, the Europeans jumped all over the Americans in the Saturday afternoon foursomes session, winning three matches and drawing one, to turn a one-point nailbiter into a 10-6 margin. Again, Sunday brought with it some tension, but everything that happened was defined by the night before.
If I have a point here, it's that we should take time to remember and appreciate these early bits of virtuosity. Victories don't always come at the end, and we should make every effort to identify the "real" victorious moment. If Matsuyama's awe-inspiring stretch had come on Sunday, we'd be talking about it for years. That's as it should be. But the fact that it happened on Saturday doesn't make it any less spectacular, or any less important. Sunday was an act of survival, but in that short space of time Saturday, less than two hours total...that's when we saw the essence of the champion.
Masterful Editing of the Week: Phillies Social Media
When Jason Bohm scored the go-ahead run in the ninth inning against the Braves, you can imagine that whoever runs the Phillies Twitter account was excited to put the clip out into the world. Stay to the end here:
As you might imagine from the way the clip was cut off, Bohm was not safe. You have to love the audacity of the Phils' Twitter team to just ignore that bit of pertinent information, and it's even better because they didn't have to let their clip run to the very moment before the truth would have been revealed. They could have simply cut it off way earlier, before the instant replay began, and it wouldn't have been a big deal. Instead, they arrive at the very threshold of revelation before a dramatic black-out, almost as if they're trying to taunt the haters.
But then, if you've ever encountered a Philadelphia sports fan in the wild, then you know that this is basically a perfect representation of the fan base. I'd even argue that they prefer it this way; a go-ahead run against a divisional rival is great, but if it's even better if it was illegitimate and you can rub it in everyone's noses. The place is truly sick—we're talking near-Boston levels—and it's obvious that the entire social media team deserves promotions and raises for truly understanding their people.
The Unstoppable Human (We Think) of the Week: Zion Williamson
On Friday night, in a lovely turn of events, a fellow fully vaccinated friend came over, had dinner and a few drinks, and watched an NBA game with me. This may have been commonplace 15 months ago, but for me, now? A total novelty, and an excellent one at that. It also gave me an excuse to watch basketball for the first time in a while after falling off in the winter. The game we chose was Pelicans—76ers, and my God, Zion Williamson is fulfilling every bit of promise he showed in his short but brilliant college career. Look at some of the highlights from this game, where he almost single-handedly beat one of the league's best teams with a 37/15/8 line:
I don't know where to begin. Should I praise his passing, which is maybe the biggest surprise? Or just focus on how, just like at Duke, you simply can't keep this guy from getting to the rim? His forward momentum is so indefensible that it's practically inevitable. I'm not sure that sentence makes sense, but watch him and you'll get it. Every time I see him run point for the Pels, I get mad that Duke somehow lost in the Sweet 16 with this genius on their team. The Pelicans likely won't even make the playoffs, and it's unclear if we'll get to see Zion deep into the postseason anytime soon, or if we'll have to wait until he's a free agent, but even just the ordinary pleasure of getting to watch him on a random Friday night in the regular season is pretty great, and this last week convinced me I need to do it a whole lot more.