Masters 2021
Masters 2021: Only the Masters can get away with wild course conditions, so they should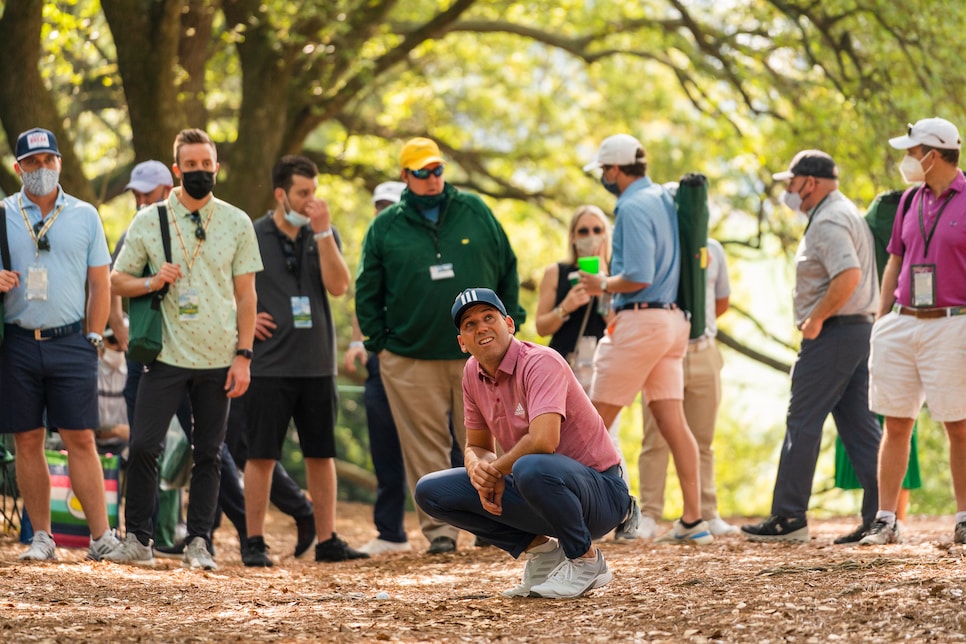 DISCLAIMER: After pitching this concept to my editor, I was informed of a tweet from Golf Digest's own Alex Myers that summed up my thesis perfectly, so you better believe I'm going to piggyback off that RIGHT NOW:
Precisely! It was dumbfounding to read player comments on Thursday, a day on which the greens were so tough and so fast that players were sending makeable eagle putts into the water. Alex said it perfectly: if the USGA set up a course this way, not only would we hear my favorite lament—"they've lost the course!"—but there would be rumblings about an outright coup, and plans to put Mike Davis in the stocks near a hospitality tent for a public rebuke. Nothing brings out the entitlement of a professional golfer quite like a punitive golf course, and listening to them whine is one of the chief joys of a good, hard U.S. Open.
At Augusta, though? Nothing! No whines! Not even a carp, a gripe, or a snipe! You'll get analysis of the conditions, but in the end they won't ever say it's actually bad. Instead you get players like Sergio saying, "the greens are firm and fast, which is the way they should be." Or Shane Lowry: "Oh, my God, I've never seen it like that, which was great. I loved it. I've always wanted to play Augusta like this in the Masters." Or Paul Casey: "It's brilliantly set up...there's every aspect of that golf course which is difficult and will test your game."
I think they believe it, too. The minute they drive down Magnolia Lane, the Stockholm Syndrome takes over. I also think they're correct in their praise: Hard golf is fun golf, at least from a viewer's standpoint. It almost always rewards excellent golf. And it's become clear that Augusta commands such fear, respect, and even awe, that nobody is going to be caught dead calling them out no matter how unmanageable things become.
In other words, the Masters has a free pass. They can create a living nightmare, and they can get away with it. What other course on the planet can say that? None! And at this point, it would be criminal if they didn't take full advantage of it. I'm not saying they should put miniature windmills in front of every hole—not necessarily—but if they have license to do any old thing they want, they are obliged. I want insanely fast, insanely brown greens that register as "unreadable" on the stimpmeter. I want fairways that are 15 yards wide, surrounded by snake-filled brambles. I want a 600-yard par-3, just to arbitrarily drive up scores.
Failing all that, though, they should just lean into the difficulty. I'm sure the lords of Augusta National were annoyed when DJ broke the -20 barrier last fall, and I think you're seeing the comeuppance now, but there's no reason for the bigwigs to take their foot off the gas pedal as we head into a windy weekend. The USGA eventually gets intimidated if enough players complain—Mike Davis even apologized publicly at Chambers Bay—and we've seen the results of that in recent years. That will never happen at Augusta, and it's time they use their powers for good. It's time to let the sadists see how far they can push things. Let it ride. Make too-fast even faster. Aim for a winning score below -5. As spectators, I can guarantee you we all want to watch the struggle. The players can't say no, so give us what we crave.