News
Masters 2020: When will it be Rickie Fowler's time to win a major?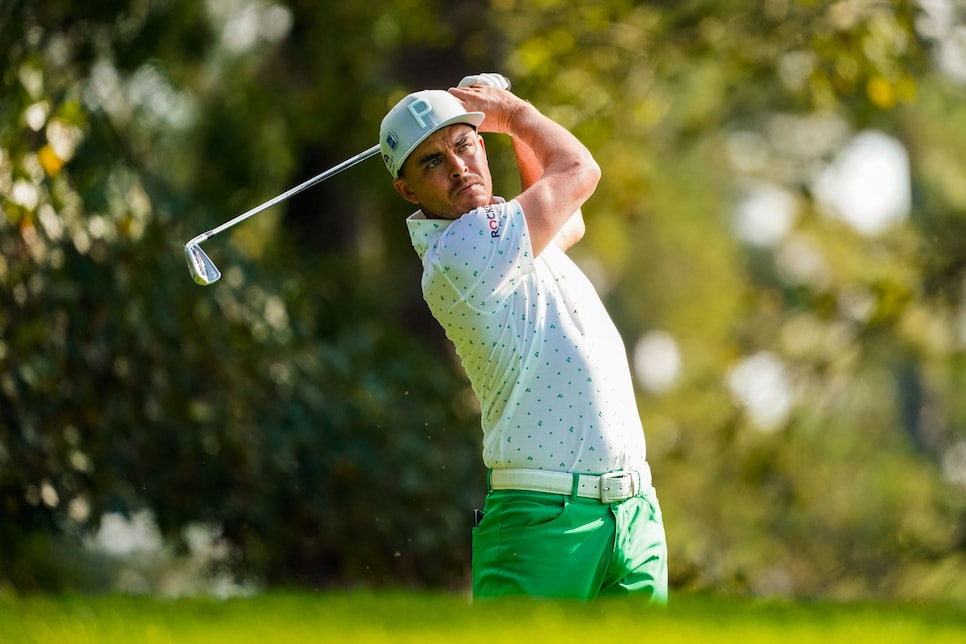 As Dustin Johnson steadily worked his way around Augusta National Golf Club Sunday on his way to a five-shot Masters victory, CBS's telecast was only occasionally interrupted for commercials. The Masters has a handful of corporate sponsors, one of which is the high-end car dealer Mercedes-Benz. And during the afternoon, Mercedes ran an ad featuring one golfer: Rickie Fowler.
Johnson may be the No. 1 player in the world by a wide margin, and Bryson DeChambeau may be the most talked about player in the game right now, but no one not named Tiger Woods can touch Fowler when it comes to endorsements. Corporate America has loved Fowler since he first turned pro in 2009, and it still does. Yet something tells me Fowler would almost certainly give up most, if not all of those sponsorships, to win one major.
On Sunday, while Johnson and the other leaders were deciding the tournament on the back nine, Fowler was on the front nine, along with other players who had finished 54 holes near the bottom of the leader board. He shot a steady two-under-par 70 that allowed him to move from a tie for 44th place to a tie for 29th—17 shots behind Johnson's winning score of 20-under-par 268.
And so, Fowler's 11th full year on tour ended without a major victory—again.
Fowler has contended in majors on a number of occasions, finishing alone in second place or tied three times, finishing third once and in the top 10 in 11 of his 43 starts. He turns 32 next month with time still to win one, if not more, before his career is done. Phil Mickelson was 33 when he won his first major, the 2004 Masters. Ben Hogan was 34 before he won his first major, the 1946 PGA Championship.
There is a difference between the two Hall-of-Famers and Fowler: Mickelson had won 22 times on the PGA Tour before his breakthrough win at Augusta; Hogan had won 30 times when he beat Ed Oliver, 6 and 4, to win the PGA. To date, Fowler has won five times on the PGA Tour, most recently in 2019 at the Waste Management Phoenix Open.
Like most of the country and the world, Fowler had a 2020 he would just as soon forget. After starting the year with a T-5 at the Sentry Tournament of Champions in Maui and a T-10 at the American Express in Palm Springs, he didn't have another top 10. His highest finish since the PGA Tour's return to play after a three-month stoppage due to the COVID pandemic came in July with a T-12 in Detroit, which had the benefit of keeping one of his sponsors, Rocket Mortgage, relatively happy.
Fowler has missed five cuts since the restart—including at the PGA Championship where he went to tap in a 10-inch putt at the sixth hole on Friday and shockingly almost whiffed, his putter touching the ground and then nudging the ball perhaps an inch. That mistake caused him to miss the cut—by a shot.
A lot of players have struggled since golf began again in June without fans. The case can be made that Fowler feeds off the support of those watching from outside the ropes as much as any player because he is as popular as any player not named Woods or Phil Mickelson.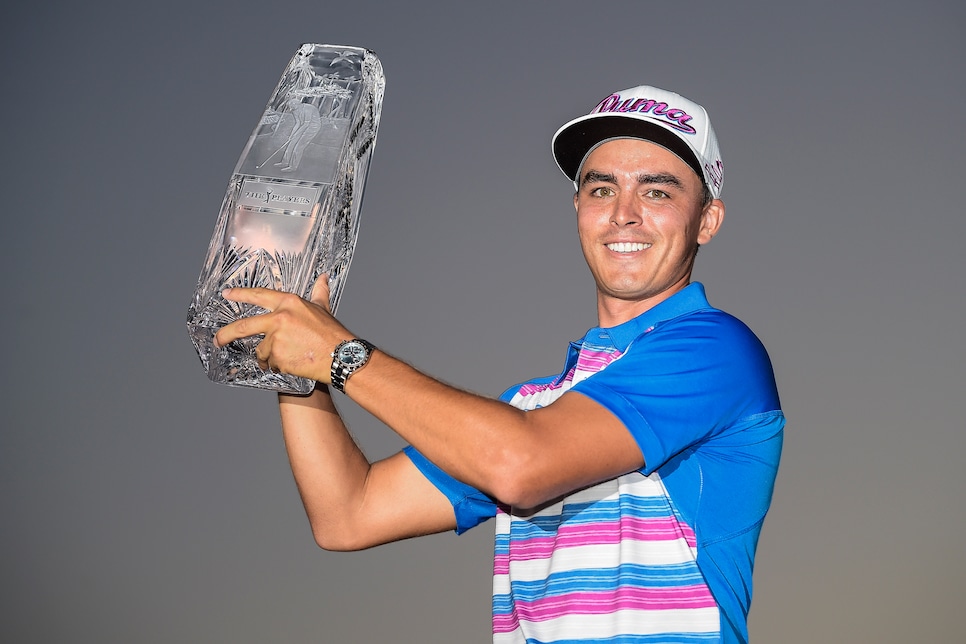 The biggest win of Fowler's career remains the 2015 Players Championship.
Photo by Chris Condon/PGA Tour/Getty Images
There are good reasons for this. Fowler's looks are certainly a factor. In one of his commercials, a woman giving him a lie-detector test makes reference to his "beautiful face." Fowler has a matinee-idol vibe and a quick smile. He also defines cool—a former dirt bike racer who arrived on tour wearing his cap backwards so often that the look became "a look" with kids who follow golf.
One of the first times Fowler was brought to the interview room at the Masters, he arrived with his cap on backwards. The Augusta member assigned to moderate the interview reached over and turned the cap around. A day later, Fowler was back. This time, he had the bill of his cap up facing front and he made a point of adjusting it so everyone in the media could see that he was very definitely following Augusta National protocol.
There's also this: EVERYONE likes Fowler. Players like him, the media likes him, fans young and old like him, heck even your grandmother who doesn't watch golf likes him. He's the old cliché: women want to be with him, men want to be like him. He is a genuinely nice guy. That's why his list of corporate sponsors is considerably longer than his list of tour victories.
Fowler arrived on tour with the word "star" practically written across his forehead. In the fall of 2009, shortly after leaving Oklahoma State, he finished T-7 and T-2 in his first two starts as a pro, the second a three-way playoff loss to Troy Matteson at the Frys.com Open. A few months later, he finished second in Phoenix. He played well enough that year, at the age of 21, to be a captain's pick for Corey Pavin's U.S. Ryder Cup team.
"It was a great pick," Davis Love III, a vice-captain for that 2010 team said. "He was great in the team room, a guy who helped everyone relax and then he played great in the singles."
Fowler rallied in his match with Edoardo Molinari, birdieing the last four holes to come from 3 down and pull out what, at the time, seemed like a crucial halve for the U.S.
Clearly, this was a rising young player. He won for the first time in 2012—still only 23—when he beat Rory McIlroy and D.A. Points in a playoff at Quail Hollow in Charlotte. The endorsements continued to come; the wins didn't.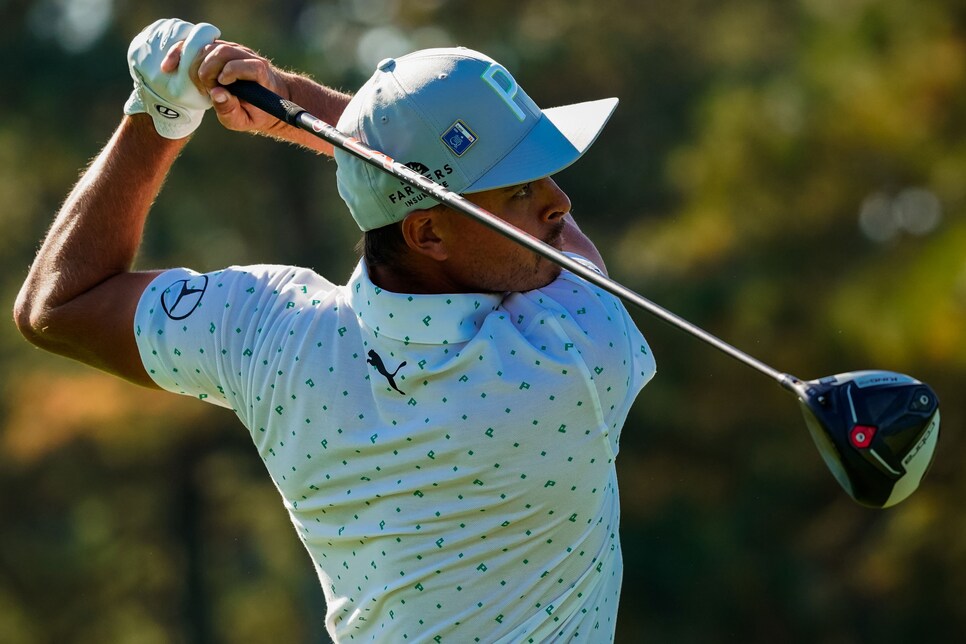 Fowler's T-29 finish at the Masters was his best showing in 2020's three major championships.
JD Cuban
Fowler has never wanted to be one of those guys who made millions off his name, charm and looks and not off his golf. In 2014, he hired Butch Harmon as his teacher, and his game took off. He finished in the top five in all four majors that year—he had one top five in a major previously—when he finished T-5 Masters, T-2 at the U.S. Open, T-2 at the Open Championship and third, after a back nine duel with McIlroy and Mickelson, at the PGA.
When he came from behind late to win the Players Championship the following May, it seemed he had taken another step forward, that the elusive first major victory wasn't far off.
Five years—and 22 majors appearances later—he's no closer. In fact, he is trending in the wrong direction. While he did finish second to Patrick Reed at the Masters in 2018 and was T-6 in 2019 in Ireland when Shane Lowry won the Open Championship, his best post-COVID major finish this year was Sunday's T-29.
For two days, Fowler hung on the fringes of contention. He shot 70-70 and trailed the quintet of leaders by five shots going into Saturday afternoon's third round. He was paired with Woods and Billy Horschel, his Walker Cup partner from years ago. A good pairing for a crucial round.
But on moving day, Fowler moved—backwards. He shot a three-over-par 75 that dropped him to a tie for 44th place among the 60 players who made the cut. His only TV appearances on Sunday were in the Mercedes commercials.
Golf is different than other sports. Players peaking in their 30s or even playing close to their best well into their 40s isn't unusual. Fowler, whose World Ranking now sits at 48th after starting the year at 23rd, has never been one to pout or blame the media or the golf gods for his failures.
But when he tees it up at Augusta next April, bill of his cap pointing forward, hair shorter, a married man, he will be a long way from the long-haired kid with the telegenic smile who charmed the golf world when he first showed up more than 11 years ago.
Fowler still has a lot of golf left to play. He and his legions of fans and corporate sponsors can only hope The Moment he has pursued for a long while now, will arrive sooner rather than later.