News
Masters 2019: Officials to move up Sunday tee times; will use two-tee start, play in threesomes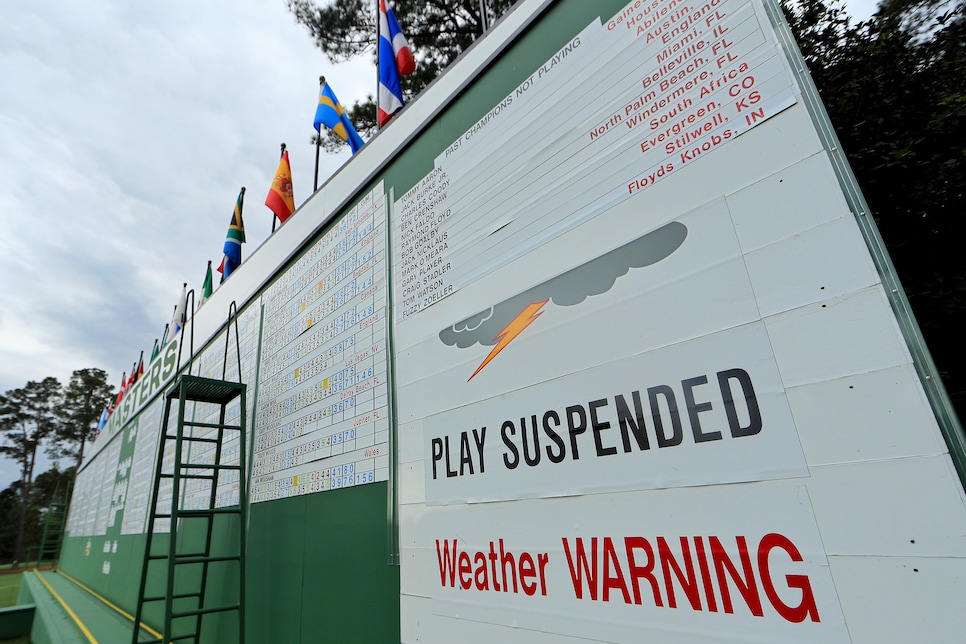 AUGUSTA, Ga. — An ominous Sunday weather forecast has caused Masters officials to move ahead with a historical first, contesting the tournament's final round off the first and 10th tees in threesomes.
Play will begin at 7:30 a.m. on Sunday with the final threesome expected to tee off at 9:20 a.m. CBS will broadcast the final round live beginning at 9 a.m.
The decision was predicated off the grim weather predicted for Sunday. The latest official weather report from Augusta National for the final round stated: "30 percent chance for morning showers and isolated thunderstorms, with an 80 percent chance for thunderstorms after 4 p.m. Heavy rain and strong winds are possible, gusting 25-30 mph by later afternoon."
The split-tee concept is to narrow the amount of tee times needed, shrinking the duration from six hours to three. The hope, obviously, is that the play they can start early enough to get all 65 players to finish before the severe weather can arrive, and avoid the tournament spilling over into Monday.
"The safety of everyone on our grounds is paramount," said Fred Ridley, chairman of Augusta National Golf Club and the Masters. "We also believe the earlier start will give us the best opportunity to complete the Masters on Sunday. This decision should benefit everyone—the players, our patrons and our fans watching around the world. Given the competitiveness and drama of this year's tournament, we look forward to an exciting conclusion tomorrow."
Since the tournament's inception, there has never been a two-tee start for the final round. A two-tee start for other tournament rounds, however, is not unprecedented. The first occurred in 1973 during a restart of third round on Sunday; still, the tournament ended on Monday. In 1982, the second round began at 11:30 a.m. Friday due to a delayed first round with a two-tee start and players grouped in threesomes. The following year, the second round began at 11:30 a.m. Saturday in threesomes. In 2002, the third round started at 12:30 p.m. on Saturday with players going off both tees, and in 2005 the first round was delayed until 1:30 p.m. with a two-tee start in threesomes. As that round was not completed, the second round also included a two-tee, threesomes start.