News
Masters 2018: Whatever happened to Adam Scott?
When he won the 2013 Masters, it was suppose to be the first of many majors for the Australian star. Instead, Scott's career has stalled as he's struggled to live up to his potential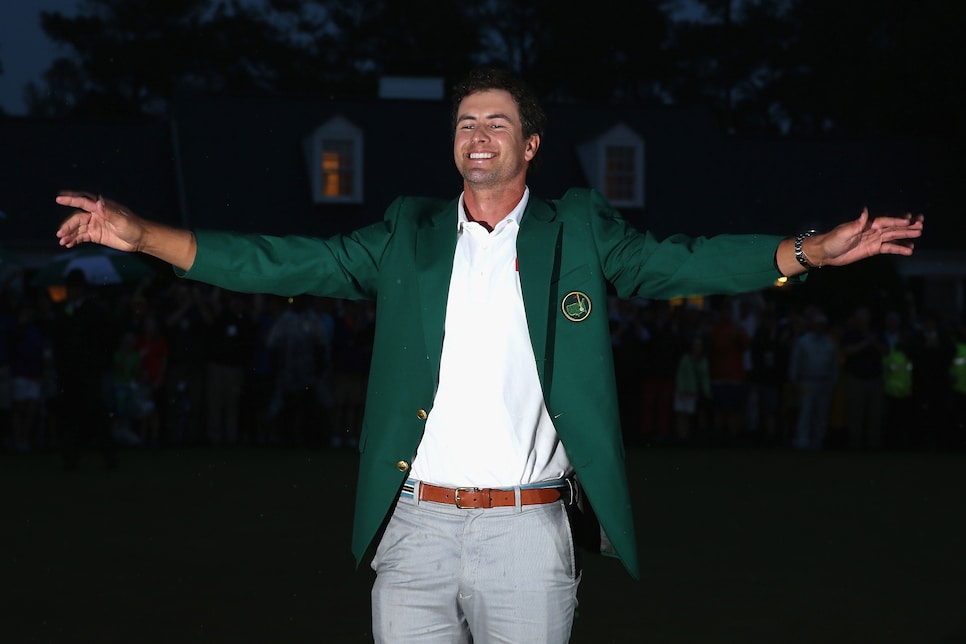 Photo By: Ross Kinnaird/Getty Images
There may be no more perfect a backhanded compliment than being called a one-hit wonder. It's a description that implies the existence of talent but acknowledges an inability to maintain or repeat it. The term's utility allows it to apply to countless endeavors, professional golf among them. All you need to do is look at the game's list of one-time major champions.
Some have been shocking winners (Jack Fleck defeating Ben Hogan at the 1955 U.S. Open at Olympic). Others came out of nowhere (Orville Moody emerging from local qualifying to capture the 1969 U.S. Open at Champions Golf Club in Houston). There were those who rode momentum to unexpected glory (Rich Beem winning the International the week before capturing the 2002 PGA Championship at Hazeltine). And more than a few who benefitted from other's misfortune (Paul Lawrie at the 1999 Open Championship at Carnoustie, Geoff Ogilvy at the 2006 U.S. Open at Winged Foot).
Then there is Adam Scott. What are we to make of the former Australia wonder? Does he qualify as a one-hit wonder? There was no surprise when he won the 2013 Masters, his enormous potential at long last realized in much the same way Sergio Garcia's was last year. Scott's victory avenged his mishap at the Open Championship the previous summer, when he let the claret jug slip out of his hands with four closing bogeys. The surprise, rather, has been what's come next. Instead of it being the first of multiple majors, Scott remains stuck on one.
This spring marks five years since he won at Augusta National. When we sat down with him recently, Scott insisted that it doesn't feel like it has was a long time ago, but plenty has occurred between then and now to make you believe otherwise. In 2013, he wasn't yet a father of two, or even married. Steve Williams, off now driving a race car somewhere in New Zealand, was toting his golf bag, and it was still legal to use a broomstick putter anchored to the body. Tiger Woods, the player whom Scott's swing was most compared to in his early days, was still winning tournaments, too, five of them, on his way to Player of the Year honors.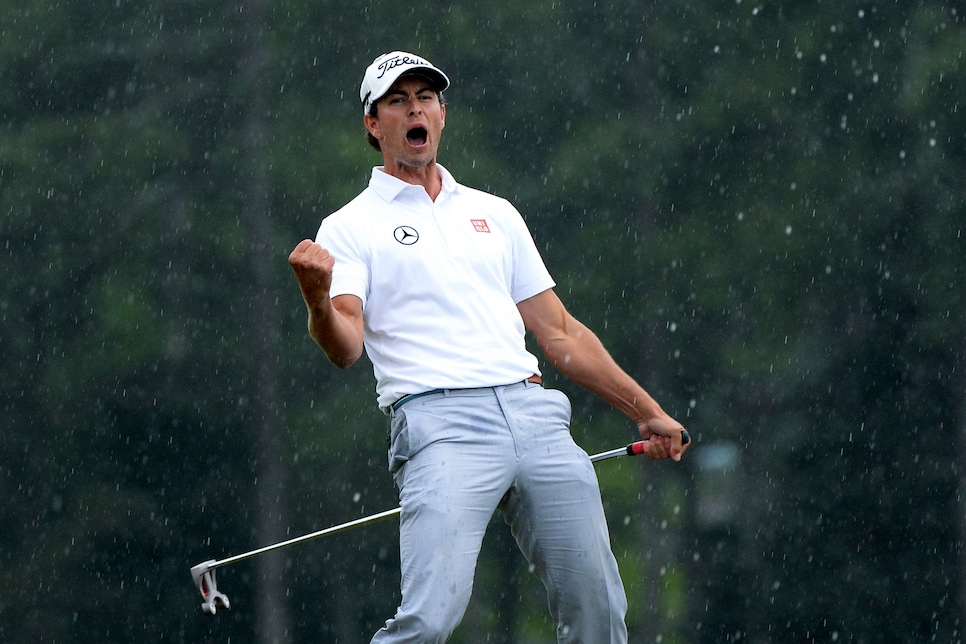 As he prepares to make his latest trip down Magnolia Lane, Scott hardly resembles the player who defeated Angel Cabrera in a rainy playoff. He's 61st on the Official World Golf Ranking, outside the top 50 for the first time since 2009. He hasn't won in two full calendar years, and his last top-10 in a tournament came last June in Memphis.
Scott turns 38 this summer and realizes time is steadily marching on, fully aware the next few years are likely his last, best chance to avoid being golf's version of the band Right Said Fred.
"I didn't swing the club my best last year," Scott told Golf World. "Lots of reasons. Not in my normal environment. I was coaching myself. Last season wasn't a productive one. I gave up a lot, but that was my choice. But it's hard not to be frustrated."
In 2017, Scott made just 19 starts—the fewest of his 17-year professional career—as he and wife, Marie, awaited the birth of their second child (son Byron, born in August, joined 3-year-old Bo Vera). Four of those resulted in top-10 finishes but few if any were considered being in contention. Between tournaments, Scott admits he didn't practice much either, swapping the valuable hours for time at home, in the Bahamas, in Switzerland, in Australia.
"I feel like after the PGA Championship, I kind of checked out after Byron was born," Scott said. "I wish I could've checked out a bit more, to be honest, and not played at all, rather than just show up and make up numbers for the year. But it's hard to do that.
"My dad said you should not bother playing Presidents Cup, but there's pride and I have such a respect for [captain] Nick Price, I didn't want to let him down."
In his return in 2018, Scott has had much to contemplate. In his last 10 majors, he has just two top-10s, two missed cuts and a handful of other middling finishes. In 2016, he didn't finish in the top-10 in a major for the first time since 2010.
In trying to figure out where to go from here, Scott has begun to venture down an unusual path. Instead of addressing whatever issues were cropping up in his swing on his own—he split from instructor Butch Harmon in 2009 and has been through a couple of coaches since—he has turned to George Gankas. Better known as "ggswingtips" in the social-media world (though his handle has since changed given a disagreement with his business partner), Gankas is a 47-year-old Southern Californian who's developed a cult following of sorts with a series of instructional videos shared through Instagram and Twitter. Gankas' YouTube channel has gotten more than 3 million view and has 20,000 subscribers, and his Instagram account (@georgegankasgolf) has more than 93,000 followers.
Scott watched several of Gankas' videos recently, and liked what he saw so he gave the instructor a call. The two started working together this year with Scott taking a couple of lessons from Gankas during tour stops at Riviera and Bay Hill. Yes, you read that correctly, the owner of one of the most majestic swings in the game, a green jacket, 14 PGA Tour titles and 28 other trophies from around the world hired a guy because he liked his YouTube videos.
"Spending a few hours only with him, I enjoyed his company. He's very knowledgeable about the swing, and I like the energy he has," Scott said. "He's handled me well in those couple of hours for a guy who doesn't know me. I enjoyed talking golf swing to someone. I hadn't done that in a while."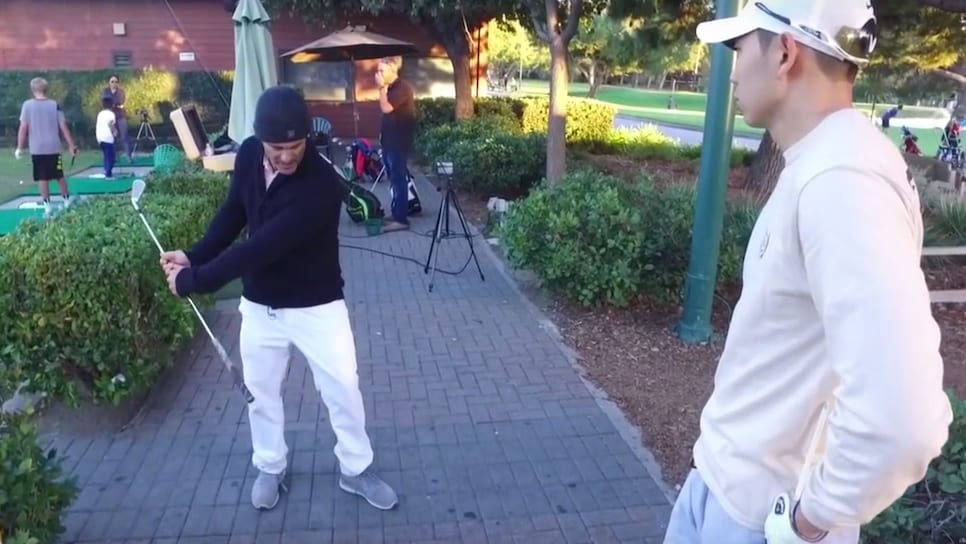 Gankas' style is, well, unique. He wears flip-flops in some videos and is barefoot in others. His shirt is rarely tucked in, and he wears a flat-bill hat. His energy is also high and his vibe unpretentious, unstructured and compelling. There's a surge of knowledge that shows a deep understanding of the swing, and his method focuses largely on a pivot-and-turn philosophy. Before Scott reached out to Gankas, he spent hours watching his clips. When he got to the West Coast in advance of the Genesis Open, Scott played around with some of the things Gankas talked about in his videos and thought they should meet him.
"I have used him [in my videos] as an example as a posture I don't like, but his golf swing I love," said Gankas, who also works with Padraig Harrington, Danny Lee and Sung Kang and prior to that had built a large junior client base in Southern California. "I put my foot in my mouth but whatever, I was being honest. When he called me I was definitely surprised. He's a legend, a superstar. As far as surprised if I could help him, it sounds cocky but I thought I could."
Scott clearly does as well, usually texting with Gankas a couple of times a week. The relationship has been low key—Gankas won't be at the Masters—but Scott has been working hard on his setup with a more rounded posture over the ball and slightly straighter legs at address. In doing so, Gankas says, Scott is able to avoid compensations and compress the ball more, and deliver better consistency as someone who likes to turn through the shot with a lot on the follow through.
"Let's get real, his swing his beautiful," Gankas said.
The results have been improving, too, at least slowly. Though Scott finished 53rd at the Genesis Open after his first lesson with Gankas, he finished in the top 16 in each of his next two starts at the Honda Classic and Valspar Championship, entering the final round of the latter within a handful of shots of the lead.
Of course, when it comes to Scott, it's impossible not to discuss his putting, a topic he's acutely aware of. In 2011, after years of poor performances on the greens, he switched to a long-putt putter that he anchored to his body, and promptly played some of the best golf of his career in the ensuing years. From 2011 to 2014, he netted seven wins, five runners-up and 28 other top-10 finishes, including his Masters victory and reached No. 1 in the world. Then came the anchoring ban at the start of 2016. Ironically, he still won twice that season but from 2014 to present day he has gone winless in three of four years.
Scott spent last year working with Matt Ballard on all things short game. His putting has yet to take hold this season with the Aussie ranking 195th in strokes gained/putting, after finishing 89th in 2017, 129th in 2016 and 157th in 2015.

"I just need to get my putting to average," Scott said. "If I can be a tour-average putter, I think I can win four times a year. I want try to get back to No. 1 in the world before my career is over, and if I set goals like that, the stuff that comes along the way will tick all the boxes."
That stuff would include another major. There are more than 100 players who have won just one major, compared to only 37 who have won two and just 17 who have won three.
"I do believe I can be very sharp by Augusta," Scott said, "If not before that." In his last start before the Masters, Scott finished T-41 at Bay Hill.
It is eerie how similar the careers—and even the lives—of Scott and Garcia have been. They were both born in 1980, six months apart. Garcia has 24 wins between the PGA and European Tours. Scott has 23. Each has won a Players Championship and, now, a Masters.
Both drive the ball well, are incredibly gifted ball-strikers and struggle the closer the ball gets to the hole. They have good looks and charm and each has endured a miserable slump after suffering heartbreak off the golf course. They've each dated a professional tennis player, and both have connections to Tiger Woods and Steve Williams.
They also have, of course, another thing in common: That lone major.
"I've had a lot of chances to win majors since and haven't," Scott said. "It's tricky. You have to make the most of those chances, and I didn't. But I've had time to take the pressure off and take a break, and it's nice.
"I miss competing at a high level. I'm very much looking forward to this year."
That's just it. One-hit wonders achieve their success in a short period of time, a fleeting moment. Is that Scott? Indeed, is he just another one-hit wonder? Time, which is starting to run short, will tell.