News
Masters 2018: The (double) eagle has landed
The story behind the four men who made the rarest of birds at the Masters
Eugenio, Bruce, Jeffrey and Lodewicus Theodorus are linked by more than just uncommon skill with a club and a ball. Doing business as Gene Sarazen, Bruce Devlin, Jeff Maggert, and Louis Oosthuizen, they are the only four men to have made a double eagle in the Masters.
When Sarazen hooded the face of his wooden Wilson Jim Gallagher Model Turf Rider 4-wood and zinged a hook through the gloom and into the hole, he achieved immortality and permanent identification with the Masters and with Augusta National's 15th hole. That is, he achieved it the next day, by winning a 36-hole playoff with the luckless Craig Wood, the silver medalist for the second year in a row. But the other three double eaglers—on Augusta National's other three par 5s, by the way—did not win. Thus, their spectacular shots remain merely as amusing footnotes, or as the premise for a fun bar bet.
In searching for commonalities and patterns, we find that three of the four 2s on a (par) five occurred in the final round, reflecting, possibly, a competitor's what-the-hell, go-for-it attitude when time and holes are running out. The first two Big Shots required woods, a Wilson and a Spalding; the second two, only irons. Ping irons. None of the four miracles hit and bit and spun in; all landed well short of the 4.25-inch target. Oosty's ball came to earth 80 feet short of the stick, about the same for Maggert. Devlin's Dot rolled even farther, probably, he thinks, 30 yards; he is the only one of the four to not see his long second shot go in. He savors the memory.
"From a historical standpoint, it was pretty special, and having my father there to see it, well …," Devlin says. "And to do it at eight, which is the most difficult of the four Augusta par 5s."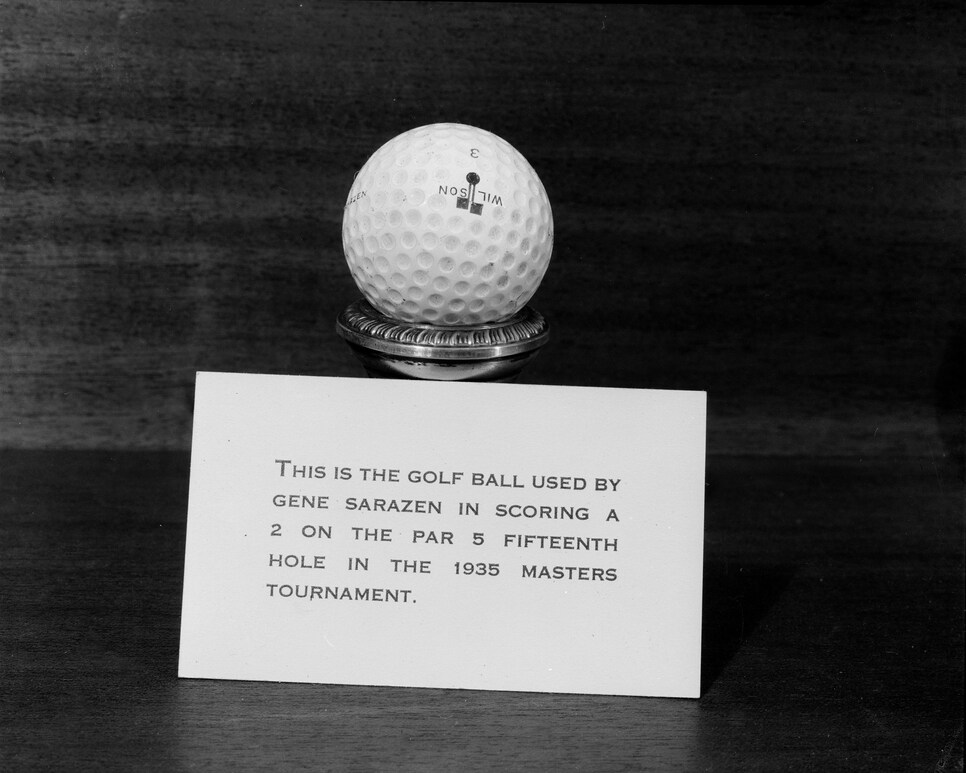 A word about terminology: Of the four, only Maggert naturally referred to his 2 as a double eagle. Sarazen, a go-his-own-way type who continued to wear plus fours when all the other guys had switched to pants, called his deuce a "dodo," the flightless and extinct bird from the island of Mauritius. Outside the U.S., especially, the term is "albatross," and Devlin is from Australia and Oosthuizen hails from South Africa. Louis argued that since an eagle represents a score of two under par, a double eagle should mean four under—which, of course, it doesn't.
But while the albatross was alleged to be a lucky bird for sailors, metaphorically, thanks to "The Rime of the Ancient Mariner," an albatross is an inescapable emotional or moral burden. So albatross is not apt. Neither is dodo, what with its flightlessness and its extinction. We'll stick with double eagle.
By whatever name, how rare a bird are we talking about? Very. There have been just 16 of them in major-championship history: four in the Masters, two in the U.S. Open, seven in the British Open and three in the PGA. Of the 16, only two led to a win: Sarazen, and Young Tom Morris, when he took the Open in 1870 thanks in part to his three at the par six first hole at Prestwick.
Someone bothered to count the ratio of holes-in-one versus double eagles on the PGA Tour for a 20-year period (1983 to 2003) and found 631 aces to just 56 double eagles—about an 11 to 1. In Masters history, the feat of the fabulous four is seven times more unusual than a mere hole-in-one (4 to 28).
SARAZEN: April 7, 1935, final round, 15th hole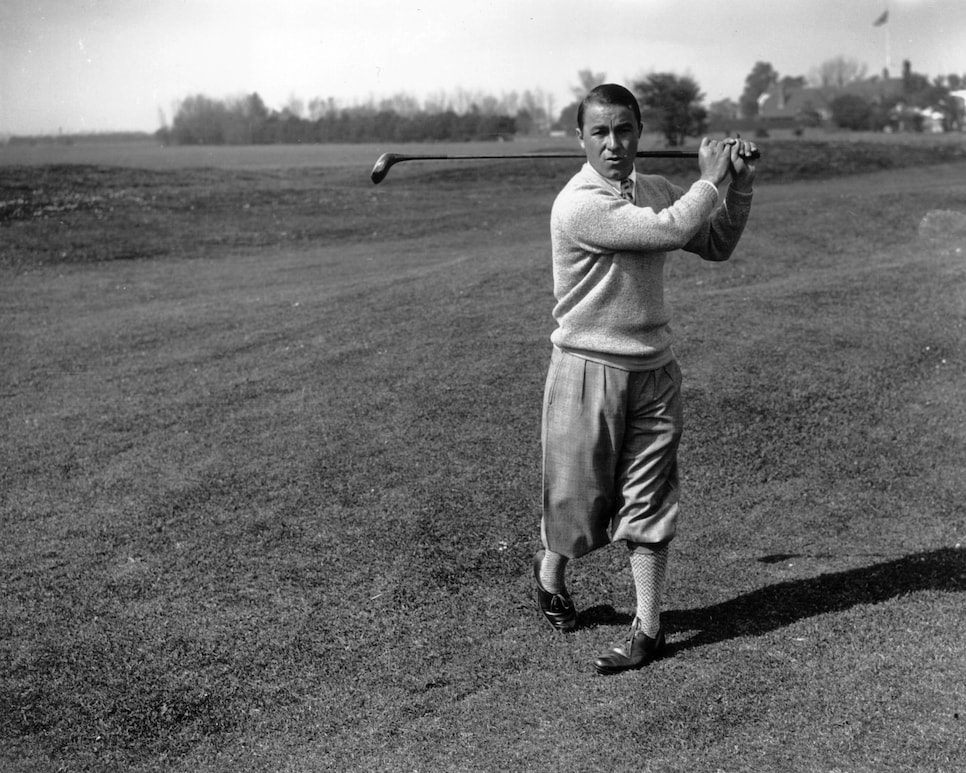 Gene Sarazen (nee Eugenio Saraceni) usually played as if he had a train to catch, but in our interview in 1997, he recalled hesitating for a long minute to consider his second shot on that cold, drizzly afternoon. Sarazen assumed a high-pitched voice: "Hagen says to me, 'Come on, hit it, will ya? I've got a date.' " The New Yorker stood five-foot-five and three under par; the grapevine had informed him that Craig Wood had sprinted to the finish, with birdies at 14, 15 and 18. Handsome Craig, the pro at Winged Foot, had reached six under. A winner for sure.
Sarazen, then 33, fiddled a minute and looked at his lie. He had about 230 yards to the hole. Not that he knew exactly, or cared; no one had a yardage book back then. A 3-wood would be too much … mist settled on the tall black hat worn by Gene's tall black caddie, a local preacher nicknamed Stovepipe. About 25 people waited up by the green, one of whom was Bobby Jones. Gene took his usual punchy, up-tempo slash. Hagen, Jones, and Sarazen watching. Amazing!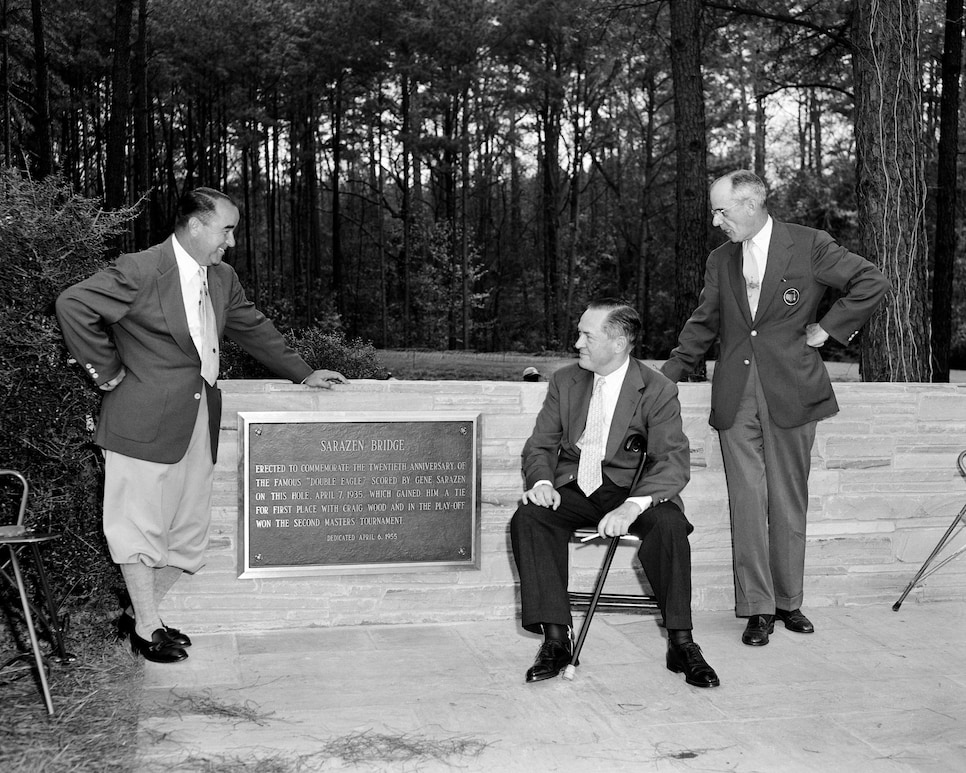 The Wilson K-28 Hi-Lo landed on the upslope of the creek (not yet a pond) in front, jumped up onto the green and found the hole. The little crowd yelled and applauded, of course, but Sarazen said he could not grasp what he'd done until he picked the ball out of the hole.
He'd tied for the lead with that stroke of lightning, but he still had work to do. "No one ever asks about the last three," Sarazen said. Two pars, and then: "18 played against the north wind. I played the tee shot way left."
And whether from weather or fatigue or less than solid contact, or all three, the little man left himself uphill, against the wind and a long way back. With the 4-wood again, Sarazen produced a stroke almost as brilliant as the one on 15—his K-28 finished past the front pin, but safely on. He two-putted for par, then fired 30 more pars at Wood in the 36-hole playoff the next day. He won 144-149. First prize was $1,500. Cliff Roberts handed him a $50 bonus for the extra innings.
DEVLIN: April 6, 1967, first round, eighth hole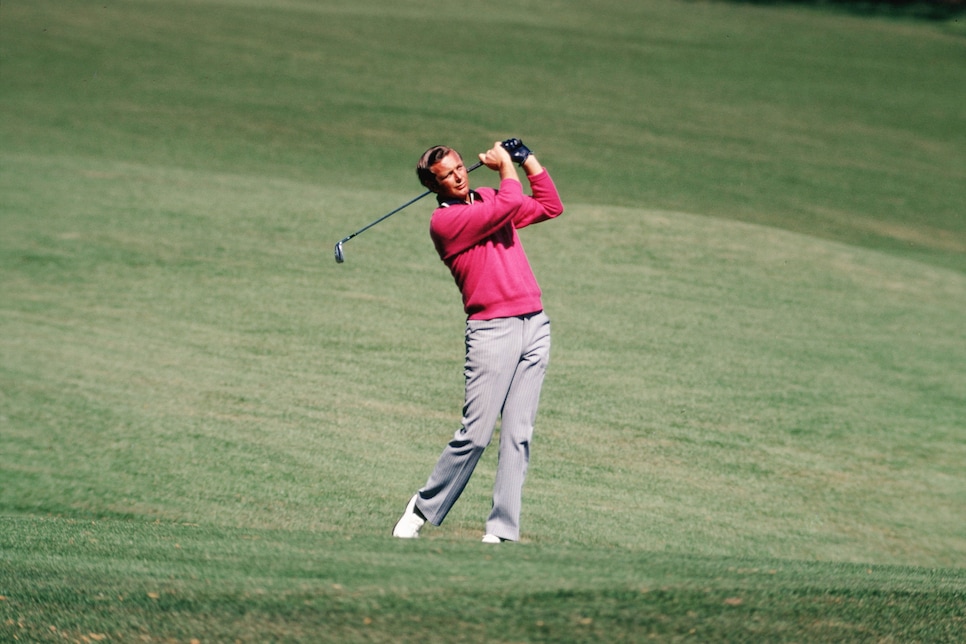 Bruce Devlin smacked a good drive, past the right-hand fairway bunker, and just into the right rough. After a long walk from the tee, the 29-year-old Aussie was pleased to see that his black Spalding Dot rested invitingly on a tuft of Bermuda grass, "almost as if it had been teed up." Playing partner Doug Sanders, he of the rainbow-colored clothing and sybaritic social life, hit his second up the hill then stood aside. Devlin's father and his 7-year-old son, Kel, hiked ahead to stand by the green. Little Kel rode up on a friend's shoulders.
"My secondary target on a par 5 was always a bunker," Devlin recalls, for he had an extremely high success rate from the sand. But as Masters aficionados know, the eighth is the one green at Augusta National without a bunker. This would be a blind shot; you can't see the green on eight until you're about 100 yards from it. He had 248 yards to the back right hole. Black Spalding Elite 4-wood, X-100 shaft. He had to hit a hook. He did.
Devlin's curve ball spun left about 20 yards and rolled on and, somehow, in. The spectators roared but didn't know if it was Dougie's or Bruce's ball that had come over the hill and into the hole.
Devlin shot 74 for the day, and two-over-par 290 for the tournament, good for a T-10 with Hogan, Snead, DeVicenzo and Mason Rudolph, and $2,720. The club gave Devlin a beautiful memento, an eight-inch high, nine-inch wide Steuben Crystal bowl. It's now in the possession of Kel, who, we're not kidding, made his own double eagle in 1990 in the second round of a Hogan Tour event in Sioux City. Hogan Edge 2-iron, Maxfli DDH ball, 215 yards, and he shot 64. Finished second.
Says Bruce: "For a long time, I was the answer to a trivia question: 'Besides Sarazen, who is the only man to make a double eagle in the Masters?' And then Jeff had his."
MAGGERT: April 10, 1994, fourth round, 13th hole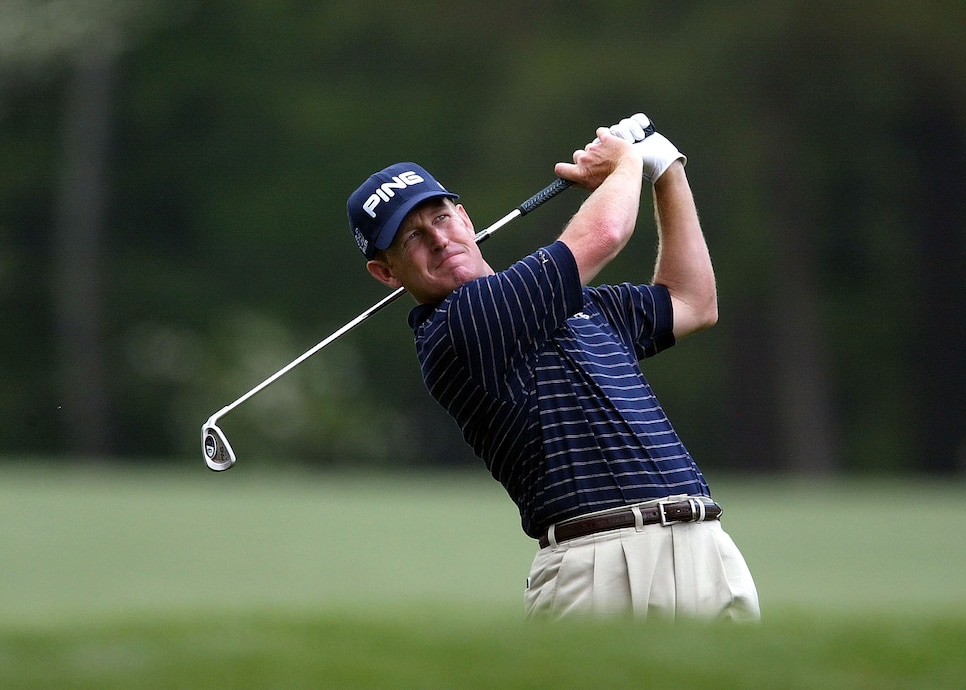 Masters contestants did not want to see Danny Yates on the first tee on Sunday. Playing with Yates meant you were in last place. When the field had an odd number of players, the 1992 U.S. Mid-Amateur champion played along to keep the poor man's scorecard, serving as a non-competing marker, a job that more recent earned ANGC member Jeff Knox a cult-like following.
"Hi Danny," Maggert said that Sunday morning. "I'm playing a Titleist 1."
With 75-73, Maggert, 30, had made the unusually high cut by one. He was used to low scores made with his hypnotically smooth swing, but something wasn't quite right that week, and he shot 82 in the third round.
Things improved slightly the next day. On 13, he drove it into the fairway—"I don't remember where"—then addressed his balata ball with a Ping Eye Two 3-iron. We have to try to picture the moment because there is no footage: Maggert's copper-colored hair; the big blocks of color on his Aureus shirt; and the fragrant air as quiet as church before the service starts, because the crowds hadn't come out yet, and this twosome was way out front, playing fast. The dogwoods and azaleas on the perimeter blushed in the sun.
"Jeff had driven it a hair past me, so I hit first, with a 2-iron," Yates recalls. "My ball got up on the fringe, then rolled down into the hazard. The pin was far, far right."
The Texan adjusted his line accordingly, landing his shot from 222 to 20 to 30 yards short. The tiny audience stared at the rolling ball and then whooped for all it was worth. The modest, newest member of the double-eagle club told the press that his ball "was going pretty fast when it went in. I was pretty lucky."
The amazing deuce enabled a final-round 75 and a T-50; or, expressed negatively, and coarsely, DFL. Last-place money was $5,000. Seven years later, Maggert's radar turned on again, and again it didn't amount to much except for the memory, which is not nothing. In the second round of the 2001 Open Championship at Royal Lytham & St. Anne's, Maggert holed a blind shot over dunes and bunkers of about 200 yards, downwind, with a 6-iron, on the par-5 sixth. He's the only man with double eagles in two majors. He shot 72-76 at Lytham, and missed the cut.
OOSTHUIZEN: April 8, 2012, fourth round, second hole
Streeter Lecka/Getty Images
When he was in contention, four-time champion Arnold Palmer admitted that he chose ensembles that would complement a green jacket. On this day, zero-time champion L.T. (Louis) Ooisthuizen rocked a Masters green shirt over well-tailored, cream-colored trousers. He was going to look great if he were the star of the closing ceremony.
Oosthuizen, 29, drove perfectly on No. 2, very long and into the left side of the fairway, opening up the right-side pin. Just as he was selecting a 4-iron, for the downhill, 253-yard shot, tournament leader Peter Hanson was making bogey on the first hole to fall to eight under. Louis was seven under.
And about to go to 10 under. CBS announcer David Feherty followed the bouncing ProV1x and called it beautifully: "The young South African is trying to use those slopes … this could be very nice … this could be very nice … Oh, come to papa. Yes!"
Feherty's description might have become a classic, like Verne Lundquist's "Yes sir!" when Nicklaus made that putt on 17 in '86. But Oosthuizen lost to Bubba Watson in a playoff, during which Watson hit a shot so unthinkable that it almost put Louis' elusive deuce in the shade. Watson's snap-hooked wedge from the trees on 10th deserves a plaque. The runner-up got $864,000 and, of course, a big crystal bowl …
But no immortality. So sorry, Bruce, Jeff, and Louis. The only Masters double eagle that matters to history was the first one, witnessed by about 30 long dead people, on a cold April Sunday in '35.