News
Masters 2018: Patrick Reed, Rory McIlroy set for another epic duel on Sunday at Augusta?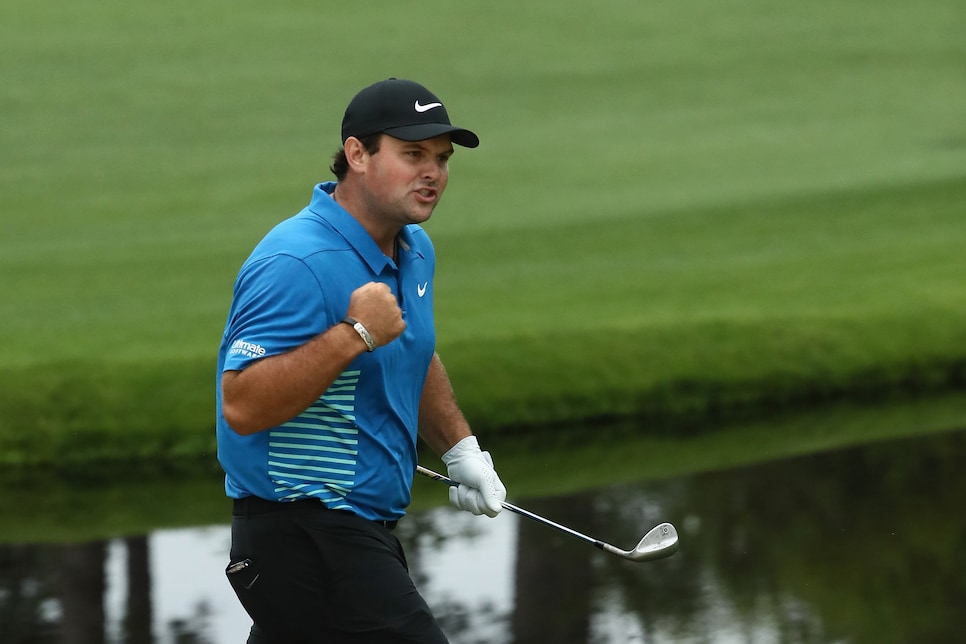 All due respect to the marquee names near the top of the leader board through 54 holes of the Masters, but Sunday at Augusta National will be part two of the Rory McIlroy-Patrick Reed duel from the 2016 Ryder Cup at Hazeltine. The only difference this time is that McIlroy will begin in a three-shot hole, as Reed lit up Augusta once again on Saturday, posting a five-under 67 to get to 14-under 202.
Early in his round, Reed made bogey at the par-4 third, opening the door for those chasing him, and just about everybody began breathing down his neck. The likes of McIlroy, Rickie Fowler and Jon Rahm were making their move, while Reed was one over through his first four holes. But birdies at the fifth and eighth holes settled things down.
"Early on I struggled a little bit with how far the ball was going and how much it was reacting on the greens since the past couple days we've been playing for so much bounce and roll out and that extra foot of roll on the greens," Reed said. "Because of that I burned a couple of edges and hit a couple of iron shots that I thought were going to be good and ended up just a hair off, but I was able to adapt after the fourth hole and from that point on it just seemed to get back in the rhythm I've been playing. Hopefully I can adapt a little quicker tomorrow and be able to figure it out on the first hole rather than the fourth."
Those trying to catch Reed are lucky he didn't have it figured out right away on Saturday, because when he righted the ship, he almost ran away with the tournament. The five-time PGA Tour winner got in a zone as he made the turn, dropping a 25-footer for birdie at the ninth and nine-footer at the 10th to get to 12 under. He dropped his second shot at the par-3 12th, but recovered with an eagle at the par-5 13th, and then another eagle at the par-5 15th, chipping in from just off the front of the green.
"Just a nice little lobby (lob wedge) and I was just trying to get it within a little three-foot circle and I just happened to land it in the right spot. From my angle it was moving pretty hard left, so I was lucky it went in," he said.
He did make one more bogey at the par-3 16th, three-putting from 45 feet, but a par save from over the 17th green quickly erased that memory, and he got into the clubhouse at 14 under with one more par at 18. He leads by three over McIlroy, who he can't wait to take on once again, this time in a much different setting.
"Really excited. Any time you come out and have the lead going into Sunday you're always going to be excited about it, but to be able to play against Rory and have him side-by-side with me is going to be a lot of fun," Reed said. "Every time we play with each other we seem to have a lot of fun, and we seem to both play some solid golf. So, hopefully we can get some fireworks out there and have a fun Sunday."
If Reed is able to better McIlroy like he did at Hazeltine, it would make him the fourth straight first-time major winner at the Masters, joining Jordan Spieth, Danny Willett and Sergio Garcia. And while he'll take any score he can get if it means victory, another sub-70 round would make him the first player in Masters history to shoot in the 60s all four rounds.
But McIlroy won't be backing down, evidenced by his superb, bogey-free seven-under 65 on Saturday that matched the round of the week and put him in position to take a shot at the career Grand Slam at 11-under 205. He too is relishing the opportunity to face off with Reed again.
"It's massive. This is my first final group here since 2011 and I feel like I learned an awful lot from that day and hopefully all that I did learn seven years ago I can put into practice tomorrow," McIlroy said. "So I'm really excited to go out there tomorrow, show everyone what I've got, show Patrick Reed what I've got and, you know, all the pressure is on him tomorrow. He went to Augusta State, he's got a lot of support here and I'm hoping to come in and spoil the party."
While those two will provide plenty of entertainment, so too will the guys close behind, including Fowler, who also posted a bogey-free seven-under 65 that got him to nine-under 207. He's five back, but don't count out another guy in a desperate search for his first major.
"We're in a good spot. The golf tournament starts tomorrow on the back nine, so today was big to at least give ourselves a chance to go get it done tomorrow," said Fowler.
One behind Fowler is Spain's Rahm, who also carded a bogey-free seven-under 65 to move to eight-under 208. Henrik Stenson is at seven-under 209, and Tommy Fleetwood, Bubba Watson and Marc Leishman are at six-under 210.