The Loop
Masters 2018: Overheard from the gallery at Augusta National
AUGUSTA, Ga. — The action that transpires inside the ropes at the Masters is well documented, both in real-time reporting and in post-round analysis. But what happens when you turn the cameras around and focus on the gallery? Augusta National is a venue unlike any other, and the patrons know it. By eavesdropping on their conversations we hope to give you a sense of what it's like to attend one of the world's most prestigious sporting events.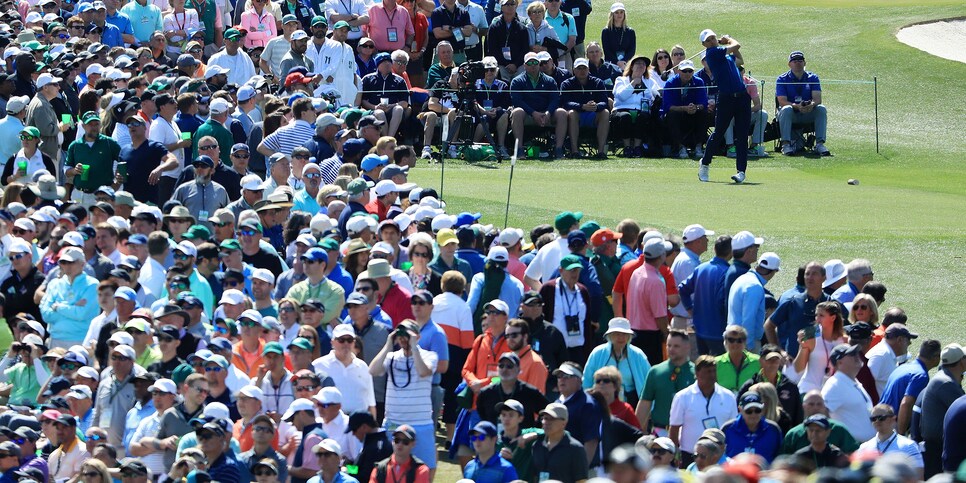 Patron, while kneeling down just off the 15th fairway: "This grass feels like one of those silk Persian carpets that costs many, many millions of dollars."
Guy, after seeing Tiger's three-over score through 13 holes: "Tiger's leaking." Nearby patron: "You shut your mouth."
A gallery volunteer, as he unfastened a rope to let people walk across the 15th hole: "Please move to the right, guys. You're doing great." Patron: "Even the security patrol guys out here are abnormally nice."
Patron watching Tony Finau crush a tee shot on the eighth hole: "I guess having a left leg is overrated."
On No. 13, when Tiger laid up on Thursday: "You know who should lay up on this hole? Me. and You. Not Tiger f***ing Woods."
Patron, sitting down under some shade and running his hands across the grass: "Every blade of grass is exactly the same. Exactly … the same. Also, no bugs. I haven't seen a single bug."
A guy watching Tiger putt on 10: "This is like watching the video game I play every night. I can't control him, but that's fine I'm OK with that."
Patron, as he walked up the 18th hole to the clubhouse: "Left or right?" Patron's friend: "Both directions lead to heaven."
Patron: "Everybody loves the cheap prices, but my body hates it. I've eaten nine BBQ sandwiches today. Nine."
A very tired (or drunk?) man, looking at Phil set up on 15: "Gooooooooo Tiger!" Nobody corrected him.
Patron, watching Tony Finau walk from 17 green to 18 tee: "He's like one of those old-school basketball players back in the old days. Just put your damn foot back on and play."
When Tiger's tee shot on Thursday sailed right of the fairway on No. 11: "We need to start calling him 'Tiger thru the Woods,' am I right?"
Patron: "Kuuuuuuuch." Nearby guy: "You're a grown man, why are you yelling at him?" Patron: "I dunno, maybe 'cause I'm from Jersey?"
Man, walking up 18: "This hole has made a lot of people." Man's friend: "It's also killed a lot of people."
A man carrying two overflowing bags of Augusta National merchandise: "Every part of my body itches now that my hands are full."