News
Masters 2018: Jordan Spieth cards first-round 66, takes two-shot lead at the Masters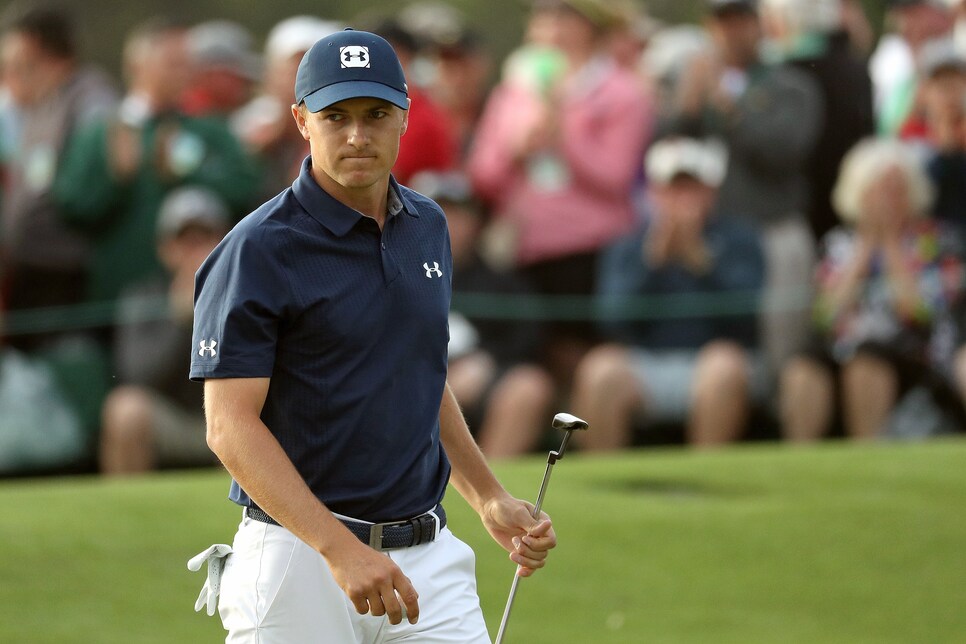 In case he didn't quiet the doubters last week with a T-3 at the Houston Open, Jordan Spieth emphatically silenced them on Thursday at Augusta National Golf Club. His six-under 66 gives him a two-stroke lead over Tony Finau and Matt Kuchar at the Masters.
It did not look like a 66 early in the day, with Spieth at even par through seven holes after two bogeys erased his two-under-through-three start. But the three-time major champion got both those shots back with an eagle at the par-5 eighth, and then got to the 13th tee still at two under before exploding late in his round.
"I had phenomenal up-and-downs on 10, 11 and 12, kept the momentum going, my hand was slipping a little bit, getting a little sweaty out here, so I switched gloves on 13 fairway and I started pin-seeking after that," said Spieth.
The new glove, and some solid ball-striking, led to five consecutive birdies, which extended his lead to three.
"I had a lot of good numbers, numbers I could hit nice full shots, and that makes a big difference here at Augusta," he said.
A wayward drive at the 18th brought his momentum to a halt, but in Royal Birkdale-like fashion, Spieth somehow saved a bogey from the woods, pitching his second shot back out to the front edge of the fairway, hitting a 3-wood left of the green and getting up-and-down to post a 66. It's the ninth time in 17 career rounds at the Masters that he's held a share of the lead. Not surprisingly, he's not looking too far ahead.
"I was really fortunate to only make a five there, shoot a really good solid round. It's round one. I know as well as anybody that anything happens here at Augusta National, not going to get ahead of myself. Just about riding the momentum from last week and off this first round," Spieth said.
Two back is Finau, who was a game-time decision this morning after suffering a gruesome ankle injury while celebrating a hole-in-one during the Par 3 Contest. Remarkably, he carded a four-under 68 despite the injury, and in his first-career round at Augusta.
"The way I felt this morning wasn't great, there's no way I would have thought I'd be in this position," Finau said.
After beginning his round with a bogey, Finau played a near-perfect round the rest of the way, making six birdies and just one bogey at the par-4 14th. Ankle injury or no ankle injury, he has plenty of game.
"It felt good, it did, I think it was maybe a little bit of adrenaline, it was mind over matter for me," he said. "When I played i told myself, we're going to think our way through this golf course. I've been preparing, let's try not to think about the ankle and just see how it plays out."
In addition to this being his first Masters start, it's also just Finau's eighth appearance in a major, with his best finish (T-10) coming at the 2015 PGA Championship.
Finau is joined at four under by Kuchar, whose 68 featured a back-nine 31 that included birdies at 16 and 18 to give him some momentum heading into Friday.
Seven players sit three back after carding three-under 69s, including Henrik Stenson, Patrick Reed and Rory McIlroy. Phil Mickelson and Rickie Fowler are four back thanks to two-under 70s. Tiger Woods has work to do on Friday as he finds himself seven off Spieth's lead after shooting a one-over 73.