News
Masters 2018: Jack Nicklaus, Gary Player get the 2018 Masters underway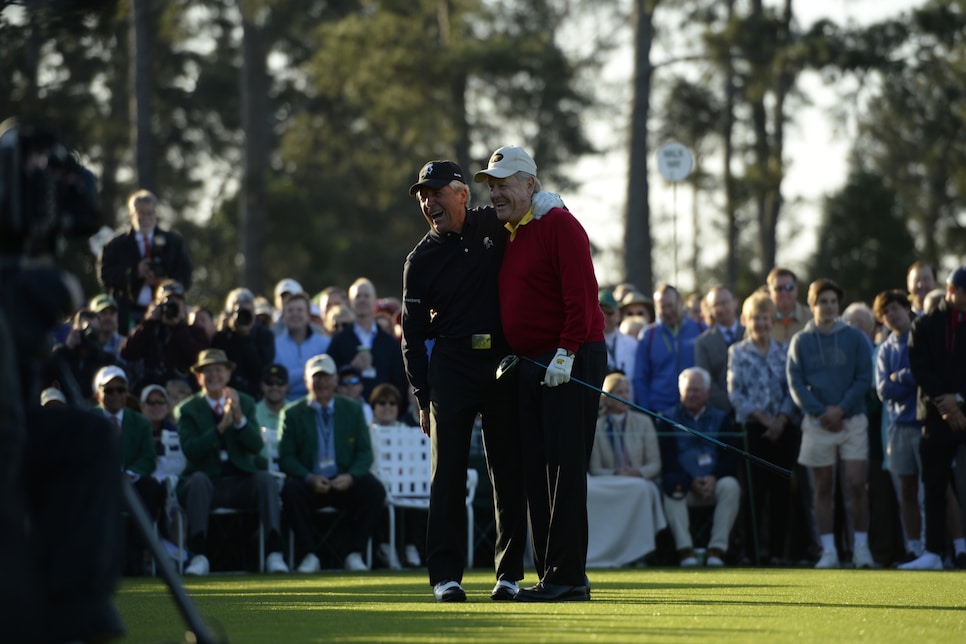 AUGUSTA, Ga. — The Honorary Starters ceremony wasn't as draped in emotion as last year's proceedings, the first since Arnold Palmer had passed in the fall of 2016. Nor was the buildup as competitively fueled, with both Jack Nicklaus and Gary Player poking the other's distance capability. (For the record, though Player declared a tie, Nicklaus had the longer drive.)
Nevertheless, the opening tee shots for the 2018 Masters were just as sentimental, officially signaling the start of one of the most anticipated tournaments in golf history.
On a crisp, cool Thursday morning, where a cloudless sky let the sun shine unabated, new Augusta National chairman Fred Ridley welcomed patrons, media and competitors to the 2018 Masters. "The tradition of Honorary Starters is a special and fun way to start our tournament every year," he said. Though this ceremony traces its roots back to to 1954, it wasn't formally recognized until 1963. It's a rite Nicklaus has been a part of since 2010, with Player joining in 2012.
Following Ridley's stirring introduction, it was time for Nicklaus, still glowing from his grandson's ace during Wednesday's Par 3 Contest, and Player, the ageless wonder, to send their shots spiraling down the first fairway.
If you must know, Player appeared to nip Nicklaus off the tee, getting his "revenge" from last spring. But as Nicklaus has rightfully noted, where the balls go is inconsequential. That they're on the tee, representing their greatness, that of the legends and the tournament itself, remains a tradition unparalleled in the game. And one that sets the stage for what's to come.