The Loop
Jack Nicklaus and Gary Player ~~hit their Masters opening tee shots~~ square off in heated long-drive contest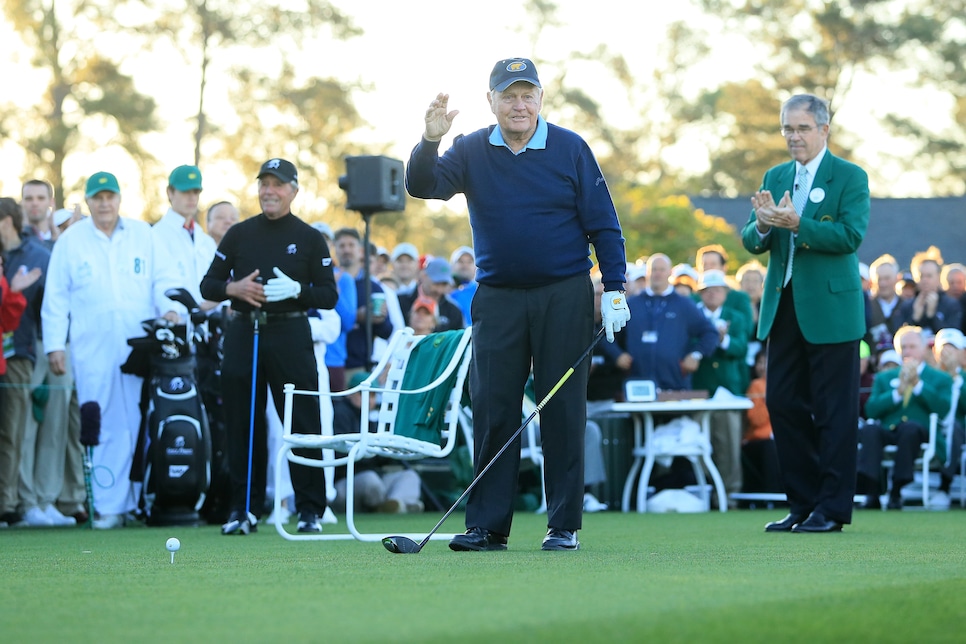 AUGUSTA, Ga. -- They arrived like two prizefighters, staring straight ahead with steely gazes that could have intimidated Tiger Woods in his prime. OK, not really. Jack Nicklaus and Gary Player walked to Augusta National's first tee together on Thursday, both flashing wide smiles and acknowledging an appreciative crowd of patrons.
After Player seemed to pop up his drive a bit to the right, it was Jack's turn. He took a few practice swings before settling over his golf ball. And then settling some more, seemingly in deep concentration. And when Nicklaus finally pulled the club back, he unleashed a powerful blow up the left-center of the fairway.
Take that, Gary! he yelled. Kidding. But perhaps, he said that in his head.
Then the two embraced and Gary said, "A tie! A tie." Jack didn't seem too pleased with that assessment. "Huh?" he replied while giving Gary a puzzled look. And for the record, it was not a tie. Watch the entire first-tee ceremony here:
"Well, the official word was that it was a little past, but Gary's claiming a tie [laughter]," Nicklaus said after. "But it's OK. Doesn't make any difference one way or the other. I hit a nice, solid hit and I was quite happy with that. I'm sure that Gary was quite happy with his, and we both—neither one of us topped it, skied it or whiffed it."
Nicklaus didn't boast about his big victory in the moment, either. As he made his way back to the clubhouse, a writer asked, "Did you get him?"
"Oh, I don't know," Nicklaus responded sheepishly.
But oh, he knew. Until next year, guys.