News
Masters 2018: At Augusta airport, more visitors are arriving in town in style
Flying private into Augusta has become increasingly popular for players and Masters attendees.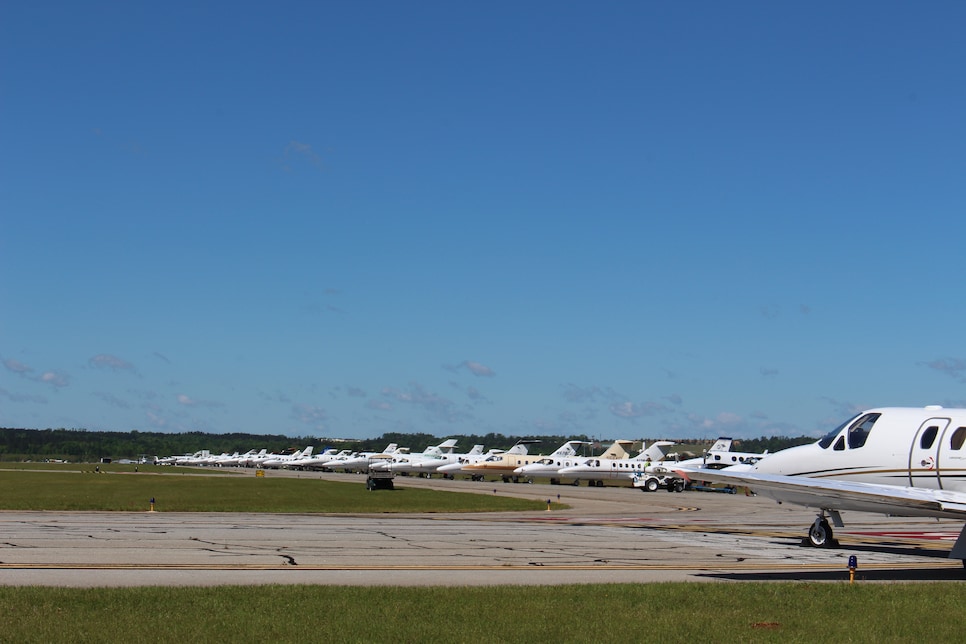 AUGUSTA, Ga. — It's Wednesday morning at 10, a dozen miles south of the most exclusive golf club on the planet, and lined up like giant aluminum sardines is the highest concentration of private jets at one airport anywhere in the world. But there's a problem: A ground stop was just issued for Augusta Regional Airport. No, the President isn't coming to town, nor are the earlier predicted thunderstorms. In air traffic control parlance, it's due to "saturation." It's simply too crowded for any more planes to land or take off.
It's Masters Week, the way the other half does it—the 1 percent of the 1 percenters.
Fifty-one weeks a year, depending on flight schedules, a plane will take off or land approximately every 30 minutes, sometimes longer, at little Bush Field, where a couple of country roads meet amid the pines and its two runways. For much of this week, it's every five, with one of the runways shut down and turned into a parking lot, something the airport started doing a couple of years ago to make room. On the eve of this year's tournament, some 200 jets are already parked and through the course of the week more than 1,500 in all will come through the gates. Other airports—nearby Daniel Field, which is closer to the course but smaller, and Aiken (S.C.) Municipal Airport—can handle any overflow.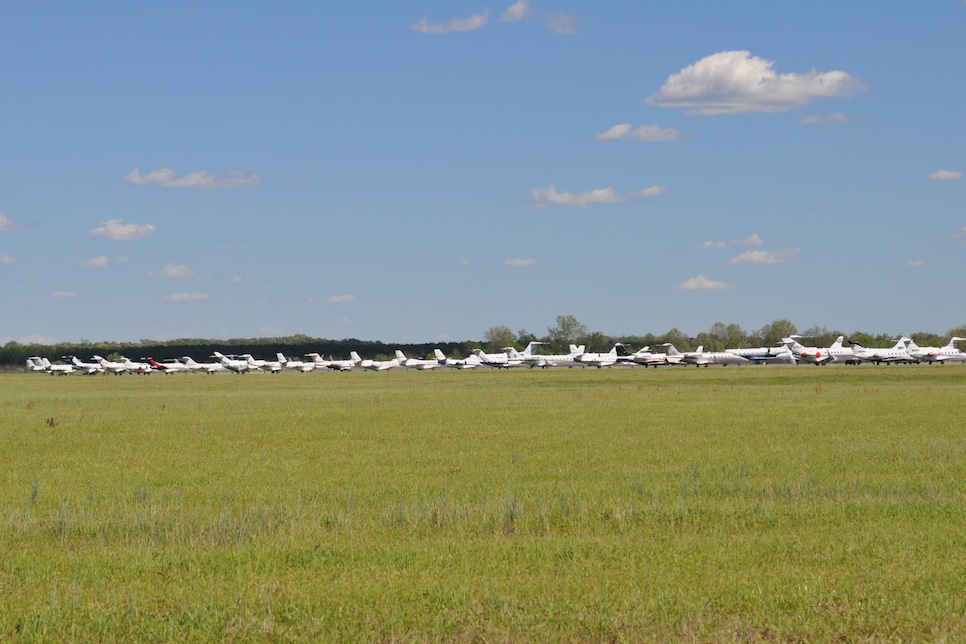 The commercial airline traffic is up, too, of course, with additional direct flights from Washington, D.C., Dallas-Fort Worth, New York, Philadelphia, Chicago and Canada added just for this week. A representative from Delta said they're up about 70 percent in seats versus a normal period and about 7 percent higher than a year ago (call it the Tiger Woods Effect). The airline also added extra flights from its hub in Atlanta as well as bigger planes.
"We have Super Bowl traffic for eight, nine days," says Lauren Smith, the airport's communications and customer service manager. "This is our busiest time."
In all, the airport will see about 20,000 passengers come through the doors during the week, many of whom pay between $5,000 to $25,000 an hour to fly private.
Of course, it wasn't always that way.
One bigwig from Texas who first attended the Masters in the mid-1980s remembers a different scene as his father-in-law's King Air plane touched down the year Ben Crenshaw would go on to win the tournament in 1984.
"There weren't 10 of them," said the 57-year-old exec, who grew up around the game and married into a family that had yearly badges stretching back decades. "It's interesting how the crowds have changed. It's become much more of a place to be. For those who can afford it, it's become a thing, even if you're not a golfer. It's a bucket list item vs. a golfer's item."
In other words, as the tournament has grown—recent accouterments include the opening of the uber-lavish Berckmans Place in 2013, and a luxurious and sprawling new merchandise building that's double the size of the previous one this year—so too has Augusta National as a place to be seen, rather than just a place for well-heeled golf nuts. The egg salad and pimento-cheese sandwiches still cost $1.50, but some traditions evolve.
"It's more corporate now," says another longtime attendee, who ironically makes the yearly journey on his company's jet. "It's still the best run tournament, but it's not the same."
That, of course, goes for players, too.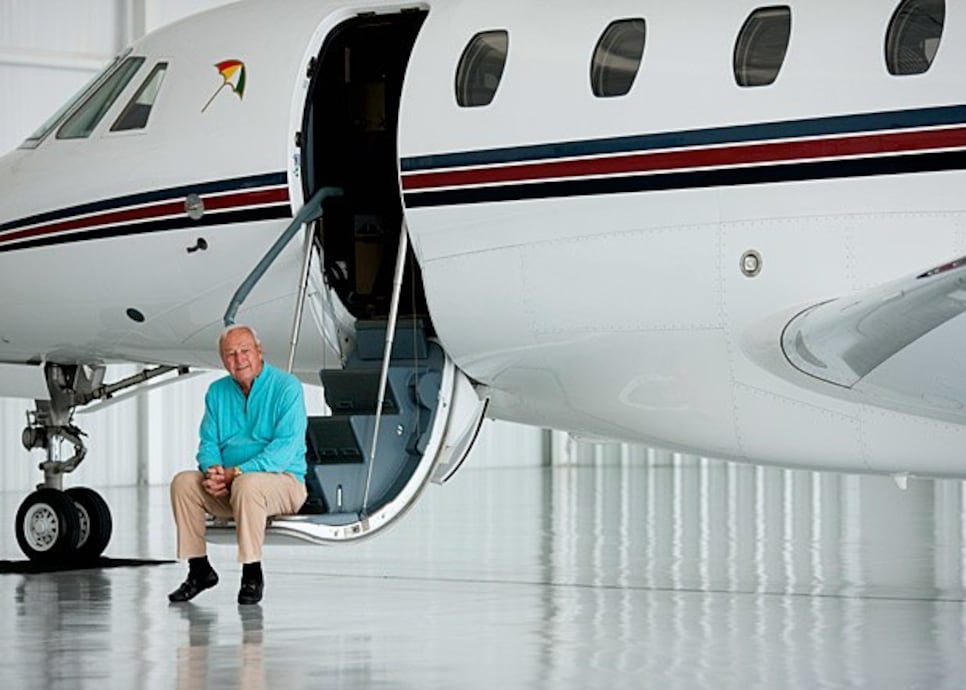 When Arnold Palmer first joined the tour in 1955, he and then-wife Winnie traversed the country in a 19-foot-long trailer. It wasn't long before he understandably grew tired of that method of travel and began taking flying lessons. After winning the 1958 Masters, he leased a Cessna 175 and hired a part-time co-pilot to fly with him. Three years later, he purchased his first plane, an Aero Commander 500, and began flying regularly, including to Augusta National.
By the late 1990s and with money exploding (again, the Tiger Effect), it seemed every player had followed suit when it came to private air travel with some—Tiger Woods, Phil Mickelson, among a few others—also owning their own plane, causing Palmer to once joke that he bought his plane after winning a second Masters and players nowadays buy one after finishing second.
"Guys are anxious to get here," said Andy Dawson, a former agent and now senior vice president of WheelsUp's golf divison, one of the many private jet companies that is shuttling players and others to and from Augusta. "The convenience factor makes sense for more players than not. It's the Masters, it's a major, it's a difficult spot to get to."
The same holds true for the non-playing clientele, all trying to get to a place that's more than a two-hour drive east from Atlanta.
"It's an event more than any other major," Dawson said. "The same people come every year, too."
Beyond the titans of business, that list of regulars includes everyone from ex-Presidents, to Saudi royalty, to a certain 14-time major winner and owner of four green jackets. According to multiple sources who were present for Woods' arrivals at the airport earlier in his career, the young golfer used to ask the pilot to tell the crew on the ground to turn their backs and not look at him as he de-planed.
Most passengers aren't as demanding. Still, all that extra traffic requires extra bodies, which is why the airport, much the way Augusta National has expanded to adjust to the modern power game, brings on a couple hundred extra people, everyone from grounds crew to air traffic controllers, to help the operation move smoothly.
"It's organized, it's professional and it's a team effort from all levels," says director of operations Tim Weegar, who began his career at the airport after the 1997 Masters. "I was going to say organized chaos but was trying to think of another way to put it."
It's also not just the amount of people that has increased.
With the longer of its two runways stretching 8,001 feet, the airport can oblige. That extra foot is important, by the way, because it means the runway can accommodate larger-bodied planes, such as the Boeing Business Jet and 747-400.
"As the years have gone by, everybody steps up to the bigger airplane," Weegar said. "It's not just the aircraft getting bigger but more people want to come to Augusta Regional Airport."