News
Masters 2018: 50 years later, Peter Alliss remains the BBC's 'Voice of Golf' at Augusta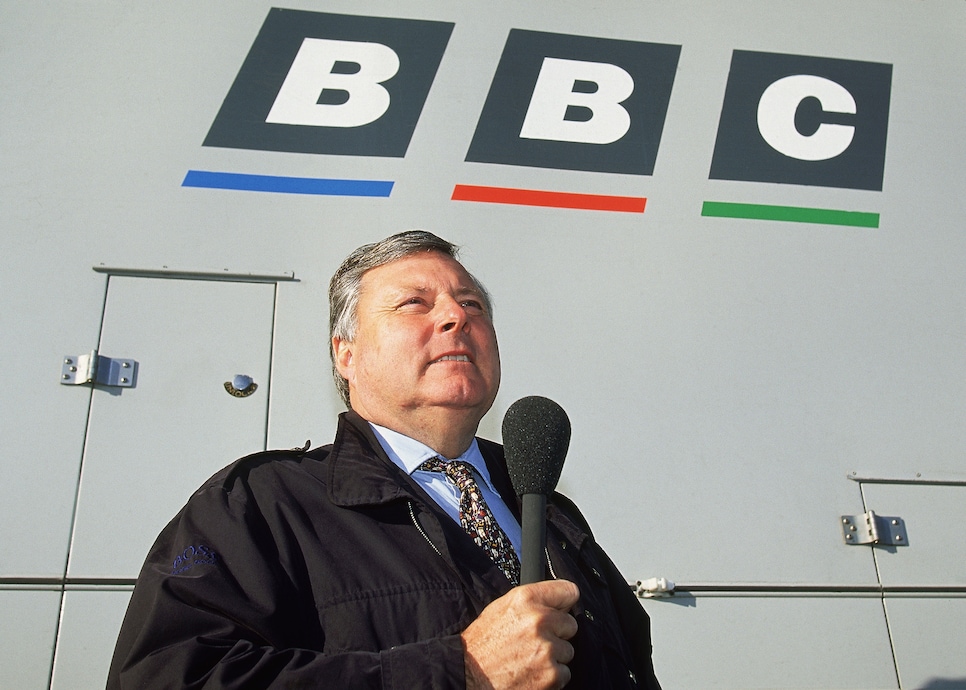 Photo By: David Cannon/Getty Images
AUGUSTA, Ga. — At age 87, there isn't much Peter Alliss hasn't seen in the world of golf. Surely uniquely, the eight-time Ryder Cup player and long-time BBC commentator has either played with or met all but seven of the Open champions crowned since 1900. Only slightly less impressively, he has seen or played with every "champion golfer of the year" since the end of World War II.
Alliss also has a singular connection with the founder of the Masters, a tournament he played in twice (1966 and 1967) and has commentated on since 1968. In 1945, as a 14-year-old, he caddied for Bobby Jones at the Parkstone Golf Club in England. Dressed in his U.S. Air Force uniform, Jones played alongside Alliss' father, Percy (himself a Ryder Cup player) and the 1938 Open champion, Reggie Whitcombe.
Another memory: Maybe four years or so before his first encounter with Jones, the young Alliss returned from school to find sitting around his mother's kitchen table the aforementioned Whitcombe, as well as three other Open champions: Alf Perry (1935), Alf Padgham (1936) and Dick Burton (1939). This is a man steeped in golf.
And, as he celebrates his 50th year commenting on the Masters, he wasn't hesitant to share some of his history—or offer an opinion or two on where the game is presently and where it's heading in the future.
Interesting, Alliss' initial association with Augusta National wasn't altogether pleasant, as he could never quite get to grips with the course as a player. After shooting 76-84 on his debut in 1966, the then 36-year-old returned 12 months later to record 80-77. Needless to say, he comfortably missed the cut on both occasions.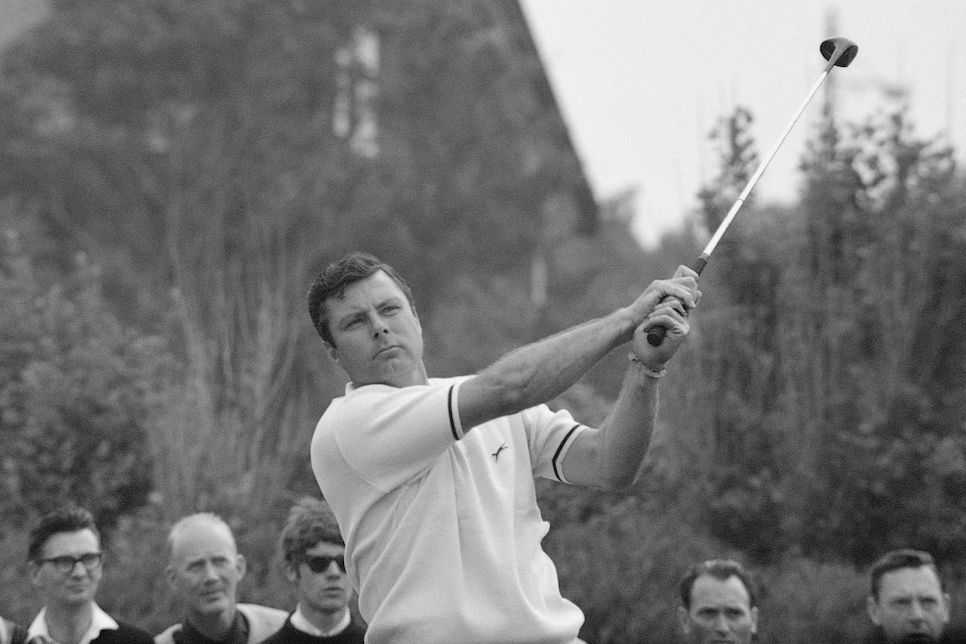 "I was totally overwhelmed," Alliss admits. "I'm not sure if I am susceptible to the atmosphere, but I didn't think it was very nice back then. We had to use the local caddies. But they didn't want any of the foreigners. They had never heard of us. They didn't think we were going to make the cut. And they thought we would be bad tippers. So it wasn't very welcoming.
"Bobby Jones was very gracious. But overall it was very much 'us and them.' The American players just didn't want us there. It was very much a cartel in those days, a very closed shop, something that has thankfully changed over the years. So, for me at least, Augusta was a strange place. It had a mystique. And if they didn't like you, or if you did something wrong, you were gone. There was an aura of fear, one that lingers today albeit with a small 'f.' "
Those premature departures were, however, not the worst thing that ever happened to the younger Alliss at the Masters. That dubious honor belongs to what transpired around and on the 11th green during the opening round in 1967.
"I was playing with Gene Littler, a beautiful golfer," he recalls. "My second shot finished a little short, just off the front of the green. I putted from there and left the ball maybe five feet short. I got over the second putt and next thing you know I'm 15 feet past. Then I was two-feet short. Then I was six-feet past. After that, I have no idea what went on.
"Dear old Gene said to me, 'What the f--- are you doing?' To which I replied, 'I don't know.' "
One of golf's most unkind maladies began to fall on Alliss: the yips.
"Walking off the green Gene asked me how many I had taken. I had no idea. So he put down 7. But it could have been 11. I've always told people I hold the record high score for that hole. It could be 12 for all I know though. My mind and my body parted company on that green. I was left wondering what I was doing there. It was awful."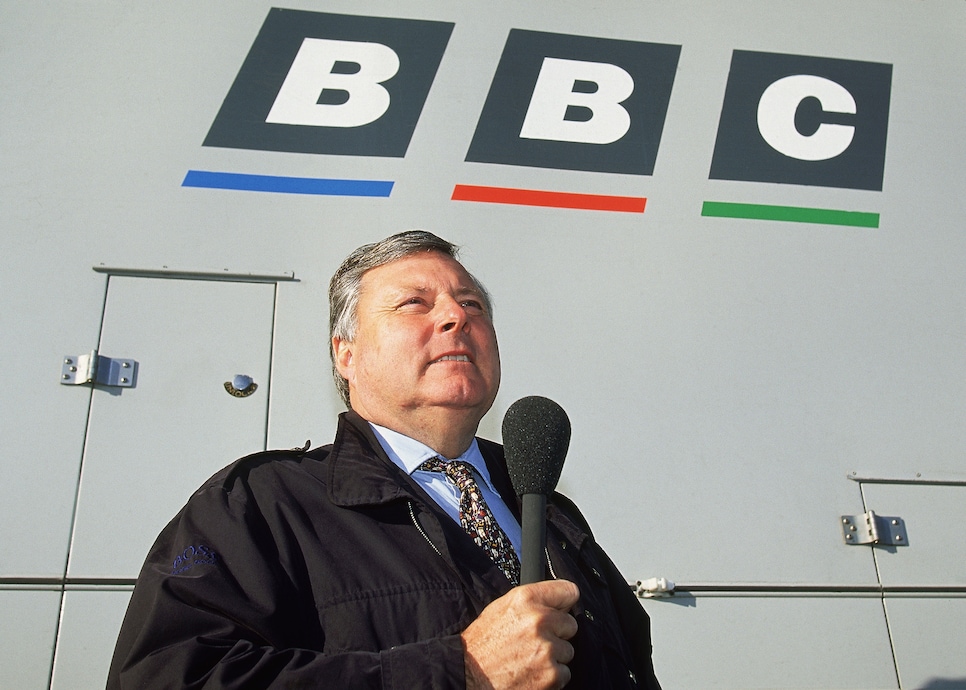 David Cannon/Getty Images
Alliss said the writing was on the wall for his playing career after that, despite the fact he would play in two more Ryder Cups and compete in the Open up to 1974. "I was only 38, but I was done as a player," he said. "I called it a day."
Given the starkness of that reality, Alliss spent more and more time in the commentary booth, cementing a relationship with the BBC that had begun part-time in the early 1960s. From 1968, he has attended every Masters. As ever for the man the United Kingdom knows as the "voice of golf," he has viewed goings on with a long-patented brand of skepticism laced with an obvious love of the game that has so dominated his life.
"The early history of Augusta National is all but forgotten," he says with a smile. "They don't want to talk about nearly going bust. They don't want to talk about how they struggled. So when they talk about the 'great history,' I wonder. The Masters only started in 1934. The only thing I can compare this to is Wimbledon. Same venue every year. And the event growing every year. The only difference is that it took Wimbledon five years to put the roof on the Centre Court. Here, I'm betting they could do it in a year.
Alliss' memories of Augusta tend to center around individuals rather than individual moments.
"What sticks in my mind are the exploits of Arnold Palmer. The excitement of Gary Player. The good and bad fortune suffered by the players. I remember Scott Hoch missing from two feet to beat Nick Faldo. And I think of Ed Sneed in 1979, when he dropped a shot at each of the last three holes then lost the playoff to Fuzzy Zoeller. The failures stay with me more than the successes. They were more dramatic and sad."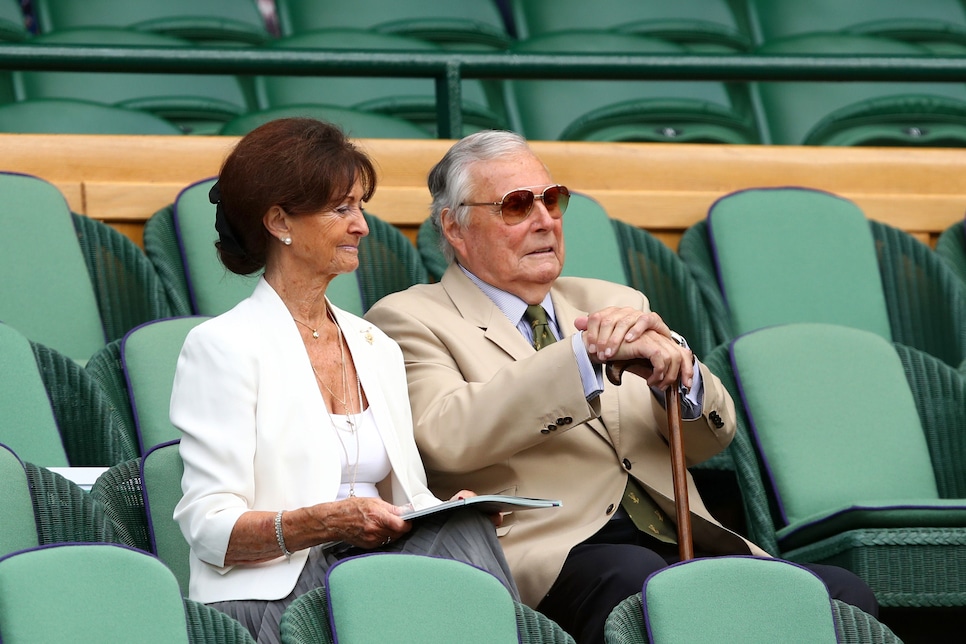 Julian Finney/Getty Images
Just as with playing, there is an aura of fear for commentators, too. "As far as the commenting goes, there is again an aura of fear. Spectators are 'patrons.' And the rough is the 'first cut.' Ridiculous. But it's the way they do things. You don't run here. And the commentators must be careful, as they have banned a couple over the years. … Never criticize. Say nothing."
That doesn't come easily to Alliss, who has more than once fallen foul of the professionally and seemingly permanently offended PC-brigade in his homeland. As you'd expect from someone with such vast experience, he has his own views on what is good and bad in the modern game.
"I have to be a careful when I talk of what people call 'progress,' " he says. "A lot of what has happened in the game is magical. But we have brought slow play on ourselves to an extent. The players have their yardage books. Now they have green books on the greens. And range finders. All of those things slow down the game. And they have eliminated a skill—the judgment of distance. It always makes me laugh when someone says they were 'between clubs.' Oh, come off it.
Still, while he experienced some early trauma as a player in the "toonamint," it would be wrong to surmise that Alliss is not a fan of most things Masters. He is. Very much so.
"I actually think that much of what goes at Augusta National is rather good," he says. "A lot of the nonsense you see and hear elsewhere doesn't happen here. No one in the crowd shouts 'mashed potatoes' or whatever. There's no litter. The prices for the food and drink are very reasonable. The punters are looked after enormously well.
"I like, too. that there are only 87 players in the field this year. That almost guarantees you get a great leader board. The only players out there are the very best or those that have no chance whatsoever. That's smart. The only thing I would suggest is that the older boys should start at the 10th tee and play nine holes in buggies. They could even have a Stableford competition (laughs). I think the people would love to see them all out there."
As for this year, Alliss is amongst a growing crowd eagerly anticipating what may transpire over the weekend.
"I think this could be one of the great events in the last 50 years," he says. "You've got young, up-and-coming players. You've got established, middle ground figures in their 30s. And you've got 40-year-olds who are really playing well. I obviously hope we get a British winner, or a European winner. But whatever, a good winner. Someone who will enhance the game a bit.
"Tiger winning would do that. He could win. He knows how to play. Most of golf is played in the head. Too much time between shots. Thoughts flood in. And I still think Tiger hits at the ball too hard. So he needs to be careful. One more injury will finish him.
"Some people are bold enough to criticize what goes on at Augusta National. But I would defend their right to do what they want behind their gates. They run a great tournament. The club is like a bloody good army regiment, one where no one wants to let the side down."
Indeed, whisper it, but the whole thing is terribly (19th century) British.