The Loop
Masters 2017: The 7 best things we heard from players on Tuesday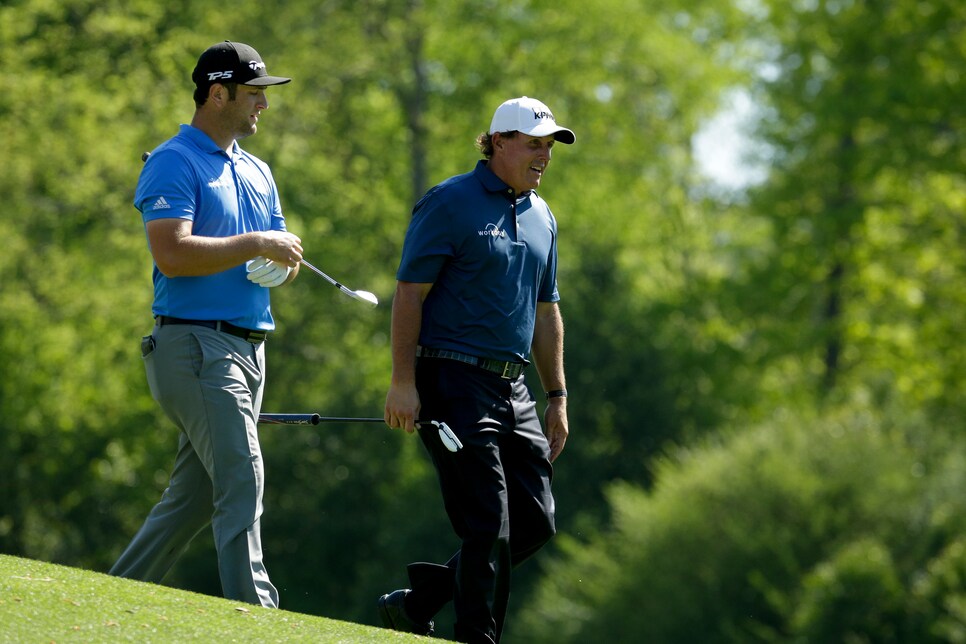 AUGUSTA, Ga. -- A who's who of golfers paraded through Augusta National's new media center on Masters Tuesday. There were laughs. There were interesting takes. There were great stories. And there were tears. OK, maybe not the last one. In total, about five hours of press conferences produced more than 20,000 spoken words. But rather than you watching all the video or reading all the transcripts, we sat through it all to bring you the very best. Take it away, guys:
Jordan Spieth on not hosting the Champions Dinner this year:
"I'll have to find a seat and so I'll probably get in there and try and reserve a seat next to some people. Zach already told me I could sit with him at the cool kids' table."
Good one, Zach. Although, we'd argue that any table full of green jacket winners is a cool kids' table.
Dustin on when he thought he could be World No. 1:
"When Tiger stopped playing (laughter). I mean, I don't know. Past couple years, I think I've been in the Top-10 for awhile. I knew it was definitely a possibility, but I was going to have to get better. Obviously, over the last year or so, I've gotten -- I feel like my game's gotten a lot better. But I always believed that I could get there.
But yeah, Tiger not playing as much hasn't hurt.
Phil Mickelson on Lexi Thompson's rules controversy starting a PGA Tour rules controversy:
"So rather than address that specific instance, what I would say is this: I know a number of guys on TOUR that are loose with how they mark the ball and have not been called on it. I mean, they will move the ball two, three inches in front of their mark, and this is an intentional way to get it out of any type of impression and so forth and I think that kind of stuff needs to stop. But I think it should be handled within the TOUR. I think that the TOUR should go to those players and say, look, we've noticed you've been a little lax in how precise you've been in marking the ball. We'd like you to be a little bit better at it -- and see if that doesn't just kind of fix the thing."
Well, that was interesting. . .
Rory McIlroy on giving Jack Nicklaus (Yes, Jack Nicklaus) a swing tip:
"I adjusted his driver for him because he's trying to hit it longer than Gary Thursday morning. I told him, if he hits it longer than Gary, I want a mention because I adjusted the weight in his driver. He kept hitting it left. I said, If you adjust this, it might help. Obviously he's very old school and whatever. I adjusted it for him and he started hitting these little fades. I was like, Perfect, there you go."
Rory, do you have a few free minutes this week to help me?
Rory McIlroy on a potential arm-wrestling rematch with Brad Dalke (the high schooler who smoked him in 2015):
"No, no arm wrestling this week. I don't want to embarrass myself again."
Henrik Stenson on coming to the Masters as a major champ:
"Yeah, I don't know if there ever was a big monkey, but it's of course nice to be a major champion. I think it just takes away that focus. Like I said, in the long run, it was all about making it happen, and of course I feel very happy that I did make it happen last year. Now we can look ahead and try and make that Claret Jug, give it some company."
Or give the little monkey that's been removed from your shoulder a jacket to stay warm. . . Sorry, that was bad.
Hideki Matsuyama on why he's struggled of late:
"I've been working on my short game a lot. Almost too much, because my longer shots, iron shots, drivers, have suffered a bit. And because of that, I've gone back to the full swing now and working a lot more on that than I have been."
We know the feeling, Hideki. There's always something.
Jason Day on his memory of golf shots:
"I've got the worst. I'm telling you right now I've got the worst."
It's actually refreshing to hear one pro golfer who doesn't have an encyclopedic memory of that stuff.
Jason Day on his mom and playing this week:
"I just wanted to say a quick thank you to not only everyone in the room here, through their well wishes and prayers, from peers to sponsors to, all the sponsors to fans; the amount of text messages and e‑mails that I got and my agent got, I mean, it meant a lot. Even though I apologize for not being able to get back, but I was obviously going through an emotional time.
"But to be able to have people reach out to me and my team about the kind of situation that we were going through was very special to us. It meant a lot to us and we really do appreciate it.
"It's just, I mean, cancer, it affects so many people. Usually someone -- and I'm sure everyone in this room knows someone or has seen someone being affected or even is going through it. It's a very painful thing to go through and watch a loved one but you really don't expect your loved ones or yourself to actually go through it. I just wanted to say thank you very much for the support that everyone has given me and my team and especially my mom. We're very, very pleased to be able to get through this stage and hopefully she can live a very long life."
About those tears. . . If Day is somehow able to win this week, there won't be a dry eye in the room.