fire at ryder cup course
Massive fire breaks out at Ryder Cup course only 4 days after event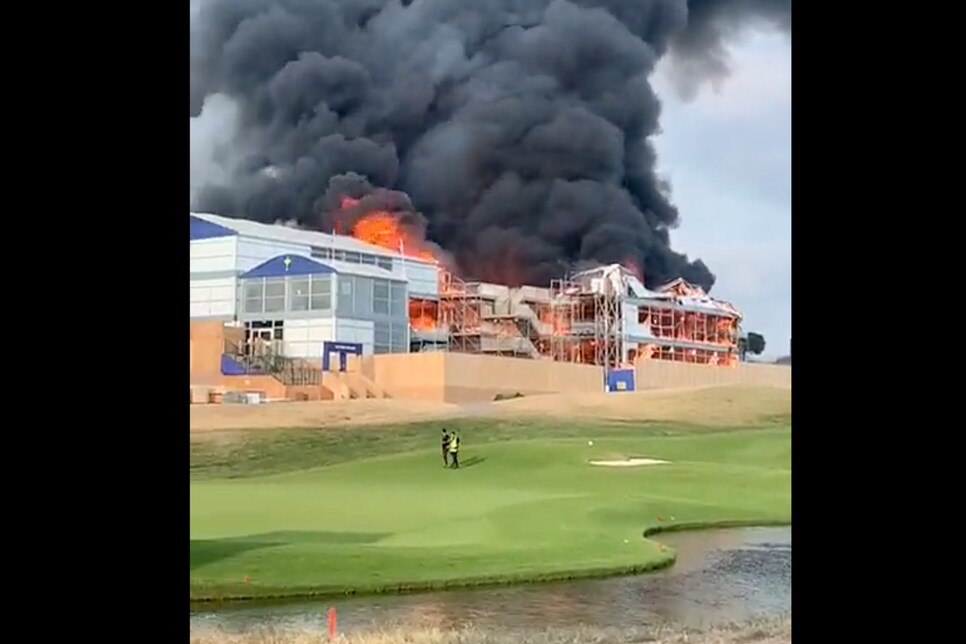 A fire broke out Thursday afternoon at Marco Simone Golf & Country Club outside of Rome four days after the conclusion of the 44th Ryder Cup. It was not known how the fire started in the hospitality area between the first and 18th holes.
Video footage posted on social media showed large plumes of black smoke billowing into the sky and flames engulfing more than half of the temporary three-story structure. Though damage appears to be extensive, it's fortunate that the fire did not break out last week during the Ryder Cup, where an estimated 50,000 fans watched Europe defeat the United States, 16½-11½.
According to a statement from Ryder Cup Europe, the organizing body of this year's matches, local firefighters were called to the scene at 5:07 p.m. local time in Guidonia Montecelio, just north of Rome, "and quickly brought the blaze under control." The statement said that there were no injuries, and that the fire was contained to a single structure. The golf course did not sustain any damage.
The cause of the fire is being investigated. The course was open for play at the time the fire began.
A news outlet in Italy reported that all roads leading to the course were closed.