News
Martin Laird made Las Vegas more exciting than it needed to be in victory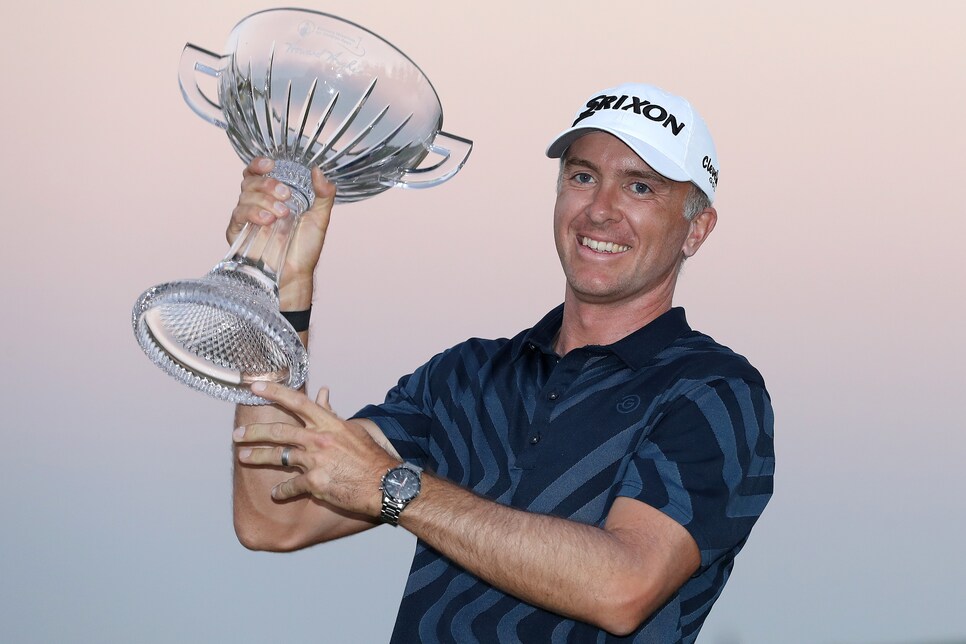 Photo By: Matthew Stockman
Martin Laird was Las Vegas incarnate Sunday. He oscillated from the unbelievable to the ugly, building a castle of chips only to blink and see nothing before him. A dinner reservation of steak, lobster and wine seemingly secured hours before threatened to transform into a 3 a.m. trip to the seafood buffet. It was the experience the city never touts but is often its reality.
Oh, and luck. There was plenty of that. As Laird noted afterwards, that he was even there required an assist. Yet the fortune the 37-year-old Scotsman found at TPC Summerlin was not the byproduct of providence but of spirit and gusto and fortitude. And for that the journeyman is leaving Las Vegas with that so often sought but rarely seized fate: A winner.
"I'm going to really enjoy this one," Laird said. "It's emotional and I can't wait to go back and see my kids and my wife and celebrate with them."
It is not that Laird won the Shriners Hospitals for Children Open but how. By shooting a final-round 68 at TPC Summerlin and defeating fledgling superstar Matthew Wolff and grinder Austin Cook with a birdie on the second hole of sudden death, yes. That is true, but so is calling the Vegas Strip a fine display of exterior lighting. To appreciate said display requires a closer look.
Laird entered the day sharing the lead with Patrick Cantlay. The 28-year-old Cantlay was the favorite, looking to join Tiger Woods, Tom Watson and Jack Nicklaus as the only players to finish first or second in the same PGA Tour event four consecutive years. Laird, well, he's enjoyed prosperity in the desert too, winning the Shriners in 2009 and finishing runner-up in 2010. He also started the day ranked 358th in the world, played in a Korn Ferry Tour event in September and recorded his last top 10 in a standard tour event 30 months ago. Hell, Laird had to ask for a sponsor's exemption just to make it into the field. Couple the Cantlay pairing with Wolff and the red-hot Will Zalatoris barking up the leader board, and Laird was presumed to be nothing more than a decorated observer.
Only Cantlay went south from the start, bogeying four of the first six holes on the uber-gettable Summerlin confines. Laird was steady, playing the first eight in one under par, and his adventures at the 558-yard par-5 ninth appeared to seal his victory. His second shot buried in the lip of a greenside bunker. Well, not so much buried as the ball had excavated a plot of sand and had begun pouring cement for the foundation. Forget saving birdie. By the looks of it, Laird—five months off of knee surgery—could only hope to avoid injury.
"You know, obviously I wasn't planning on holing it, but it was lying so badly right under the lip that I said to my friend, sometimes when they're that bad it almost helped me because it was a tight pin," Laird said. "It doesn't matter how hard you hit it. They just kind of pop out and go nowhere.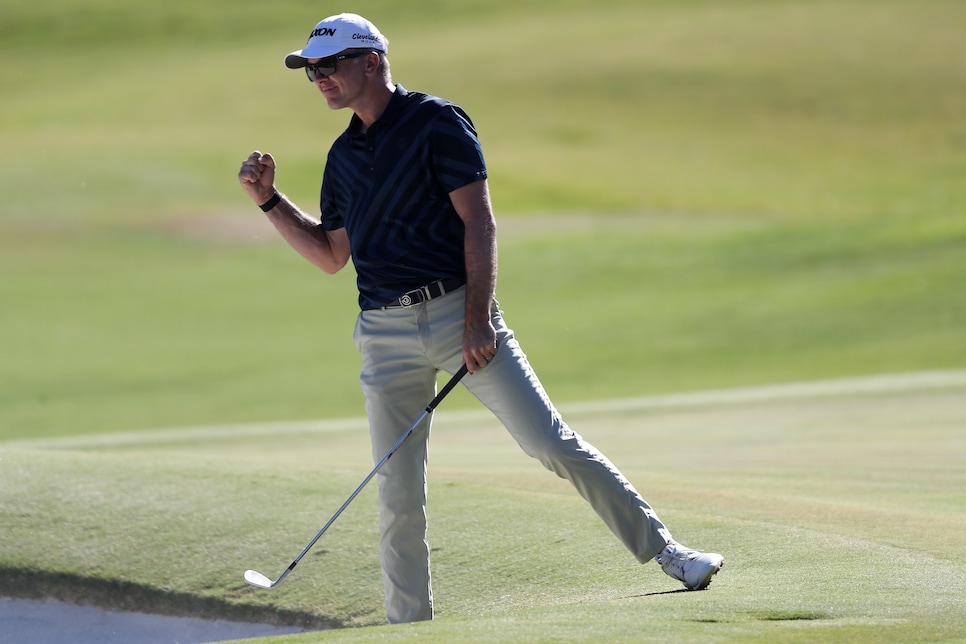 "So I was hopeful of getting that inside maybe 10 feet if it came out pretty good. I hit it hard as I could. Obviously all the sand exploded and I couldn't see anything, and I managed to open my eyes up as the ball landed and it started tracking. I mean, I enjoyed being down to the level of the bunker and watching that one go in, I'm not going to lie."
The lead was up to three, and with the back nine playing a stroke easier in the round, Laird appeared to be on cruise control. Except there are no such things as extended runs in Vegas, any heaters promptly doused by a cooler. In this case, those coolers were Wolff, Cook and Laird. Laird's bogey at the 10th was negated by birdies at the 13th and 15th, but he three-putted for par on the par-5 16th, a hole that Wolff had just eagled ahead. Cook began applying his own pressure with four red figures in a six-hole stretch. Hanging on to a one-shot lead at the par-3 17th, Laird proceeded to hit what can generously be described as a misaligned cut to a spot denoted on ShotTracker as "unknown."
"There was no wind. The wind completely died. When we played in regulation it was blowing hard and off the left," Laird said. "You know, I really have only been hitting one shot all week, a cut, and just starting it left if the wind is off the left. Well, that's not really a hole you want to start it left. I would've had to start it in the water. I was trying to just start it just left of the pin, kind of left center of the green and hit a straight one, and just kind of leaned on it a little bit and cut up into the air and the wind ate it up."
From 30 yards right of the green, his ball sitting on a downslope with a tree in front of him and water lurking on the other side of the green, Laird executed an imaginative, gusty bump-and-run under the tree and through the rough to 20 feet, then drained the putt for an all-time, "Did you see THAT?!" up-and-down. Lead still at one.
At the 18th, Cook's sidewinding 15-footer for birdie came revolutions short, and Wolff's birdie attempt from 35-feet burned the cup. From the 18th fairway, all Laird had to do was hit the green and two-putt for the trophy. What he did was not that, missing the green right. He proceeded to chunk his chip. From 30 feet for the win, his putt was heading directly at the hole until it wasn't, missing to the left by an inch. Lead blown; the bells tolled for sudden death.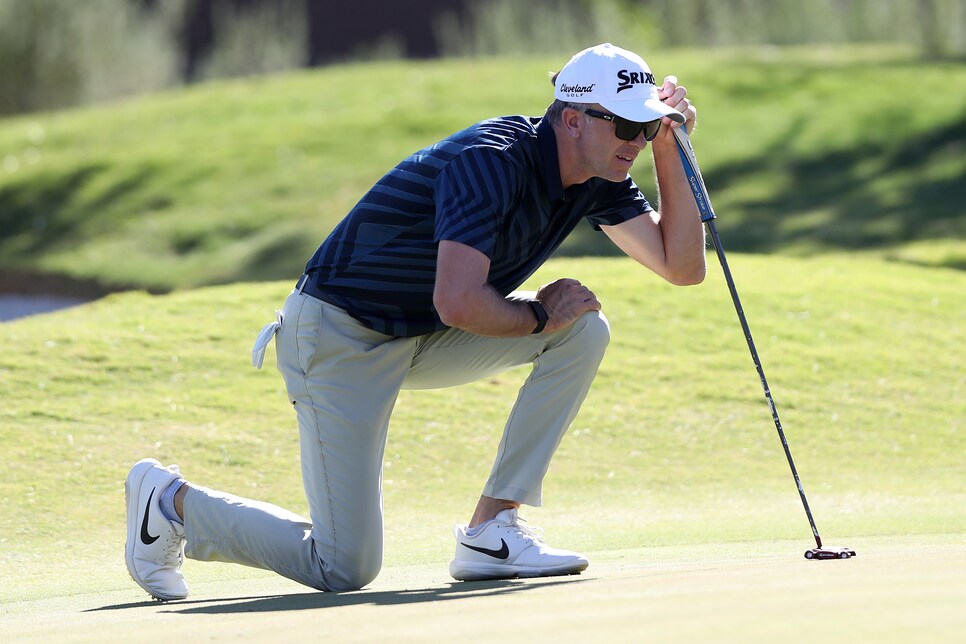 The players traded pars on the first playoff hole at the 18th, all of their birdies buzzing by the cup once more. Back to the 17th, weighing in just under 200 yards. None of the three were particularly close with their approaches, and Wolff and Cook didn't do much better in their birdie attempts.
Laird, after missing close-out putts on the 18th and first hole of sudden death, made good on opportunity No. 3, his birdie putting dropping as his arm punched the sky. For the first time in seven years, he was the last man left standing.
"It's been a while since my last one, and you have some doubts at times whether you're going to get another one," Laird said.
The moment was too raw for Laird to extrapolate what this means and where he goes from here. With his track record and age, it's easy, arguably pragmatic, to chalk this weekend up as one of the handful of out-of-nowhere performances that are sprinkled throughout the tour calendar. And perhaps that is what ultimately comes to pass. But after years in the sport's wilderness, perhaps the Shriners will spur a career revival. "Obviously there are a lot of doors open with the win," Laird remarked.
After all, as the great Hunter S. Thompson once wrote of Vegas, "A little bit of this town goes a long way."