News & Tours
LIV golfer Martin Kaymer says he won't play at BMW PGA Championship because of potential player friction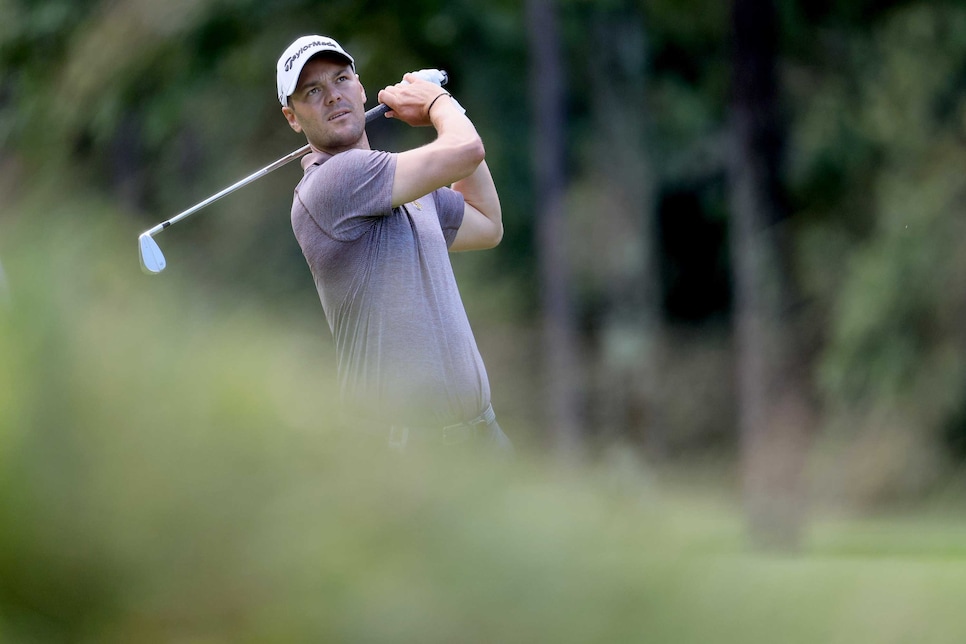 Martin Kaymer during the pro-am prior to the LIV Golf Invitational - Boston.
Andy Lyons
BOLTON, Mass. — Martin Kaymer was one of 19 LIV golfers listed on the DP World Tour website as being in the field at next week's BMW PGA Championship at Wentworth. But with the anticipated tension between the players who have jumped to the rival Saudi-backed league competing alongside members of the former European Tour's in their flagship event, held nearby the tour's headquarters, the two-time major champion has decided not to play.
"Of course, there will be friction there, that's why I'm not going," Kaymer told Golf Digest on Thursday after finishing the pro-am at the LIV Golf Invitational Boston. "I don't need to go to a place where, feel-wise, you're not that welcome. They don't say it, but [it's there]."
Kaymer is the first LIV golfer in the field to announce he's now staying away from the event. Others LIV defectors still set to play include former DP World Tour mainstays Lee Westwood, Ian Poulter, Richard Bland, Graeme McDowell and Sergio Garcia, along with Patrick Reed, Abraham Ancer, Talor Gooch and Kevin Na, each in the field thanks to their spots inside the top 60 in the World Ranking.
While golfers who jumped from the PGA Tour to LIV have been suspended from competing on the American circuit, DP World Tour bylaws prevent such long-term punishments. DP World Tour officials did initially fine and suspend members who left for LIV for three summer events, but a U.K. arbiter temporarily lifted the suspensions pending a full legal review that is set for February 2023.
Given the ruling, LIV golfers who are eligible to compete in DP World Tour events have been allowed to play, although only a handful having done so. Poulter and Laurie Canter were two in the field at last week's Omega European Masters.
However, with $8 million in total prize money available at Wentworth, not to mention the chance to earn much coveted World Ranking points, the number of LIV players will be the most competing in any DP World Tour event since the launch of the rival league.
Ahead of the BMW PGA, DP World Tour chief Keith Pelley circulated a memo to members stating LIV golfers "will not be required to play in the pro-am on the Wednesday and will not be in TV featured groups" at Wentworth or in subsequent DP World Tour events.
In another memo, sent only to the LIV players, Pelley asked, "Out of respect for our partners, our broadcasters and your fellow competitors, we would kindly ask you to consider not wearing LIV Golf-branded apparel during your participation at Wentworth."
Rory McIlroy a member of the PGA Tour and DP World Tour, noted after winning the PGA Tour's FedEx Cup title on Sunday that "It's going to be hard for me to stomach going to Wentworth in a couple of weeks' time and seeing them there. I hate it. I really do." And Matt Fitzpatrick, also a member of both tours, noted that he expected things to feel "awkward" and "odd."
In 15 years on the European Tour, Kaymer won 11 times, but his last victory was back in 2014 at the U.S. Open. In the past two years, playing on the DP World Tour, it looked like he would end that victory drought only to painfully stumble during the final round and come up short of a 12th win. In June, the 37-year-old German became of the original golfers that joined LIV.
"I do love the European Tour and I do like Wentworth; I think it's a flagship event that people like to participate in," Kaymer said. "But under those circumstances, I try to stay in the area where the energy is high, where the energy is positive. I don't know why I should fly to England, [and] be on the golf course for four or five days where you are not that welcome, I would say. It has nothing to do with the European Tour or the players or anything like that ... but where we are right now [in professional golf], I try to stay away. I will wait until everything settles."
The schism in pro golf has escalated in recent months, including LIV Golf signing World No. 2 and recently crowned Open Championship winner Cameron Smith, as well as Joaquin Niemann, from the PGA Tour this week. In response to the LIV threat, the PGA Tour announced last week it was raising purses to at least $20 million at 12 "elevated" events and doubling the payout of its Player Impact Program to $100 million overall. The tour also announced that top players had committed to a 20-event schedule to try and increase the number of times the best players face each other.
Kaymer has spoken previously about his desire for the DP World Tour and the PGA Tour to come to an agreement with LIV, which is funded by Saudi Arabia's Public Investment Fund.
"The hope is there absolutely," Kaymer said. "I just don't know if the main people in charge of all the tours ... are able to put egos and personal stuff behind and focus on the big picture in the game of golf.
"I think it's very good for the game of golf what's happening with LIV and what's happening with the PGA Tour now. All those things are good for the players, and I do hope and do believe in maybe in two or three years things will change and will turn out good."
But the change won't come quickly enough for Kaymer to feel comfortable about playing next week at Wentworth.