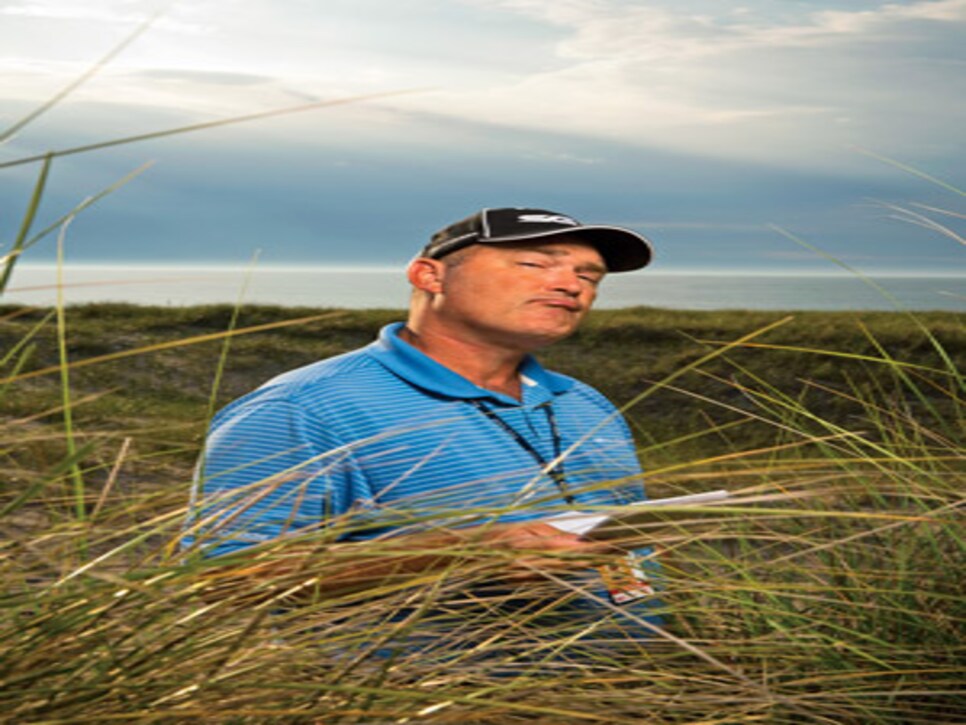 After playing for Fred Funk on the golf team at the University of Maryland and earning degrees in finance and economics, Mark Long studiously avoided choosing what he calls "a real job." When Funk went the pro-tour route, Long followed as his caddie, earning access to the biggest names in the game.
With almost 25 years of experience caddieing for tour pros at more than 600 events, Long, 48, has developed a keen sense of humor and has been on the bag for 11 PGA and Champions tour victories. "Never made a mistake," he jokes. "Not a single one." The star players, he says, are "just normal people with abnormal skills," but hanging out with them has its perks: "I've led a jet-set life," Long says, "without ever having any money or any jet." Want to experience the loopy side of life on tour? Read on.
MY NICKNAME on tour is Seve, because I do a pretty good imitation of Seve Ballesteros--I've done it on television, at tournament parties and had a lot of fun doing it with Seve when people could close their eyes and not tell us apart. One of my favorite Seve stories is when he was a young player just starting to get appearance fees around the world. He was playing in Europe, and Pete Coleman, who caddied for Bernhard Langer for years, was working for Seve. Back then you had your own shag bag and balls. Pete goes out and shags balls, and Seve typically is hitting a few in the bushes. Pete comes back and drops the balls down, and Seve counts 'em and says, "Pete, you're six balls short; you owe me for six balls." The next day, Pete goes by the range early and picks up two dozen extra balls and shoves them in his pockets. Later he goes out with Seve. Seve's firing a few in the junk, and Pete's not even going in to look for them. He comes back in, dumps out the bag, Seve counts the balls--and there are 14 extra. Pete says, "You owe me for 14 balls, Seve."
A FEW PROS make the tour an all-day, everyday job. For all the money in the world I couldn't work for Vijay Singh. It would drive me crazy to stand there and watch a guy hit 7,000 golf balls a day--I couldn't have watched Ben Hogan hit 7,000 golf balls a day. Paul Tesori is a former tour player who worked for Vijay until Vijay called him one Christmas morning to see if he wanted to meet at the range. Paul said working 366 days a year was a bit much. He's now working closely with Webb Simpson.
YEARS AGO I asked Bruce Edwards how it was being back with Tom Watson after a couple of years with Greg Norman. Back then Greg was the man, but they'd gone a couple of years without a win together. Bruce said, "Let's say you're three under for the day but you drive it in a divot at 16. Norman would look at me and say, "Bruce, can you believe my bad luck?" Tom would look at the ball, look at the divot and say, "Bruce, watch this!"
BRUCE TOLD ME you will never see a bird in flight during the Masters--that the course is a no-fly zone. I said, "Come on." And he said, "Have you ever seen a bird on this golf course?" I said, "No, I hear them, but I don't see them." He said, "There you go."
ONE OF MY FAVORITE player-caddie combos was Fulton Allem and Bullet Bob [Burns]. Bullet is a pretty tough guy. The story has it that Bullet grew up with Bob Costas on Long Island, and in grade school Costas used to buy Bullet lunch all the time--though not necessarily voluntarily. Bullet and Fulty were made for each other. Their skin's so thick it's more like armor. Fulty was having a terrible day and said, "Bullet, I'm so frustrated, I just want to break something." Without hesitating, Bullet said: "How about par?"
ANOTHER TIME Fulty said, "Bullet, I know your head is hollow, but it still casts a shadow. Move out of the way."
IT ALWAYS CRACKS ME UP when an amateur in a pro-am asks how far it is to the hole. To keep it simple I'll say, "You're 132." He'll say, "This sprinkler head says 121," not realizing that the pin placement affects yardage. Sometimes I wonder how some of them have been as successful in business as they have.
SOMETIMES A CADDIE will say "72" instead of "172." You know, pretty much assuming everybody knows it's not actually just 72 yards. That happened once to Bones [Jim Mackay] in a pro-am, and the am hit a lob wedge, came up 100 yards short and said--I kid you not--"Man that played long!"
SOMETIMES even great athletes in other sports get extra nervous playing in pro-ams. We were playing with Joe Montana, and his drive hit a lady in the gallery. She was OK, but Joe, being a real nice man, spent a long time with her before he ran to catch up with us. On the next tee he said he was so nervous he couldn't swing--he topped the ball and picked up. So I decided to give the greatest pressure quarterback of all time some advice on how to handle pressure. I said, "Joe, don't worry. Every pro out here has hit somebody." He said he was just so afraid of swinging at it. I looked at him thinking, You're Joe Montana--you can't be scared of a golf ball.
FLUFF COWAN looks a little like Jerry Garcia and is a huge Grateful Dead fan. I asked Fluff what the concerts were like, and he said with a smile, "Tell you the truth, I don't remember."
FLUFF'S A VERY, very good golfer. I think when Tiger dropped him, Fluff entertained the idea of trying to make the senior tour, but he put it on the shelf pretty quickly when Jim Furyk picked him up. Fluff has a reputation of being the par-3 king after Peter Jacobsen called him that. Fluff would always hit a shot on a par 3 during practice rounds, just pull a club out of a player's bag and hit, and Jake claims Fluff beat Curtis Strange every time on closest to the pin. This day Fluff appeared out of the early-morning mist on the 16th hole, wearing high-topped tennis shoes, and pulled the 4-iron from Nolan Henke's bag during a practice round at Poppy Hills. It was about 190 to the hole. Fluff set up and hit Nolan's ball three feet from the hole. Put the club back in the bag and walked away with a little smile. Never said a word.
I HIT BALLS on the range near Tiger one day, and right away a couple dozen people gathered to watch him. When you think about it, wouldn't it drive you nuts if you were always being watched? He said he never really gets used to it.
BONES started on tour a year or two after I did. Came out with Larry Mize. Bones was a good player at Columbus College in Georgia. I remember one day we were sitting in a restaurant in Phoenix having dinner next to Phil Mickelson and his parents. So I introduced him to Phil, who was still in college but playing the occasional tour event. It's my duty as a caddie to take credit for anything and everything, so I'm taking credit for introducing Bones and Phil. Ahem.
I USED TO ROOM WITH JIM quite a bit. We were staying together at Hilton Head right after Fred Couples won the Masters in 1992, and his caddie, Joe LaCava--now Tiger's caddie--was going to be staying with us. There was a knock on the door, I opened it, and Joe walked in with the flagstick from the 18th hole at Augusta. Joe said, "I'm planting this in my front yard and chipping balls to it."
WE WERE OUT WITH BONES AND PHIL at Firestone one week, and on the fifth hole, a par 3, you couldn't tell whether the wind was helping or hurting. Phil hit a 6-iron from like 221, something insane, and it got up in the wind and came down well short--but it hit a bunker rake and shot onto the green 20 feet from the hole. On the green Bones was joking, "Hey, what do we get for a rakey?" And Phil said from across the green, loud enough so we could hear but nobody else could, "Bones, come over here and take a look at this one. Let's see if you can read a putt better than you can pull a club." The gallery must've wondered why we were all laughing. A couple of holes later, par 3 again, same club, Phil hit it in close. I gave Jim a little fake high-five, and he said, "Yeah, I'm like a One A Day vitamin: I get one right every day."
HALF THE CADDIES ON TOUR have nicknames. Tiger never calls anybody anything but a nickname. Greg Hearmon, who caddied for Retief Goosen when he won our Open in 2001, once held an umbrella over a player's head while the player was putting--two-stroke penalty. After that he was Helpful. Last I saw him he was "Helping" Charl Schwartzel win the Masters.
GROWLER [Linn Strickler] had been in Vietnam and was a tough guy. His voice made it sound like he was growling at you. He caddied for Payne Stewart and Curtis Strange when they were really studly. One day Payne was on a par 3, and Growler gave him a yardage of 175. Another caddie told his player 177. Payne looked at Growler and said, "Well, is it 175 or 177?" And Growler growled, "It doesn't really matter--you're not that good." Payne realized Growler had been giving him yardages all day rounded in five-yard increments. Oh, and Payne was way under par for the day.
Photo: Jeff Gross/Getty Images
ANOTHER TIME Growler was working for Curtis when Curtis was The Man and had the lead in a tournament going into the final nine. But he started butchering holes, and Growler said to Curtis, of all people, "Hey, you've got to start playing better. My mom's watching us on TV, and you're embarrassing me."
TEDDY TWO STROKES [Ted Scott] was caddieing for Paul Azinger and playing with us years ago when he picked up his nickname. There was a delicate little shot from off the green that was trickling past the pin and just about to come to rest when Teddy took the pin out. We got done with the round, and a tour official came up and said he needed to look at our shoes. He looked at my shoes and said, "Not yours." He looked at Teddy's and said, "Teddy, I think it's you." We're all baffled, and Zinger, who's pretty edgy anyway, is ready to go sideways because he knows something's about to happen, and it probably isn't good. It turns out that all you could see on TV was a caddie's shoes and the pin being pulled out just before the ball stopped. Some viewer who no doubt had been a hall monitor in grade school called in for a penalty. It was--two strokes. Zinger was even less happy when the official told him the rule probably would be changed soon, which it was. Teddy was devastated at the time but wound up christening himself Teddy Two Strokes. Embraced it.
TWO STROKES now caddies for Bubba Watson. Fred was paired with Bubba when Bubba played his first tournament as a rookie. Mark Calcavecchia was our third. We'd heard how long Bubba was, and we like to watch bombers as much as fans do. First tee, Bubba pounded it about 370 right down the middle. Just stupidly long. Calc said, "Is that all you've got, Bubba?" Bubba pulled his sleeve way up and flexed. We couldn't stop laughing. The next two holes he missed the fairway with middle irons. Calc says to me, "This guy can't hit a fairway with a 5-iron; he's never gonna last out here." On a par 3 Bubba hit a rope hook that started 25 yards left of the green and hooked into a back-right hole location. On 18 at Waialae, a par 5, for a while we thought he drove it past the second crosswalk. And on 6 at Bay Hill [John Daly's "Tin Cup" hole] Bubba drove it over the water, inside the 100 plate. Pretty scary when you have to worry about hitting into the group ahead of the group in front of you.
TWO STROKES says Bubba had a perfect lie on matted-down pine straw for that hooked wedge out of the trees that won him the Masters. Teddy says when it comes down to what club to hit he basically just backs off and watches the action because only Bubba knows what Bubba can really do. It's impossible to club him. But psychologically the job's a lot of work because Bubba has a very active mind, and a lot of things bother him. Teddy's pretty good at dealing with that side of things. Teddy and Bubba's wife laid down the law a couple years ago about Bubba's attitude, and it turned his career around.
LEE TREVINO gave us some great insight into a champion's mental approach at the Senior PGA Championship one year. He hit it in a very penal bunker and said, "Oh, that's dead" and quickly added, "But not for me." He gets in there, and he's telling us how he's going to play the bunker shot, giving the play-by-play as he hits it: "Everybody gets it too far up in the stance, but you have to play it back here, and it'll pop right up, like this." And he hits a beautiful shot. I can't imagine how good he must've been in his prime.
GARY PLAYER was having dinner during a tournament, and another player at the table was talking real negatively about his game, the course, everything. Player excused himself and moved. Player was asked about it later, and he said, "I won't be in the presence of anybody who's that negative if I can help it. I thought it would be rude if I asked him to leave, so I left."
THERE'S A STORY about Tommy Bolt going to the caddiemaster before a tournament and saying, "I want a caddie this week who won't talk--won't say a word." He gets a guy, and the guy isn't saying a word in the first round of the tournament, and Bolt's near the lead. But he hits it into the trees at 14. Goes to the ball and tells his caddie, "Watch this shot. I'm gonna cut it under this tree and around that one." He knocks it on the green, turns to the caddie and says, "Man, wasn't that the best shot you've ever seen?" And the caddie doesn't say a word. Bolt says, "I'm giving you permission to speak now. Isn't that the best shot you've ever seen?" And the caddie goes, "Mr. Bolt, that was not your golf ball."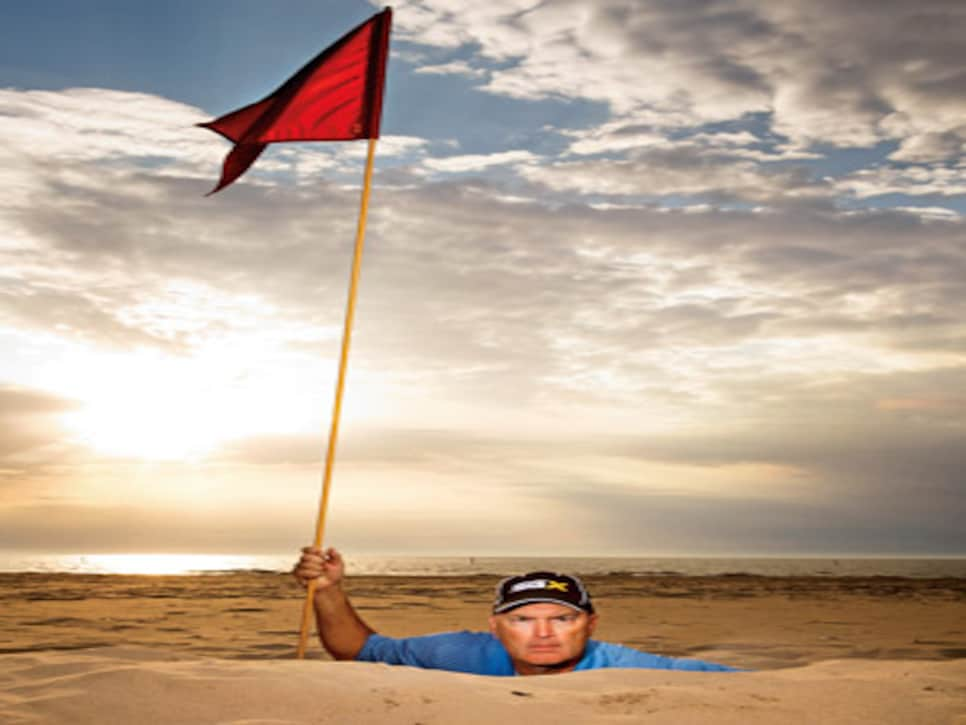 RAIN IS HARD for a caddie because you don't have enough hands. A player can be helpful by taking the umbrella while you're putting the club back in the bag, for instance. But some players just take off and leave the caddie on his own. Lanny Wadkins always wanted you to hold the umbrella over him, but he never helped. His caddie told me he started tipping the umbrella so the water would drip down Lanny's neck. Lanny finally took the umbrella.
AN AWKWARD MOMENT: Late in the first round of the 1989 Western Open I was holding Mac O'Grady's bag by the strap when the clip broke and the bag fell right in the middle of Ray Floyd's swing. Bam! It couldn't have been worse timing. He hit it about a foot fat, and the ball came up 30 yards short of the green. I had that bag up so fast you wouldn't believe it. If you had to choose players at that time not to do that to, Raymond and Curtis Strange would have been at the top of the list. We moved to his ball, and Raymond being Raymond, he hit his wedge shot a foot from the hole and made par. As we walked off the green, Mac told him what had happened and apologized. Raymond said casually, "Oh, I thought someone slammed the port-a-john door." He wasn't even slightly upset. My heart started beating again.
HAVING BEEN INVOLVED with both, I think I figured out why the Presidents Cup is so much more relaxed than the Ryder Cup. The Presidents Cup has the Aussies, and Aussies are always loose.
THE FIRST TOURNAMENT I caddied on tour was the Big Easy, New Orleans, in 1989. For some silly reason I remember my one-way ticket from D.C. was $179. Today it's $193. No wonder the airlines are struggling.
AFTER A BRITISH OPEN, Fred and I were supposed to fly commercial from Scotland to Philadelphia, and after a six-hour layover, on to Milwaukee for the next tournament. But there happened to be a private jet deadheading [with no passengers] back from Edinburgh, and I'd have to call it the best free ride in hitchhiking history. We left Edinburgh at 9:30 a.m. and got into Milwaukee at 1 p.m. If you ever hear a top player say anything about being tired after an overseas journey, forget it. No wonder guys play all over the world. If you had a jet of your own, you'd do it, too.
GREG MARTIN, who has worked on our tour and the LPGA Tour, is nicknamed Piddler. I don't know why. He was working for Dottie Pepper at a U.S. Women's Open, and after his plane landed he went to baggage claim, and there was a fellow in a tuxedo holding up a sign that said "Mr. Greg Martin." Piddler said, "I'm Greg Martin." The driver took him to one of the nicest hotels in downtown, where the front desk checked him into a fancy suite. A personalized welcome note and a nice bottle of wine were waiting for him, and he was thinking, This is the greatest I've ever been treated in my life. He took a warm bath, put on the plush free robe, lit a cigar, sipped the wine and was really enjoying himself. A while later there was a knock on the door. It was the manager of the hotel and a security officer asking for some ID. He handed them his ID, and sure enough, he was Greg Martin--but not the right Greg Martin, who was in the lobby wondering what was going on. Piddler met him on his way back to the limo that would take him to the hotel where Dottie was putting him up.
WHAT A TOUR CADDIE GETS PAID is much misunderstood. Almost every one of us is on a salary for each tournament worked that basically covers your travel expenses for the week plus a percentage of a player's winnings: typically 5 percent for finishing in the money but out of the top 10, then 7 percent for a top 10, and 10 percent for a win. The rule of thumb is that if you take 7-8 percent of a player's total official money, that's what the caddie is making. It varies from player to player, and sometimes there's a bonus at the end of the year.
WHEN TIGER CAME ON TOUR, the money immediately got better for everybody. He's made everybody on tour at least twice as much money as they would have made otherwise. I asked the CEO of a major bank that was sponsoring a tournament how much money the bank would be willing to put up if Tiger didn't exist. He said 25 percent of what it was putting up.
I DOUBLED MY SALARY at the Players one year before the tournament ever started. The caddies traditionally hit a tee shot to the island-green 17th during the Wednesday practice round, with the players heckling them. Michael Campbell offered to double his caddie's salary for the week if he hit the green. I teed up my ball and Fred goes, "Double or nothing on your salary." I said, "Absolutely"--and hit a 9-iron on the green. His mistake was waiting until the last minute so I had no time to get nervous. If he'd said it on the 14th hole, I'd have had no chance.
WITH FRED, I feel like I'm not only a caddie, I'm more part of the family and a business partner. The Funks and I see a lot of each other around home [Ponte Vedra Beach, Fla.]. Fred and I are designing a golf course together north of Denver. And I fall into a lot of perks like getting to tag along on the private jet.
FAMOUS PEOPLE are always inviting us--I mean Fred, and thus us--to big events in their sports. Joe Torre had us to Yankee Stadium when he was managing, and we went on the field for batting practice. A-Rod came over and said hello. Dale Jarrett hosted us at Talladega, where we toured pit row and saw the race. We watched a Super Bowl in Jacksonville from Jack Del Rio's box, with Gene Hackman, and flew to the West Coast on a private jet the next day with Lynn Swann. Swann told a story about getting his leg gashed in a game with Houston and being treated in the medical area. Earl Campbell was in there with broken ribs. Swann got stitched up, and Campbell was laughing. Swann wanted to know what was so funny. Campbell said, "You gotta go back in."
I'VE PLAYED ALL THE TOP-10 COURSES except for Pine Valley and Augusta National. Mark O'Meara's caddie, Shane Joel, got to play Augusta one year the Sunday before the tournament. He was all jacked up because Phil Mickelson waved him up on the par-5 second hole, and Shane hit a career 3-wood onto the green in two. Then on the next hole, they joined Tiger and played the rest of the way with him. That's a pretty nice first round at Augusta.
THE FIRST ROUNDS of golf for Fred's son, Taylor, were at Augusta National, Winged Foot and Whistling Straits. With a caddie. Roger Clemens taught him how to pitch. Taylor has gone 160 miles an hour in a stock car with Dale Jarrett. Just a normal childhood.
FOR CADDIES, the lifestyle on the Nationwide Tour--now the Web.com Tour--is more like it was on the big tour in the '70s. They're not doing it for the money, they're doing it because they just love it. You might find three or four guys sharing that Motel 6 room, driving everywhere, stop to stop. Of course, it's also like playing the lottery. You're betting that your man is gonna get you to The Show.
THE TOUGHEST DAY for a tour caddie would go like this. You get up early, warm up, rain delay, don't finish, have to sit around all day, have to get up early the next day to play one more hole.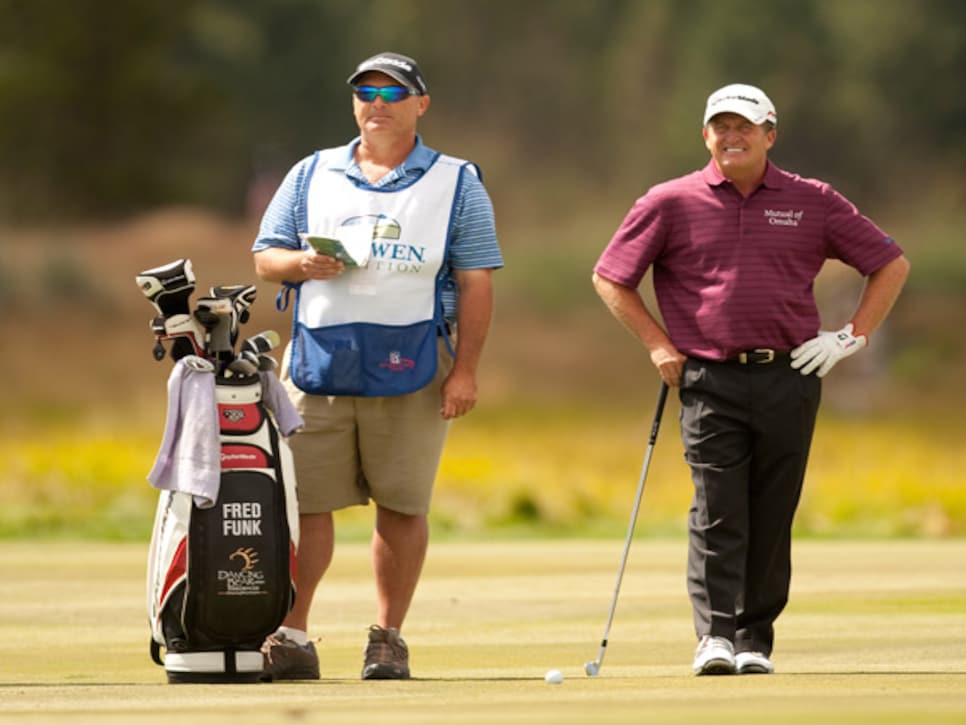 Photo: Darren Carroll/Getty Images
FOR MORE THAN A FEW players the three-hour practice session consists of 30 minutes' practice and ½ hours talking to agents, caddies, reps and each other. Everybody'd always check in with Peter Jacobsen--Jake is The Mayor. One time when Fluff wasn't feeling well, he finally came up to Jake and said, "Pee-tah, are we gonna work or are we gonna talk?" Fluff got the rest of the day off. You gotta have a lot of seniority to say something like that. Of course, if you worked for Jake, you'd want to stick around all day for the stories and the entertainment.
THE WEIGHT of a tour pro's bag is over-estimated. I've read reports of 50 pounds. The Funkster's bag typically weighs about 35 pounds. It does get heavier if you have to pack raingear and towels that get wet, but you get used to it.
IF I EVER FELT SORRY for myself lugging it around for five or six miles a day, I never could again after sharing an airport shuttle ride with a career Marine headed to Iraq while I was headed for a tournament somewhere in paradise. He'd be carrying 70 pounds of gear in impossible heat and getting shot at. Said he signed up for a combat zone because the pay was better. Said, "Aw, heck, my brothers will get my money if I don't make it back, so either way it's a good deal."
PERSPECTIVE is always a good thing. Be glad that guy is on our team.
YOU'VE PROBABLY HEARD that no man is a hero to his valet. It's the same with players and caddies. You get to know the stars and realize they're just normal people with abnormal skills. And you shouldn't slam a player for a few bad moments, usually in the heat of competition.
MY RULE is that once a pro tees off he's exempt from normally acceptable social behavior and covered by a temporary-insanity defense. You can't take stuff personally if a guy gets carried away in competition. I've played in tournaments myself and got psychotic.
WHAT'S THAT SAYING? The only normal people are people you don't know well enough.