The Loop
Relishing the Open vibe, Calcavecchia still hanging around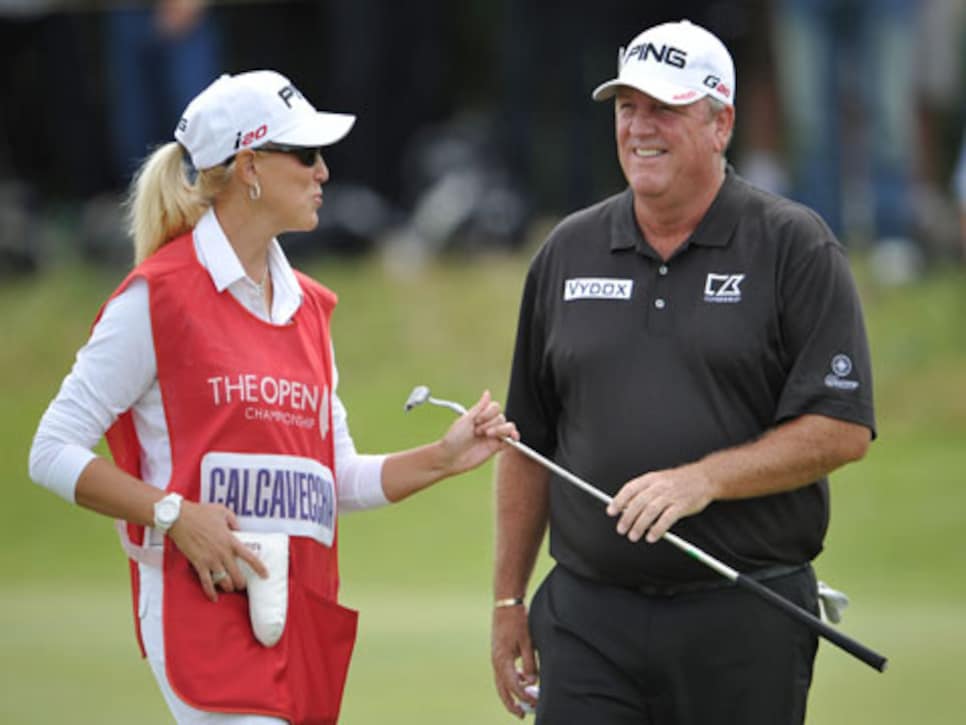 Mark Calcavecchia and his caddie/wife Brenda during the third round of the British Open. Photo: Stuart Franklin/Getty Images
LYTHAM ST. ANNES, England -- J.H. Taylor's record appears safe, but that doesn't mean Mark Calcavecchia still isn't having a good time at the 141st British Open.
For a brief period Saturday during the third round at Royal Lytham & St. Annes, Calcavecchia was on a roll, making the turn at three-under 31 and in sight of the leaders 23 years after his Open triumph at Royal Troon.
A rollercoaster back nine severely diminished the 52-year-old's chance of breaking Taylor's record for longest gap between British Open wins (19 years). But it didn't dim his enthusiasm for being in the fray.
"Even if I hadn't won in '89, this is my favorite tournament that I've ever played in, even when I don't play so well, like last year when I missed the cut," Calcavecchia said after shooting 69. "I still love this tournament. The atmosphere is the best there is, even better than Augusta and even better than the U.S. Open."
Calcavecchia bogeyed the 11th and double-bogeyed the 12th, but bounced back with two straight birdies before another bogey at 15. "It was adventuresome," Calcavecchia said, grateful that the weather has been pretty docile for three days. "If it would have been [windy] like it was Wednesday, you'd have seen some guys completely lose their mind. I teed off at 6:15 in the morning and it was blowing about 30. It was brutal. It's tiring to play this course, but at least it wasn't like that."
Tied for 10th as play wound down Saturday, Calcavecchia was looking forward to a good night's sleep and another try at Lytham Sunday. "I've got eight more years of this," Calcavecchia said of his past champion's exemption into the Open, "and I'll be looking forward to every one of them."